Olaplex No.3 Reviews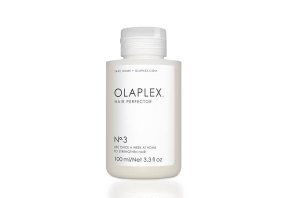 Using bis-aminopropyl diglycol dimaleate as its primary ingredient, the Olaplex No.3 product promises to repair the bonds in any type of color-treated hair.
What Is Olaplex No.3?
As the take-home portion of the in-salon service, Olaplex No.3 Hair Perfector uses patented technology to help re-link broken disulfide bonds and repair from within, regardless of hair type, whether virgin, colored, textured, or highly compromised.
The formulation can also be applied once per week in between chemical services to continue locking in the results of any salon treatment for strong, healthy hair.
But, whether you're thinking about purchasing the entire Olaplex system or just No.3, is it worth the time and money? Is it really breakage insurance, as claimed on the website? Here, we'll help you come to your own conclusions about important questions like these.
How Does the Olaplex System Work?
Advertised as the only single ingredient salon system that rebuilds broken hair bonds, Olaplex was developed by two chemists—Dr. Eric Pressly and Craig Hawker—using silicone- and- oil-free components. Specifically, the FAQ explains that the product "works internally to cross-link single sulfur hydrogen bonds to create disulfide bonds."
But why? According to the Philip Kingsley Products website, these bonds hold the protein structures inside each hair shaft together, which are what give it elasticity and strength.
So, by strengthening them before, during, and after chemical services, Olaplex promotes that their system can deliver better quality hair, dramatically reduce breakage during color services, and make your color last longer. This is why the manufacturer claims their system has been used in more than 360,000 salons worldwide and has been applied more than 82 million times.
While the website emphasizes that Olaplex isn't a conditioner (i.e., it only addresses protein bonds in hair; not moisture), it can be used as a standalone treatment, or implemented along with another salon service.
Used together, the system works over three steps.
No.1 Bond Multiplier – This is a concentrated solution that starts the process of rebuilding and repairing hair.

No.2 Bond Perfector – In case there are any missed strands, this product "continues to rebuild and restore any remaining broken bonds."

No.3 Hair Perfector – While the previous two products must be applied by a salon professional, this can be completed at home to further prevent ongoing damage.
Next, we'll take a closer look at this last step.
How to Use Olaplex No.3 Hair Perfector
Similarly, No.3 also works over a three-step process:
Apply a generous amount to towel-dried hair and comb through (you can also apply to completely dry hair, although it might take more product). If your hair contains oil or silicone buildup, you will also need to shampoo beforehand.

The longer No.3 remains in place, the more effective its results will be. As such, be sure to keep it in your hair for at least 10 minutes, or 20 minutes if your hair is compromised.

Rinse, shampoo, condition, and style per your normal routine. Again, the website emphasizes that it's not a conditioner and must be shampooed out.
You can repeat this process once per week in between chemical services to maintain your strong, healthy results, while they recommend applying to compromised hair two to three times weekly. Just be sure to use it in combination with your favorite moisture and protein treatments (if applicable).
Understanding Olaplex No.3 Ingredients
According to the product label, No.3 contains the following:
Water (Aqua), Bis-Aminopropyl Diglycol Dimaleate, Propylene Glycol, Cetearyl Alcohol, Behentrimonium Methosulfate, Cetyl Alcohol, Phenoxyethanol, Glycerin, Hydroxyethyl Ethylcellulose, Stearamidopropyl Dimethylamine, Quaternium-91, Sodium Benzoate, Cetrimonium Methosulfate, Cetrimonium Chloride, Fragrance (Parfum), Polyquaternium-37, Tetrasodium EDTA, Butylphenyl Methylpropional, Etidronic Acid, Ascorbic Acid, Phytantriol, Prunus Amygdalus Dulcis (Sweet Almond) Oil, Tocopheryl Acetate, Aloe Barbadensis Leaf Juice, Panthenol, Simmondsia Chinensis (Jojoba) Seed Oil, Citric Acid, Potassium Sorbate
Bis-aminopropyl diglycol dimaleate is the patented ingredient found in this formula, and is what promises to reinvigorate the molecular bonds we discussed earlier. Without going into unnecessary detail, LabMuffin.com explains that "the two ends of [this ingredient] form bonds with the sulfurs, making an artificial, extended disulfide bridge."
She balances these details by pointing out that "It's neat there's a scientifically legit explanation for how Olaplex could work, but does it really happen this way in the real world?" She explains that, "There are no published independent scientific trials yet, apart from thousands of rave reviews and before-and-after photos," which we'll talk more about soon.
According to sites like Truth In Aging, EWG.org, and Paula's Choice, the majority of the remaining ingredients constitute conditioning agents (propylene glycol, glycerin, hydroxyethyl ethylcellulose, stearamidopropyl dimethylamine, quaternium-91, cetrimonium methosulfate).
Others include emollients (cetearyl alcohol), preservatives (phenoxyethanol, sodium benzoate, tetrasodium EDTA), and cleansers (cetrimonium chloride).
Could No.3 Hair Perfector Cause Any Side Effects?
The same sites also report that these ingredients aren't likely to cause any side effects, unless you're especially sensitive. In some instances (no dosages or specific circumstances listed), it's possible to experience redness, irritation, and over-drying.
How Much Does Olaplex No.3 Cost?
If purchased directly through the company, No.3 is priced at $28, plus free S&H.
We found the same size single bottles for as little as $21 on Amazon, too, as well as other multi-bottle packages. Furthermore, Olaplex notes that many of their products are also available at local salons.
All direct orders come with a satisfaction guarantee. Per their terms, "If you are in any way not satisfied with Olaplex after purchase and use, Olaplex will refund you the cost."
To request a refund, customer service can be reached at support@olaplex.com or via their online contact form.
What Are Customers Saying in Their Olaplex No.3 Reviews?
Based on what we learned from their website, Olaplex No.3 has some serious star power behind it, with the likes of Kim and Khloe Kardashian, Jennifer Lopez, Gwyneth Paltrow, Charlize Theron, and Emily Blunt (to name just a few) claiming to use it. And it seems most customers report solid results as well.
On Amazon, Olaplex's various No.3 listings had nearly 2,500 combined reviews and an average rating of about four stars. There, most compliments appeared to revolve around effective results (improved hair quality, prevented damage, maintained color, etc.), while frequent complaints referenced no results and high price.
We found similar feedback and overall ratings among 110+ combined customer reviews on MakeupAlley and Walmart.com as well. Diane Murray at NaturallyCurly.com also provided glowing feedback:
"Once I received the Olaplex treatment, I noticed such an incredible difference in my hair. … My hair just didn't feel like my hair, and I mean that in the best way possible. It felt softer, less frizz, smoother, above and beyond anything even the best deep conditioners I have bought have EVER done before."
Specifically regarding No.3, she noted that it's "basically a diluted, one step version of what you get in the salon, but still incredibly effective. My stylist didn't have to tell me twice that this was a good idea for me to buy."
The company wasn't listed with the Better Business Bureau at the time of our research. But as we mentioned earlier, Dr. Eric Pressly and Craig Hawker came up with the chemistry behind the line, while founder Dean Cristal grew up in the beauty business and is also the owner of liqwd, another professional hair product manufacturer.
Are There Other Products Like Olaplex No.3?
There are literally thousands of different products that promise to help maintain healthy colored hair, many of which come from household brands like Neutrogena, Aveda, Ovation, Redken, and Loreal, to name just a handful.
Based on their descriptions, most of these work by slathering hair in a rich moisturizing cream, which helps prevent color from fading while maximizing health. Comparatively, since Olaplex's bis-aminopropyl diglycol dimaleate is patented, their formulas seem to work meaningfully different than every other competitor.
As a result, if you're looking for the same mixture of ingredients, you'll only find it with Olaplex, whose prices are meaningfully higher than most competitors. Is it worth the cost?
Obviously, before applying any new product to colored hair, the first person you'll want to speak with is a trusted beauty professional—preferably, one whom you visit on a regular basis and who knows exactly which treatments your hair has been exposed to. Based on this, they should be able to make the most appropriate recommendations.
From there, choosing one will largely come down to personal preferences, including budget. Whichever product you end up choosing, though, the Matrix Blog reports that your habits could have just as big of an impact on how long your color lasts. They recommend:
Waiting at least two days to shampoo after a coloring treatment
Shampooing your color treated hair less frequently (even just two to three times per week) using lukewarm or cooler water temps
Conditioning when you shampoo
Using a color-safe dry shampoo on in-between days, while keeping your hair dry in the shower
Related: 10 Ways to Prevent Split Ends by Improving Your Hair Routine
What Are Our Finals Thoughts About Olaplex No.3?
The bottom line is that the bis-aminopropyl diglycol dimaleate contained in Olaplex's lineup is a patented ingredient not found in any competitors. This means that their products are currently peerless.
On top of this, they also seem to come with mostly raving reviews across the board, whether from customers, industry professionals, or many of the celebrities they work with.
Granted, while Olaplex No.3 is competitively priced, their entire system could increase the cost of your coloring treatment by more than $100, making them meaningfully more expensive than most competitors.
However, while we didn't test any of the products in the lineup ourselves, based on the results cited by customers, it seems like the system might be worth every penny, as long willing to pay to maximize your hair's health and appearance.
1 out 1 people found this review helpful

Greatest product ever

By Cheryl L.

,

New Orleans, LA

,

Nov 20, 2019
Verified Reviewer

My stylist used this on my hair and it was by far the best thing that was ever introduced to me. I then purchased the 3-6 line and am in love love love with this. My hair was the softest, silky smoothest it has been in 40 years.

Bottom Line: Yes, I would recommend this to a friend

---

Advertisement

---