Olaplex No.3 Hair Perfector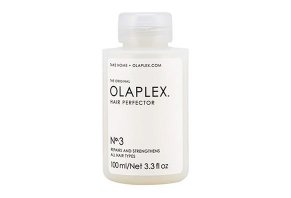 Summary
The Olaplex No. 3 Hair Perfector promises to repair your hair after chemical treatments and prevent it from getting further damaged.
Pros
Works as described for many users
Minimal side effects associated with topical use
Can be used alone or with the full product line
Suitable for all hair types
Cons
Left some users with dryer, more damaged hair
Little information is available about the main ingredient
Must be used weekly for results
Olaplex No.3 Hair Perfector Review: What You Should Know
HighYa is supported by our readers. When you buy something through a link on this page, we may earn an affiliate commission. Learn more.
Dyeing, bleaching, perming, or relaxing your hair is a quick way to make a change, but it can wreak havoc on your strands over the long term.
Olaplex is a conditioning hair treatment that works to reduce breakage and strengthen hair, especially after the effects of chemical processing. This standalone product will restore the texture and appearance of your hair after any harsh treatment to leave it strengthened and protected against future abuse.
While the Olaplex No. 3 treatment was created to help you maintain the results from an Olaplex salon treatment, it can also be used as a standalone home treatment to keep your hair in top shape.
The company claims that this restorative formula is free of parabens, sulfates, and phthalates, and contains 100% vegan ingredients. But who is Olaplex No.3 best for, and can you trust it to restore your hair? Learn from our analysis here.
How Does Olaplex No. 3 Work?
According to Olaplex, hair suffers for many reasons, including thermal, mechanical, chemical, and environmental factors like pollution. This damage breaks apart the disulfide bonds on each strand and creates single sulfur hydrogen bonds that are seeking to bond with single oxygen molecules.
If they succeed in bonding with oxygen molecules, this weakens each strand's structural integrity by creating a chemical reaction where the hair starts to lose its protein content. The end result? Frizz, breakage, and dryness.
Olaplex No. 3, the company claims, works at the molecular level to repair these damaged strands and protect them from future harm. The basic premise is that Olaplex's ingredients will bond to the weakened strands faster than oxygen molecules, which consequently fills in the damaged portions and protects them from degrading further.
Olaplex is considered beneficial for all hair types, regardless of whether your hair has been chemically treated or is in its natural condition.
It can also be used on extensions, so long as they are made from 100% human hair. If your extensions have a keratin coating, this might act as a barrier to Olaplex and render the treatment less effective. For best results, keep the treatment away from where the extensions are glued or taped to your forehead.
How to Use It
The recommended way to use Olaplex No. 3 is to apply a generous amount of serum to damp, towel-dried hair. Comb it through, ensuring that you coat each strand, and keep it in place for at least ten minutes before shampooing and conditioning your hair as usual. You might also want to shampoo your hair before applying the serum if you have a lot of product buildup.
The treatment will reach its max efficacy after 30–45 minutes, but it will continue to work for as long as your hair stays moist. While dozens of customer reviewers shared they left the treatment in their hair overnight, the company recommends against this because you might get the serum in your eyes and irritate them.
Olaplex recommends you use the treatment at least once a week to maintain healthy hair, though there's no risk to using it more frequently. At this level of use, most people can expect their 100ml bottle of Olaplex to last several months.
Analysis of Ingredients
The product's primary ingredient is Bis-Aminopropyl Diglycol Dimaleate. This is a bond builder that works to protect hair when it has been damaged at the molecular level, usually due to bleaching, straightening, or other harsh chemical treatments.
Industrial chemical suppliers currently sell it, but we couldn't find any clinical evidence for its effectiveness.
Olaplex No.3 contains several dozen ingredients, most of which are a blend of emulsifiers, plant-based oils, and moisturizing agents. Missing from the formula are ingredients known to coat your hair or weaken it over time, including parabens, sulfates, and phthalates.
Possible Side Effects
Some of the ingredients in Olaplex No. 3 have the potential for causing side effects. These include the following.
Propylene Glycol: This synthetic liquid is used as a base ingredient for many cosmetics. However, it's a known skin irritant.
Behentrimonium Methosulfate: Derived from rapeseed oil, this compound is often added to hair products for its conditioning properties. However, The EWG cosmetics database lists it as a high risk for negatively affecting the immune system and triggering allergic reactions.
Stearamidopropyl Dimethylamine: This surfactant is a common replacement for silicones in conditioners because it is water-soluble and blends well with other ingredients. It may act as an environmental toxin.
Cetrimonium Chloride: This form of ammonium salt is often added to personal care products to better blend ingredients. According to the Cosmetics Ingredient Review, it's known to cause unpleasant skin reactions, but only at concentrations above 0.25%.
Phenoxyethanol: Commonly used as a cosmetic preservative, phenoxyethanol is linked to skin conditions like eczema and allergic reactions at high concentrations.
Sodium Benzoate: This common preservative extends the shelf life of packaged food and personal care products. When ingested, there's concern that it turns into the known carcinogen benzene. Some people also experience allergic reactions when using products topically that contain the compound.
Key Takeaways:
While a few ingredients in Olaplex No. 3 have a history of causing unpleasant skin reactions for some people, most can use them topically without a problem. You might want to test a small amount of the formula on your skin when you use it for the first time to see how you react.
Pricing
Purchased from the company website, Olaplex No. 3 costs $28 for 100ml (3.3oz) canister. You can buy Olaplex as a one-time purchase or sign up for a subscription and have it delivered every two, four, six, or eight weeks.
The price is the same for both the regular and subscription option, and you'll pay about $6.99 for shipping per order.
There is no obligation to continue this subscription once you sign up, and you can cancel it at any point through your Olaplex personal account. If you aren't happy with your purchase in the first four weeks after ordering, Olaplex will refund it, minus return shipping costs.
Further questions about how to initiate a return should be directed to info@olaplex.com.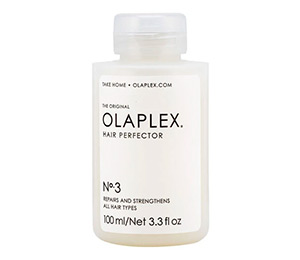 Buy Olaplex No.3 Hair Perfector from Amazon:
Olaplex No. 3 costs $28 for 100ml (3.3oz) canister. Olaplex recommends you use the treatment at least once a week to maintain healthy hair.
Analysis of Customer Reviews
Olaplex No. 3 averages 4.4 stars on Amazon after more than 10,000 reviews, and 4.4 on Sephora after almost 2,500 reviews. Below, we summarized what these customers are saying.
Common Compliments:
Restores hair after bleaching treatments
Great for dry, damaged hair
Many noticed the best benefits after leaving it in their hair overnight
Works best when used with the full product line
Common Complaints:
Works, but cheaper alternatives are just as effective
Left some users with broken, stringy hair
Too drying for some users
The product lasted less than a week when used as directed for some customers
Popular Alternatives
For those looking for a restorative hair treatment, there are dozens of options worth considering besides Olaplex. Two of the top recommendations on Amazon include the Hairgenics Pronexa Hair Bonder and the BlondeMe Keratin Restore Bonding Mask.
The following table highlights some of the ways they compare to each other.
| | Olaplex No. 3 | Hairgenics Pronexa Hair Bonder | BlondeMe Keratin Restore Bonding Mask |
| --- | --- | --- | --- |
| Cost | $28, 100ml | $25, 118ml | $14, 200ml |
| Ideal Hair Type | All hair types | All hair types | Bleached hair |
| Use Instructions | Apply to damp hair, leave for 10+ minutes, wash and condition as normal | After washing hair, apply half an ounce to towel-dried hair. Leave in place for 15 minutes before washing out. | After washing hair, apply the mask to damp hair and leave in place for 5-10 minutes before rinsing. Best when used twice a week. |
| Key Benefits | Restores damaged hair and prevents further damage by relinking disulfide bonds | Restores damaged hair and prevents further damage by relinking disulfide bonds | Restores bleached hair and enhancing blonde coloring, makes detangling easier |
| Average Amazon Rating | 4.4 (9,994 reviews) | 4.6 stars (1,654 reviews) | 4.2 (687 reviews) |
At first look, each of these products seems similar to the others. They all act as treatments damaged hair, and you apply them in much the same way. Hairgenics and Olaplex are similar in pricing and have near-identical reviews about their effectiveness.
The BlondMe keratin treatment has a narrower range of uses, but it also costs half as much as Olaplex for twice the amount of product.
One thing to notice about these three products is that only Olaplex contains Bis-Aminopropyl Diglycol Dimaleate, though all three claim to offer the same hair restorative benefits. Saying that, each product contains similar moisturizing agents and natural botanical oils.
If you're choosing between the three, it's worth considering whether you are looking to purchase a single item or a full product line. Olaplex No. 3 is part of a five-part series that includes a maintenance shampoo and conditioner, leave-in treatment, and styling oil. If you like all your personal care products to match and be designed to work together, this could be a deciding factor for choosing Opalex.
The Bottom Line: Is Olaplex No. 3 Worth It?
Olaplex's at-home hair restoration treatment promises to protect and repair your hair – no matter how it got damaged in the first place. The company's trademark ingredient claims to bond with each hair strand to halt oxidative damage, but there isn't much information available about how effective it is at this goal.
However, customer reviews of Olapex No. 3 indicate that most users seem thrilled with this product. Many reported it worked better than anything else to make their hair soft and easy to manage. However, others found that it left their hair dry and more prone to damage.
While the company states that anyone can benefit from Olaplex, you're likely to notice the most significant difference if you regularly undergo chemical hair treatments. Just keep in mind that this product can't work miracles, and that it offers only a temporary fix for damaged hair. You'll need to use it repeatedly to maintain any improvements that you notice.
Customer Reviews
Posted on Nov 22, 2020
My honest opinion
After many years of color and highlights, my hair truly needed pampering. My stylist recommended Olaplex. She did #1 and #2 with my color and highlight. Waited 1 week as instructed and used #3 at home. I'm not sure it reached my expectations. However, I will continue to use #3 and see what happens. I am hoping by using my product my hair will show the results that I was hoping for. These products are expensive and I'm not sure whether I will purchase again after I have used up #3. I am a real customer and have nothing to gain by writing this review.
Length of Use: Less than 3 months
Bottom Line: No, I would not recommend this to a friend
Posted on Nov 20, 2019
Greatest product ever
My stylist used this on my hair and it was by far the best thing that was ever introduced to me. I then purchased the 3-6 line and am in love love love with this. My hair was the softest, silky smoothest it has been in 40 years.
Bottom Line: Yes, I would recommend this to a friend
Our Promise to You
In order to safeguard you and ensure helpfulness and relevance, our compliance team manually assess every customer review before it goes live.
We have a zero-tolerance policy for fake reviews, and companies cannot control or alter any reviews at any time.