Physio Omega Reviews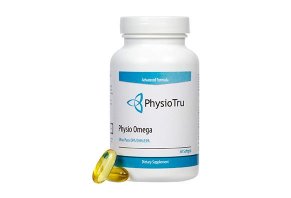 Summary
Physio Omega is an omega 3 dietary supplement that is alleged to promote energy and support heart health through the omega 3s EPA, DHA, and DPA. While omegas may offer some cardiovascular benefits, the available research may not justify the high price point for this product.
Pros
Some evidence supporting the cardiovascular benefits of omega-3s
Available research for DPA is promising
Favorable return policy
Cons
Very expensive when compared to similar products
Much of the research is mixed regain the benefits of EPA and DHA
More cent investigations describe
little to no impact for omega supplementation
More long-term research is needed to identify DPA's true role
Physio Omega Review - Is It Effective and Safe?
What is Physio Omega?
PhysioTru claims that Physio Omega will promote brain and heart health, as well as reduce inflammation.
Omega 3s are fatty acids that are commonly supplemented for their suspected ability to influence many health benefits. Alleged benefits include:
Reducing the risk of heart disease
Boosting mental function
Fighting inflammation
Improving joint health
Promoting skin hydration
Reducing anxiety and depression
According to PhysioTru, Physio Omega may offer these benefits as it contains an omega that is typically not included in dietary supplements.
While most products offer eicosapentaenoic acid (EPA) and docosahexaenoic acid (DHA), Physio Omega also provides docosapentaenoic acid (DPA). PhysioTru states that the benefits of DPA are research-backed.
In this article, we'll help you decide if the addition of a less well-known omega can add benefits above and beyond standard omega supplements by reviewing the available research for Physio Omega's key ingredients.
The Active Ingredients: Do They Work?
While Physio Omega offers both EPA and DHA, PhysioTru credits DPA for distinguishing their supplement from other products. Here, we'll highlight the available support, if any, for these claims.
According to the Supplement Facts Label, every 2 softgel serving contains 280mg of EPA, 240mg of DHA, and 60mg of DPA.
EPA and DHA
Omegas have been supplemented for quite some time. While there are more than 10 Omega-3 fatty acids, EPA and DHA are widely considered to be among the most important.
As cardiovascular health remains an issue worldwide, the ability of omega dietary supplements to help modify the risk has been well-studied.
In 2009, researchers reviewed the results of 11 studies that investigated the effects of EPA and DHA on heart health. They found that EPA/DHA dosing at 1.8 +/- 1.2 g/day reduced the risk for cardiovascular deaths, sudden death, and non-fatal events.
A 2012 study reviewed 21 clinical trials and found that omega 3s were effective in preventing cardiovascular events and death in those with higher cardiovascular risk.
A recent systematic review analyzed the results of nearly 80 randomized trials that investigated the effects of omega 3s on cardiovascular health. In their analysis, researchers found that boosting fatty acids through diet or supplementation had little to no effect on reducing the risk of heart disease, cardiac events, irregular heartbeats, stroke, or death from heart disease.
Thus they concluded that the best available evidence demonstrates that increasing EPA and DHA does not reduce the risk for heart disease or reduce the risk from dying of it. The individual trials that previously highlighted potential benefits for supplementation were more likely to include biases.
These systematic reviews demonstrate that the results from individual studies are variable. Benefits were demonstrated in the 2 smaller studies, though these included studies of shorter duration.
As heart disease is often progressive, including studies of up to 72-months may account for poor results found in the more recent and larger review.
DPA
Of the 3 omegas offered in Physio Omega, DPA is less well-studied.
In a randomized study examining patients with a recent heart attack, those treated with 1g of DPA daily experienced a reduced risk for death. Researchers concluded that DPA may have an antiarrhythmic effect that should be investigated further.
Researchers also found a blood pressure-lowering benefit in a review of 11 trials, though doses greater than 3g per day were needed for these effects.
Yet another study points towards a potential ability for DPA to protect against plaque build-up in arteries. Similar findings were demonstrated even in lifetime smokers.
While the individual studies highlight a great potential for DPA, more long-term randomized trials are needed to identify the true role in cardiovascular health.
Is Physio Omega Safe?
Omega 3 dietary supplements are generally safe when used as directed.
Reported side effects include bleeding, impaired immune function, and impaired lipid and glucose metabolism, though they are likely safe up to even 5,000mg per day.
Other side effects may include bleeding and reduced platelet function as well as impaired wound healing.
What is most likely to encounter, however, is stomach upset and belching a fishy flavor. Typically these side effects are relieved by reducing the dose or discontinuing use.
Nonetheless, be sure to include your doctor in the decision to use Physio Omega or any other supplement, especially if you're experiencing symptoms that may be related to heart disease.
What Is the Cost?
Physio Omega is available directly from the website and shipping is always free. By taking 2 softgels in the morning with water daily, a single bottle is priced at $67 and will last you 1-month.
You'll save by buying more. A single 3-bottle order is $47 per bottle, whereas 5 bottles cost $37 per bottle.
You also have the option to subscribe for auto-shipments. Membership will save you an extra 10% whether you opt for 1, 3, or 5 bottles.
PhysoTru gives you 60-days to try Physio Omega, though they'll provide a full refund only if don't consume more than 2 bottles during this period. Similarly, you'll receive a full refund if you return 1 opened bottle within 30-days.
If you're unsatisfied for any reason, email customercare@physiotru.com for a return authorization.
You can also find Physio Omega at Amazon. A 1-month supply is priced identical and backed with a 30-day return policy.
Alternatives
While it does seem as though DPA is less commonly included in Omega dietary supplements, Physio Omega is not the only product that offers it. In fact, with a little research, you can find more cost-effective options.
For example, a 3-month supply of EZ Omega-3 from WonderLabs is just $27.79 and offers roughly double the EPA, DHA, and DPA.
Another option is Wild Fish Oil from Wild Foods Co. Their 60-day supply offers 120-140mg of EPA and DHA each, as well as 10-20mg of DPA for just $14.95. Though this product offers fewer omegas than Physio Omega, you can double or triple your dose and still save money.
Thus, as you get more for much less, these options are likely to be a much better starting point given the price points and available research.
The Bottom Line
Physio Omega is an omega 3 dietary supplement that offers both EPA, DHA, as well as DPA. While EPA and DHA have classically demonstrated various cardiovascular benefits, more recent systematic reviews point out the shortcomings of earlier works.
DPA is not nearly as well-studied, though the available research shows promise. More long-term research is needed to identify the role for this omega 3.
When combining the mixed results and price point for Physio Omega, this supplement probably isn't worth the extra money you'd pay when compared to other similar products.
Nonetheless, at Amazon, 240 users rate Physio Omega 4.2-stars and more than 60% of these were 5-star ratings. Happy customers reported a gradual increase in energy, more hydrated skin, and improved lab test results.
While omega 3s may offer some benefit to you, you're still probably better off opting for one of the more cost-effective options described above.
Always speak to your doctor before use, especially if you feel you are at risk for heart disease.
Customer Reviews
Posted on Apr 28, 2018
Complete disappointment
Physio Omega was a complete disappointment. My wife, my son, and myself followed instructions to the T and nothing. None of the wonderful results promised in the advertising were delivered. In fact, I developed a terrible allergy after the sixty-day period and had to discontinue their use. Don't waste your money, please.
Bottom Line: No, I would not recommend this to a friend
Posted on Sep 25, 2018
Consumer beware...bad side affects and customer service.
I experienced all of the bad side effects of this supplement, so I canceled my subscription. Having done so, I still received the next shipment without warning. Since that time I have kept all my correspondence with them in writing.
When I sent the order back (after several back and forth online conversations about doing so), they said they didn't receive it and refuse to give me a refund. The receipt for the return was in a car I owned that has since been stolen, so I cannot "prove" I sent it back. I found these "exchanges" with their customer service department to be snarky and offensive. So not only can they not follow directions, they are rude and condescending to deal with.
Consumer beware, not only of the side effects, but of the customer service.
Bottom Line: No, I would not recommend this to a friend
Posted on May 5, 2018
Cannot recommend yet
I have been taking the product for several weeks now. I cannot see or feel any difference in any noticeable factor within myself. Going on reviews that have read from HighYa, I probably won't continue using it. Their return policy is very strict. I wish that I would have done more research before ordering my first order. I have received an automatic shipment now that I need to return and faced with how much money do I want to lose on returning it because of their return policy!
Bottom Line: No, I would not recommend this to a friend
Posted on Apr 28, 2018
Do not let them talk you into any special deal
I contacted customer service once I located the invoice sheet...too late for return. No money back. Nothing has changed in medication other than adding this product. I missed the return deadline by 10 days. They do not let you speak with anyone. Do not buy. They refuse to give my money back; somewhere in the fine print they say it's 60-day return. I could use the money to pay the doctors bills that I have had due to this product.
Very dissatisfied.
Bottom Line: No, I would not recommend this to a friend
Posted on Nov 14, 2018
This product sucks
This is a complete waste of time and money. They will not give you your money back, automatically send you the product without authorization, the product does not work as they advertise, it's a scam of some kind. They have no customer service that you can speak to. You send him an email and it gets rejected. This company's got serious issues.
Bottom Line: No, I would not recommend this to a friend
Posted on Jan 16, 2019
PhysioTru products
I have been taking all their products for over two months and I do not notice any change in the status of my stamina or my general health. They advertised a full refund if dissatisfied. I have contacted them twice and they have not even given me the courtesy of a response. These products may work for someone else, but if you are unfortunate like me, you will lose over $500 for something that does not do what it has stated.
Bottom Line: No, I would not recommend this to a friend
Posted on Feb 2, 2018
Pretty good
I've been taking PhysioTru for several months now, and while nothing is profoundly "different," in how I feel, my blood sugar and cholesterol levels are better. I'm waiting for some more energy.
Bottom Line: Yes, I would recommend this to a friend
Posted on Feb 10, 2018
Omega
I started to use it nearly two weeks and I have more energy. I've been going through depression, and I'm thinking much clear. I'm on high medication for depression, but since taking Tru Omega I'm feeling better. I highly recommend this product. I am thinking to try the vision capsules as well. Thanks PhysioTru.
Bottom Line: Yes, I would recommend this to a friend
Posted on Jun 25, 2018
I would tell my friends to try Physio Omega
Since I switched to Physio Omega from another brand of Fish Oil capsules, I have felt more alert, and have had more energy. It also has improved my digestion and I have had a decrease in my cravings for sweets. I would definitely tell my friends to try this product.
Bottom Line: Yes, I would recommend this to a friend
Posted on Jun 25, 2018
I was skeptical, but it PROVED itself!
My dad had swollen calves and feet and it was very painful for him to try to walk. His skin was scaly and overall appearance was down. Dad has been taking this product for about a month now, and already I see his legs back to normal, as far as the swelling. His legs are still a little scaly, but I'll look for that to be changing soon too. His overall appearance is improving, so it has got my vote.
Bottom Line: Yes, I would recommend this to a friend
Posted on Aug 25, 2018
Good product
I have been using this product for just a short time, but it appears it is working already. I use to suffer fatigue in the afternoons, but I don't seem to be suffering from this condition anymore. I also anticipate an increase in energy in the next few weeks. I would recommend this product ONLY if you can afford the high price, which I consider unreasonable.
Bottom Line: Yes, I would recommend this to a friend
Our Promise to You
In order to safeguard you and ensure helpfulness and relevance, our compliance team manually assess every customer review before it goes live.
We have a zero-tolerance policy for fake reviews, and companies cannot control or alter any reviews at any time.