immuneti Reviews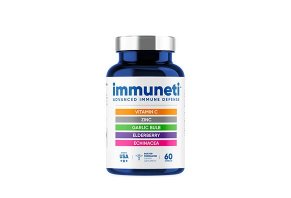 Immuneti is a dietary supplement that is designed to support both immune and overall health through a blend of 5 ingredients. With some scientific research backing the claims, competitive pricing, and a low risk for unwanted effects, Immuneti may offer a reasonable option to boost immune function.
immuneti Reviews - Can It Boost Your Immune Function?
What is Immuneti?
immuneti is a dietary supplement that allegedly supports both immune and overall health through a blend of 5 ingredients.
According to the company, by taking just 2 capsules daily, Immueti will:
Enhance immunity
Reduce the occurrence of colds and the flu
Boost heart health
Improve respiratory function
Provide key nutrients and antioxidants
Improve stress and mood
Promote skin health
Additionally, Immuneti states that these benefits are made possible by just 5 all-natural ingredients that are backed by scientific research. These are lofty claims for a dietary supplement.
In this article, we'll share what we were able to dig up in our review of the available research to help you determine if there is any merit to the claims made by Immuneti.
Immuneti Active Ingredients: Do They Work?
Immuneti alleges that they've included only ingredients that are backed with scientific support. In this section, we'll hash out the contents of this supplement to help you determine if Immuneti can give your immune system and overall health the boost they need.
According to the Nutrition Facts label, every 2-capsule serving of Immuneti contains the following:
Vitamin C - 200% of the RDA
Vitamin C may offer a variety of wealth benefits like working as an antioxidant and supporting immune function. Immuneti offers 200% of the RDA.
Vitamin C levels can decline in the setting of an acute infection. Additionally, doses at 60 mg/Kg body weight effectively boosted white blood cell levels, cells that play a key role in fighting infection.
Vitamin C may be responsible for some of the potential skin benefits that are alleged to be offered by Immuneti.
In a randomized trial, combining 3g of vitamin C and 2g of vitamin D helped prevent the oxidative stress associated with sunburn. Also, 50mg of vitamin C daily may improve skin elasticity and moisture content according to this review.
Zinc - 100% of the RDA
Zinc is a trace element found in meats, dairy, nuts, beans, and grains. Immuneti contains 100% of the RDA in every serving.
Zinc is involved in an array of events that are vital for health like protein synthesis, immune support, and wound healing. Thus, deficiency may lead to unwanted effects.
In terms of immune support, a review of 7 trials concluded that zinc doses ranging from 80-207mg were effective in reducing the duration of colds by 33-35% when compared to placebo.
Some of the proposed heart health benefits of Immuneti may be related to zinc's effects on body weight.
Zinc levels were demonstrated to be significantly lower in obese adolescents when compared to individuals at a healthy weight. Low levels were also associated with obesity, elevated BMI, and larger waist circumference in premenopausal women.
In a randomized trial, obese subjects that received 30mg of zinc daily for 4-weeks experienced significant decreases in both BMI and body weight. Obese children that were randomized to treatment with 20mg per day over 2-months experienced similar effects.
Zinc may also play a role in Immuneti's ability to support skin health, especially when used topically.
A randomized trial found 200mg of zinc to be effective in reducing the size of foot ulceration in diabetic patients.
The use of oral zinc in acne, warts, and other skin conditions, is not well supported by research.
Elderberry Fruit Extract - 370mg
Elderberry has been used in traditional medicine for its suspected ability to boost immunity and support skin health.
Benefits regarding immune function were demonstrated when adults with flu-like symptoms were treated with 15ml of elderberry or placebo. Those that received elderberry experienced symptom relief on average 4 days earlier than the placebo group.
Additionally, 300mg of elderberry effectively reduced both the duration of the cold, as well as the associated symptoms, in those traveling from Australia to an overseas destination by an airplane.
A recent review drew similar conclusions. Researchers found that elderberry reduced upper respiratory symptoms and that the extract may offer a safer alternative to prescription drugs for treating the cold and flu.
Garlic Bulb Extract - 200mg
Among garlic's many proposed benefits, it is suspected to boost white blood cells and other key players in immune function.
Over 12-weeks, those taking 180mg of garlic daily had about a third of the number of colds experienced by those in the placebo group during this timespan.
Garlic's ability to support heart health was examined in a review of 29 trials. Researchers concluded that garlic supplementation was effective in reducing total cholesterol levels.
Echinacea Purpurea Plant Extract - 200mg
Echinacea is found in the US, Canada, as well as Europe. It may offer health benefits related to wound healing and boosting immune function.
A review of 24 trials concluded that even doses 50x larger than those included in Immuneti were ineffective at relieving symptoms related to the common cold.
Are There Any Side Effects?
Immuneti's blend of ingredients is generally safe when used as directed.
Vitamin C is easily obtained from citrus fruits and a wide variety of supplements. Symptoms related to excess are typically related to mild digestive issues.
Consuming excess zinc can similarly lead to nausea, vomiting, and stomach pain. This is more likely at larger doses than those included in Immuneti.
Raw elderberry fruit can be poisonous, though extracts at similar doses to those offered in Immuneti were well tolerated in randomized studies.
Garlic is included in a wide variety of cuisine and is unlikely to cause serious side effects.
A review found that those taking echinacea reported more side effects than those in the placebo groups, though side effects were mild and included an increased frequency of rash.
Though the potential side effects of Immuneti are mild, you should still speak with your doctor before starting a new supplement, especially if you think your immune system isn't functioning as it should.
What Does It Cost?
Immuneti is available directly from the product page and orders always ship free.
Single-bottle orders will last you for the month and cost $29.99, though you'll save by buying more.
A 3-bottle supply costs $57, or $19 per bottle. If you buy 4, you get 1-bottle free. This bundle is priced at $75 and represents the most cost-effective option.
Also, your purchase is backed by a money-back guarantee. To process your return, email hello@immuneti.com or call support at 1 (877) 221-1547.
What Are the Alternatives to Immuneti?
As Immuneti offers 5 ingredients, you're unlikely to save money by purchasing them individually, though this is one alternative.
Additionally, Immune Support from VitaRaw contains all 5 Immuneti ingredients in addition to goldenseal root, fenugreek, mullein, horehound, and olive leaf extract.
A 1-month supply costs just $18.49. Although VitaRaw does not detail the doses for each individual dose in their proprietary blend, the total dose is 1356mg. This makes it impossible to compare the amounts of each ingredient to those used in research.
You'll save with a single order purchase, though buying 3 or 4 bottles of Immuneti is more cost-effective.
Pros and Cons
Most of the ingredients offered in Immuneti's blend have some scientific support backing their benefits in human subjects
The mild side effects are possible, Immuneti is generally safe to use
Immuneti is moderately priced, especially when you purchase multiple bottles
Immuneti has not tested their specific blend in randomized trials
Supplementing nutrients that you aren't deficient in may not deliver results
The Bottom Line
There is some available research supporting the claims made by Immuneti, especially for the alleged ability for the supplement to support immune function and heart health, as well as provide relief for cold and flu symptoms.
Also, Immuneti is generally safe when used as directed, though the risk for mild digestive symptoms and rash may be possible.
It is competitively priced, particularly when you purchase multiple bottles. Finding a better deal for a supplement that offers these specific ingredients may be challenging.
Immuneti may be a reasonable option for boosting immune function, though you are probably more likely to experience benefits if you are nutrient deficient.
Still, speak with your doctor before starting any new supplements.
---
Scammers

By Ressa H.

,

Colorado

,

Sep 24, 2020
Verified Reviewer

Length of Use: Less than 3 months

Overall Experience:

I only ordered the 30-day trial and never signed up to continue receiving the vitamins, especially at $33.00 a bottle. I emailed the company and suggested that they refund my money back and they responded back stating that I can receive it for half the price and they will give me a bottle of turmeric, and they still have not refunded my money back and continue to withdraw funds from my account. This company is a scam and please stay away.

Pros and Cons:

No "pros" were specified in this review
The product is not worth the money
I do not feel any different than before I started taking immuneti

Bottom Line: Yes, I would recommend this to a friend

---

Didn't sign up for automatic shipping

By Rodney U.

,

Florida

,

Sep 2, 2020
Verified Reviewer

Length of Use: Less than 3 months

Overall Experience:

Ordered a sample, that was it, then they sent me a bottle and charged me $33 for it. I didn't sign up for that. I emailed them, the only thing they offered me was half off $15 for Life, along with turmeric. I do not like this company. I'm going to return the product. The phone number on the bottle is not the right one. I call them and they did not answer. They do answer emails.

Bottom Line: No, I would not recommend this to a friend

---

Advertisement

---

Very deceitful company!

By Cheryl E.

,

Wrentham, MA

,

Aug 20, 2020
Verified Reviewer

Length of Use: Less than 3 months

Overall Experience:

They claim you have a 30-day trial and then they charge you 20 days later $33 for one bottle! The phone number on the bottle does not work. It rings once and then goes to a busy signal. One time an operator came on and said this number is not working please check it and try it again. Then I went on to Google for a phone number search. Yes they have one, but it's only a pre-recorded message that says you cannot talk to them through the phone, you can only use email to communicate with them. Well, I communicated through email telling them that they charge me much sooner than they should have and I would like to return it. They completely ignored what I said and offered me a half-off deal instead. That's not what I asked for. And they never addressed the subject of my email. Run from this company!

Pros and Cons:

I don't dare to use it now, based on their deceit
No "cons" were specified in this review

Bottom Line: No, I would not recommend this to a friend

---

Scammers

By Ami F.

,

Georgia

,

Aug 17, 2020
Verified Reviewer

Length of Use: Less than 3 months

Overall Experience:

This company is so deceptive. They charged me and my sister $33 and we JUST purchased only a sample bottle. Never signed up for membership. And they refuse to reverse the charges. Do not give them your credit info.

Bottom Line: No, I would not recommend this to a friend

---

Advertisement

---

Wrong order

By Arlene C.

,

Columbia, SC

,

Aug 3, 2020
Verified Reviewer

Overall Experience:

I just received my order and it's not what I ordered. I paid too much money not to have the correct order. It's called TURMERIC, I ordered the one for the immune system. I WILL BE RETURNING THIS BECAUSE IT WASN'T WHAT I ORDERED.

Bottom Line: No, I would not recommend this to a friend

---