Gundry MD Olive Oil
Claimed This company has claimed this profile, is getting alerted on any new customer reviews entering this page, and may engage in dialogue with its customers to address their matters.

Companies cannot pay money or provide goods in order to remove or alter customer reviews.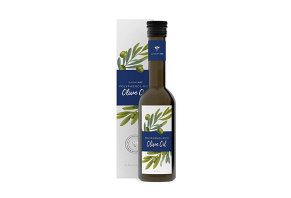 Boasting 30 times more polyphenols than the average olive oil, Gundry MD Olive Oil claims to provide a variety of health benefits including eased joint pain and boosted immune system.
Gundry MD Olive Oil Review: Legit or Just Hype?
What Is Gundry MD Olive Oil?
Gundry MD Olive Oil is an olive oil packed with 30 times the normal amount of a plant-based ingredient that the company claims can help with blood flow, joints, muscles, focus, skin and your immune system.
The olives the company uses for its olive oil come from the Moroccan desert. Gundry MD says this challenging environment causes the olive trees to produce more health "polyphenols", a chemical that has a myriad of purported health benefits.
If the name "Gundry MD" sounds familiar, it's because the company sells a wide variety of supplements and foods. Their company founder is Dr. Steven Gundry, who says on the Gundry website that his goal is to, "dramatically improve human health, happiness, and longevity through my unite vision of diet and nutrition."
In our review of Gundry MD Olive Oil, we will present the facts regarding the ability of this product to "dramatically improve human health."
We will cover how to use Gundry MD Olive Oil, examine what science says about the claims Gundry MD makes about their olive oil, present the product's pricing and return policy, then provide some price comparisons to other olive oils.
We will conclude our review with a section covering the pros and cons of this product.
How to Use Gundry MD Olive Oil
Unlike supplements, this product doesn't have any specific rules for how to take it. Treat it the same way you would any type of olive oil you'd buy from your local grocery store.
This particular type of olive oil is, according to the back label, organic extra virgin olive oil it comes in 8 oz. bottles (17 tablespoons), an important bit of information we'll cover in the pricing section.
The "extra virgin" designation is important because that means the olive oil hasn't been mixed with other oils and maintains the nutritional benefits present in the olives it uses.
Gundry's website suggests drinking a shot of it each day, sprinkling some over the top of your food, make salad dressing and/or pesto with it or pour some into a smoothie.
Gundry MD Olive Oil's Polyphenols: What Do They Do?
As we mentioned in the introduction to our review, the big selling point for this olive oil is the fact that Gundry MD claims the oil has 30 times the level of polyphenols you'd find in a bottle of conventional olive oil.
We talked with customer service to find out the polyphenol concentration level (measured in milligrams per kilogram) and discovered it is 1,269 milligrams per kilogram. This level of polyphenols is very high compared to European standards, which say an olive oil can claim to be, "healthy," if it has more than 250 mg/kg.
Olive oil site The Greek Olive Estate notes that, on average, extra virgin olive oils contain between 100 and 250 mg of polyphenols per kilogram.
This boost in polyphenols provides the following benefits, the Gundry MD website says:
Promote healthy arteries and great blood flow
Support crystal-clear concentration
Soothe worn-down joints and tired muscles
Make skin feel softer and more hydrated
Give your immune system a boost
What Science Says About Polyphenols and Olive Oil
Based on the research we did leading up to this review, we think that Gundry's claims about the benefits of polyphenols are somewhat accurate.
For example, there are multiple studies hailing the antioxidant properties of polyphenols. This means that polyphenols help keep your cells strong so that they don't break down (oxidize) over time.
One study done in 2015 at the University of Florence said that polyphenols help maintain cell health and may actually provide added an defense to those cells. Also, the study's author found that polyphenols found in olives are better at absorbing into the body than polyphenols from other sources.
Another study found that taking 3,000 mg of olive extract per day helped participants experience lower pain levels from rheumatoid arthritis and general inflammation.
In a general sense, olive oil has long been heralded as a heart-healthy fat that can replace butter and margarine.
The key behind olive oil's health benefits, Mayo Clinic points out, is that it's full of monounsaturated fatty acids (MUFA's).
MUFA's may lower your heart disease risk and could help with insulin and blood sugar control, Mayo Clinic notes.
Keep in mind, though, that it's best to use olive oil in moderation because it's calorie-heavy.
"But even healthier fats like olive oil are high in calories, so use them in moderation," Mayo Clinic says. "Choose MUFA-rich foods such as olive oil in place of other fatty foods — particularly butter and stick margarine — not in addition to them. And remember that you can't make unhealthy foods healthier simply by adding olive oil to them."
Another well-known benefits of olive oil is that it can help lower your cholesterol, which is why it is hailed as heart-healthy.
Based on this information, we believe that Gundry MD Olive Oil can follow through on its claims to promote healthy arteries (lower LDL reduces plaque buildup in veins) and ease joint pain.
Gundry MD's claims that olive oil can help your skin is based on a study in which researchers gave surveys to Greek, Australian and Swedish subjects asking them what their eating habits were. While not the soundest methodology for research, the study found that those who ate more vegetables, legumes and olive oil had better skin.
In general, we think that this product has the potential to provide multiple health benefits associated with olive oil in general. As for the effects of the boosted polyphenol content, we think research indicates there are some benefits. However, exactly how present those benefits are and how much olive oil you have to consume to get those benefits is not clear.
Gundry MD Olive Oil Pricing and Return Policy
Every bottle of Gundry MD Olive Oil is about a quarter of a liter. These bottles cost $39.95 plus $4.95 for shipping. You can eliminate shipping costs if you buy three bottles for $107.85 or six bottles for $203.70.
You have 90 days from the date of purchase to do a return. You'll need to call Gundry MD at (800)852-0477 to start the return. You will be responsible for return shipping charges.
IN our opinion, the $39.95 price tag for a single bottle of Gundry MD Olive Oil is high, considering you're paying around $2.35 per tablespoon.
How Gundry MD Olive Oil Compares to Other High-Polyphenol Olive Oils
Finding high-polyphenol olive oil is tough. We were able to find a 16.9-ounce bottle of extra virgin olive oil from LifeExtension that claimed to have more than 800 milligrams of polyphenols per kilogram of olive oil.
This is a 30% reduction in concentration compared to Gundry MD Olive Oil is significant. However, so is the price and size difference.
A 16.9-ounce bottle of LifeExtension olive oil is $24.75. The weight to cost ratio is around $1.45 per oz. The same ratio for Gundry MD Olive Oil is $4.70 per oz.
It's hard for us to say conclusively if the higher polyphenol concentration in Gundry MD Olive Oil is worth paying an extra $3.25 per ounce. What we do know is that Gundry MD's price could be prohibitive even if you do think the extra polyphenols will make a difference.
The Bottom Line
We believe that Gundry MD Olive Oil has one significant advantage over average olive oil: polyphenol concentration. This is the product's clear strength, along with the fact that even average olive oil has health benefits unrelated to polyphenols.
So, not only are you getting a big boost of a known antioxidant, you're getting all the other benefits that come with olive oil.
That being said, because most olive oil provides a wealth of health benefits, we are hesitant to recommend Gundry MD's product because it's hard to measure how much more health their olive oil is over other extra virgin olive oil that is significantly cheaper.
For example, a 67.62-ounce bottle of Kirkland Signature Extra Virgin Olive Oil is $24.40 on Amazon.com. For about 60% of the price of Gundry MD Olive Oil, you get around eight times more olive oil. For consumers on a tighter budget, Kirkland Signature's olive oil—and even LifeExtension's olive oil—are more affordable.
4 out 4 people found this review helpful

Smoky taste in olive oil

By Verda Y.

,

Middlebury, IN

,

Jan 17, 2020
Verified Reviewer

When I first tasted the olive oil it had a very different taste than I expected. I was expecting peppery.

I gave bottles away to my immediate family as Christmas gifts. When they tasted it they made sure to have water close by because it has a very different taste than the olive oils they are used to. I have not asked them how they are feeling physically. I know the one family uses it in cooking rather than just using it by itself.

I was trying to think what physical benefit I have received and just realized my knees don't hurt! I am 66 years old and they hurt going the stairs. I am very thankful for that. I want to lose some weight and am hoping the oil will help. I have been taking this less than a month so I need to give it more time.

My husband is also taking it. It will be interesting what benefits he will experience. He has some heart issues that I hope will be better.

Bottom Line: Yes, I would recommend this to a friend

---

2 out 2 people found this review helpful

Exceptional product

By Jean H.

,

Clayton, NC

,

Jan 17, 2020
Verified Reviewer

I use the olive oil in salad dressings, primarily, and it is just wonderful. I sold one of my bottles to a friend who is a gourmet cook, and she had exactly the same response. I think she'll be ordering soon on her own.

Bottom Line: Yes, I would recommend this to a friend

---

Advertisement

---

2 out 2 people found this review helpful

I take a full tablespoon every day

By Greg S.

,

Tulsa, OK

,

Jan 16, 2020
Verified Reviewer

As an individual that has overcome Stage IV cancer, I love giving my body high vibrational living foods that are unprocessed, pure, and high in nutritional value. I take 1 full tablespoon every day during the late morning hours just prior to lunch. The healthy fat source satiates my body's hunger and helps me reduce daily cravings. I consider this olive oil more of a preventative medication than a food source. It's basically a daily supplement without the pill casing. By adding this to my daily regimen of healthy nuts, salad, cruciferous vegetables, filtered water and lots of walking. I know I am giving my biome a fighting chance to grow and proliferate thereby allowing my body to thrive. This olive oil is a cooperative component to my daily physical well being.

Bottom Line: Yes, I would recommend this to a friend

---

2 out 2 people found this review helpful

Olive oil

By Gloria L.

,

Placerville, CA

,

Jan 16, 2020
Verified Reviewer

I believe the olive oil has helped my skin feel and look smoother. I love the taste of the olive oil on my roasted cauliflower, gives a nice kick to it. I put one tablespoon of olive oil in my bone broth every morning.

Bottom Line: Yes, I would recommend this to a friend

---

Advertisement

---

4 out 4 people found this review helpful

I'm a lover of olive oil!

By Marie K.

,

Boca Raton, FL

,

Jan 15, 2020
Verified Reviewer

I was pleasantly surprised how much flavor is in Dr. Gundry's olive oil and how it brings out the flavor of any herb or vegetable it touches. Worth every cent! Its story is amazing and the care with which it is made exceeds my expectations. Dr. Gundry has changed my life! I feel fantastic!

Bottom Line: Yes, I would recommend this to a friend

---

3 out 3 people found this review helpful

Olive oil

I was a little leery about this product, but I decided I'd give it a try. The taste of this product was not at all what I expected; it actually tasted great. I also feel better and my colon is working better.

Bottom Line: Yes, I would recommend this to a friend

---

3 out 3 people found this review helpful

Good

By Tina C.

,

Ohio

,

Jan 10, 2020
Verified Reviewer

Customer Service was amazing, one of the bottles arrived broken and they replaced no charge, no hassle. I would have selected Excellent but I'm still trying to get used to the taste, it is different, but not bad, other than that so far so good, I will continue to use!

Bottom Line: Yes, I would recommend this to a friend

---

4 out 4 people found this review helpful

Wasn't sure what to expect

By Douglas W.

,

Saint Augustine, FL

,

Jan 8, 2020
Verified Reviewer

I wasn't sure what to expect, but I've had good results with their Gundry products. I take 2 tsp before dinner, and 1 tsp before breakfast. I have to say I have been feeling better in general, and I've noticed some dry skin issues are improving. I plan to continue.

Bottom Line: Yes, I would recommend this to a friend

---

5 out 5 people found this review helpful

I made it easy to take

By Rich T.

,

Pocatello, ID

,

Jan 8, 2020
Verified Reviewer

I take one tablespoon in the morning, leave it in my mouth for about a minute. Similar to taking something like CBD sublingual, this gets rid of the strong aftertaste and I believe it is absorbed better. Also, I like to put a little on my salads. I am excited about my hair and skin feeling better. Also, my digestive system seems to work better. I give it a 10.

Bottom Line: Yes, I would recommend this to a friend

---

3 out 3 people found this review helpful

Olive oil

By Jerry N.

,

Wisconsin

,

Jan 8, 2020
Verified Reviewer

This oil seems to work as advertised. I feel more alert and I am anticipating my next cholesterol numbers being lowered. I want to make Dr. Gundry's oil a normal part of our diet.

Bottom Line: Yes, I would recommend this to a friend

---

2 out 2 people found this review helpful

Seems to be good for sleep, too!

By Marjorie L.

,

Bonita Springs, FL

,

Jan 6, 2020
Verified Reviewer

I noticed that, for whatever reason, my sleep improved as soon as I started taking it. I have only been taking it for 3 weeks, and I am hoping for more good benefits as time goes on.

Bottom Line: Yes, I would recommend this to a friend

---