PillPack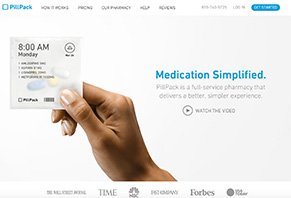 PillPack is a full-service online pharmacy that pre-packages all of your medication into daily packets, which can help ensure you're getting what you need.
PillPack Review and Details
Founded by TJ Parker, PillPack is a full-service pharmacy that "delivers a better, simpler experience." How?
By pre-sorting all your medication into personalized packets (one pack for each dose), which are organized by time and date, and clearly labeled with medication names. Each convenient recyclable dispenser is delivered straight to your door every two weeks, making it simple to take all of your medications, whether at home or on the go.
And PillPack will even coordinate with your insurance company and all your doctors to actively manage your refills, so you'll always be able to take the right medication at the right time!
Are you among the 80% of Americans who regularly forgets to take your medication? If so, you could be putting your health in jeopardy.
Can PillPack help, or will they just complicate an already complicated process? Let's start by taking a look at exactly how the company claims to help.
How the PillPack Process Works
Signing Up
You can sign up for a PillPack account in less than 5 minutes by entering your first and last name, email address, and phone number, and then creating a password. From there, you'll also need to enter your address, the last four digits of your SS#, your DOB, and indicate which conditions you're treating.
Once this is complete, you'll be able to enter medication individually by name, strength, and the pharmacy where they're currently filled. Finally, you can enter your credit card number and insurance information.
From there, PillPack claims they'll handle all your transfers and confirm your start date. Once everything's set, the company will send you a message before each shipment is sent, in order to confirm medications and shipping address.
Receiving Your Prescriptions
According to PillPack, they use a highly precise, automated dispensing system to sort and fill personalized PillPacks separately for each customer. The system checks for errors using multiple barcodes and an image recognition system, while a pharmacist physically double checks for potential errors and interactions prior to shipment.
While your daily medications and vitamins will be contained in PillPacks, "as needed" medication will arrive separately in standard bottles, as will any inhalers or creams.
Important note: PillPack cannot fill schedule II prescriptions (e.g. painkillers, ADHD medication, etc.).
Proactive Refill Management
Before each refill, PillPack contacts your doctor four weeks in advance and continues following up until they have a new prescription in hand. This is something they call "proactive refill management."
In the mean time, you can always check your personalized dashboard for "your current list of medications, where you are in your roll of PillPacks, and other helpful information."
If you're taking a lot of medications, this can certainly seem like a godsend. But how much will the convenience provided by PillPack cost you?
PillPack's Pricing Model
PillPack claims there is no extra cost for their services, beyond standard 30-day co-pays. However, if you're currently receiving your medication in 90-day supplies, your co-pay might be "slightly higher."
PillPack accepts most major insurance plans, including most forms of Medicare Part D, although they're not "compatible with Humana, Optum, coverage provided by the United States Veterans Administration, or state Medicaid plans."
Unsure if your insurance will cover PillPack's services? Be sure to call your provider in advance.
All PillPacks are shipped overnight via UPS in temperature-controlled packaging, and come with a 100% on-time guarantee. If you don't receive the right medications, on time, every time, you'll be eligible to receive a full refund for the cost of the medications in the shipment.
If you need assistance, PillPack's 24/7 support can be reached at 855-745-5725.
Pricing aside, what are customers saying about PillPack?
Customer Feedback for PillPack
As a fairly unique startup (more about this next), PillPack has received a lot of media attention, having been featured in Wired, TechCrunch, Forbes, and more. Most of these were high-level overviews though, and didn't provide a whole lot of insight into the customer experience.
PC Magazine
PC Magazine reviewed PillPack in December 2014, and gave the company a 4.5-star (excellent) rating and named them an Editors' Choice health service.
Overall, they found PillPack to be a simple, efficient, and convenient way to refill prescriptions, although they didn't appreciate having to enter a credit card to browse medications and prices, or the fact that you couldn't compare these prices with other pharmacies.
Blogger Sarah Doody
Sarah Doody claimed to have really enjoyed her experience with PillPack, and could foresee it bringing "great change for both physicians, pharmacists, and patients."
While she liked how PillPack seemed to be thinking about every little detail, she recommended that they offer a printable checklist with each medication shipment, as well as whether or not any OTC medications might interact with prescriptions.
Chronically Ridiculous
On the other hand, the author of Chronically Ridiculous was disappointed with their PillPack experience, as the company only sent one of the prescriptions they requested. And PillPack also failed to cancel their enrollment after sending an email request.
Granted, the author didn't mention that they reached out to the company to fix the problem, or to get an explanation for what occurred.
Better Business Bureau
Finally, PillPack, based out of Manchester, NH, had an A+ rating with the Better Business Bureau at the time of our research, with just two closed complaints (as of 10/27/15). One of these referenced over-billing an insurance company, and the other referenced difficulty obtaining refills.
Although PillPack seems to have a mostly positive online customer reputation, how do they compare to the competition? Does the company even have any competition?
PillPack Alternatives
Type the phrase "online pharmacy" into your favorite search engine, and you'll encounter thousands of results. In other words, if you're simply looking for an online pharmacy company to fill your prescriptions, you've got a lot of choices.
However, where PillPack really distances themselves from the competition is their pre-filled medication packets, which seems to be completely unique. Yes, robots like the one implemented by PillPack have been used for years to deliver medication to hospitals and assisted living centers, but nothing (until now) for consumer mail-order use.
Just because it's unique, does this necessarily mean you should choose PillPack?
Should PillPack be Your New Pharmacy?
If you're taking a lot of medications, there's no doubt that PillPack's pre-filled medication packets can simplify your life. To boot, the company even claims that you'll pay about the same as your local pharmacy, so there's no extra cost for this added convenience.
On top of this, even with limited online customer reviews, PillPack seems to have a solid customer reputation.
Perhaps the biggest hassle you'll experience with PillPack is signing up for an account and then listing all your medications in your dashboard. And while the company claims they'll handle all the transfers and insurance paperwork, insurance companies (and even many brick-and-mortar pharmacies) can be notoriously difficult to deal with so this might require your involvement as well.
Overall? If you're looking for convenience with your medications, it seems you can't go wrong with PillPack.
Customer service wait times are horrific. They don't get prescriptions right.

By D Maul

,

Florida

,

Feb 1, 2017
Verified Reviewer

I thought this sounded like a great option for my mom, so I signed her up. What a mistake.

They are trying to get refills from doctors on medications my mom doesn't take any longer. I have told them multiple times what her current prescriptions are and they just can't seem to get it right. Her meds still aren't showing up on PillPack's website in her medications. Every time I call or try to do an online chat, the wait times are more than ten minutes.

Their people are nice, but the right hand doesn't know what the left hand is doing. The idea is great, but they're not ready to take care of customers yet. They just don't have enough staff, and they need a better communications system between departments. I think I'll switch back to Optum. It is much easier to deal with.

Bottom Line: No, I would not recommend this to a friend

---

Do not use, or run the risk of not receiving your meds!

By Melissa

,

Long Island, NY

,

Mar 12, 2017
Verified Reviewer

PillPack is Horrible!

I used to be good, but every time I have a medication change, it's like I have to go through hoops to make sure it gets done. The hold times are terrible. And finally, I canceled my account but they are holding my scripts hostage! I am on life-saving meds, which are due to run out, therefore I will now have to waste money and go see my doctor since the PillPack will not do the right thing.

I am so disappointed. They also tried to charge my card the cash price for a medication since they did not get the prior authorization!

Bottom Line: No, I would not recommend this to a friend

---

Advertisement

---

Waste of time

By Ben

,

Seattle, WA

,

May 1, 2017
Verified Reviewer

I went through a fifteen-minute phone conversation process just to learn that my insurance doesn't work with them. Unacceptable.

PillPack should check insurance first instead of wasting people's time.

Bottom Line: No, I would not recommend this to a friend

---

Horrible experience

By Daniel D.

,

New York, NY

,

Jun 14, 2017
Verified Reviewer

Huge frustration with their constant errors that resulted in my not having medications when needed. And just an overall terrible experience with their lack of diligence, an app/website that does not reflect current information for accounts (missing medicines, wrong shipment information, etc), and despite the promises of a more seamless experience, I find it much easier to deal with my local pharmacy than to deal with these chuckleheads. Too bad, because there is a lot of promise to the concept. Unfortunately, the execution is just atrocious.

Bottom Line: No, I would not recommend this to a friend

---

Advertisement

---

Constant errors

Every year PillPack has made errors with the dose, or left out medications altogether.

Today they sent me a text that I need to call my internist about a refill, but they didn't say what medication. I called customer service, and the young lady didn't know anything and couldn't pronounce the name of the medication. I spoke to the pharmacist who told me that the medicine in the text was not the correct one and that I needed a refill from the cardiologist for a different medication . Then she said she found the refill. This was for a heart medicine that I cannot live without. I told her that I'm sure I'm not the only one this happened to, but thousands of people could be missing their lifesaving medications.

This has happened many times. I am tired of this and am looking for another company. And I may report tins to the licensing board of New Jersey or bring it to the news media.

Bottom Line: No, I would not recommend this to a friend

---

No re-fill

They said they were going to ship my medications and didn't do it. I called them and they said they would overnight them, but I never got them. I guess my blood pressure and other meds that I need aren't that important to them.

Bottom Line: No, I would not recommend this to a friend

---

A bunch of idiots

By Lexi

,

Seattle, WA

,

Nov 15, 2017
Verified Reviewer

They cannot follow simple instructions. Doesn't ship new medication but waits until next delivery. Sends WRONG medication. Won't simply think about how a patient takes their meds. Why would I want to take two packs at 6 am when you could move the vitamin to noon! Horrible customer service. Going back to pharmacy. Don't waste your time or money.

Bottom Line: No, I would not recommend this to a friend

---

Horrible service

By Katie Scott

,

Apple Valley, CA

,

Nov 22, 2017
Verified Reviewer

I have issues with this pharmacy almost every single month. When I was on chemotherapy, they told me 4 separate times that my medication would arrive on time and it never did. I had to go without my medication for a week and fight just to get my medication. Then when I stopped taking the chemotherapy, they wouldn't stop shipping my medication after asking them multiple times.

They're always shipping out my PillPacks without medications because they fail to refill my prescriptions with my doctor, or they add too many medications causing me to throw away perfectly fine pills.

Every single month something happens. Wheather it be issues like them accidentally putting my medications in 4 separate PillPacks a day, or issues like them leaving out medications I need to stay healthy. I'm constantly having to fight between them and my doctor's office, and it's exhausting.

Bottom Line: No, I would not recommend this to a friend

---

If there were fewer stars they would deserve it

By Joni

,

Oregon

,

Dec 9, 2017
Verified Reviewer

This pharmacy is dangerous. Do not use them! This was the most horrific experience I have ever had. To the point that I had to use expired medication since it was more than a month to get them to even promise to mail the package (I was told that it had already been mailed several times), at which time it was easier to go to my local pharmacy.

I have probably 15 emails back and forth. During the calls that I did receive, I never talked to the same person twice, even after being told that they would take personal care and follow my order themselves. I had to repeat myself over and over. When I tried to call I was never on hold less than 45 minutes. Please, please beware. DO NOT use these people!

Bottom Line: No, I would not recommend this to a friend

---

The. Worst. Pharmacy. Ever.

By Rob

,

Connecticut

,

Dec 20, 2017
Verified Reviewer

I've lost track of the number of times these clowns have failed to get refills or notify me of a problem with a refill. They routinely ship packages that do not have full and complete medications.

Their "customer service" is entirely made up of "we're sorry," and "that shouldn't happen." Nothing but words, no improvement after multiple issues.

Worst. Pharmacy. Ever.

Avoid.

I have switched to CVS who offers a similar service.

P.S. I am certain that someone from PillPack will post the usual "we're sorry" and "this is not the service that we mean to deliver." Don't be fooled. Like others here, I have been told that the doctors don't return calls and faxes. Like others, I have spoken with close to a dozen "supervisors" and "managers." It's all a shell game and a joke. Nothing ever gets better. They are NOT sorry, and this IS the level of service you should expect. Don't be fooled. Take these 1-star ratings to heart.

Bottom Line: No, I would not recommend this to a friend

---

Beware before you try!

I tried them out, and they screwed up everything the first month. They promised it would not happen again, but they did again the second month. Then halfway through the third, they tell me they don't take my insurance anymore and I can pay cash for them and they will gladly continue serving me!

This was a horrible inconvenience. I would not recommend them to anyone! The biggest waste of time and energy switching everything to them, then getting treated like crap, only to just have to switch back!

Bottom Line: No, I would not recommend this to a friend

---