Power Swabs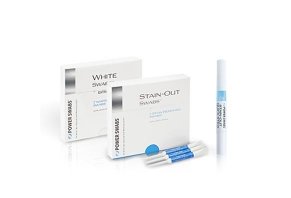 Summary
For those who want a teeth whitening system that provides stain removal and whitening, Power Swabs gives you a swab-based system that uses an ingredient proven to whiten teeth.
Power Swabs Review: Does It Work?
Power Swabs is a teeth-whitening regimen through which you use a set of swabs to apply peroxide gel and whiten your teeth over time.
What makes this product unique is that multiple celebrities have endorsed it on Twitter: actress Haylie Duff, model Cynthia Bailey, and media personality Joy Bauer.
The product is the brainchild of Dr. Martin Giniger, whose career is pretty colorful. According to his website, Giniger graduated from Farleigh Dickinson University's School of Dentistry and got a Ph.D. in chemistry from the University of Connecticut School of Dental Medicine.
In addition to being a consultant and expert witness in dental lawsuits, Giniger's enterprise performs research about and development of various "oral care products," of which Power Swabs is one.
In this review, we'll talk about how Power Swabs work, how much they cost and how they compare, price-wise, with other teeth-whitening products. Along the way, we'll provide some quotes from experts about teeth whitening.
How Power Swabs Works
The goal of the Power Swabs kit is to get yellow stains off your teeth and then whiten them. It's a two-step process and, as such, comes with two separate mini-kits: Stain-out swabs and white swabs.
Your Stain-out swabs are designed to remove stains from the teeth. Most often, those stains manifest themselves in the form of a yellow coating that results from things like smoking, coffee, tea and all the other things we eat, drink and smoke.
According to the directions, you'll use the swabs to apply the gel that comes with your Stain-out kit for a total of two minutes.
The ingredients of this gel are not available on the Power Swabs website. We called customer service and were able to get a list of ingredients over the phone. Here's a quick list of some of the ingredients in Stain out:
Purified water
Ethyl alcohol
Natural baking soda
Sodium carbonate
Peppermint oil
Once you've applied to Stain-out gel, then you'll do a round of the White swabs for two minutes. Here's a list of some of the ingredients in the whitening agent:
Carbamide peroxide
Sodium laureth sulfate
Propylene glycol
The website notes that you'll want to avoid doing the following things for 30 minutes after you apply the Stain-out or White:
A couple of important things to know are how long the whitening lasts and what the possible side effects are.
According to the Power Swabs website, one treatment could last up to six months:
"Clinical studies and other teeth whitening reviews have shown that teeth remain whiter than baseline for at least 6 months after the use of one Power Swabs kit."
Side Effects of Whitening Products and Ingredient Effectiveness
As for side effects, one of the main concerns related to teeth whitening – strips, toothpaste, and gels – is irritated gums. This is the first thing that Seattle-area dentist Dr. Libbi Finnessy pointed out to us.
"White strips and whitening toothpaste are my pet peeves -- people waste money on products with the lowest concentration that remove surface stains and irritate and even burn their gum tissues as the strips are not made to fit your mouth because they're a universal size," Finnessy said.
As for which whitening products work best, Dr. Ron Baise, founder of London-based 92 Dental, told us that there two ingredients that actually work.
"The only tooth whitening products with solid clinical evidence of effectiveness are ones which contain the active ingredient of hydrogen peroxide or carbamide peroxide," Baise said.
He went on to tell us that most over-the-counter teeth whiteners produce results not because of the ingredients they contain, but for an entirely different reason.
"Using teeth whiteners involves keeping your mouth open for a long period of time," he said. "This dehydrates your teeth, which makes them temporarily whiter. However, once your saliva rehydrates your teeth, this whitening disappears."
Based on the information we gathered from these experts, we believe there is some fact-based evidence that Power Swabs will, in fact, whiten your teeth because it contains carbamide peroxide. According to doctor Baise, this is one of two ingredients whose whitening power research can back up.
Just keep in mind that these ingredients can be harsh, Finnessy noted, so make sure you keep Power Swab away from your gums. If you're concerned about hurting your gums, she said that dentists use special techniques to "block out your gum tissues" to ensure the whitening agent doesn't touch them.
Cost and Return Policy
At the time of publishing, the Power Swabs website was selling a seven-day supply for $59.90. There was one other offer, too: $119.80 for a three-week supply as well as three Stain-out quick sticks. These sticks are quicker versions of the Stain-out swab packs.
If you aren't happy with Power Swabs, the company offers a 30-day money-back guarantee (less shipping) that covers the first 30 days after your order in order to meet that deadline, you'll need to call 800-535-4693 to start the return. You can also contact the company at customercare@powerswabs.com.
Bottom Line
We live in a great time for using at-home teeth whitening – there are dozens of options to make your teeth whiter.
Gels like Power Swabs and whitening strips tend to make your teeth 1-2 shades lighter but don't work quite as good as whitening trays.
Based on our research of Power Swabs, the company's claims to whiten your teeth are true based on the ingredients. However, this product may not be any more effective than something like Crest Whitestrips.
The Power Swabs system provides you with more control over protecting your gums from the cleaning and whitening compounds. If you worry that whitening strips or trays don't provide the precision you'd like, Power Swabs could be the solution.
Customer Reviews
Posted on Dec 29, 2021
Waste of money!
The instructions on the packaging don't sync with the instructions I've seen online on instructional videos, which by the way, are all OLD! Noticed little to NO change. The liquid is immediately rubbed off by your gums, so...
Length of Use: 1–2 years
Bottom Line: No, I would not recommend this to a friend
Pros and Cons
You can speak a human representative
Price isn't too bad
Product doesn't necessarily work
Breaking off the applicator is very difficult, and it shouldn't be
Posted on Feb 18, 2020
Save your money
Don't get your hopes up for white teeth. I didn't notice any change. They need a better way to keep the solution on your teeth. Applying it with a Q-tip is sloppy and then the solution gets wiped off with your lip movement.
Bottom Line: No, I would not recommend this to a friend
Posted on May 18, 2019
Don't bother
Don't waste your money and time; the product does not work. I methodically followed directions and my teeth still look the same. The entire product/process needs to be revamped. Application with a Q-tip, really? Thank goodness I only purchased the initial 7-day pack and nothing else.
Bottom Line: No, I would not recommend this to a friend
Our Promise to You
In order to safeguard you and ensure helpfulness and relevance, our compliance team manually assess every customer review before it goes live.
We have a zero-tolerance policy for fake reviews, and companies cannot control or alter any reviews at any time.