Snow Teeth Whitening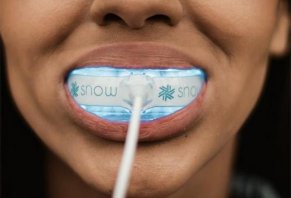 Snow Teeth Whitening is a six-part at-home kit that promises to help you lighten your teeth as much as a professional in-office treatment but at a fraction of the price.
Snow Teeth Whitening Review - Legit Or Hype?
Snow Teeth Whitening sells at-home teeth whitening kits that use proprietary ingredients to deliver guaranteed results, without sensitivity, in as little as 10 minutes per day.
The website advertises Snow spent several years and more than $2.3 million undergoing research and development, all of which focused on inventing "a truly revolutionary product that simply works better than anything else we've seen on the market."
Compared to other systems, Snow's Teeth Whitening kit utilizes an LED-filled mouth tray that plugs into any electronic device and speeds up your results.
They also use a gel formula they claim is the world's most advanced—the only one that can cut through deep wine and coffee stains. And they claim their whitening gel can do all of this without using harmful chemicals or animal testing.
Together, the company—founded in 2015 and partially owned by NFL star Rob Gronkowski—promises to provide the best teeth whitening results money can buy.
Should you become one of their more than 150,000 worldwide fans, though? How does Snow compare to other whitening systems, and which options will deliver the most value?
Let's start by zooming in on everything their kit contains.
Taking a Closer Look at the Snow Teeth Whitening Kit
Each complete Snow system includes the following components:
3 professional-strength whitening wands
1 extra-strength wand
1 tube of lip treatment
1 vial of desensitizing serum
LED activating light
Tips for "teeth whitening hacks"
To use, you'll begin the process by brushing your teeth for two minutes and then flossing and rinsing. Afterward, you'll paint the company's proprietary whitening serum onto each tooth, similar to painting your nails.
Snow includes a state-of-the-art mouth tray with their system, which uses patented LED activating technology to emit ultra-safe wavelengths of light they say will help whiten teeth faster without harming your mouth or body in any way (more on this later).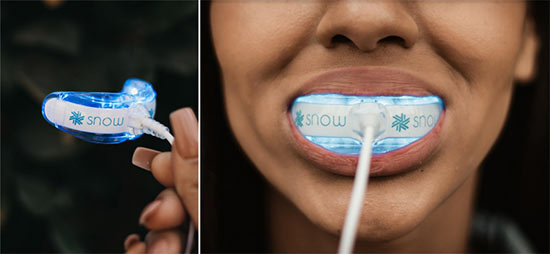 Snow's special LED-filled mouth tray plugs into a phone or computer and promises to accelerate the whitening process. Credit: Snow Whitening, Inc.
All you need to do is connect the device to any computer or smartphone and comfortably insert into your mouth. From there, you'll keep it in place for between 10 and 30 minutes, depending on your desired level of whitening.
Your last step is to unplug the LED tray, remove from your mouth, and rinse both the tray and your mouth.
Despite the high-tech appeal of Snow's existing LED mouth tray, the company has a new version currently available for pre-sale, which we'll talk about in the next section.
The Current Snow Teeth Whitening Kit vs. Their All New System
Compared to Snow's current version, the soon-to-be-released system uses the same proprietary whitening formulas but features a space-saving design that neatly stores each component in your bathroom. It's also travel-friendly if you need to whiten on the go.
The biggest technological difference is their new mouth tray, which features dual-light technology; a blue LED for professional whitening, paired with a red LED for eliminating gingivitis-causing bacteria and fighting receding gum lines.
The tray also boasts wireless operation, along with a waterproof design that allows you to whiten your teeth while you shower. When charging (also wireless), the Snow website advertises it self-sanitizes and kills 99.9% of germs.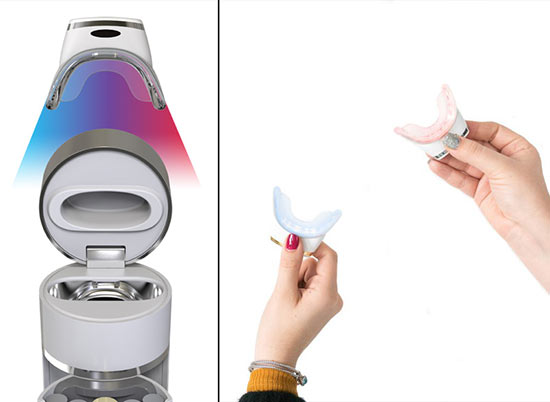 Here is Snow's All-New system, which offers several new technologies and a space-saving design, and is currently available for pre-sale. Credit: Snow Whitening, Inc.
Finally, Snow's forthcoming kit includes a mobile app that gives you the opportunity to set goals and track the shade changes in your teeth, while earning rewards and free products.
Analyzing the Snow Teeth Whitening Kit's Ingredients
Snow's website frequently reiterates the proprietary nature of their professional serums, calling them "revolutionary" and "the world's most advanced," while emphasizing that they're more effective than anything else on the market.
However, they don't list any of their ingredients. We reached out to customer service, who promptly replied:
"We use a proprietary serum, but the active ingredients include hydrogen and carbamide peroxide, as well as sodium bicarbonate. Strength ranges from 8-12% for regular and 16-19% for maximum strength. European versions do not utilize hydrogen peroxide due to country standards."
Do the ingredients in at-home whitening kits typically deliver the same stain-fighting power as a session from your dental professional? After all, they tell us, "Our results can be compared more to a $500-1000 dentist treatment, at a fraction of the cost and done in the comfort of your home."
The short answer? Probably not.
This is because, according to Dr. Mark Burhenne, "Professional whitening gel tends to be stronger then at-home whitening gel."
In other words, returning to our whitening article above, they often contain higher peroxide percentages (30%+) compared to at-home kits (typically 10-20%).
Potential Side Effects When Using At-Home Teeth Whitening Systems Like Snow
Snow tells us there are no side effects related to their Teeth Whitening system as long as you follow the included plan of 9–30 minutes each day for between 21 and 30 consecutive days.
They even say pregnant and breastfeeding women can safely use it.
Furthermore, they advertise their serums don't cause sensitivity, don't harm enamel, and don't contain dangerous chemicals.
In our article about choosing a whitening system, we report that the most common peroxide-related side effect reported by consumers is sensitivity, especially if the gel makes its way onto the gums. Not all users experience it, though.
If you do, symptoms should gradually subside over the course of minutes to hours.
How Much Does Snow Teeth Whitening Cost?
The Snow Teeth Whitening complete kit sells for $150, with the newer version currently available for pre-sale at $299.
Three, six, or nine-packs of whitening serum refill wands (2 ml each) will cost you between $25 and $75.
One, two, three, and six-packs of max-strength refills (4 ml each) are available for between $25 and $65.
A portion of every sale is donated to help a child who needs dental work. Shipping is charged during checkout and Snow ships from Arizona to more than 195 countries around the globe.
The company backs their whitening kits with a 100-percent results guarantee and a five-year warranty. However, their Return Policy page, you cannot make a return or receive a refund:
"We offer a 100% results guarantee, not a 100% money-back guarantee. We are not allowed to accept returns or issue refunds in cash due to strict hygiene regulations.
All refunds are issued as a store credit (gift card). The 100% results guarantee means we can replace your whitening serum if you are unhappy with your whitening results."
You can call customer service at (480) 470-6184, although as we outlined above, the only option we were given was to leave a message. Alternately, you can send an email to support@trysnow.com.
Choosing Between Snow and Other At-Home Teeth Whitening Systems
According to a 2017 report by NPR, at-home teeth whitening represents a $3.2 billion industry, so there are lots of options to choose from if you're in the market.
When comparing all of these competitors, do you necessarily need to pay more for a kit like Snow that features an LED-illuminated mouth tray? After all, you'd likely spend $400+ over the course of a year if you used their system every other month for 21-30 days at a time, as directed.
Burhenne's article for Ask the Dentist casts some doubt on the effectiveness of LED whitening systems.
"There is no proof that a UV light used by a dentist (during in-office whitening) speeds up the process of whitening or does a better job at whitening your teeth," he wrote in his article. "In fact, it may harm the tooth and can damage your eyes, lips, and gums with UV rays."
On the other hand, specific wavelengths of red and blue light can help kill bacteria by causing them to develop toxic internal substances.
However, Snow doesn't indicate which red-light wavelength they use in their soon-to-be-released kit—something that's also not available in their existing system.
Comparing Snow to Other Popular At-Home Whitening Systems
Based on our extensive research into the topic, we've found that at-home teeth whitening kits typically share much more in common than otherwise.
Most companies including Snow feature LED accelerator lights, enough whitening gel for multiple treatments, instructions to use for 10-30 minutes per session, and satisfaction guarantees.
The most significant differences are the prices you'll pay, along with the active ingredient concentrations found in their formulations:
| | | |
| --- | --- | --- |
| Brand | Price | Active Ingredient(s) |
| Snow Teeth Whitening | $150 | Hydrogen and carbamide peroxide; 8-12% for regular strength and 16-19% for maximum strength. Also includes sodium bicarbonate. |
| AuraGlow Teeth Whitening Kit | $49 | 35% carbamide peroxide |
| ActiveWow Teeth Whitening Kit | $47 | 36% carbamide peroxide |
| Cali White Vegan Teeth Whitening Kit | $35 | 35% carbamide peroxide |
| Mobile Teeth Whitening | $120 (two devices) | N/A |
| MySmile Teeth Whitening Kit | $28 | 18% carbamide peroxide |
| Dr. Song Teeth Whitening Kit | $20 | Carbamide peroxide (no concentration listed) |
Lining these competitors up side-by-side, we can see that although Snow's Teeth Whitening system is priced meaningfully higher than most, it actually ties with MySmile for the lowest peroxide concentrations—even when including their maximum strength formula.
Granted, higher peroxide concentrations don't necessarily mean that an at-home system will deliver better stain removal results.
But, considering you can get twice the concentration for less than half the price with AuraGlow, ActiveWow, and Cali White's systems, it's certainly worth noting.
On the flip side, it's important to point out that the higher the peroxide concentration, the more likely it is you'll experience temporary teeth or gum sensitivity.
Taking all of this data into consideration, should you go ahead and place an order for Snow Teeth Whitening?
Our Final Thoughts About Snow Teeth Whitening
Based on what we learned from experts in this area, along with our previous in-depth research, it doesn't appear that Snow's LED system can meaningfully accelerate the whitening process, or boost your results.
Furthermore, compared to other at-home whitening kits, Snow's system is priced meaningfully higher and uses gels featuring as much as half the peroxide concentration.
There's no doubt that Snow's Teeth Whitening system exudes a sleek, technological vibe. But, we think it's important to maintain realistic expectations about the level of whitening Snow's kit will deliver, as well as how your results will compare to a professional whitening session at your dentist's office.
Finally, it's important to keep in mind that once you hand over your credit card details and place an order for a Snow's $150 Teeth Whitening system, you can't obtain a refund.
---
It really does work!

By Cecelia S.

,

Texas

,

Feb 6, 2020
Verified Reviewer

I got the system and it was delivered very quickly. The instructions are very easy...brush your teeth, paint your teeth with the serum, put the mouthpiece in, and plug it into your phone or computer, etc. I was, of course, skeptical but I noticed results after the first use. I assumed they would just go away as soon as I drank something but they haven't and with every use, my teeth have gotten whiter. My bottom teeth are always hard to whiten and they are pretty close to where I want them to be after 4-5 uses. I grind my teeth so they are really sensitive but this system doesn't bother me at all. As long as it holds up I would definitely say this is well worth the price. I'm very happy with it and my white teeth.

Bottom Line: Yes, I would recommend this to a friend

---

Same as all the rest

By S J.

,

Wales, United Kingdom

,

Jan 10, 2020
Verified Reviewer

I have tried various teeth whitening products. None of them work. Same as this one.

Just another scam to get people's money. Don't be fooled by the before and after pics.

It does not work.

Bottom Line: No, I would not recommend this to a friend

---

Five stars! It really works!

By Fredy H.

,

Scottsdale, AZ

,

Sep 30, 2019
Verified Reviewer

I've received nothing but great compliments on my whiter teeth and it's all thanks to Snow. I drink 1-2 cups of coffee every day and my teeth have been slightly stained over time. I used Snow Teeth Whitening kit religiously for 28 days and my teeth whitened 3 shades. The compliments were the best part, I always had the same teeth, they're just whiter now and it's noticeable.

Bottom Line: Yes, I would recommend this to a friend

---

Finally feel confident enough to smile

By Kevin T.

,

Arizona

,

Sep 27, 2019
Verified Reviewer

HIGHLY RECOMMEND. I honestly was skeptical when buying this because white strips didn't really work for me and they hurt my mouth a lot. After the first 10 minutes, I was shocked I wasn't in any pain, and when I took the mouthpiece out of my mouth I even noticed a little difference (which I wasn't expecting right away). I stuck to it and 3 weeks later I honestly found myself smiling and laughing while showing my teeth, it had been years since I did that (I alway hid my smile). Wow. I owe Snow Teeth Whitening not just for giving me whiter teeth but for giving me confidence in myself again to show my teeth when I smile.

Bottom Line: Yes, I would recommend this to a friend

---

Advertisement

---

Great results

By Fil C.

,

Las Vegas, NV

,

Sep 27, 2019
Verified Reviewer

Three days in and already 2 shades whiter. Looks really cool in my bathroom. This product helps me incorporate whitening into my daily wellness routine because I'm all about the daily upgrade. It works if you do it right, I would definitely recommend.

Bottom Line: Yes, I would recommend this to a friend

---

Best teeth whitening system on the market

By Craig M.

,

Ohio

,

Sep 27, 2019
Verified Reviewer

This works better than any other system you can buy, worth every penny. Ignore the jealous haters who say it's no good, it really works and the value for what you get is exceptional. Go with a company that stands behind their product. Using this will give you white teeth!

Bottom Line: Yes, I would recommend this to a friend

---

Money grab, you can buy this stuff on Ali Express for $15.00 with free shipping!

By James B.

,

Tasmania, Australia

,

Sep 27, 2019
Verified Reviewer

This company is taking everyone for a ride! I'm so angry I purchased this expensive piece of kit, when I was alerted by a friend that I can buy the exact same kit on Ali Express for $15.00 + Free Shipping.

Snow Teeth Whitening doesn't even work! I have used it now for over 2 months and my teeth still look the same, they promise that it will remove coffee stains and wine stains. This is a total lie. They just use photoshopped teeth or models and paid influencers with already white teeth to trick us. SCAM.

Don't get ripped off and pay out of your nose for this expensive crap.

Bottom Line: No, I would not recommend this to a friend

---

Snow is amazing

By Ben C.

,

Charlotte, NC

,

Sep 27, 2019
Verified Reviewer

I'm not sure what's going on here but Snow is amazing. Whoever is leaving negative reviews must not have ever tried Snow. I've used snow for a few weeks and my teeth and the whitest they've ever been!

Bottom Line: Yes, I would recommend this to a friend

---

My teeth are whiter like they promise and they went the extra mile.

By Carlos M.

,

Pennsylvania

,

Sep 27, 2019
Verified Reviewer

I ordered the Snow Teeth Whitening kit on August 22, 2019 and I received my kit on August 29, 2019. I been using the kit for the last 20 days and my teeth have gone from 8 to 2 (the Kit brings a Profesional 3D Teeth shade Guide) base on the professional Guide, and that is with me using the product for less than 20 days and normally using it between 5 to 20 minutes. They also send a Charcoal floss (love how they went the extra mile). I am happy with my purchase, my teeth are whiter just like they promise, thank you!

Bottom Line: Yes, I would recommend this to a friend

---

No other product can compare!

By Xa B.

,

Peoria, AZ

,

Sep 27, 2019
Verified Reviewer

I'm not sure what's going with these bad reviews but I had an instant wow moment when I finally received my kit. Extremely nice packaging and most importantly it actually works. I am a huge coffee drinker and I have been looking for a product that can actually whiten and maintain the white but I never had any luck. Money down the drain but finally a product that works! You won't be disappointed. You have to try it for yourself. Don't go off the bad reviews.

Bottom Line: Yes, I would recommend this to a friend

---

BEST WHITENING KIT

By Jared M.

,

Gilbert, AZ

,

Sep 27, 2019
Verified Reviewer

Snow is all about the customer experience! They have the best whitening kit money can buy! I recommend them to everyone! Josh has built a company that will last generations because he understands his customer and is willing to do what it takes to satisfy their needs and wants.

Bottom Line: Yes, I would recommend this to a friend

---