AuraGlow Reviews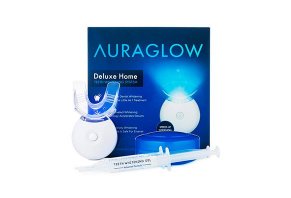 By containing high concentrations of carbamide peroxide, AuraGlow's product lineup claims to help deliver whiter teeth, without worrying about sensitivity.
About AuraGlow
AuraGlow manufactures a line of powerful, at-home teeth whitening kits that promise to help you achieve a brighter smile using high-quality, USA-made, 100 percent natural ingredients.
And while we're told that all of their whitening kits and gels are easy to use, they also include detailed instructions and tips that can help you maximize your results.
What kinds of an outcome can you realistically expect with AuraGlow? And, how can you possibly compare their lineup with the hundreds of other at-home teeth whitening kits? We'll help you make a more informed decision.
How Do At-Home Whitening Kits Work?
There are two main types of teeth stains:
Extrinsic (those on the surface of the enamel), which are typically caused by enjoying certain foods and drinks, as well as lifestyle factors like tobacco use. These tend to occur as microscopic particles become lodged in the 'pores' of enamel.

Intrinsic stains, on the other hand, occur underneath the enamel, and are often the result of certain medications, poor dental hygiene, the natural aging process, and genetics.
In most instances, at-home whitening systems utilize a bleaching agent, such as hydrogen peroxide or carbamide peroxide, to oxidize surface (extrinsic) stains, break up their microscopic particles, and lift them away in the process. Another popular method often implemented by whitening toothpastes is to use a mild abrasive, such as diamond powder or activated charcoal, which scrubs surface stains away.
Either way, will using an LED light like the one sold by AuraGlow boost your whitening results?
In your dentist's office, powerful lights are used to accelerate the whitening process, but not necessarily boost the end results. In other words, the clinical evidence seems to indicate these high-powered lights speed things up, but don't exponentially increase how white your teeth get. For example, Colgate.com reports:
"A study published in the Journal of Evidence-Based Dental Practice reviewed the safety and effectiveness of a variety of teeth whitening processes, including the use of UV light to whiten teeth. In examining the use of a "blue light with a wavelength between 480 nm and 520 nm," during the whitening process, the study suggests that using a light to activate the peroxide had no real added benefit."
» For Further Reading: How to Choose an At-Home Teeth Whitening System That Works
Taking a Closer Look at AuraGlow's Products and Ingredients
There are currently four products within the AuraGlow lineup, which they recommend using for at least seven to 10 consecutive days for best results:
Teeth Whitening Gel Syringe Refills
Each 5 ml syringe of mint-flavored whitening gel contains between 35 and 44 percent carbamide peroxide, depending on whether you choose their Standard or Professional version. Once applied to teeth, this ingredient breaks down into hydrogen peroxide, which then oxidizes away surface stains from inside your enamel's pores.
Although they indicate this is the same concentration used for in-office treatments at your dentist's, they also indicate it's safe for enamel, caps, crowns, and veneers.
To use, remove the cap, twist on the tip, and fill "the inner front surface of the mouth tray on both the top and bottom with 0.3 - 0.5 ML or less of gel." Recap the syringe for later use. Between the three syringes, we're told this is enough for 10 or more treatments.
On-The-Go Teeth Whitening Pen
A five-inch portable whitening pen that contains 2 ml of mint-flavored gel, with a 44 percent carbamide peroxide concentration. Additional inactive ingredients include propylene glycol, kosher glycerin, carbomer, peppermint essential oil, and triethanolamine.
Application takes less than one minute: Just twist the bottom of the pen to expose the whitening gel, paint onto each tooth, and it will dissolve on its own. Unlike many other brands, AuraGlow's pen features a clear tube design so you can see exactly how much gel you have remaining, and can be used one to two times per day.
Each pen contains enough gel for approximately 20 (or more) applications. When used regularly, AuraGlow advertises you should see visible results after just a few treatments, with ultimate results that are four to eight shades whiter.
Activated Charcoal Teeth Whitening Powder with Bamboo Toothbrush
Comparatively, AuraGlow's Whitening Powder contains activated charcoal made from coconut husks to scrub away stains from the surface of your teeth, but without damaging your enamel or causing sensitivity. From there, its sodium bicarbonate can help oxidize stains.
Includes a soft bristle bamboo toothbrush. For best results, use twice per day for 30 consecutive days.
Deluxe Home Teeth Whitening System
AuraGlow's Deluxe System brings together their Standard syringes (35 percent carbamide peroxide) and adds a whitening light that contains five powerful LEDs to "accelerate the whitening gel process to break down stains on the teeth and whiten faster," as well as a 10-minute timer with a beeper.
However, the company recommends that you wear the tray for at least 30 minutes to achieve the best results.
The system also comes with a duplex tray that promises to fit any mouth and whiten top and bottom teeth at the same time, without molding, along with a storage case and detailed instructions.
Apply one treatment per day, and AuraGlow indicates you should see results within seven to 10 days. If you experience sensitivity, they recommend decreasing your sessions to 10 minutes, each.
Additional gel ingredients include glycerin, propylene glycol, xylitol, carbomer, Mentha piperita oil, triethanolamine, and aqua.
Possible Side Effects
Majority of customers don't experience side effects from these common ingredients. And when they do, it often isn't worse than mild, temporary tooth or gum sensitivity.
However, most at-home kits use gels containing no more than 22 percent carbamide peroxide, and it's possible that AuraGlow's higher concentration could increase the likelihood of sensitivity.
To help minimize your chances of experiencing unwanted side effects, it's always a good idea to speak with your dentist before making a whitening kit purchase.
Outside of this, the company points out that AuraGlow products aren't suitable for children under the age of 13, those who are pregnant, and those with braces or dental restorations.
How Much Does AuraGlow Cost and Where Can You Buy It?
AuraGlow's products are priced as follows:
Refill Syringes (3-pack): $36.99
On-the-Go Pen: $28.99
Activated Charcoal Powder: $24.99
Deluxe Whitening System (2 syringes, mouth tray, light, case, instructions): $59.99
Money saving tip: Each of these products was also available on Amazon at the time of our research, but up to $12 less expensive. And if you're a Prime customer, you can also achieve free shipping.
All direct purchases include free worldwide shipping, as well as a 30-day money back guarantee, less S&H. Note: Per the company's FAQ, "we ask that you try our products for at least two weeks for the best results, and if you have any problems to contact us so we can rectify the issue."
AuraGlow support can be reached at help@myauraglow.com or via their site's contact form.
What Are AuraGlow Customers Saying in Their Online Reviews?
We encountered nearly 3,000 combined customer reviews for AuraGlow's different products on Amazon, who had given them an overall average rating of about 4.5 stars.
Customers often complimented the company's customer service, whitening results, and ease of use, while complaints (what relatively few there were) commonly referenced less noticeable results than expected.
We found a similar rating and feedback on Walmart.com.
As a company, AuraGlow LLC is based out of Stamford, CT and has been in business since 2015. They held an A rating with the Better Business Bureau, based on zero complaints, as of 2/12/18.
AuraGlow vs. HiSmile, Opalescence, Crest Whitestrips, and Glo Science
There are perhaps hundreds of different products competing for many of the same customers as AuraGlow, whether as complete kits or individual pens, toothpaste, syringes, strips, or mouthwashes.
Choosing which of these categories is right for you largely depends on your preferences. For example, gels and strips can be used in the comfort of your home, and tend to deliver some of the evenest results, but they typically only lighten 1-2 shades and can cause sensitivity if the gel comes into contact with gums.
Furthermore, toothpaste and rinses often the least expensive options, although they're considering among the least effective whitening products available.
Speaking of effectiveness, the carbamide or hydrogen peroxide concentration found in whitening products can also have a big impact on how fast you achieve results. Let's take these metrics and see how AuraGlow compares to some of their most popular competitors:
| Company | Price | Active Ingredient & Concentration |
| --- | --- | --- |
| AuraGlow | $25-$60 | 35-44% carbamide peroxide; activated charcoal |
| HiSmile | $16-$60 | Sodium bicarbonate, sodium chlorite |
| Opalescence | $20-$40 | Carbamide peroxide, hydrogen peroxide (10-35%) |
| Crest Whitestrips | $20-$42 | 3-10% hydrogen peroxide |
| Glo Science | $25-$200+ | Hydrogen peroxide |
Other than ingredients, concentrations, and delivery method, are there any other factors to keep in mind when purchasing an at-home whitening kit?
Our Final Thoughts About AuraGlow
In the end, carbamide and hydrogen peroxide have been used in at-home whitening systems for years, and customers seem to report mostly positive results (generally one to three shades) with these ingredients, regardless of brand. Given this, it might largely come down to a question of value, instead of one of efficacy.
For example, at 44 percent, AuraGlow's Professional product delivers the highest carbamide peroxide concentration in the table above (which could potentially provide more significant whitening results, in less time), although their kits are also among the highest priced. Furthermore, this higher percentage could also increase the likelihood of experiencing temporary teeth or gum sensitivity.
Finally, although AuraGlow comes with free shipping and the company stands behind their products with a 30-day satisfaction guarantee, there are likely dozens of peroxide-based whitening kits available at local retailers. This way, processing a return could be as easy as hopping in your car, while avoiding return S&H charges, should you find yourself dissatisfied with the results.