Smileactives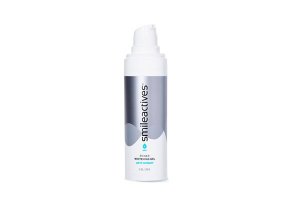 Summary
Smileactives sells teeth whitening products with hydrogen peroxide to give you a cleaner, brighter smile. There's plenty of evidence that these products work, but many customers found the subscription ordering process to be misleading.
Pros
Clinical evidence supports the use of hydrogen peroxide for teeth whitening
Works as described for many users
Option to make one-time purchases or sign up for a subscription
Cons
Some instances of pain and irritation
Doesn't work for all users
Many users didn't realize they were signing up for a subscription program
You may have difficulties canceling your order
Smileactives Review: A Detailed Look
Smileactives is an oral health company that sells whitening products. Founder Robert Eric Montgomery is a biochemist and inventor who claims to have spent the past 30 years developing oral health products that make it possible for people to improve their teeth's appearance affordably at home.
Smileactives sells three products: whitening gel, whitening pen, and a toothbrush. In this analysis, we'll look closer at the effectiveness of its whitening products to help you decide if they are worth it.
Power Whitening Gel (3.8-oz)
Price: $24.95 + $4.99 shipping, or subscribe for $19.96 and free shipping.
Designed to work on all types of teeth, including natural ones, crowns, veneers, and even dentures.
Smileactives' signature whitening gel is designed to remove stains by penetrating your tooth enamel. You're meant to pair it with regular toothpaste every time you brush your teeth for visible whitening within 30 days.
This gel relies on Polyclean, which is Smileactive's proprietary technology. It purportedly works to create lots of foam that reaches deep into tooth grooves to remove stains better than traditional toothpaste.
The company claims that this technology is safe for all forms of dental work and can be used daily to remove stains from coffee, tea, red wine, and other foods.
The gel contains a 9% concentration of hydrogen peroxide. This common antiseptic ingredient is frequently found in teeth whitening products because it produces a bleaching effect that lightens your teeth.
The level of lightening depends on the peroxide's concentration and how long you leave it on.
However, more isn't necessarily better. One study found that concentrations over 20% can lead to tooth damage and pain for the user. Concentrations of around 10% were still sufficient for whitening teeth but were associated with fewer side effects.
Smileactives references a clinical study online where 16 participants experienced an average of a six-shade improvement to their teeth after using the gel for 30 days, and 100% of participants reported whiter teeth overall.
However, this is a small study that didn't have a control group or look at the effectiveness of other whitening products.
Advanced Teeth Whitening Pen (0.11-oz)
Price: $18 plus $4.99 shipping, or subscribe for $14.40 and free shipping.
Designed both for quick touchups and deep treatments, the Advanced Teeth Whitening Pen is claimed to whiten your smile in as few as seven days. This twist-action pen works to paint lightening formula onto each tooth for a quick whitening effect.
To use, you'll twist the dial on the pen's bottom to disperse gel unto the applicator tip. You'll then brush the gel unto the teeth you want to treat in a thin, even layer.
Leave it in place and refrain from eating or drinking for the next twenty minutes so it can sink in. You can use the pen up to four times a day to maximize your results, though it works best after brushing your teeth.
According to Smileactive's clinical study, participants whitened their smiles by an average of six shades after using the pen two to four times a day. This seven-day study involved just ten participants, so keep that in mind when interpreting these results.
As with the power gel, this product's active ingredient is hydrogen peroxide, this time at a 12% concentration.
Analysis of Customer Reviews
Eleven customers left reviews for Smileactives on our website, which average 1.2-stars out of five. There are also reviews for Smileactives products on Amazon and QVC – most average around 3.0-stars.
Common Compliments:
Simple to use, quick results
Effective stain removal on teeth
Teeth looked lighter after several months of product use
The pen was easy to use and didn't lead to tooth sensitivity
Common Complaints:
Some didn't notice any improvements after use
A few users experienced sore mouths and blistered lips after use
Not all customers knew when they were signing up for an auto-ship program
Some found it difficult to cancel their orders
Expense return policy shipping and handling costs
Pricing system may be misleading
Return Policy and Membership Program
Smileactives products are covered by a 60-day satisfaction guarantee. If you don't love your purchase, you can return the products (even if used) for a full refund, minus return shipping costs.
You have the option to sign up for Smileactive's membership program. If you do so, then one month after your first order, and every three months after, you will be sent a new three-month supply of your purchase.
You'll be charged three monthly payments at the membership price ($19.99 for the gel, $14.40 for the pen), plus $2.99 per month in shipping costs (shipping is only free for your initial purchase).
You can adjust your membership setting through your online account to add new products, pause or delay delivery, or even cancel your subscription altogether.
Popular Alternatives to Smileactives
Smileactives
Snow Teeth Whitening
AuraGlow
HiSmile
Price for Whitening Kit
$24.99 (gel) or $18 (pen)
$149
$59.99
$59.99
Products Included in Whitening Kit

3.8-oz supply of whitening gel
Or 0.11-oz supply of whitening gel pen

LED mouthpiece (battery-operated or plug-in)
Three original strength and one extra strength serum wands (enough for 75 treatments)
Teeth whitening progress tracker

LED device (with batteries)
Two 5ml 35% carbamide peroxide whitening gel syringes (enough for 20 treatments)
Comfort fit mouth tray and storage case

Mouth Tray
LED Light
Three gel packs (enough for six treatments)

Is Subscription Available?
Yes, save 20% with subscription
Yes, save 15% on serum refills
Yes, save 25% on gel refills
Yes, save 15% on gel refills
Active Ingredients
Hydrogen peroxide (9–12%)
Hydrogen peroxide (6%–18%)
Carbamide peroxide (35% and 44%)
Phthalimidoperoxycaproic acid (PAP), Hydroxyapatite, Potassium Nitrate
Reviews
1.2, 11 reviews (HighYa)
3, 22 reviews (HighYa)
4.4, 13,700 reviews (Amazon)
3.7, 155 reviews (HighYa)
When comparing these four brands, one key difference is that Snow, HiSmile, and AuraGlow all include application trays with LED lights for the tooth whitening process. The idea is that this light activates the whitening gel to give you faster, more substantial results than applying the gel alone.
There's just one problem—there isn't much evidence that it works. In fact, a 2014 study found that using a light activator while whitening your teeth has little to no impact on the overall results compared to using a serum alone.
In other words, Smileactives may offer an advantage because you aren't paying for a product you won't use.
Ingredients-wise, Smileactives is most similar to Snow, as both rely on hydrogen peroxide for bleaching. This compound is safe and effective when used appropriately.
Carbamide peroxide is another bleaching agent that's used successfully to whiten teeth. It's slower acting than hydrogen peroxide, but at the right concentrations, you can expect similar results.
"A product with 30% carbamide peroxide is equivalent to 10% hydrogen peroxide. Both substances can give you great effects," shares Dr. Mike Golpa, dentist and CEO of the G4byGolpa dental implant centers.
HiSmile's ingredients, in contrast, claim to offer a peroxide-free alternative. For instance, PAP is a bleaching agent that's been found in clinical studies to successfully whiten teeth better than placebo without putting your enamel at risk.
Choosing between the four, we think there's evidence each brand can temporarily whiten your teeth.
The Bottom Line
Smileactives products promise to make it simple to have access to quality home teeth whitening products.
The company's range of whitening gels and pens contain an acceptable amount of hydrogen peroxide to offer lightening benefits, though some users complained of sensitivity and irritation after use.
There's plenty of evidence that these products will successfully whiten your smile if you use them over time.
One thing to be aware of is Smileactive's subscription program. It seems to catch many customers by surprise and will significantly increase how much you're paying for these products at a time. Make sure you are only making one-time purchases until you decide whether to upgrade your order to a subscription.
Our Promise to You
In order to safeguard you and ensure helpfulness and relevance, our compliance team manually assess every customer review before it goes live.
We have a zero-tolerance policy for fake reviews, and companies cannot control or alter any reviews at any time.