PowerDot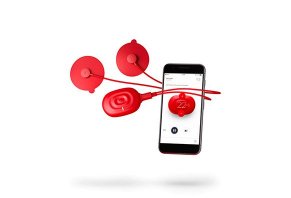 Summary
PowerDot is alleged to promote muscle recovery and performance through a Bluetooth device that combines EMS and TENS. EMS may improve athletic performance and promote blood flow, though TENS does not seem to be an effective method for pain relief.
Pros
EMS has research backing most of its proposed benefits
The company recommends use in addition to a physical fitness regimen
Favorable return policy
Cons
Expensive to purchase
At least one other company offers a similar product for a fraction of the price
Additional Monthly costs to replace pads
TENS is not supported by strong research
PowerDot Review - Does It Work For Pain Relief?
What is PowerDot?
PowerDot is a device that combines electrical muscle stimulation (EMS) and transcutaneous electrical nerve stimulations (TENS) which allegedly helps promote muscle recovery and performance.
According to the product page, you can connect your smartphone to the muscle stimulator via Bluetooth and use the mobile app to control 12 different programs that are alleged to:
Enhance muscle recovery
Relieve tension
Reduce fatigue
Relieve muscle & joint soreness
Promote muscle strength & endurance
Increase blood circulation
Prevent muscle injuries
Also, according to the website, PowerDot is FDA cleared. This means that it may offer benefits comparable to devices that are already FDA approved.
In this article, we'll discuss exactly how EMS and TENS are proposed to offer these benefits, as well as review the available scientific support to help you determine if PowerDot lives up to the lofty claims made by the company.
How to Use Your PowerDot
Using your PowerDot should start with downloading the app, completing the safety briefing, and accepting the terms and conditions.
Next, you can create a personal profile. Then, turn on your PowerDot by holding the power button for 2-seconds, and pair it to your smartphone. A green checkmark indicates that you have successfully paired your device.
You can now connect the PoweDots to the pads, and place them over your specified muscle groups. Lastly, select the program from the app that appropriately addresses your goals for the session.
These include:
Active recovery
Light recovery
Extended recovery
Massage
Warm-up
Muscle endurance
Strength endurance
Strength
Resistance
Explosive strength
Manual settings
The app is considered "smart" - its algorithm uses the feedback you provide for the area of pain, type of pain, and tolerance level to personalize programs.
According to the company, you can expect to improve your muscle strength and endurance after 1-month of use 3x per week per muscle group.
Is There Any Science Backing PowerDot's Claims?
PowerDot is alleged to promote muscle recovery and performance through both EMS and TENS settings. Both methods have been investigated.
EMS
EMS involves sending small electrical impulses to stimulate muscle contractions. It can be paired with exercise training programs to enhance athletic performance, promote blood flow, and speed recovery.
As it is suspected to offer a number of benefits, EMS has been studied in a variety of settings.
In 2010, researchers investigated the effects of short-term bed rest and EMS on blood circulation. They concluded that 4-hours of bed rest cut venous blood flow by almost 50% even in healthy subjects. On the other hand, EMS was effective in maintaining higher flow rates.
More recently, patients in the intensive care unit that received EMS had higher venous flow rates when compared to those who didn't receive EMS.
In terms of boosting athletic performance, researches reviewed 89 trials that tested EMS in healthy subjects. They concluded that EMS was effective for developing physical performance.
More specifically, they found that 3-6 weeks of treatment boosted strength, vertical jump height, sprint times. Also, the same gains were possible even in elite athletes.
Though EMS may enhance blood flow, there is limited evidence supporting its use in aiding muscle recovery after exercise.
While support for as a recovery tool is limited, there is ample evidence supporting the other claims made by PowerDot regarding the benefits of EMS.
TENS
TENS differs from EMS in that, rather than causing a muscle contraction, small electrical impulses are used to block pain signals from reaching the brain.
The ability of TENS to relieve pain-related conditions has been studied.
A 2015 review concluded that TENS may provide a safer option for pain relief when compared to other medical strategies. However, the potential benefits may become less effective as individuals develop a tolerance over time.
In a review of 12 randomized trials, TENS was ineffective in improving chronic back pain, though researchers did conclude that it may offer short-term benefits for functional disability.
Similar findings were found in a review of 9 randomized studies. Researchers concluded that the evidence supporting TENS as a back pain treatment is lacking, and the available research studies are of poor quality.
In a study that examined previous reviews of TENS use for chronic pain, researchers once again found that strong conclusions could not be drawn as the available evidence is insufficient.
Though TENS for the treatment of pain has been well-studied, there is no consensus for its utility as the study subjects, methods, and results are too varied.
Safety
Both EMS and TENS units are generally safe when used as directed.
The most common side effects when using these devices relate to skin irritation where the pads have been placed. Those with sensitive skin may be even more susceptible.
Trimming the area to which you apply the pads may lower the risk irritation and painful ingrown hairs from repeated use. Be sure to clean your skin before pad placement.
To further limit the risk for irritation and infection, avoid placing pads over broken skin, cuts, abrasions, and bruising.
While pads are reusable, they should also be kept clean by ensuring that the adhesive cover is free of dirt, debris, and hair. Replace them frequently.
Use during pregnancy or in those with pacemakers may be especially risky. If you fall into either category, avoid using EMS or TENS.
Lastly, keep in mind that TENS does not address the source of your pain. Without properly identifying the cause of your symptoms and taking proper steps in management, pain can persist or worsen over time.
Always speak with your doctor to determine the safest and most effective plan of care.
The PowerDot Cost
PowerDot is available directly from the product page. There are 2-systems available:
The PowerDot UNO is $199 and comes with:
1 Powerdot device
2 sets of electrode pads
Lead cables (10 cm & 25 cm)
Carry Case
Micro USB charging cable (2 cables for Duo)
Durable carrying case
The PowerDot DUO is $349 and comes with:
2x PowerDot pods
2x Set of electrode pads
2x Set of lead cables (10 cm & 30 cm)
2x Micro USB charging cable
Durable carrying case
While the pods are fully rechargeable, you will need to replace them after 30 uses. Replacing the set will cost you $18, or an extra $36 per month when used as described.
Also, keep in mind that Powerdot requires iPhone 5 or later Android phones running Android 4.4+.
You can pay $29 for a Limited 3-Year Warranty. The warranty covers all defective products during the warranty period, earns you lifetime free shipping on all products, and premiere customer support.
Lastly, your PowerDot is backed by a 30-day guarantee. To process your return, reach out to support at 844-479-7368 or service@powerdot.com.
What Are the Alternatives to PowerDot?
PowerDot seems to represent the premier Bluetooth linked device that combines both EMS and TENS. Our research did not identify many similar products.
We did come across AccuRelief Wireless at Amazon. This product garners a 4.1-star rating, is priced at $44.85, and like the PowerDot, it combines EMS and TENS in a Bluetooth device.
It differs in that the AccuRelief Wireless comes with half the pads, though you also get a remote control to control your programming. Replacements are available - a 16-count is just $12.
Though you can only place 2 pads during a single session, the AccuRelief Wireless is a more cost-effective option. Like PowerDot, Amazon also accepts 30-day returns. Taking these factors into account, it may be worth going with the less expensive option.
Though EMS is generally safe to use, you should begin your physical fitness journey with traditional methods Opting for EMS without incorporating a healthy diet and regular exercise means that you'll miss out on the many health benefits associated with these lifestyle changes.
The Bottom Line
EMS is a viable option for promoting athletic performance and enhancing blood flow, though TENS does not have strong support for its utility in pain relief.
If you're already exercise training, PowerDot may enhance the benefits. It would be an expensive means of doing so, however.
The company's return policy can help alleviate some of the financial stress, though you'll have to budget for pad replacements. If you're interested in adding EMS and TENS to your daily routine, there are more cost-effective means.
Consult your doctor before use, especially if you require pain relief.
Customer Reviews