PowerDot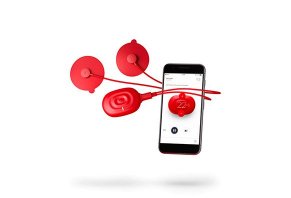 By combining a small Pod device with dual electrode pads and app connectivity, the PowerDot system claims to deliver electrical muscle stimulation on the go.
PowerDot Review - Ideal for Muscle Stimulation?
PowerDot is a patent-pending system that uses a combination of electrical muscle stimulation (EMS) and "smart," app-based programs to maximize your body's efforts.
As a result, their website advertises that athletes and fitness enthusiasts of all levels could expect a wide range of clinically-proven benefits; everything from improved training results and faster recovery to better circulation, endurance, and muscle strength.
Together, this is why the company calls their FDA-cleared PowerDot system the "world's smartest muscle performance and recovery tool."
There are dozens of EMS systems in the marketplace, many of which advertise similar fitness and recovery-related benefits as PowerDot. In this review, we'll help you explore exactly how this system works, how it compares, and whether or not it's a "smarter" option based on your specific needs.
How the PowerDot System Works
There are three main parts to the FDA-cleared PowerDot 2.0 system:
The Pod device and its attached leads and pads
The smartphone app
Customizable programs, depending on your desired results
Let's explore each of these in greater detail.
The Pod Device & Its Electrode Pads
The rectangular PowerDot Pod measures 2.4 inches long, 1.7 inches wide and 0.5 inches high, and weighs 0.9 oz. It features a sleek "wave" design on the exterior, similar to what you'd see after dropping a pebble into the water.
Pressing its center for a couple of seconds will power up its USB rechargeable Li-ion battery, which will deliver at least six hours of continuous stimulation when fully charged.
For average active users, the company indicates it will last seven to 10 days, at which point recharging takes 90 minutes or less.
The system's two lead cables attach to the PowerDot Pod via the same micro USB connector as the charger. These deliver electrical impulses to a sticky electrode pad connected at the other end, which cause different muscle contractions depending on the program you've chosen (more soon).
According to their website, these pads will last 25 to 30 sessions before no longer sticking to your skin or adequately transferring the electrical signals, depending on your skin's oiliness.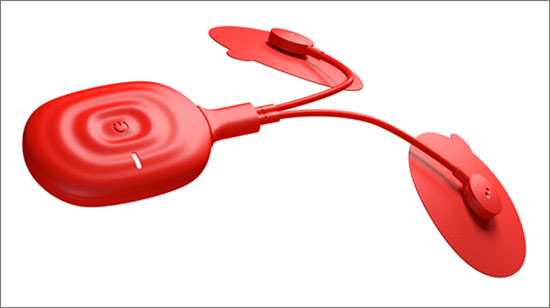 The PowerDot Pod, which connects to its leads via a micro USB port, and to its electrode pads using convenient snap-on mechanisms. Credit: PowerDot, Inc.
PowerDot's Smartphone App
The PowerDot Pod device pairs via Bluetooth with its accompanying mobile app (requires iPhone 5 or later with iOS 7.0+, or supported Android phones running Android 4.4+). All information sent between the two is securely encrypted using AES-128 encryption.
This is where you can personalize your experience by choosing programs, adjusting intensity, and browsing instructions, safety advice, and training recommendations. Although the app walks you through every part of the process, here's a high-level look at setup and operation:
Remove everything from the carrying case.
Attach the lead cables, snap a pad to the end of each lead, and turn on the device.
Scan for the Dot device inside the app to pair. You can also pair a second device at this same time, which allows you to stimulate your left and right sides simultaneously.
Choose your program and place the pads where instructed.
Begin the program and manually adjust settings as desired.
The PowerDot mobile app also allows you to view battery life, measure your progress using a built-in activity tracker, and receive reminders when you need to complete sessions.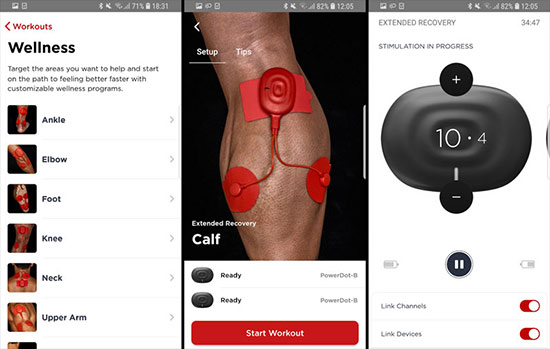 Everything about the PowerDot system revolves around its iOS and Android app, which allows users to choose programs, intensity, and personalized settings. Credit: PowerDot, Inc.
PowerDot's Electrical Muscle Stimulation Programs
The PowerDot app contains ten customizable muscle stimulation programs designed to deliver a variety of benefits that can help your body feel its best, including faster recovery, reduced tension and stress, and boosted performance.
Everyday programs—those designed for use in between activities—include:
Warm Up / Potentiation (10 min) – Prepares your muscles to work out, which can help minimize injuries.
Light Recovery (30 min) – If used within two hours of activity, PowerDot indicates these low frequency, non-fatiguing waveforms can help your muscles recover faster.
Active Recovery (21 min) – Ideal for use within two hours of activity for improved muscle recovery.
Extended Recovery (35 min) – The same benefits as the Active Recovery program (also for use within two hours), but with a longer muscle simulation period.
Massage (15 min) – You can use this program at any time to boost circulation and reduce stiff, sore muscles.
PowerDot's Performance programs, on the other hand, are to be used at least one to two times per week and are designed to increase muscle strength and endurance:
Muscle Endurance (21 min) – You can use this program up to five times per week, which can help increase your muscle's resistance to fatigue while increasing endurance.
Strength Endurance (35 min) – When used up to four times per week, this program can help increase the intensity that your muscles can handle.
Strength (20 min) – This is the program you want if you're looking to increase muscle strength related to pushing, pressing, and pulling movements. Ideally, you'll want to use no more than three times weekly.
Resistance (30 min) – Comparatively, this program focuses on improving your "movement, speed, and ground reaction force," when used up to three times per week.
Explosive Strength (20 min) – Experiencing plateaus? This program—ideal after completing intense plyometric workouts—is designed to help you overcome them.
Long Haul Flight (60 min) – Designed for use during lengthy flights that can lead to tense, cramped muscles.
After selecting each program, the PowerDot app will walk you through proper electrode placement. Once attached, you can also manually adjust parameters like contraction and pulse length, number of contractions, and intensity.
From there, you can sit back and relax for anywhere between 15 and 60 minutes while the system goes to work, depending on your goals (e.g., relaxation vs. recovery). The company recommends using it several times per week for optimal results.
Before moving on, how do these features and processes compare to the original PowerDot?
PowerDot 2.0 vs. 1.0
Based on what the company explains on their website, the PowerDot 2.0 system features the same core setup as the original 1.0, including the Dot device, leads, electrodes, app connectivity, and preset programs.
Their site explains, however, that the newer version comes with magnetic snaps between the leads and electrodes, which allow you to stimulate your muscles three times faster.
It also comes with a USB-rechargeable battery that delivers up to 20 hours of stimulation, along with a "proprietary symmetrical biphasic waveform" that "creates a powerful yet pain-free muscle contraction."
Here's the core question, though: Based on the available clinical evidence, what kinds of real-world results can you expect from PowerDot's waveform-induced contractions?
Does Electrical Muscle Stimulation (EMS) Improve Recovery?
As the name suggests, the underlying idea behind electrical muscle stimulation is that these signals cause muscles to contract and relax in specific patterns. When used regularly, companies like PowerDot claim these contractions can deliver improved circulation, faster recovery, and so forth.
Based on what we learned from professionals interviewed on sites like MuscleForLife.com, Men's Health, and Refinery29, EMS technology has been used for decades in physical therapy settings to help patients recover from surgery or other physical trauma.
According to Ryan Yelle, clinical director at Professional Physical Therapy, EMS is typically "used in situations where a person has muscular inhibition and weakness, due to pain, swelling, and immobilization."
There are also hundreds of clinical studies listed on the National Institutes of Health's PubMed indicating that EMS technology can help improve muscle strength and also reduce the potential for injury in some instances—including after cycling and running, and for addressing tendonitis.
The PowerDot website lists 19 of these clinical studies supporting many of their claims related to performance training and post-training recovery, although none of these are related to the specific system in question.
Despite its potential recuperative properties, though, the FDA warns that customers should maintain realistic expectations when it comes to electrical muscle stimulation:
"Applying electrical current to muscles may cause muscles to contract. Stimulating muscles repeatedly with electricity may eventually result in muscles that are strengthened and toned to some extent but will not, based on currently available data, create a major change in your appearance without the addition of diet and regular exercise."
Along these same lines, it's important to emphasize that all EMS devices sold legally in the US must be cleared by the FDA as "substantially equivalent" to other devices on the market, so this designation isn't unique to PowerDot.
PowerDot Pricing & Refund Details
Available in red or black, PowerDot prices their systems as follows:
UNO (one Pod): $199
DUO (two Pods): $299
Every single system includes a Pod, a set of two electrode pads, lead cables, a micro USB charging cable, carrying case, instruction manual, and free app download. A pack of two replacement rectangular electrode pads and four round electrode pads for 1.0 and 2.0 are available for $18, each.
All Smart Muscle Stimulators include free shipping, 30-day money back guarantee, and a one-year warranty against defects in materials and workmanship under normal use. The 30-day deadline begins the day the device is delivered to you.
Pro tip: Keep in mind the warranty only applies to the Pod, and not to the electrode pads.
To request a refund or file a warranty claim, you can reach customer service at 844-479-7368 or support@powerdot.com.
How PowerDot Compares to Alternative EMS Devices
If you're in the market for an app-connected electrical muscle stimulation device, the PowerDot is currently the only mass-marketed option available.
Even though it doesn't come with an app, the competing USA 2.0 system from Compex ($480 MSRP) gets rid of the wires (leads) between the base and the electrode pads altogether. Like the PowerDot, it also comes with four snap-in pads, ten programs that address performance, recovery, and pain, and adjustable progression levels.
The USA 2.0 even comes with the same free shipping and 30-day refund policy as the PowerDot, but with a longer two-year warranty.
Furthermore, since there's no app connectivity, the USA 2.0's pod device is meaningfully larger than PowerDot's, as it features a built-in color display.
Given the limited competition, choosing between these two options might largely come down to your budget (the Compex is priced $180 higher than the PowerDot DUO, after all), and whether you favor app functionality or wireless electrodes.
Furthermore, keep in mind that you'll have to sync two different Pod devices if you want to utilize four PowerDot electrodes simultaneously, as with the Compex model.
Our Final Thoughts About the PowerDot System
Between third-party sites like iTunes, Google Play, and Amazon, the PowerDot app and system as a whole seemed to come with mostly positive online customer feedback at the time of our research.
Many seemed to appreciate its ease of use, effectiveness at improving muscle recovery and relieving pain, and quality construction. However, a few complained about problems with the app—specifically, connectivity issues.
With all of this said, based on what we learned from professionals above, it's important to maintain realistic expectations when it comes to EMS technology, whether related to muscle recovery or other claims.
It's also crucial to understand that, although PowerDot is currently the only app-connected EMS system on the market and that it appears smaller and more compact than competitors, this doesn't necessarily mean that it will deliver better results.
PowerDot, Inc. stands behind their system with a 30-day refund policy, which should be more than enough time to decide if it meets your specific needs, though.