Theragun G3PRO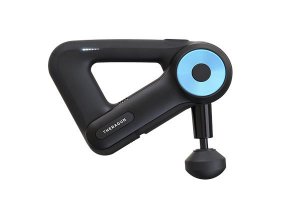 Summary
Theragun claims that the G3PRO will help you improve performance and recover faster through percussive therapy.
Theragun G3PRO Review: Is It Worth It?
The G3PRO is a handheld, percussive device offered by Theragun that they claim will release deep muscle tension. Considered their most powerful option, Theragun believes the G3PRO can make "Pro-Level" treatment available to everyone.
According to Theragun, you can expect the following benefits with regular use:
Improved flexibility
Faster muscle recovery
Decreased acute and chronic pain
Reduced muscle tension and soreness
Increased circulation
Better sleep
Customizable treatment
Is this the piece of equipment your wellness routine is missing? In this article, we'll help you determine if the G3PRO is a safe and effective way to relieve your muscle aches and pains.
How Does It Work?
Theragun claims the G3PRO offers its benefits by administering repetitive blows, or percussive therapy, that compress your muscles and release tension. This serves to increase blood flow to the affected areas.
On their site, they provide the following 4-steps for best use of your G3PRO:
Always turn on the Theragun before placing it on the body.

If you have a G3PRO or G3, you can press the speed button to toggle between our signature treatment speed and our lighter speed for sensitive, sore areas.

For muscle activation, recovery, and tension relief, "float" the Theragun on muscles that need the most attention – it was designed to do all the work for you. Slowly glide the Theragun up and down the muscle, gradually applying light to moderate pressure as needed.

Breathe and relax and remember to stretch.
The G3PRO has a multi-grip handle that is ergonomically designed to reduce stress in your wrist and hands. It offers 2-speeds, 29 and 40 percussions per second (PPS), and delivers up to 60lbs of force. You can also set the arm to 4 different positions.
Lastly, you can further customize your treatment by selecting 1 of 6 included attachments, each with a specific action:
Use the dampener for tender areas near bones
Use the large ball for larger muscles
Use the standard ball for overall use
Use the wedge for shoulder blades
Use the thumb for your lower back
Use the cone for pinpoint muscle treatment
For best results, Theragun recommends using the G3PRO 15 seconds to 2 minutes per muscle group, 2–3 times each day. They also state that full-body sessions should not exceed 15 minutes.
They also provide further details regarding specific treatment-related goals.
Thirty-seconds of use is recommended for muscle activation before the activity. Fifteen-seconds is recommended to reactivate your muscles during activity. Lastly, 2-minutes of treatment per muscle group is recommended for recovery.
You can view demonstration videos for specific muscle groups here.
But is percussive therapy backed by science? In the next section, we'll discuss any available support.
What Is the Research Saying About Theragun?
Whether working in the garden or engaging in an intense kickboxing class, you may encounter some level of muscle soreness. As this is such a common condition, a wide variety of remedies have been studied over the years.
Is there a role for percussive therapy?
According to a literature review from the mid-90s regarding the effect a manual massage has on recovery – no.
They reviewed available support for multiple forms of manual massage, including percussive, and found that this form of therapy does not significantly impact the recovery of muscle function after exercise. They concluded that light exercise, or a warm-up, is likely superior to manual massage in improving physiologic factors necessary for recovery.
Another early report had similar findings; vibratory massage did not improve 12 healthy male subjects' rate of fatigue during exercise.
More recently, vibration therapy and massage were studied in 45 healthy females to determine if either were effective in preventing delayed onset muscle soreness (DOMS), the post-exercise soreness that peaks 24–48 hours after exercise. They found that vibration therapy at 50Hz and massage were equally effective in preventing DOMS, though vibration therapy was associated with an earlier reduction in pain and soreness.
A study with 30 healthy subjects found that those randomized to massage after exercise had significantly reduced DOMS, as well as improved pain and stair-climbing capacity. Subjects likely received multiple forms of massage in addition to percussive, however.
In yet another study, a handheld, percussive device's ability to aid muscle recovery after bicep curls was examined. They found that treatment at 55Hz was not effective.
You likely get the picture by now.
Recovery is a hot topic, and everyone from world-class athletes to weekend warriors is interested in expediting this process. This has kept researchers busy, though the current literature seems to offer mixed results.
Is It Safe?
Theragun recommends limiting the use of the G3PRO to no greater than 15 minutes. Our literature review did not confirm any adverse effects related to the total time in which subjects received percussive therapy.
However, the ergonomic handle is likely included to reduce stresses placed on the hand or wrist that may arise during daily use. The 15-minute time limit may serve to reduce the likelihood of repetitive injury. Even something as harmless as typing can result in unwanted effects (carpal tunnel, for example) if your wrists are held in a poor position for long durations.
You should also take care when applying percussive therapy near bony prominences or areas where the skin is thin to avoid bruising. Similarly, it's best to keep the device away from your head or genitals.
Handheld percussive devices were safely tested at PPS rates larger than what is offered by Theragun. Again, using this device outside of the recommendations can still result in injury.
Use may be unsafe if you are recovering from an injury (strains, sprains, fractures, etc.). If you need pain relief for these or any other reasons, seek the opinion of a medical professional before trying percussive therapy.
How Much Does the G3PRO Cost?
You can pick up your G3PRO at Theragun's site for $599; shipping is free.
With your order, you get:
Theragun G3PRO
Travel case
2 Lithium-ion batteries
Attachment pouch
Lithium-ion battery charger
Dampener attachment
Large ball attachment
Standard ball attachment
Wedge attachment
Thumb attachment
Cone attachment
They also offer financing plans through Affirm at annual percentage rates (APR) ranging from 0–30%. You can determine if you qualify in real-time and without affecting your credit score. A 30-day guarantee backs all purchases; you must contact customer support for refund inquiries.
Each product also includes a 1–2-year warranty. Your G3PRO warranty covers the following:
G3PRO device and charger – 2 years
G3PRO lithium-ion batteries – 90 days
G3PRO world travel charger – 1 year (2 years in the EU)
G3PRO charging stand – 1 year (2 years in the EU)
G3PRO attachments – 30 days
Are There Any Alternatives?
Theragun offers three different models. The G3PRO is top of the line.
Also available is the G3 ($399) and the liv ($249). You'll miss out on some of the added features of the G3PRO, like the adjustable arm, extra battery, and additional attachments. Also, the liv is a one-speed (40 PPS) model.
Other percussive devices are made available from different retailers.
The Power Massager by TimTam is one example. At $299, it lacks the customizability of the G3PRO, but still offers 40 PPS. Thus, it's comparable in price and function to the 1-speed liv from Theragun.
Less expensive yet, the Deep Tissue Percussion Body Massager from STAYHEALS is currently $65.99 on Amazon. This option also comes with six different massage heads, as well as 20 different speed choices. They don't specifically list the PPS, but at 50Hz (50 cycles per second), it seems to include the same PPS offered by Theragun Products.
Other options include foam rollers. Though not percussive therapy, these offer a cheap and effective means of self-muscle releasing that have been proven beneficial in some studies.
Lastly, traditional massage is always an option. The practitioner may even include some manual percussive techniques. Though you'll miss out on the convenience of finding relief at home, it's typically easy enough to get an appointment at a mall, spa, or health club.
The Bottom Line
At 4.7 out of 5-stars, those who purchased the G3PRO at Best Buy seem to love it.
Positive reviews praised the effectiveness, speed of relief, numerous head attachments, and adjustable arm, while negative comments mainly pertained to pricing and finding the motor to be loud.
Nonetheless, the scientific support is mixed at best. Clear-cut takeaways from the available studies are challenging as both manual and mechanical forms of percussive therapy were applied, sometimes in conjunction with other methods of massage. Also, many studies concluded that this therapy was ineffective, even at higher PPS than Theragun offers.
The main conclusion we draw: handheld, percussive devices likely range from being inferior to comparable to other methods of massage or active warm-up.
When used as directed, the G3PRO is likely safe, though $599 is a hefty price tag for a device that does not have strong support—especially when compared to jumping jacks, which are free and can be as effective.
Cheaper percussive devices are available, but many reviewers arrived at Theragun due to the failure of multiple cheaper options.
If you need relief for muscle soreness, an active warm-up is an excellent place to start. If the symptoms persist despite taking action, seek the opinion of a medical professional.
Customer Reviews