Revitive
This company has claimed this profile, is getting alerted on any new customer reviews entering this page, and may engage in dialogue with its customers to address their matters.

Companies cannot pay money or provide goods in order to remove or alter customer reviews.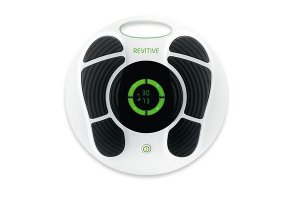 Summary
Revitive is an electrical muscle stimulator that can allegedly relieve leg pain from poor blood flow with daily use. Read this review to learn whether it can work for you.
Revitive Circulation Booster Review: What You Should Know
HighYa is supported by our readers. When you buy something through a link on this page, we may earn an affiliate commission. Learn more.
What Is Revitive?
Revitive is an electrical muscle stimulator that aims to relieve pain from poor circulation.
After your arteries deliver oxygen-rich blood to your tissues, your veins are responsible for returning the blood back to the heart to be re-oxygenated. As veins lack the muscular walls of arteries, they rely heavily on the muscles of your legs to transmit blood.
Age, pregnancy, obesity, and prolonged sitting or standing place are risk factors for venous insufficiency (VI). Millions of people are therefore affected by this condition and experience symptoms like swelling in your legs, skin discoloration, pain with activity, calf tightness, and wounds that are difficult to heal.
While conservative management options usually include the use of compression garments, Revitive claims that their electrical muscle stimulation (EMS) footplate offers another drug-free option to relieve pain from poor circulation.
Can Revitive offer relief for a condition that affects millions of people? In this review, we'll help you answer this question by reviewing some of the scientific research we were able to dig up.
First, let's talk a bit more about how their footplate works.
How Does Revitive Work?
Using Revitive is pretty straightforward.
You place your bare feet on the conductive footplate while in a seated position. Electrical impulses are delivered through the feet, causing foot and calf contractions that may promote blood flow, similar to light exercise.
You are in control of 99 different intensity levels, as well as 15 different waveform patterns to vary the electrical stimulation your muscles receive. The Revitive delivers a maximum current of 13mA at 500U of resistance.
Revitive also has a rocking feature: a fulcrum located in the middle of the device that ensures the feet remain in contact with the footplate while allowing 20 degrees of ankle motion. This feature can be disabled to keep the footplate stable.
Revitive claims that you will experience the following with 30-minutes of daily use over 6 to 8-weeks:
Increased circulation
Relief for aches & pains
Improved muscle strength & endurance
Up next, we'll discuss if there is any merit to these claims.
Is There Any Scientific Backing Revitive's Claims?
EMS has been around for a while.
It has been used in a therapy setting to improve nerve dysfunction and muscular injuries. More recently, EMS has been incorporated in strength and conditioning regimens to improve athletic performance.
But can it offer relief for pain caused by poor blood circulation? Let's find out.
EMS and Venous Insufficiency
In 2010, researchers investigated the effects of short-term bed rest and EMS on blood flow. They found that 4 hours of bed rest reduced venous blood flow by nearly 50% even in healthy subjects, while EMS helped maintain significantly higher flow rates.
A 2014 case series investigated the use of the geko, a self-contained EMS device, in 2 subjects with chronic VI and multiple medical conditions.
They reported that low-voltage stimulation at a frequency of 1Hz at 2 to 4 hours daily for 4 to10-weeks led to a complete resolution of symptoms. This is notable as compression garment treatment failed to offer relief in these patients.
More recently, intensive care unit patients that received EMS had higher venous flow rates when compared to those who didn't. Treatment was 30-minutes daily for 14-days with frequency ranging from 5-50Hz.
So far, the available research is promising.
Benefits were seen in randomized trials with both healthy and chronically ill subjects. It seems as though EMS can reduce swelling, increase blood flow, and relieve pain so users can get back to some form of exercise.
But what about devices that deliver EMS through a footplate? Fortunately, Revitive has been studied as a stand-alone product. Up next, we'll review the trial.
The Revitive Randomized Trial
Researchers randomized 22 subjects with chronic VI to either a Revitive treatment group, or a group that received treatment with a phony device.
They found that treatment with Revitive for 30-minutes daily over 6-weeks resulted in increased venous flow, reduced swelling, and better quality of life when compared to those in the control group.
While the researchers note that more extensive trials are needed to fully characterize the impact of this device in treating VI, their results are in-line with previous studies.
This study likely led to the recommended use guidelines offered by Revitive. Also, these findings further strengthen the support for EMS use in those with VI.
Before we discuss cost, let's review any safety concerns.
Is Revitive Safe?
The good news is that these devices are generally safe. The research studies highlighted in the previous section did not report any adverse events.
Nonetheless, it's essential to understand that these subjects used EMS under the guidance of medical professionals and research staff, so their risk for side effects may have been lower.
EMS may not be for everybody.
EMS use during pregnancy or in those with pacemakers has been described as potentially hazardous. A recent review described whole-body EMS as safe and effective, though they alluded to the need for further more detailed studies.
Your leg pain and swelling can be caused by a number of underlying conditions, some of which are serious. It is best to speak with a physician to determine the source of your symptoms before using EMS.
Where Can I Purchase Revitive and How Much Does It Cost?
You can order your Revitive risk-free from their website.
A no-obligation 60-day money-back guarantee backs each purchase. Also, shipping and returns are always free.
There are currently two purchasing options available: buy now, or pay monthly. The Revitive device costs $329, or 4 monthly payments of $82.25.
Are There Any Alternatives?
While there are a number of EMS units available on the market, footplate based products are less common.
The Pain Relief System Basic Package from Dr. Ho is an EMS unit that includes foot pads in addition to traditional sticky pads and a back relief belt. It costs $129.96.
Sharper Image offers an EMS foot massager with infrared heat. This device has 25 different intensity settings and comes with pads for use on your arms legs and back. The cost is $179.99.
You can also promote blood flow naturally. Activities like walking allow for contraction of your leg muscles that help return blood to the heart.
For those unable to exercise, there are also activities you can perform while seated or lying down. Check out this video demonstration for ankle pumps.
The Bottom Line
The use of EMS in those with VI seems to be a safe and effective treatment option. A randomized trial specifically testing Revitive, offered similar results that back the company's claims.
This may be an especially appealing method for those who seek drug-free treatment but are unable to use compression garments (we can link the other article once published), or for those who can't exercise.
Though EMS is generally safe, those who are pregnant or have a pacemaker should seek medical advice before use.
Also, be sure to discuss your symptoms with your physician to rule out underlying, dangerous medical conditions and to determine if EMS is the right choice for your plan of care.
Customer Reviews
Posted on Dec 29, 2021
Very poor unit. Only works for about a month.
Purchased the Revitive Medic Unit around four months ago. It started out working well and then after a month or so, the unit started to slow down. After four months, it barely vibrates or has any electrical movement at all.
These units are junk!
Length of Use: 3–6 months
Bottom Line: No, I would not recommend this to a friend
Pros and Cons
The first month of operation
Unit stops working at full capacity after a month
Way over rated units
Junk
Posted on Aug 16, 2021
False promise of trial period
I purchased a Revitive circulation booster from the Revitive company as an Open Box purchased. After receiving and using it once my doctor has advised against it. I called to return it since every page throughout the checkout says you have a 60-day trial. They informed me it was not returnable since it was an open box, to check their return policy. The return policy does say that refurbished cannot be returned, but, I never checked there since this was not labeled refurbished, it was Open Box, and each page of that Open Box purchase states that I had the 60 days. This is hugely misleading and should be against the law. Now I am stuck with something I can't use and it was not cheap.
Length of Use: Less than 3 months
Bottom Line: No, I would not recommend this to a friend
Pros and Cons
No "pros" were specified in this review
Terrible, misleading advertising
Posted on Nov 15, 2020
Question the positives
Ok, this is questionable:
A no-obligation 60-day money-back guarantee backs each purchase. Also, shipping and returns are always free.
After buying/using the "top of the line Revitive" several times, I realized it was not for me and decided to return it. Before returning I read the literature enclosed with the product and was dismayed and shocked by what I read about their 'tiered' refunds based upon their decisions and return policy.
Length of Use: Less than 3 months
Bottom Line: No, I would not recommend this to a friend
Pros and Cons
No "pros" were specified in this review
False advertising related to return policy
It is not for everyone
Don't even partially believe what their TV ads put forth
Verify their return policy "before" you make the purchase
Posted on Sep 26, 2020
Waiting for a refund for 10 months
I purchased the Revitive 60-day risk-free trial on September 30, 2019. Returned before the trial ended. Did everything as instructed, after receiving the label, I sent through UPS and waited. When I did not receive a refund I started to contact customer service. At first I was told there is no record of receiving the device by Revitive. I was told that once they get the device logged in their system as being returned I will get my refund. The UPS website shows record of delivering the device on Monday, 11/25/2019. The Revitive warehouse doesn't have a record of receiving it. In March 2020 customer support sent a message over email that the boss was informed about the situation and soon I will get my refund. Last time I contacted customer service was on August 6, 2020. They still say there is no record of receiving it. I lost hope that I will ever get my refund.
Length of Use: 6–12 months
Bottom Line: No, I would not recommend this to a friend
Pros and Cons
No "pros" were specified in this review
No refund for returned device
Free 60-day trial is not true
Customer support not helping
Posted on Sep 10, 2020
Top piece of kit!
Some time ago I suffered a motorcycle accident and ended up with permanently damaged knees. Walking any distance or without support is no longer possible.
I was suffering from muscle degradation in my lower legs so I purchased a Revitive with the prime aim of muscle stimulation.
It has been a live saver! BUT, one needs to have the discipline to maintain a regular daily program.
I use it two times, 1-hour sessions daily (I'm retired - I can afford that time). Due to the thick skin on my soles I also briefly soak my feet in salty water to improve electrical conductivity. Then, with the machine on the highest setting, the muscles right up into my knees get stimulated.
Length of Use: 2+ years
Bottom Line: Yes, I would recommend this to a friend
Pros and Cons
Purchase? No problem.
Design? Good.
Maintenance? Never needed it.
No "cons" were specified in this review
Posted on Aug 19, 2020
Great at helping my foot soreness
I bought the Revitive Medic after having problems with my feet. I walked every day on concrete floors in retail and when getting home and taking off my shoes it was hard getting up and down the stairs.
I started using the device and after about 5 weeks, my feet felt better and I was able to handle my work and it was easier to do 10-hour shifts.
Length of Use: 1–2 years
Bottom Line: Yes, I would recommend this to a friend
Pros and Cons
It was easy to purchase online
The instructions were very clear and easy to read
The device did exactly what it was supposed to do
The price was a little more than others
Posted on Feb 14, 2020
Very poor at returning refunds
Returned next day in the un-opened box - they refuse to honor their refund policy. Several calls and conversations with Jerry and Glen. Still no refund as of 2/11/2020.
Paid for the best one.
Bottom Line: No, I would not recommend this to a friend
Posted on Jan 16, 2020
Slow to refund
Bought the Revitive circulation booster and used it for 1 and 1/2 months daily and did not notice ANY difference in the pain I have had. Called and received my RMA #, sent it back according to instructions, and now 4 weeks later still NO refund!
Bottom Line: No, I would not recommend this to a friend
Posted on Jan 11, 2020
Quite good
1. The unit seems well made.
2. The leaflet is crystal clear, a model of helpful and untechnical guidance: I wish that all other electric/electronic products were as user-friendly.
3. Although it's a bit costly, the unit "does what it says on the box". Over time, it seems to have a beneficial effect.
4. Downside: the user needs to remove socks/stockings and to sit immobile for up to 30mins. That's not always very convenient!
Bottom Line: Yes, I would recommend this to a friend
Posted on Dec 20, 2019
Good money, bad results
I purchased the Revitive Advanced Perfomance Circulation Booster. Absolute rip off.
Shame on you Bob and Nancye, how much did Rivitive pay you to lie and allow them to rip off elderly people desperate to find a solution to their circulation problem.
Total disappointment, not even heavy enough to use as an anchor.
Bottom Line: No, I would not recommend this to a friend
Posted on Nov 28, 2019
Not too good
Didn't work for me. Even on 99 I did not feel anything.
So, I sent it back. Took forever to receive my money. I did finally receive my money. But, now they took another payment today.
Sick of their BS. Don't recommend the product.
Bottom Line: No, I would not recommend this to a friend
Our Promise to You
In order to safeguard you and ensure helpfulness and relevance, our compliance team manually assess every customer review before it goes live.
We have a zero-tolerance policy for fake reviews, and companies cannot control or alter any reviews at any time.