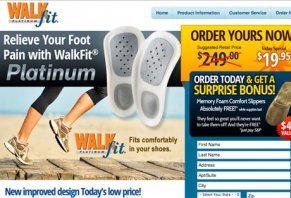 About WalkFit Platinum
If you are experiencing foot, joint, hip, or back pain from walking or standing, WalkFit Platinum may provide you with some relief. This specially-shaped shoe insert claims that by re-aligning and cushioning your feet, it will adjust your whole body, giving you relief.
WalkFit Platinum is brought to you by WalkFit Platinum, a company located in Ontario, CA. They are not accredited by the BBB and currently have a B rating, due to a complaint about billing issues within the last 3 years.
How WalkFit Platinum Works
The WalkFit Platinum is a customized orthotic made of hard plastic that fits in your shoe. Recently, the company adjusted the design, adding patented "Nano-Silver technology" to get rid of germs and odor, as well as a gel pad on the heel for greater comfort - now it's called the WalkFit Platinum!
The WalkFit Platinum comes with three adjustment pads - Low, Medium, and High to change the arch of your foot. (It is recommended you start with Low.) Remove the existing sole and insert the WalkFit Platinums, with the heel-end pressed to the back of the shoe.
Lifting the arch is said to cradle the feet for stability as well as diffuse and absorb shock from running and walking. They also claim WalkFit Platinums will align the back, shoulders, and spine, balance the hips, reduce joint stress and eliminate lower back pain.
The WalkFit Platinum includes:
WalkFit Platinum with 3 arch inserts
All in One Foot Care System (+ S & H)
Up to 3 pairs of WalkFit Slippers (+ S & H for each)
Sandal Adaptor
Peppermint Lotion
How-To Guide
Acupressure Inserts
"Free" Enrollment for Joint Support (Extra Fees)
WalkFit Platinum Pricing, Shipping and Return Policy
WalkFit Platinum has several tiers of purchasing options. You can get 1 pair of WPs at $19.95 + $9.95 S & H for a total of $29.90 - this also includes the lotion, how-to guide, sandal adaptor and acupressure inserts. Now here's where it starts getting tricky. If you want the All in One Foot Care System, add $7.95 S & H for each (up to 3 "free") and the WalkFit Slippers add $9.95 S & H each (up to 3).
Now here's where it gets REALLY tricky: you can also get "free enrollment" for Joint Support at the time of your order. If you click "yes", you will be sent one 60 pill bottle of "botanical and herbal extracts" to help with joint pain. If you don't call them within 30 days to cancel, you will be shipped another 60 pill bottle and charged $44.85; these shipments and charges will continue every 2 months until you cancel.
WalkFit Platinum offers a Lifetime Warranty for their products, simply return them on your own dime, plus pay $5.95 S & H.
Privacy Policy
While WalkFit reserves the right to contact you about your order as well as other products they sell, the Privacy Policy states: "Your email address will never be sold, traded or rented to third parties at any time." You can opt-out by filling out a form.
Bottom Line: Is WalkFit Platinum a Scam?
Yes and no. The product itself seems to work for many people - there are plenty of real testimonials around the web extolling its virtues. The site claims over 5 million people happily use WalkFits daily to walk, run, or work without pain. (Another graph claims a 97-99% effectiveness rate with WalkFits, but its methodology is unclear.)
That said, there are also a smaller number of folks who have found them uncomfortable and even painful; this could be due to the units themselves or improper use. If you are on your feet all day and are in constant agony, it may be worth your money to give them a try.
The main problem with have with WalkFit Platinum is their confusing/deceptive checkout process. S & H on "free" items can quickly add up, and unless you are very careful, you can enroll yourself in an expensive joint supplement program. Many of the complaints tend to be about the billing, rather than the product.
Pros
Used by millions of people
Relatively Inexpensive
Good Privacy Policy
Lifetime Guarantee
Cons
S & H fees can add up
Joint Supplement program can be costly
Doesn't work for everyone
8 out 8 people found this review helpful

Have not received yet, but the over-the-phone checkout process is the worst!

By

Stacy Randle

,

Philadelphia, PA

,

Oct 17, 2017
Verified Reviewer

I felt like I was being held hostage by the computerized woman on the line. I only ordered two pairs of orthotics, and the dude tried to make me buy into several offers, keeping me on the phone for over 20 minutes. They really need to do away with that option! It was the worst experience ever, and I would not recommend it to any of my friends. Now I'm worried this lady may have charged me for stuff I never asked for, and they don't even give you a balance! I did not even get an order number!

Bottom Line: No, I would not recommend this to a friend

View all 1 comments

Hide comments

Jan 23, 2018

Hi Stacy,

Thank you for the comments. We are sorry that our Interactive Voice Response (IVR) system was long. In the future, you can ask for a live agent and a person will come on the line and assist you. We also sell online. We do show that your order was for two pairs of insoles only. We hope that you like the insoles.

---

7 out 7 people found this review helpful

Relief from weakness/tension

My feet, legs, and hips have not felt this good in a very long time. I have flat feet. I let a Podiatrist talk me into getting them remodeled. My left foot now has a raised arch due to my tendons being cut and shortened. My Achilles tendon was cut in three places in order to be filled in with scar tissue so that I could pull my foot up and back towards my shin better. Why I need to do that remains a mystery.

The result is that I traded my foot and hip pain for a very weird sensation, which involves my leg now. It's a very strange hip-down-through-my-toes weakness/tension feeling that is not acceptable and is worse than the pain that I was experiencing. My right foot is still flat and will remain flat.

What the WallFit has done is to make my left foot/leg feel more normalized, like my leg is finally receiving energy again. The first day I wore the WalkFit insoles, and yes I wore them all day, is the first day I wasn't constantly aware of the weak but tense feeling in my leg. I truly wish I had found these before I put myself through drastic unsuccessful surgery. Purchasing these would have been a much smarter choice.

I recommend Walkfit Platinum insoles to anyone who has any sort of alignment problem.

Bottom Line: Yes, I would recommend this to a friend

---

Advertisement

---

5 out 5 people found this review helpful

WalkFit insoles

By

June Dunton

,

Cumberland Center, ME

,

May 17, 2017
Verified Reviewer

As far as all that money thrown around when you order by mail, just call the nearest store that supplies them! Target did NOT have them in the South Portland Store in Maine, BUT they did in Topsham.

So I left and picked them up there after I ordered them online. Simple! And only $21.00 to pick up with a valid ID, with NO supplement program to be pushed at you.

Bottom Line: Yes, I would recommend this to a friend

---

13 out 14 people found this review helpful

Do not order

I ordered one order of WalkFit Platinum off their website. It cost me $19.95. I received an email stating they received my order but there was no detailed information including shipping costs and a total. I called the company that day and was told they couldn't find my order, that it takes 2-8 hours to get through my system.

I emailed customer service and canceled my order. I never received confirmation of the cancellation. I called the next day and was told they couldn't find the order in their system so it must not have gone through. On day three there's a charge for $99.60 in my checking account that they charged my debit card.

I called the company, and the guy was so rude and said the product had already been shipped and I should refuse it and they'll refund my money (less shipping and processing, which he didn't tell me what the charge would be). I asked for a shipping tracking number, and he gave me a bogus number. I even repeated it to confirm it was accurate and it was bogus. I'm trying to work with my bank to reverse the charge but since they said since I placed the order I'm at a big disadvantage.

Bottom Line: No, I would not recommend this to a friend

View all 1 comments

Hide comments

Jan 16, 2018

Hi Paula,

Thank you for the comments. I received a very detailed email from you on 3/15/17 and replied to you on 3/16/17. I replied with the following:

"Hi Paula,

Thank you for the email. It typically can take up to 24 hours for an order to upload. I am sorry that customer service did not let you know this.

I did find your order and it is #54837199. We did charge you and the order has shipped. However, I just processed a refund so you should see the money back into your account soon.

Please refuse delivery of the order. If you are not home when the post office delivers it, if possible, please take it back to the post office and ask them to scan it back in as refused. The tracking number is 9261293150858750876909.

If I can be of any further assistance, please let me know."

Again, we are very sorry for the inconvenience we caused you. Thank you.

---

Advertisement

---