WalkFit Platinum
Claimed This company has claimed this profile, is getting alerted on any new customer reviews entering this page, and may engage in dialogue with its customers to address their matters.

Companies cannot pay money or provide goods in order to remove or alter customer reviews.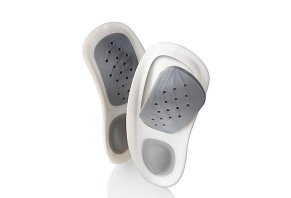 WalkFit Platinum is a foot orthotic designed to allow you to move without pain.
WalkFit Platinum Review: What You Should Know
WalkFit Platinum claims that their orthotic will improve your comfort while standing, walking, or running.
Orthotics are specialized shoe insertions that are intended to relieve various aches and pains thought to be related to the structure and function of your feet.
They can be custom-made, prescription, or purchased over the counter (OTC). Some orthotics are designed for specific activities like prolonged standing or hiking, while others claim to offer comprehensive relief.
As your feet serve as your body's foundation, they may be the source of the knee, hip, and back pain. Thus, these issues may be relieved by making corrections from the ground up.
By simply inserting their orthotic into your shoes, WalkFit Platinum alleges they will:
Align your back and shoulders
Relieve lower back pain
Balance your hips
Reduce stress on your knee joints
Provide comfort and stability for your feet
But can your chronic pain really be alleviated by such a simple fix?
In this article, we'll discuss how orthotics are supposed to offer these benefits and also review any scientific support to back WalkFit Platinum's claims.
How Does WalkFit Platinum Work?
These orthotics work like many of the other products currently available.
The first step is to select the sizing appropriate for you. Fit is based on traditional shoe sizing and available in men's size 6–14.5 and women's size 5–12.5.
Next, simply insert the orthotic into a pair of shoes.
WalkFit Platinum orthotics are thought to accomplish the proposed benefits by supporting your foot and working to evenly disperse your weight. This minimizes the risk of painful pressure points, stress, and rubbing.
This should also reduce the impact forces exerted upon your feet with every step you take. The orthotics essentially act as a shock absorber to limit the forces exerted upon your joints.
Is There Any Scientific Support Backing WalkFit Platinum's Claims?
According to WalkFit Platinum's site, their orthotic has been "clinically tested". The following graph is said to come from independent testing in which the pain relief abilities of their orthotics were validated: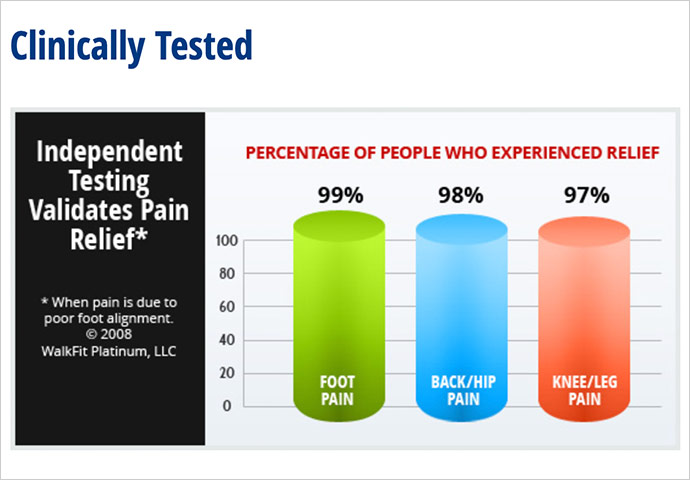 Screenshot of walkfitplatinum.com
What does any of this mean? Absolutely nothing. While some form of testing may have occurred, they provide no further details.
Without knowing what type of study this was, how many subjects were included, or how these outcome measures were evaluated, we can't take anything away from this graph.
When contacted for further details or a link to the study, WalkFit representatives informed us that this information was "not available to the public" and that "clinical testing is not the same as scientific testing."
Be wary of companies like this. While obtaining the full text of a research article often comes at a price, at the very least the summary and journal of publication should be available.
Without this information, there is no way of telling if the findings have been published or even if the scientific method was used in the investigation.
Other orthotics have been tested, however.
A review of 5 studies with over 300 rheumatoid arthritis patients treated with foot orthotics concluded that there was no difference in pain relief when compared to control groups. The use of orthotics offered neither long nor short-term pain relief or reduced disability.
In another review, 19 randomized trials were analyzed to determine if foot orthotics effectively treated heel pain. They concluded that orthotics do not offer short or long-term relief for heel pain, nor do they improve function.
In terms of back pain, a review of 11 trials found that support for the ability of orthotics to treat or prevent back pain is lacking.
Is WalkFit Platinum Safe?
Orthotics are generally safe to use, though there are some concerns you should be aware of before using.
First, inserting an orthotic will alter the way your shoe fits. While the risk for poor fit can be reduced by opting for custom made orthotics, you may have to try a number of OTC versions before finding the best option.
Orthotics that cause your shoes to fit tightly can lead to the formation of bunions, corns, blisters, and other undesirable conditions. This can be especially dangerous in those with diabetes, peripheral vascular disease, or other conditions that negatively affect the sensation in your feet.
You should also be mindful that there are a wide variety of potential causes for foot, knee, hip, and back pain. Foot orthotics may not alleviate or even improve many of the causes.
Some of the sources of pain can be serious and require medical management.
For these reasons, it is best to first identify the source of your pain and to include your doctor in the decision to use an orthotic.
Pricing
You can order your WalkFit Platinum Orthotics directly from their site.
Each pair of orthotics is $19.95 + $9.95 shipping and comes with the following:
3 arch inserts
A sandal adapter
Peppermint lotion
Each purchase is backed by a 30-day guarantee. According to their website, their orthotics are also under a lifetime warranty.
"To replace your WalkFit® Platinum Orthotics for any reason, just return them to the address above (with $9.95 shipping & processing), and we will exchange them for FREE, FOREVER."
The orthotics are also sold on Amazon. This is one of the few instances where this option won't offer savings, however. The orthotics are sold for $29.95 and ship free with Prime, though it seems as if their shipping fee has been tacked onto the sale price.
Alternatives
As we've already mentioned, you can work with your doctor to coordinate a prescription, custom-made orthotic.
There are also a number of OTC orthotics currently available – a simple internet search will reveal the numerous options.
Dr. Scholl's is a popular brand of orthotics that offers a variety of products. Their Pain Relief Orthotic also claims to distribute weight and absorb shock. It's just $12.97 at Amazon. This brand offers kiosks at various retailers that can help guide you to the right orthotic while you stand on a pressure sensing platform.
The Bottom Line
While WalkFit Platinum claims that their orthotic has been clinically tested, they refused to provide further details beyond the graph offered on their site. It is unlikely that this study used the scientific method or was published.
Other orthotics have been studied, though the available support for their ability to offer relief is lacking.
Nonetheless, reviews for WalkFit Platinum are generally favorable.
Nearly 1,000 users rate WalkFit Platinum Orthotics 4.1-stars; over 60% were 5-star ratings. Many report improvements in both pain and posture, while those unsatisfied describe poor fit an increased foot pain.
If your pain is severe enough that you're actively looking for treatment, seeing your doctor may be a better first step.
As there are many sources of foot, knee, hip and back pain, identify the cause first as something more than an orthotic may be needed.
---
These slip forward in shoes. Do not fit.

By Deanna R.

,

Clifton Forge, VA

,

Aug 6, 2019
Verified Reviewer

Overall Experience:

On TV they gave shoppers insoles and they are told to shop til they drop. You must break these in by wearing an hour the first day and increase the time gradually. These are your instructions. The TV ad is misleading. If these actors wore these all day they would be hurting. If you return without return authorization you will not get a refund. I am returning and can't wait to see what they charge for S&H deduction. My order including S&H was $69.75.

Bottom Line: No, I would not recommend this to a friend

Aug 7, 2019

Hi Deanna - thanks for the review.

We are sorry that the insoles did not work out for you.

Regarding the inserts moving around, a few things should be checked: Make sure you have the correct size. Make sure you put the WalkFit inserts all the way back to the heel of the shoes. And lastly, make sure to take out the factory inserts that came with your shoes before inserting the WalkFit insoles into the shoes.

You can receive a refund without calling for an RMA number. The amount you were charged for s/p should be on the packing slip that you received so you are aware of what your refund will be.

---

Horrible

By Pink D.

,

New York

,

Jun 28, 2019
Verified Reviewer

Overall Experience:

These are horrible, make my feet hurt worse. Despite the fact that I followed directions I still couldn't even wear them for more than an hour. I do not recommend you pay $9.90 for shipping, NON-REFUNDABLE, and then pay return shipping, so you lose about $20.

Might as well just throw in the garbage!

Bottom Line: No, I would not recommend this to a friend

Jun 28, 2019

Hi Pink Dolphin. Thank you for the review.

We are sorry you didn't find WalkFit to be beneficial for you.

We absolutely do allow returns according to our 30-day money-back guarantee, less s&p.

If anyone told you there are no returns on WalkFit, they are incorrect.

If you bought them from Amazon, please call Amazon and they will resolve this: 888-280-4331.

If you bought them directly from WalkFit, please call: 877-264-9243

Monday through Friday between the hours of 7 AM and 4 PM (PT),

Saturday between the hours of 7 AM and 3 PM (PT)

How long did you break them in according to the instructions? It could take as long as 2–3 weeks to adjust to your WalkFit Platinum Orthotics. If you choose to start out on LOW or MED inserts, after a few weeks you may want to try MED or HIGH to find your ideal fit. Remember, if after a few days the new inserts are not comfortable, go back to MED or LOW for greater comfort. The important thing is to choose the level that feels best to you.

Orthotics work by changing the position of your feet. It may take some time before you are comfortable wearing them all day. To begin, wear the orthotics 1 hour the first day, 2 hours the second and so on, until you can wear them comfortably all day long. If you feel discomfort, remove them from your shoes. Begin wearing them the next day without increasing the time they are worn. Then continue to increase usage until they are comfortable. If you feel pain when wearing WalkFit® Platinum Orthotics, discontinue use and consult with your physician.

---

Advertisement

---

Not what they are made out to be

By Valli L.

,

London, England

,

Sep 8, 2018
Verified Reviewer

Overall Experience:

I wore the WalkFit Platinum insoles as instructed but after three weeks I gave up as I ended up with a backache and knee pain. I was fine before using the insoles. Now they are in a cupboard, what a use of money, and now I will have to go see a physiotherapist to fix my back. I can't get my money back as their packing is ridiculous. I had to get extra strong scissors to cut the molded plastic packing. This is how not to be environmentally aware.

Bottom Line: No, I would not recommend this to a friend

Sep 9, 2018

Hi Valli,

Thank you for the post. We are sorry that the insoles did not meet your individual needs. WalkFit® Platinum, by Phase 4 Orthotics, provides extra metatarsal and longitudinal support and cushioning for your feet. Our WalkFit® Platinum Orthotics are ideal for complete foot support, comfort, correct posture, and mechanics. Our doctor-designed orthotics are a unique foot support system intended to help relieve over-pronation while preventing foot strain and injury. Designed with a prescription-like arch support, our foot orthotics prevent and treat foot pain. Wearing WalkFit® Platinum Orthotics prevents feet from rolling inward (over-pronation), which can pull the entire lower body out of alignment.

We are not sure who you bought your WalkFit insoles from in the UK but in North America where we sell them we include the following instructions:

Wear them only one hour at first.

Orthotics work by changing the position of your feet. It may take some time before you are comfortable wearing them all day. To begin, wear the orthotics 1 hour the first day, 2 hours the second and so on until you can wear them comfortably all day long. If you feel discomfort, remove them from your shoes. Begin wearing them the next day without increasing the time they are worn. Then continue to increase usage until they are comfortable. If you feel pain when wearing WalkFit® Platinum Orthotics, discontinue use and consult with your physician.

We are not sure what returning them has to do with the packing, however, you do need to follow the policy of where you purchased them from. In North American, we would accept the return regardless. We suggest that you contact the seller again regarding your return for a refund.

---

Love WalkFit orthos

By Marion T.

,

Snellville, GA

,

Aug 12, 2018
Verified Reviewer

Overall Experience:

I love these orthotics! I've been a user from the original WalkFit orthotics. The Platinum is very comfortable. The WalkFit are much more comfortable than the orthotics I had made at the podiatrists. They only felt good for a week, then the pain proceeded. I would recommend WalkFit to anyone that has heel spur problems.

I've worn my WalkFit so much, they are splitting near the heal part. I need to send in for replacement. Or just order a new pair.

Bottom Line: Yes, I would recommend this to a friend

Aug 12, 2018

Hi Marion,

Great to hear how well WalkFit is continuing to work for you. The insoles have a lifetime warranty. Please make sure to include the size and gender needed on the payment as well. If you want to replace your WalkFit® Platinum Orthotics for any reason, just return them to the address below (with $5.95 shipping & processing), and we will exchange them for free, forever.

Return to: 1392 Sarah Place, Unit B, Ontario, CA 91761

---

Advertisement

---

WalkFit amazement

By SJ B.

,

South Carolina

,

Jul 15, 2018
Verified Reviewer

Overall Experience:

I would first like to take the time to say thank you!

My story is, about seven months ago I started having very bad pain in my left heel. I could barely walk from place to place. Without so much pain. I saw a doctor who gave me the advice to buy $200.00 shoes that would help me. So I wore them about a month and I still had very tender feet. And I started having a limp and slow pace walking. I found out that I could put on a pair of 5" high heels and walk perfectly. Sounds crazy, I know. But you can't wear them everywhere. The pain had gotten so bad I felt like I needed to put in a notice to quit my job. Because I could not walk.

One night at about 8 pm I looking for my favorite TV show. There was an infomercial on about WalkFit. I thought when they show me someone talking about planters I will believe it. Well, it came up, and I said "what's the price" (to myself of course). I thought what have I got to lose. I had already bought a pair of expensive shoes. So I ordered them. And I got them and I tried them.

The first day I noticed there was pressure off my heel. So I stayed in them for about two hours. Next day four hours, third day completely pain-free. REALLY, I got my feet back! No tender feet or limping. I have energy. I never noticed how exhausted tired hurting feet would make you. I would say to anyone, you need this for yourself. Put yourself first this time and stop trying to cope. Thank you again.

Bottom Line: Yes, I would recommend this to a friend

---

Have not received yet, but the over-the-phone checkout process is the worst!

By Stacy Randle

,

Philadelphia, PA

,

Oct 17, 2017
Verified Reviewer

Overall Experience:

I felt like I was being held hostage by the computerized woman on the line. I only ordered two pairs of orthotics, and the dude tried to make me buy into several offers, keeping me on the phone for over 20 minutes. They really need to do away with that option! It was the worst experience ever, and I would not recommend it to any of my friends. Now I'm worried this lady may have charged me for stuff I never asked for, and they don't even give you a balance! I did not even get an order number!

Bottom Line: No, I would not recommend this to a friend

Jan 23, 2018

Hi Stacy,

Thank you for the comments. We are sorry that our Interactive Voice Response (IVR) system was long. In the future, you can ask for a live agent and a person will come on the line and assist you. We also sell online. We do show that your order was for two pairs of insoles only. We hope that you like the insoles.

---

Relief from weakness/tension

Overall Experience:

My feet, legs, and hips have not felt this good in a very long time. I have flat feet. I let a Podiatrist talk me into getting them remodeled. My left foot now has a raised arch due to my tendons being cut and shortened. My Achilles tendon was cut in three places in order to be filled in with scar tissue so that I could pull my foot up and back towards my shin better. Why I need to do that remains a mystery.

The result is that I traded my foot and hip pain for a very weird sensation, which involves my leg now. It's a very strange hip-down-through-my-toes weakness/tension feeling that is not acceptable and is worse than the pain that I was experiencing. My right foot is still flat and will remain flat.

What the WallFit has done is to make my left foot/leg feel more normalized, like my leg is finally receiving energy again. The first day I wore the WalkFit insoles, and yes I wore them all day, is the first day I wasn't constantly aware of the weak but tense feeling in my leg. I truly wish I had found these before I put myself through drastic unsuccessful surgery. Purchasing these would have been a much smarter choice.

I recommend Walkfit Platinum insoles to anyone who has any sort of alignment problem.

Bottom Line: Yes, I would recommend this to a friend

---

WalkFit insoles

By June Dunton

,

Cumberland Center, ME

,

May 17, 2017
Verified Reviewer

Overall Experience:

As far as all that money thrown around when you order by mail, just call the nearest store that supplies them! Target did NOT have them in the South Portland Store in Maine, BUT they did in Topsham.

So I left and picked them up there after I ordered them online. Simple! And only $21.00 to pick up with a valid ID, with NO supplement program to be pushed at you.

Bottom Line: Yes, I would recommend this to a friend

---