Prevagen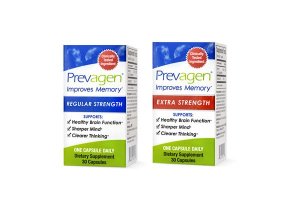 Prevagen uses an ingredient derived from a jellyfish to try and boost your memory but there is little evidence supporting the supplement's claim to ward off mild memory loss.
Prevagen Review: Does It Really Work?
Medically Reviewed by Anthony Dugarte, M.D., C.S.C.S
Prevagen is a supplement that claims to improve your memory through an ingredient derived from jellyfish.
The name of the ingredient is apoaequorin. Quincy Bioscience, the company that produces Prevagen, funded its own research of the ingredient and says their study indicates their supplement can help you if you're suffering from mild memory loss due to aging.
In our review of this product, we'll talk about how to take it and what it does, its ingredients and scientific efficacy, side effects and how much it costs and its return policy.
How to Take Prevagen and How It Works
You'll take one Prevagen in the morning with or without food. Prevagen comes in six different combinations of dosage and pill type. You can choose between capsules you swallow and chewable pills, and dosages that range from 10 mg of apoaequorin to 40 mg.
In about a month's time of daily doses, you should see improved memory and brain function because Prevagen's main ingredient supposedly helps balance the amount of calcium your brain produces. This balance is key to proper brain functioning.
Additionally, Prevagen notes they were the top-recommended memory support supplement in a survey published in 2019 in the Pharmacy Times' OTC Guide. Pharmacy Times confirmed the results, noting the survey went out to several hundred pharmacists.
Prevagen Ingredients and Scientific Efficacy
Prevagen's selling point is apoaequorin. It's the only active ingredient the supplement contains. Prevagen tells you the ingredient is proven to work according to a study they did years ago.
An in-house researcher led the study, in which around 125 participants took 10 mg of apoaequorin for 90 days while around 85 took a placebo.
The company's researcher found those with normal or mildly declining memory saw positive results, particularly for verbal learning. Those results were based on a series of memory and cognition tests done throughout the study. The researcher found that those taking Prevagen saw increases in cognitive (mental) function.
We reviewed the statistical support behind those increases and found that you may be disappointed if you experience the same level of benefits the test subjects did. This is because there was only a slight increase in mental function. For example, if you took Prevagen you might see a 2% increase in your ability to perform a memory test.
What's hard to decipher is how the Prevagen study would translate to real life. There's no guarantee you'll notice a difference in remembering phone numbers, for example, or the names of people you met in the past few days.
But more ominous than these doubts about the supplement's real-life implications is a serious backlash from the medical community about Prevagen's claims.
For example, the Federal Trade Commission (FTC) launched a lawsuit against Prevagen saying the company's claim that their supplement can improve memory is not based on scientific evidence.
"The marketers of Prevagen preyed on the fears of older consumers experiencing age-related memory loss," the FTC said in the press release announcing their lawsuit. "But one critical thing these marketers forgot is that their claims need to be backed up by real scientific evidence."
At this point, it would be understandable if you're confused. Quincy Biosciences did a study saying their supplement worked while the FTC is saying there's no scientific evidence it works.
The key is that the Quincy study had serious flaws. First, it was funded and administered by the manufacturer.
Second, the study has was not published in a peer reviewed journal – in the medical science world, these types of studies are ignored . In other words, the company did not submit the study for review from the wider medical community. Ideally, you'd want to take a supplement whose efficacy is documented in medical journals that undergo peer reviews.
The Journal of the American Medical Association published an article earlier this year detailing the dangers of these types of studies and warns that there is currently no known dietary supplement that prevents cognitive decline.
In addition to the FTC lawsuit, a team of Alzheimer's researchers from the University of San Francisco published an opinion piece in the Journal of the American Medical Association saying that "no known dietary supplements prevents cognitive decline and dementia."
Dr. Morton Tavel, a professor emeritus at the Indiana University School of Medicine, told us Prevagen's "scientific" conclusions ignore a very important fact. Apoaequorin cannot cross over from your blood vessels into your brain and provide the claimed benefits.
"There are no studies showing that orally-administered apoaequorin can cross the human blood-brain barrier and therefore does not have evidence that apoaequorin enters the human brain" Tavel told us.
Also, he reiterated that the study did not undergo any review process to validate its conclusions.
"There is no credible evidence to support the claim that this product, even if it enters the circulation, actually increases brain function," Tavel said. "By credible, I mean properly conducted, peer-reviewed, placebo-controlled, studies published in accepted national medical journals.
Prevagen Side Effects
Information we found from several sources indicates that headaches, dizziness, nausea and hypertension are possible side effects.
The Prevagen sponsored study listed only 2 adverse events, one in each group, but didn't specify what they were.
Prevagen cites 3 additional studies specifically examining the potential side effects of their supplement. Two of the studies found apoaequorin supplementation to be safe, even at doses exceeding 600mg/g of body weight… in rats. The last study found that apoaequorin was is not an allergen and is unlikely to react with known allergens, though this was done in a laboratory setting.
Though only mild side effects have been reported, most support is in animal or laboratory models. Long-term studies with human subjects are necessary to fully characterize potential harm with Prevagen.
Prevagen Pricing and Return Policy
Prevagen has several different price points based on the amount of apoaequorin in the supplement:
Regular Strength (30 ct.): $39.95 (10 mg capsule or chewable)
Regular Strength (60 ct.): $74.95 (10 mg capsule)
Extra Strength (30 ct.): $59.95 (20 mg capsule or chewable)
Professional Formula (30 ct.): $89.95 (30 mg capsule)
Prevagen gives you up to 45 days after the date of purchase to make a return. Only items purchased from an authorized dealer are eligible for a return.
To start, you'll need the bottle(s) and pills and the original receipt. Then, call at (877)977-3842 to notify Prevagen's customer service. They will direct you to either take the item back to where you bought it or process the return over the phone.
Phone returns will require that you send the unused product back. Prevagen will give you your refund by check through the mail, which can take six to eight weeks.
The Bottom Line
It is clear that Prevagen's effectiveness is dubious. For you, that means there's a very good chance this product either will not work at all or the benefits you receive are minimal. There is simply too much evidence from the medical community and the FTC to conclude anything else.
Furthermore, the research Quincy Bioscience provides is full of holes, according to multiple mainstream and academic medical sources. Beware of products that have not been extensively tested in human subjects – safety in rodents does not guarantee safety in humans.
Brain-boosting supplements have, in general, a poor reputation in the medical community. They are unproven and expensive and should be avoided.
While lifestyle changes require more effort than taking a daily supplement, they can provide noticeable improvements to your memory. We recommend cutting back on sugar consumption, reducing stress and getting enough sleep. Each of these practices has legitimate science backing them up and won't cost you anything.
It does not work

By Richard B.

,

Edgewater, FL

,

May 11, 2020
Verified Reviewer

Overall Experience:

I have bought the extra strength from Walmart for 7 months hoping to help my wife's memory - it did not work and it cost me $420.00. I think they faked their reports to make money on people that need help. There should be an action lawsuit against these people for false advertising. I am going to talk to a lawyer to see what can be done and the FDA should close them down for selling junk.

Bottom Line: No, I would not recommend this to a friend

---

Advertisement

---