Prevagen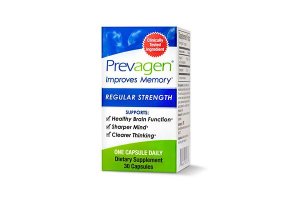 Summary
Prevagen is a dietary supplement that is alleged to improve mild memory loss associated with the aging process. Given the lack of peer-reviewed reports and the available science does not offer the backing of the ingredient of apoaequorin to support the proposed benefits of improved memory.
Pros
Purchases made through Prevagens' website will ship for free in the U.S.
Company-sponsored clinical trials found a strong correlation between apoaequorin and verbal learning.
Cons
Lack of long-term studies regarding supplementation of apoaequorin for memory improvement in humans
Federal Trade Commission (FTC) issues citing the efficacy of Prevagen on memory loss
Expensive dietary supplement and no clear indication regarding a money-back guarantee
Prevagen Reviews - Is It Safe & Effective?
What is Prevagen?
Prevagen is a dietary supplement by Quincy BioScience which allegedly aids in the improvement of memory loss due to aging.
By taking one capsule a day of Prevagen with or without food is alleged to provide support of:
Healthy brain function
Sharper mind
Clearer thinking
Memory is one of the most affected functions in the brain, which may cause an increased time to process information and learning.
Aging alone can predispose you to memory-related issues. It is essential first to discuss the difference between healthy aging and abnormal aging to gain a better perspective of the proposed benefits of Prevagen.
Age-related changes in memory and thinking, confusion, and memory loss that interfere with your daily life are not part of the normal aging process.
Conditions such as dementia refer to a group of symptoms of severe cognitive decline that included language deficits, memory, attention span, problem-solving skills, recognition, and decision making.
According to the CDC, approximately 5.8 million people in the United States have dementia.
Decreased physiological and cellular function, especially in the brain, can be expected through the process of aging.
A region of the brain, the hippocampus, plays a crucial role in the storage of information through recognition and context.
In this article, we'll share our review of available literature with you to determine the science backing the claims of Prevagen on improved memory.
Proposed Benefits: What Does The Research Say?
Prevagen is available and taken in a capsule that contains:
Vitamin D 50 mcg
Apoaequorin 10 mg
Apoaequorin is a protein derived from jellyfish and primarily used in studies due to its potential role in improving memory.
Apoaequorin, as a supplement, was studied for its effectiveness in verbal learning and working memory.
The 218 participants in the study were adults aged 40-91 years of age with self-reported memory issues.
They were randomized to receive either a placebo or an apoaequorin supplement of 10 mg for 90 days.
The researchers found a strong relationship between apoaequorin supplementation and cognitive function improvements, especially in verbal learning.
However, more research is required to determine the efficacy of long-term supplementation of apoaequorin for the aging population.
In a company-funded study, oral supplementation of Prevagen with 10 mg of apoaequorin demonstrated the ability to improve cognition in older adults.
However, these participants in the company-funded study had no signs of dementia.
Vitamin D deficiency has been linked with dementia risk, cognitive decline, and executive dysfunction.
Further, vitamin D supplementation may have a role in potentially improving brain function is well studied.
A study of mice with Alzheimer's Disease found that vitamin D supplements were efficient in improving working memory and the development of nervous tissue.
However, these improvements were experienced only when vitamin D was provided before the onset of major symptoms in mice but not in humans.
The active ingredient dosage present in one capsule of Prevagen is lower when compared to the dosages that were used in studies.
Is Prevagen Safe?
Adverse reactions when taking apoaequorin dosage of 666.7 mg for every kg of body weight were investigated in rats.
Based on this investigation results, there were no observed adverse effects even at the highest dose of 666.7 mg/kg body weight.
Further, apoaequorin was considered to be generally safe.
Prevagen has not been approved by the Food and Drug Administration (FDA) as a treatment of memory loss or neurologic illness, however.
Adverse effects of apoaequorin, while rare, may include symptoms of:
Headache
Nausea
Constipation
Edema
Hypertension
If you are beginning to experience issues of impaired memory and starts to become a concern, you should first speak with your physician to determine the most appropriate route, even if symptoms appear to be mild.
The Cost
To purchase Prevagen, you can buy directly from their website or search through Google, which will provide you with many buying options.
Buying through Prevagens' website, you have the option to purchase regular capsules or an orange flavor chewable tablet.
Another option available to you is to enroll in their monthly auto-ship program. Purchases and sales made in the U.S will ship for free.
As a member of their monthly auto-ship program, 23 days after your initial order and every 30 days after, you will receive your monthly supply of Prevagen.
You can cancel your auto-ship membership within 23 days for you to not be charged if Prevagen is not working for you.
To get in touch with Prevagen, you will have to call their customer service line at 877-977-3824 or by email to cancel your auto-ship membership.
Each bottle of regular strength Prevagen contains 30 capsules of 10 mg capsules. Also available is the extra strength Prevagen 20 mg capsules.
Regular Strength 10 mg
30 capsules $39.95
60 capsules $74.95
Extra Strength 20 mg
30 capsules $59.95
60 capsules $109.95
You can purchase 30 capsules of 10 mg regular strength Prevagen through Amazon.com for $37.98, which is slightly less than purchasing through Prevagens' website.
The Bottom Line
Quincy BioScience, the makers of Prevagen, has recently fallen under the scrutiny of false marketing over its effectiveness to improve mild memory loss of the aging population from the Federal Trade Commission (FTC).
It was primarily beginning with the fact that the research was not submitted to a peer-reviewed journal.
Secondly, studies on Prevagen were sponsored by Quincy BioScience, which can create bias, ultimately a conflict of interest.
More research supports the role of vitamin D supplementation that is supplied with additional outside studies compared to studies of apoaequorin funded by Quincy BioScience.
While Prevagen may have a favorable safety profile, it may not be as effective as Prevagen claims it to be. It could be a very costly option.
Physical activity combined with memory training sessions should not be overlooked as necessary lifestyle modifications to provide you with a wide array of health and brain benefits.
Memory loss should not be taken lightly. You should notify your physician as soon as possible to determine if there is an underlying cause.
Customer Reviews
Posted on May 11, 2020
It does not work
I have bought the extra strength from Walmart for 7 months hoping to help my wife's memory - it did not work and it cost me $420.00. I think they faked their reports to make money on people that need help. There should be an action lawsuit against these people for false advertising. I am going to talk to a lawyer to see what can be done and the FDA should close them down for selling junk.
Bottom Line: No, I would not recommend this to a friend
Our Promise to You
In order to safeguard you and ensure helpfulness and relevance, our compliance team manually assess every customer review before it goes live.
We have a zero-tolerance policy for fake reviews, and companies cannot control or alter any reviews at any time.