Alpha Brain Reviews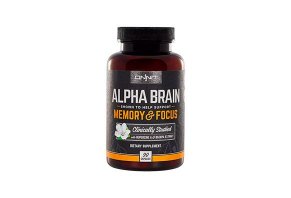 The Alpha Brain nootropic supplement features a blend of 12 ingredients that Onnit advertises will deliver a variety of brain-related benefits, including boosted focus and memory.
About Alpha Brain
Onnit's Alpha Brain nootropic supplement claims to use a blend of earth-grown botanicals and nutrients that are clinically studied to help optimize brain health and support memory, focus, and brainwave patterns related to processing speed.
According to the website, all you have to do it take two capsules per day, preferably with a light meal, and the gluten and caffeine-free formula will start working the very first time.
In this article, we'll help you answer important questions like: How does Alpha Brain compare to the competition? Are its ingredients clinically proven to deliver the advertised benefits? In the end, what criteria should you use to select an ideal option?
Let's begin with a few foundational basics.
How Do Nootropics Work?
Although there are dozens of different ingredients and thousands of potential combinations found in these types of products, we explain in The Truth About Memory Supplements that all nootropics "claim to help improve your brain's function and/or to prevent age-related memory loss through a combination of ingredients."
Often, manufacturers claim to accomplish this in a variety of ways, including increasing the level of certain neurotransmitters (typically acetylcholine) in the body, boosting blood flow to the brain, and/or by activating the central nervous system (often through the use of stimulants like caffeine).
Do they work, from a high-level perspective? While there are certainly some ingredients that have more robust clinical support than others, WebMD emphasizes that "most [brain supplements] are lacking research to support their memory-enhancing claims."
What about related to the specific ingredients found in Alpha Brain?
Taking a Closer Look at Alpha Brain's Ingredients
According to the supplement facts label listed on the Onnit website, the Alpha Brain encapsulated supplement contains the following:
Vitamin B6 10 mg
Onnit Flow Blend 650 mg – L-Tyrosine, L-Theanine, Oat (Straw) Extract, Phosphatidylserine
Cat's Claw Bark Extract (ac-11) 350 mg
Onnit Focus Blend 240 mg – L-Alpha glycerylphosphorylcholine (GPC), Bacopa Extract (100 mg), Huperzia serrata Extract (400 mcg)
Onnit Fuel Blend 65 mg – L-Leucine, Vinpocetine (5 mg), Pterostilbene
Onnit also offers Alpha Brain Instant, a Natural Peach-flavored power designed to mix with eight ounces of cold water. Its supplement facts label indicated it contains the same ingredients and the capsules, just in different dosages: the Flow Blend increases to 1,150 mg, and the Fuel Blend jumps to a total of 71 mg.
Since HighYa isn't staffed by medical, clinical, or scientific professionals, we rely on the cumulative clinical evidence reported on sites like the Natural Medicines Database, WebMD, and Examine.com when reporting whether or not an ingredient is classified as 'effective' for a specific claim.
With this critical detail in mind, these sites indicate that l-tyrosine has been shown to improve mental performance and memory under stressful conditions (cold, noise), when taken in 100 to 300 mg doses immediately before the activity. Taking 150 mg/kg of tyrosine may also improve memory following a loss of sleep.
300 to 400 mg per day of phosphatidylserine (whether in Alpha Brain or any other supplement) could also address some aspects of age-related mental decline, as well as improve some symptoms of Alzheimer's disease after six to 12 weeks of treatment.
Bacopa, also in 300 mg daily doses, may help improve memory in otherwise healthy older adults, while 60 to 400 mcg of huperzine A per day has been shown in some clinical studies to improve memory, mental function, and behavior in those with dementia. For older children and teenagers, it might also improve memory.
Finally, 30 mg of daily vinpocetine "might have a small effect on the decline of thinking skills due to various causes," although WebMD emphasizes that most of the related studies lasted four months or less and the "terms and criteria for cognitive decline and dementia" were "hard to interpret."
Could Any of Alpha Brain's Ingredients Cause Side Effects?
As with any dietary supplement, side effects are always possible. To minimize your chances of experiencing them, don't purchase anything before having an in-depth conversation with your primary care physician.
WebMD and the Natural Medicines Database indicate that most of Alpha Brain's ingredients are unlikely to cause side effects worse than temporary, mild digestive upset and/or nausea, if any at all.
Still, they point out that pyridoxine (no dosages or other specifics provided) could also lead to loss of appetite, headache, tingling, or sleepiness, while some people taking tyrosine could experience fatigue and heartburn.
Similarly, phosphatidylserine might cause insomnia when taken in doses over 300 mg, cat's claw may cause dizziness, alpha-GPC may lead to skin rash and confusion, bacopa might increase bowel movements or cause fatigue, and vinpocetine has been shown in some instances (again, no dosages or specifics listed) to cause nervousness and flushing of the face.
Theanine has been used safely one time per week for a period of three weeks in clinical trials, although it's not known if it's safe to use for longer.
How Much Does Alpha Brain Cost & Where Can You Buy?
As a one-time purchase, Onnit's Alpha Brain encapsulated supplement is priced at:
30 count: $34.95
60 count: $59.88
90 count: $79.95
On the other hand, Alpha Brain Instant is priced as follows:
30 ct. packets: $59.95
108 g tub: $55.95
Whichever option you choose, you can save an additional 15% by signing up for automatic shipments at your convenience; between once every two weeks and three months.
We also found the supplement sold at popular online retailers like Amazon, Vitamin Shoppe, and Walmart for about the same prices (usually within a couple of dollars). However, Amazon also offered 15 ct. capsules for $19.99, which also qualified for free Prime shipping, if you're looking to try the supplement and pay as little as possible in the process.
All direct orders come with a 90-day "Keep-It Money Back Guarantee," and anything outside of this timeframe could qualify for store credit. You can reach customer support at 855-ONNIT-99 (666-4899), help@onnit.com, or via the Refund Request Form on their website.
Are Customers Reporting Positive Results in Their Alpha Brain Reviews?
In addition to a swath of professional endorsements, including female and male MMA fighters, hockey players, extreme athletes, and Joe Rogan and various other celebrities, more than 500 customers gave Alpha Brain an average rating of 4.1 stars on the Onnit website at the time of our research.
Compliments? Effective results (improved focus, boosted information processing and retention, increased productivity, reduced brain fog, etc.) were most common, while complaints typically referenced side effects like nausea and decreased energy, as well as no results.
We also encountered 1,500+ reviews on Amazon, where customers gave Alpha Brain a lower overall average rating of 3.4 stars. Compliments primarily mirrored those found on the Onnit website, although additional common complaints related to nervousness, trembling/twitching, and vomiting.
Alpha Brain vs. the Competition: How to Choose Your Best Nootropic Dietary Supplement
The practice is almost second nature in today's marketplace, but it's worth pointing out that the fastest way to find out what kind of competition any product or service has is by searching online.
In this instance, the term 'brain supplement' or 'nootropic' returned hundreds of results in the same league as Alpha Brain at the time of writing, including popular options like:
| | | |
| --- | --- | --- |
| Brand | Price | Main Ingredients |
| Alpha Brain | $34,95+ | L-Tyrosine, L-Theanine, Oat, Phosphatidylserine, Alpha-GPC, Bacopa, Huperzine-A, L-Leucine, Vinpocetine, Pterostilbene |
| Geniux | $20+ | Royal bee pollen, Manuka honey, Propolis, Tyrosine |
| Qualia Mind | $59+ | Vitamins C, D3, B1, B3, B6, B12, B5, Acetyl-L-Carnitine, Artichoke, Bacopa, Rhodiola, Phenylalanine, Uridine Monophosphate Disodium, Tyrosine, Taurine, Theanine, Alpha-GPC, Cognizin Citicoline, Mucuna pruriens, Phosphatidylserine, Theobromine, Anhydrous Caffeine, DHA, Celastrus paniculatus, Ginkgo biloba, Coleus forskohlii, Pyrroloquinoline Quinone, Huperzine A |
| Neuroflexyn | $29.97+ | Vitamins E, B6, & B12; Folate, Bacopin, Pikamilion, Phosphatidylcholine, DMAE, Eleuthero, Omega-3 Complex (6% EPA and 4% DHA), GABA, Ginkgo Biloba, Alpha-Lipoic Acid, Vinpocetine, Huperzine A |
| OptiMind | $36.66+ | Vitamins D and B12, L-Tyrosine, Taurine, Phosphatidylserine, Bacopa, GABA, Caffeine, ALA, Vinpocetine, Sulbutiamine, Huperzine A |
As we can see from this table, many of the top nootropic supplements feature more of the same ingredients than they do otherwise. So, outside of how much do you want to pay (returning to our Truth About Memory Supplements article cited earlier), key factors that could play into your final decision include:
Does the company support their claims with clinical evidence?
Do they offer at least a 30-day refund policy, with no restocking fees?
Are customers reporting mostly positive results? Are there any common complaints to be wary of?
Let's zoom in and see how these factors apply when it comes to Alpha Brain.
Bottom Line: Is Alpha Brain Worth Your Money?
According to Onnit's Clinical Studies page, three different trials have been conducted on their Alpha Brain supplement, only one of which was published in the National Institutes of Health's PubMed:
A 2012 study conducted in conjunction with the Boston Center for Memory and the Boston University School of Medicine, which found that after two weeks, participants given the supplement scored significantly higher in "Logical Memory I, Logical Memory II, and Trails B" testing.
A 2016 study, also conducted with the help of the Boston Center for Memory and the Boston University School of Medicine that found after six weeks, Alpha Brain "significantly improved recent verbal memory when compared with controls, in a group of healthy adults."
An undated study indicating that the components found in Alpha Brain could help improve attention, boost classification speed, and increase executive function among the 20 subjects whose ages were between 18 and 35.
On top of this, many of the ingredients in the supplement are reported by sites like WebMD and Examine.com to deliver myriad potential cognitive benefits, the supplement seems to come with almost wholly positive online customer feedback, and Austin, TX-based Onnit stands behind it with a 90-day refund policy if it doesn't meet your expectations—and you don't even have to worry about returning it or paying the related S&H charges.
>> Read next: Cognitive Biases: How You Brain Affects What You Buy