Alpha Brain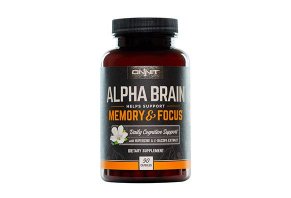 Summary
Alpha BRAIN is a dietary supplement from ONNIT that blends nootropic ingredients to support cognitive function. There is some preliminary promising research, but it may not translate into long term effects.
Alpha Brain Review: Does It Work for Cognitive Function?
ONNIT claims that Alpha BRAIN's blend of nootropic (brain-boosting) ingredients will boost your cognitive function without caffeine.
More specifically, by taking just 2 capsules with a meal each day, you'll experience memory support, more focus, and better mental processing.
While your physical health is a large component of your overall wellness, you should also be keeping tabs on your mental health. Feeling depressed, having lapses in memory, and episodes of confusion can be signs that your mental health may require care.
Frequently, medical management is warranted, though Alpha BRAIN claims to offer an alternative.
But can this supplement offer these brain-boosting effects?
In this article, we'll share the details of our scientific literature review to help you determine if Alpha BRAIN's active ingredients can boost your cognitive function.
Alpha BRAIN Active Ingredients: What Does the Research Say?
Many supplements with claims similar to ONNIT's take advantage of the nootropic effects of caffeine. According to the product page, Alpha BRAIN boosts cognitive function while avoiding the unwanted effects of stimulant-containing supplements.
Each serving of Alpha BRAIN contains the following:
Vitamin B6 – 10mg
B vitamins may support brain health in addition to promoting red blood cell function and weight loss.
Mental decline is more likely with low B vitamin levels. B6 did not lower the risk for dementia in this study, however.
B vitamins may also improve academic performance in school-aged children.
Cat's Claw – 350mg
Uncaria tomentosa, or cat's claw, has been used in natural medicine for centuries. It is intended to enhance cell health.
While cat's claw reduced brain plaques in a laboratory study, more work is needed to demonstrate long-term nootropic effects in humans.
ONNIT Flow Blend (L-Tyrosine, L-Theanine, Oat Straw, Phosphatidylserine) – 650mg
L-tyrosine is an amino acid that may improve mental performance, depression, and alertness. Inidividuals that received 2g of tyrosine improved performance on mental tests.
L-theanine is another amino acid. It may enhance mental focus. While it hasn't been extensively studied, the combination of 97mg of L-theanine and caffeine improved accuracy on mental tests.
Oat straw is a nutrient-rich herb that may offer nerve and brain support. Even doses at 1500mg daily over 3-months did not offer a cognitive benefit in healthy individuals, however.
ONNIT Focus Blend (α Glycerylphosphorylcholine (A-GPC), Bacopa, Huperzine) – 240mg
A-GPC is a substance that, when ingested, can boost chemical transmitters that play a role in cognitive function. Those that consumed 400mg of A-GPC did not significantly improve mood, mental function, or physical performance.
Bacopa is a tropical herb that may boost brain function. Healthy adults that consumed 300mg improved memory, learning rate, and visual processing.
Huperzine is a Chinese herb that is suspected to enhance cognitive function. In a review of 20 studies, doses up to 0.8mg daily were improved cognitive function.
Onnit Fuel Blend (L-Leucine, Pterostilbene) – 60mg
The details regarding leucine supplementation's ability to modify brain function are still being ironed out. While leucine was sensed by the brains of mice when ingested, it was ineffective in altering function.
Pterostilbene has a structure comparable to resveratrol, the antioxidant compound found in wine. Similarly, pterostilbene may offer a wide variety of health benefits. However, much of the available research has been in laboratory and animal models.
Side Effects
ONNIT does not detail the individual quantities of each ingredient in their proprietary blends, however. Without this information, direct comparisons to the available research can't be made.
Also, the ingredients that offer mainly laboratory and animal studies as support are not necessarily relatable to human subjects.
Nonetheless, Alpha BRAIN is likely safe when used as directed. Nutraceuticals typically offer a favorable safety profile, so serious adverse effects are less likely.
The fact that Alpha BRAIN does not contain caffeine means that you'll avoid the unwanted stimulant-related side effects that are commonly associated with other nootropic supplements.
Still, it is best to speak with your doctor, especially if you're experiencing a low mood, confusion, or memory loss. Self-treating with Alpha BRAIN may not address the underlying source of these symptoms.
Pricing
Alpha BRAIN is available from the ONNIT website.
They offer both single order and subscription options for several capsule counts. Check out the chart below for comparison.
| | | |
| --- | --- | --- |
| Alpha BRAIN | Single Order | Subscription (15% off) |
| 14-ct | $18.75 | $15.94 |
| 30-ct | $34.95 | $29.71 |
| 60-ct | $59.88 | $50.90 |
| 90-ct | $79.95 | $67.96 |
If you opt for the subscription service, you can select delivery frequencies of 15, 30, 45, 60, or 90 days and cancel whenever you please. Also, plan for shipping unless you place an order more than $150.
You also have the option to register for an ONNIT X Rewards account. You earn points every time you shop ONNIT products that can be redeemed for coupons, apparel, autographed memorabilia, etc.
Lastly, ONNIT backs each order of entry size supplements (the Alpha BRAIN 14ct, for example).
What Are the Alternatives to Alpha BRAIN?
Other companies offer nootropic dietary supplements with proposed benefits similar to Alpha Brain.
Qualia Mind is one example.
While it contains a number of the ingredients offered in Alpha BRAIN like phosphatidylserine, vitamin B6, huperzine, bacopa, tyrosine, theanine, and alpha GPC, it is also a stimulant-containing supplement.
A one month supply runs nearly $140, though Qualia Mind is currently available from Neurohacker at 50% off.
While it contains a more complex blend of ingredients when compared to Alpha BRAIN, many have just laboratory and animal research to back them. At more than double the cost, Qualia Mind is likely not your best first choice.
The Bottom Line
Alpha BRAIN's blend of ingredients does offer some scientific support, though many mostly have just laboratory or animal studies to back them. While these types of research investigations highlight the importance of additional work, they do not necessarily translate to human subjects.
Still, Alpha BRAIN's proprietary blends are likely safe if you use this supplement as directed.
You'll pay around $1 per capsule for the 60-ct needed to last one month. This is a relatively expensive supplement, though it is roughly half the price of a similar blend.
Regardless, your first step should be discussing any mental symptoms that you're experiencing with your doctor to determine the best plan of care.
Customer Reviews