Neuriva Reviews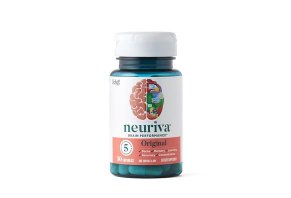 Summary
Neuriva is a brain supplement brand that claims to use all-natural ingredients to boost your mental abilities, enhance your memory, and improve your focus. Ingredients are generally safe and provide short-term benefits but research isn't robust for longterm sustainability.
Neuriva Review - Does This Supplement Work?
What Is Neuriva?
Offered by Schiff Vitamins, Neuriva is a brand of brain supplements that allegedly boost performance, memory, and mental cognition.
The brand offers two supplements containing Neurofactor—a patented coffee fruit extract—along with other active ingredients purportedly meant to help improve your brain performance.
Neuriva defines this as focus, accuracy, memory, learning, and concentration. Neuriva Plus, one of the two supplements, also allegedly targets reasoning.
This review examines the available evidence for these supplements' ingredients and safety to help determine if it works.
Available Products
You can choose between two supplements from Neuriva:
Neuriva Original
Neuriva Performance Plus
Both of these supplements contain 30 or 7 capsules per container and are formulated with the same active ingredients.
The key differences between the two products are Neuriva Plus contains everything included in the original formula as well as vitamin B12, B6, and folic acid.
Regardless of the version you choose, the usage instructions are the same. The company suggests that adults can take one capsule daily before bedtime. Those who are pregnant, breastfeeding, or on medication should talk with their doctor before starting.
The pricing for each of the supplements varies based on the retailer and quantities.
Neuriva is sold at:
Amazon
Walmart
Walgreens
CVS
Ingredients
The active ingredients found in Neuriva are:
Phosphatidylserine
Neurofactor
Plant-Sourced Sharp PS (Phosphatidylserine) (100 milligrams):
Phosphatidylserine is a phospholipid, a component of cell membranes that is critical for their functioning. The compound may also aid memory formation and your ability to learn.
A review of 127 articles found phosphatidylserine doses ranging from 300-800mg daily to be effective in support both short and long-term memory, as well as the ability to improve attention and concentration.
In elderly individuals with declining memory, 300mg doses of phosphatidylserine daily over a 3-month span effectively improved memory recognition and mental flexibility on computerized tests.
Also, both 100mg and 300mg daily doses improved both memory and delayed recall in elderly individuals over a 6-month span.
While many studies found much higher doses of phosphatidylserine to support cognitive function, there is some evidence supporting doses comparable to those included in Neuriva.
Neurofactor (coffee cherry) 100milligrams in Original, 200mg in Plus:
Neurofactor is a patented extract formulated from coffee fruit. This decaffeinated compound shows proven benefits for increasing levels of the brain-derived neurotrophic factor (BDNF).
This is a protein that supports neuron health in your brain and stimulates the growth of new ones.
This protein is considered to have an essential role in learning, memory, and behavior, and diminishing levels due to aging and other factors are thought to contribute to Alzheimer's, dementia, and other neurological conditions.
A clinical study showed that 100mg doses of Neurofactor were effective in boosting BDNF levels 143% within 1-hour - much more than the other extracts tested in this study. These results were later confirmed in healthy subjects.
As BDNF was found to support long-term memory, boosting levels may be advantageous. More work is needed to see if Neurofactor's ability to elevate BDNF leads to clinically relevant results.
Below are the additional ingredients in Neuriva Plus.
Vitamin B6 - 1.7mg, Folate - 680 mcg, Vitamin B12 - 2.4mcg:
You can find B vitamins in foods like meat, seeds, and nuts. They are commonly included in dietary supplements that propose to boost mental function due to their suspected ability to boost energy and support overall brain health.
According to this study, B6 and B12 did not protect against dementia, though folate may be associated with reducing the risk for the disease.
In young kids, B vitamins may support intelligence, as well as academic performance.
Most recently, a systematic review of 10 randomized trials examined the potential for vitamin B12, vitamin B6, or folate to support cognitive function.
The researchers concluded that the available research has a variety of limitations that make it challenging to draw strong conclusions regarding the use of B vitamins in this setting.
Note that Neuriva Plus also contains twice the amount of Neurofactor as the original formula.
Is Neuriva Safe?
The ingredients offered in this supplement are generally safe. Even at larger doses as included in Neuriva, the ingredients were well tolerated in the available research.
Also, Neuriva contains a coffee fruit extract that has relatively little caffeine. Thus, you'll avoid many of the unwanted effects of the stimulant that may be associated with the use of other brain-boosting supplements.
Still, you should discuss your symptoms with your doctor to ensure that a serious medical condition is not the cause.
About the Neuriva's Brain Gym App
Beyond their patented supplements, Neuriva also offers an iOS and Android app called the Brain Gym that is designed to boost your brainpower.
According to the synopsis on Google Play, this app includes 14 games designed to promote different aspects of cognition, as well as access to five training programs and analysis and long-term tracking on your personal brain scores.
As you play, the app adapts the complexity of the game in real-time to keep you challenged.
There is preliminary evidence pointing to the positive effects of brain games, though more research is needed to determine the sustainability in the long-term.
There were seven customer reviews of Brain Gym on Google Play at the time of writing that averaged 3.6 stars overall. We couldn't glean much insight from these reviews other than that some users found the app to be slightly glitchy.
Alternative Methods to Improve Your Cognitive Abilities
If you aren't interested in taking a daily supplement for brain health, there are other proven strategies to improve your cognitive abilities. Some strategies we recommend include the following:
Play Brain Games: Trite as it sounds, finding ways to further your education (even via the phone app) can keep your mind nimble. A language learning app like Duolingo or Neuriva's Brain Game is an excellent place to start.
Quit Smoking: A study on heavy smokers from the Archives of Internal Medicine reports that those who smoked more than two packs a day are twice as likely to develop dementia.
Get Exercise: Staying physically fit is smart for your mental health. Research from the journal Alzheimer's & Dementia: Translational Research & Clinical Interventions has shown that millions of cases of Alzheimer's can be attributed to a sedentary lifestyle. Strive to get at least 30 minutes of physical activity each day, and spend some time meditating to exercise your brain as well.
The Bottom Line
Neuriva offers a blend of ingredients that have some scientific support for their suspected brain-boosting capabilities.
Phosphatidylserine seems to offer the most promise. Many studies found benefit in much larger doses, though there is support for the effectiveness of Neuriva's dosing.
Neurofactor seems to boost BDNF, but studies are needed to demonstrate if this results in tangible benefits. The data for B vitamins is mixed, at best.
Neuriva is moderately priced, has mediocre reviews, and lacks robust research that backs the company's claims. Though it is likely safe, you may want to seek to boost mental function elsewhere.
If you are experiencing symptoms of cognitive decline, speak to your doctor first.
Customer Reviews
Posted on Feb 7, 2020
Short on my capsules
I bought your product and believe it, it seems to have a positive effect on me.
The only complaint I have about Neuriva is both times I bought your product, it was...I purchased 30 capsules and received (both times) 25.
Not a good business.
Bottom Line: Yes, I would recommend this to a friend
Our Promise to You
In order to safeguard you and ensure helpfulness and relevance, our compliance team manually assess every customer review before it goes live.
We have a zero-tolerance policy for fake reviews, and companies cannot control or alter any reviews at any time.