Neuriva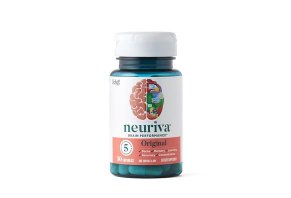 Neuriva is a brain supplement brand that claims to use all-natural ingredients to boost your mental abilities, enhance your memory, and improve your focus.
Neuriva Brain Performance Supplement Review
Offered by Schiff Vitamins, Neuriva is a brand of brain supplements designed to naturally boost performance, memory, and mental cognition.
At the time of writing, the brand offered two supplements containing Neurofactor—a patented coffee fruit extract—along with other active ingredients purportedly meant to fuel the "five indicators of brain performance," which Neuriva defines as focus, accuracy, memory, learning, and concentration. Neuriva Plus, one of the two supplements, also claims to target reasoning.
Is it too much to hope for that a daily supplement will help retain and improve your mental abilities? HighYa helps you find the answer here. Let's look at the details behind Neuriva so you can make a more informed decision.
Do Brain Supplements Work?
From what we learned on the company website, Neuriva's name comes from the Greek word for "brain" and the Latin term for "life." It states that the goal of the supplement is to use natural ingredients to support better brain performance and keep you functioning properly as you age.
However, according to Consumer Reports, there's reason to be skeptical that brain supplements can deliver the kind of benefits they promise. They suggest that their analysis of available studies shows little evidence that most brain supplements can prevent or delay memory problems, cognitive impairment, or dementia.
Saying that, we found evidence that a few of the ingredients in Neuriva have clinically-proven benefits for brain health. We'll look at the specifics later, but let's first look at the two products Neuriva offers.
What Products Are Available from Neuriva?
You can choose between two supplements from Neuriva at the time of writing: Neuriva Original ($30) and Neuriva Plus ($44.95). Both of these supplements contain 30 capsules per container, and they are formulated with many of the same active ingredients.
We spoke with a company representative to discern what the key difference was between them and were told that Neuriva Plus contains everything included in the original formula as well as vitamin B12, B6, and folic acid.
Regardless of the version you choose, the usage instructions are the same. The company suggests that adults can take one capsule daily before bedtime. Those are pregnant, breastfeeding, or on medication should talk with their doctor before starting.
Shipping is free for all orders over $30 and costs $5.99 otherwise. The company's return policy states that any purchase can be returned for a full refund within 30 days of purchase if it is still in a saleable condition (meaning unopened or unused). Opened products will be subject to a 15 percent restocking fee, and the customer is responsible for all return shipping fees.
If you have further product questions, you can message the company directly at (888)532-4574 or through email at schiffcustomercare@rb.com.
Neuriva Ingredients
Next, let's check out the specifics for the two active ingredients within these supplements: phosphatidylserine and Neurofactor. Below are the top active ingredients within each and the purported health benefits of them.
Plant-Sourced Sharp PS (Phosphatidylserine) (100 milligrams): According to WebMD and ConsumerLab, phosphatidylserine is a phospholipid, meaning it makes up cell membranes and is critical for their functioning. The compound also aids memory formation and your ability to learn. Preliminary studies show that your levels go down as you age and that taking therapeutic doses of 100mg up to three times a day can increase cognitive abilities in regards to short term memory, mood, and concentration.
At this point, there isn't enough evidence to conclude what benefit (if any) the compound has for treating Alzheimer's disease, though the initial clinical research is promising.
Neurofactor (coffee cherry) 100milligrams in Original, 200mg in Plus: As stated previously, Neurofactor is a patented extract formulated from coffee fruit. This decaffeinated compound shows proven benefits for increasing levels of the brain-derived neurotrophic factor, which is a protein that supports neuron health in your brain and stimulates the growth of new ones.
From what we learned on Nutraingredients.com, this protein is considered to have an essential role in learning, memory, and behavior, and diminishing levels due to aging and other factors are thought to contribute to Alzheimer's, dementia, and other neurological conditions.
Early clinical studies, including one from the British Journal of Nutrition, show that supplementing BDNF levels with coffee fruit extra may boost your levels enough to offer cognitive health benefits, including a lower risk of degenerative brain diseases.
Below are the additional ingredients in Neuriva Plus.
Vitamin B6 (as pyridoxine hydrochloride) - 1.7mg: According to EveryDay Health, vitamin B6 plays a vital role in brain function and is integral for helping your body make serotonin and norepinephrine, two compounds associated moderating your mood and stress levels. Adults over 51 should take in at least 1.5 mg per day.

Folate - 680 mcg: Mental Health America reports that folate—also known as vitamin B9—is an essential nutrient for staving off depression and dementia. A diet of fortified greens and leafy greens should help you meet your daily folate quota of 400-800 mg per day.

Vitamin B12 (as cyanocobalamin) - 2.4mcg: Per Healthline, vitamin B12 deficiency may be a cause of dementia in older adults. You need a minimum of 2.4 mcg per day to keep your levels within the optimal range.
Note that Neuriva Plus also contains twice the amount of Neurofactor as the original formula.
About the Neuriva's Brain Gym App
Beyond their patented supplements, Neuriva also offers an iOS and Android app called the Brain Gym that is designed to boost your brainpower.
According to the synopsis on Google Play, this app includes 14 games designed to promote different aspects of cognition as well as access to five training programs and analysis and long-term tracking on your personal brain scores. As you play, the app adapts the complexity of the game in real-time to keep you challenged.
There were seven customer reviews of Brain Gym on Google Play at the time of writing that averaged 3.6 stars overall. We couldn't glean much insight from these reviews other than that some users found the app to be slightly glitchy.
Analysis of Neuriva Customer Reviews and Complaints
We had better success finding reviews of the Neuriva supplements, especially on Amazon. There, we learned that the app averages 3.4 stars after 46 reviews.
Some of the most common comments we noticed were from users who felt like the supplements made a difference in their focus and daily energy levels.
Some reported that they used to go to bed exhausted but that the supplement boosted their stamina and made them feel more alert.
Others stated that they thought the supplement worked better than any other mind enhancer they had tried and that it helped them deal with brain fog.
Not every review we read was positive, as some users reported that they broke out in a rash after taking the supplements.
Others stated that they didn't feel any different after taking it and thought any purported benefits could be attributed to the placebo effect.
A few people thought that the supplements were too expensive for what they provided, considering that they cost between $1 and $1.50 per capsule.
The Bottom Line: Is Neuriva Worthwhile?
From this research, we've come away impressed with what Neuriva offers. This natural brain boost uses ingredients that have relevant clinical research to back up its claims, and published reviews show many customers are happy with their experience.
What we think you need to keep in mind is that Neuriva isn't a miracle product, and it doesn't promise to give you superhuman mental abilities.
There's a good chance it can give your brain a boost to stave off degenerative disease if it's depleted of certain compounds, but there's little reason to believe it can enhance your mental abilities above your baseline.
Alternative Methods to Improve Your Cognitive Abilities
If you aren't interested in taking a daily supplement for brain health, there are other proven strategies to improve your cognitive abilities. Some strategies we recommend include the following:
Play Brain Games: Trite as it sounds, finding ways to further your education (even via phone app) can keep your mind nimble. A language learning app like Duolingo or Neuriva's Brain Game is an excellent place to start.

Quit Smoking: A study on heavy smokers from the Archives of Internal Medicine reports that those who smoked more than two packs a day are twice as likely to develop dementia. If you need help quitting, check out our article on 6 Ways to Cut Down Smoking Gradually.

Get Exercise: Staying physically fit is smart for your mental health. Research from the journal Alzheimer's & Dementia: Translational Research & Clinical Interventions has shown that millions of cases of Alzheimer's can be attributed to a sedentary lifestyle. Strive to get at least 30 minutes of physical activity each day, and spend some time meditating to exercise your brain as well.
Short on my capsules

By William M.

,

Salisbury, MD

,

Feb 7, 2020
Verified Reviewer

I bought your product and believe it, it seems to have a positive effect on me.

The only complaint I have about Neuriva is both times I bought your product, it was...I purchased 30 capsules and received (both times) 25.

Not a good business.

Bottom Line: Yes, I would recommend this to a friend

---

Advertisement

---