Memotenz Reviews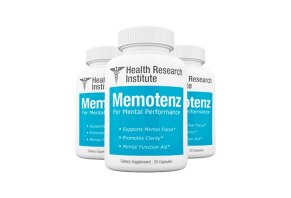 By taking two to four capsules of Memotenz per day, the manufacturer claims you'll experience improved memory, mental energy, and overall brain performance, without side effects.
About Memotenz
Brought to you by Health Research Institute, Memotenz features a 100 percent natural blend of potent herbal extracts, amino acids, and basic vitamins and minerals that provide all the nutrients needed to "drastically improve every aspect of your brain."
This includes increasing concentration, boosting energy and alertness, improving short and long-term memory recall, and maximizing overall brain performance, regardless of age and without having to worry about the side effects commonly associated with prescription drugs.
To experience these benefits, the manufacturer recommends taking one to two capsules of Memotenz per day, preferably with food, first in the morning with breakfast and again in the evening. With continued use, we're told the supplement's effectiveness will only increase, without affecting the quality of your sleep at night.
All of the claims made on the Memotenz website certainly sound great, but can you really expect it to provide a mental edge, or deliver on any of the other benefits promoted by the manufacturer?
The HighYa team has written about dozens of similar supplements in the past, so we'll combine what we've learned over the years, along with our research related to the supplement in question, and help you make a more empowered decision.
What Causes Memory & Other Brain Functions to Decline?
Although brain function is a highly complex process and there's much the scientific community has yet to learn, the Queensland Brain Institute explains that brain cells, called neurons, form and store memories based on the connection strength between one another.
In other words, stronger connections are thought to result in stronger, more concrete memories, while the opposite also seems to be true—the weaker the connections, the weaker the memories.
As we age, the Mayo Clinic explains that the natural decline in these connections can lead to momentary forgetfulness, such as temporarily forgetting a person's name or misplacing an item, which is known as mild cognitive impairment (MCI). Generally, though, they're "manageable and don't disrupt your ability to work, live independently or maintain a social life."
In some instances, however, these connections can be weakened by other causes, such as medications, brain or head trauma, alcoholism, and even brain diseases like Alzheimer's and other forms of dementia.
Either way, is there anything contained in Memotenz that's been clinically shown to address common causes of memory loss?
Taking a Closer Look at Memotenz's Ingredients
Memotenz contains the following:
Ginkgoxine Ginkgo Biloba Extract 50 mg
Proprietary Formula 727 mg: St. John's Wort, L-Glutamine HCl, Phosphatidylserine Complex, Bacopa Monnieri, Dimethylaminoethanol Bitartrate, Acetyl-L-Carnitine
According to the summarizations of the available clinical evidence, as provided by sites like the Natural Medicines Database, Examine.com, and WebMD, there is some conflicting (although positive) evidence that taking between 120 and 240 mg of ginkgo biloba per day may help slightly improve memory, thinking speed, and attention in otherwise healthy adults.
Taking 240-600 mg of ginkgo extract for up to 12 weeks is also listed as "possibly effective" for modestly improving some symptoms of Alzheimer's.
Taking between 100 and 400 mg per day of phosphatidylserine (the form derived from cow's brains, not the cabbage version often found in dietary supplements) is also listed as possibly effective for addressing symptoms of age-related mental decline and Alzheimer's disease.
300 mg of bacopa per day may help improve some measure of memory in otherwise healthy older adults, and between 1,500 and 3,000 mg of acetyl-l-carnitine may help improve memory in elderly people, improving blood flow to the brain, and help treat those with early-onset Alzheimer's disease.
As a whole, according to the supplement's website, "People in their twenties and thirties that used Memotenz tended to see improvement in recall speed, focusing and accuracy, as well as some improvements in long-term memory. Adults over forty, however, saw even more significant improvement in both long-term and short-term memory functions."
However, they don't provide any data to support these claims.
Could Memotenz Cause Potential Side Effects?
According to these same sites, if any of these ingredients cause side effects, they likely won't be worse than temporary digestive upset.
However, in some instances (no dosages or other specifics provided), the St. John's Wort in Memotenz may cause side effects like trouble sleeping, restlessness, anxiety, and irritability, while phosphatidylserine (especially in doses over 300 milligrams) can cause insomnia.
This is one of the reasons it's always important to speak with your doctor before taking any new dietary supplement.
How Much Does Memotenz Cost?
Memotenz is available in the following quantities:
1 Bottle: $79.98
3 Bottles: $179.94 ($59.98 each)
5 Bottles: $199.95 ($39.99 each)
Per the terms listed on their website, all orders come with a 30-day money back guarantee, less S&H and a 20 percent restocking fee. To request one, you'll need to reach out to customer service at (310) 256-2605 or support@health-research-institute.info.
Are There Other Brain Supplements Like Memotenz?
Whether purchased from various online outlets, local retailers, marketplaces like Amazon and Walmart.com, or direct from the manufacturer, there are perhaps hundreds of brain health supplements competing with Memotenz—many of which contain several (or even all of) the same ingredients.
Price-wise, you can find these supplements sold for anywhere between $15 and $100+. How can you figure out if paying more for one—whether Memotenz or another brand—will deliver maximum value? Over the years, we've put together a simple three-step process:
1. Talk with your doctor – Talking with your physician before purchasing could not only help you avoid side effects, but could also help you make a more empowered purchase, since they might be able to recommend options based on your specific diagnosis.
2. Maintain realistic expectations – Even if your doctor recommends you proceed, according to organizations like the National Institutes of Health and the American Academy of Family Physicians, otherwise healthy individuals won't receive maximum benefits from any ingredients found dietary supplements.
3. Choose carefully – With so many options available, it's been our experience that you'll want to concentrate on doing business with companies who support their claims with clinical evidence, back their products with at least 30-day refund policies (with no restocking fees), and who don't force customers into recurring shipments.
Does all of this line up nicely for Memotenz?
Our Bottom Line About Memotenz
Although several of the ingredients found in Memotenz are reported by sites like the Natural Medicines Database and WebMD to be effective for memory-related conditions like Alzheimer's, dementia, and mild cognitive impairment, all but one (ginkgo biloba) is part of a proprietary formulation. As such, we can't know if it contains the same dosages found in supporting studies.
And while the company seems to stand behind the supplement with a 30-day refund policy, it's not a completely risk-free transaction, since you'll have to pay to ship your bottle(s) back to the company, while also paying a steep 20 percent restocking fee (or, about $16).
Together, we think the most valuable use of your time—and potentially your money—will be to start by talking with your doctor, before placing an order for Memotenz, or any other brain health supplement for that matter.
They don't really care

By Doreen J.

,

Nevada

,

Sep 15, 2019
Verified Reviewer

Yesterday, September 6th, 2019, I received a shipment of Memotenz of 3 bottles. The expiration date on them is October 2019. So, I have a supply for 90 days, and 66+% of them expire before I can take them, according to the recommended dosage.

What is this about? Oops - we made a mistake? If it was a mistake, what else are they mistaken about?

Bottom Line: No, I would not recommend this to a friend

---

Advertisement

---