Qualia Mind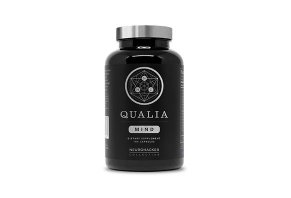 Summary
Qualia Mind is a dietary supplement that Neurohacker claims is designed to boost mental performance through a blend of scientifically researched ingredients.
Qualia Mind Review: A Detailed Look at Its Effectiveness and More
Neurohacker claims that Qualia Mind will boost your mental performance and promote total body wellness.
More specifically, this supplement is alleged to:
Lift brain fog
Promote willpower
Increase energy
Heighten creativity
Increase concentration
Promote mental clarity
Reduce procrastination
Neurohacker states that these nootropic (brain-boosting) benefits are related to a complex blend of ingredients developed by scientists, MDs, and PhDs. According to their site, you may experience the effects in as little as 40-minutes by taking seven capsules daily.
But can this supplement live up to these lofty claims?
In this article, we'll review some of the key ingredients from each major category to help you determine if the available research lives up to the hype.
Analysis of Ingredients
Qualia Mind contains a complex blend of ingredients that Neurohacker believes is responsible for the many proposed benefits of this supplement.
Below, we'll take a closer look at some of the key ingredients from each category:
6 Nootropic Compounds
Nootropics are compounds with suspected brain-boosting capabilities. Technically all of Qualia Mind's ingredients can be classified as such, though some fit more specifically in the other categories we will discuss.
The six ingredients Neurohacker considers nootropic compounds are:
Phosphatidylserine – 100mg
Theobromine – 100mg
Uridine Monophosphate – 250mg
Coffeeberry® (caffeine) – 90mg
DHA (as Docosahexenoic Acid from Algae) – 80mg
Pyrroloquinoline Quinone (PQQ) – 10mg
Caffeine is a stimulant that is part of many people's daily routine worldwide. Whether they realize it or not, they're likely drinking coffee both for its nootropic and energy-boosting effects.
For example, those consuming 2mg/kg body weight of caffeine had fewer lapses in their attention, decreased anxiety, and heightened alertness. Similar findings occurred at 40mg–300mg doses.
Caffeine may also prevent age-related declines in mental health. Consuming 3–5 cups of coffee per day may slash your risk for dementia by 65%. Even students can benefit from drinking coffee – those that did in this study improved performance during morning memory tests.
Theobromine is a compound found in cocoa with a similar structure to caffeine. It has not been as extensively studied, though it may offer brain-boosting benefits without the side effects of caffeine.
Theobromine's capability to enhance memory was demonstrated in rats. Those receiving the supplement improved their ability to navigate a maze.
Unlike caffeine, the potential nootropic effects of theobromine require much more long-term research with human subjects to characterize.
7 Neuro-Vitamins
While vitamins offer many benefits, some may also serve to boost your brain functions. Each serving of Qulai contains the following:
Vitamin D3 (Cholecalciferol) – 25mcg (1000ICU)
Vitamin C (Ascorbic Acid) – 100mg
Niacin (as Niacinamide) – 50mg
Vitamin B1 (Thiamine) – 50mg
Vitamin B6 (Pyridoxal-5-Phosphate) – 20mg
Vitamin B12 (Methylcobalamin) – 1000mcg
Vitamin B5 (Calcium Pantothenate) – 50mg
You can find B vitamins in foods like meat, seeds, and nuts. In addition to offering benefits such as promoting red blood cell function and weight loss, they may support brain health.
The relationship between B vitamins and the amino acid homocysteine has been linked to brain health. Mental decline is more likely with low B vitamin levels and elevated homocysteine levels.
Over ten years, B6 and B12 did not lower the risk for dementia, though B9 intake was associated with a lower risk.
Even children seem to benefit from the brain-boosting effect of B vitamins.
In a study that examined the effects of dietary supplements in school-aged children, researchers found that B vitamins can benefit intelligence and academic performance.
2 Antioxidants
Huperzine A – 5mg
Celastrus Paniculatus Seed Extract – 60mg
Another Chinese herb extract, huperzine may be a cognitive enhancer similar to some of the other ingredients described here.
In a review of 20 randomized studies, huperzine at doses ranging from 0.2 to 0.8mg daily were effective in improving cognitive function and ability to perform daily living activities.
6 Adaptogen Extracts
Adaptogens are herbal supplements that may benefit your body's ability to regulate the balance between a variety of processes. In other words, adaptogens help achieve homeostasis.
The adaptogens offered in each serving of Qualia Mind are:
Artichoke Stem and Leaf Extract – 500mg
Bacopa monnieri Leaf Extract – 300mg
Coleus forskohlii Root – 20mg
Rhodiola rosea Root – 300mg
Ginkgo biloba Leaf Extract – 50mg
Mucuna pruriens Seed – 100mg
Ginkgo is another herb that is commonly included in products that claim to offer nootropic benefits. It is obtained from trees found native to China though it is now grown all over the world.
Ginkgo's ability to promote blood flow may be responsible for its role as a nootropic.
In healthy college students, 120mg of ginkgo improved performance on memory tasks, though these effects were only evident in the short-term.
Also, this review of 8 randomized studies found that ginkgo improved mental function in subjects with schizophrenia or dementia.
However, the researchers also noted that strong conclusions could not be drawn for ginkgo's effect on other conditions like depression, anxiety, and addiction due to the lack of evidence.
Though mucuna pruriens may not sound as familiar as ginkgo, it is also commonly included in nootropic formulations. This legume is found mainly in India and China and has been used in natural medicine for centuries.
These effects may be related to a compound found in mucuna pruriens that is a precursor to dopamine, a chemical messenger that acts in your brain.
Because of this, mucuna pruriens research has revolved mainly around its ability to manage Parkinson's disease. The effects of 3.5 mg/kg of mucuna pruriens were comparable and better tolerated when compared to traditional medication used to treat Parkinson's Disease.
5 Amino Acids
Amino acids are the building blocks of proteins, which means they play an essential role in every single chemical reaction in your body. When it comes to brain-boosting effects, a couple of the following can be advantageous.
N-Acetyl-L-Tyrosine – 250mg
Acetyl-L-Carnitine – 500mg
DL-Phenylalanine – 300mg
Taurine – 200mg
L-Theanine – 200mg
Taurine is found in meat, fish, and dairy and may offer a variety of benefits like promoting heart health and combating diabetes.
Regarding nootropic effects, taurine seems to act on a number of receptors in the brain. So far, much of the available scientific support is available in laboratory and animal studies.
L-theanine is another amino acid that is suspected to enhance mental focus. You can obtain L-theanine in black and green teas.
It also hasn't been extensively studied, though some nootropic effects have been demonstrated.
The combination of 97mg of L-Theanine and caffeine improved accuracy on mental tests.
2 Choline Donors
Alpha GPC – 200mg
Cognizin® Citicoline – 150mg
Citicoline is an important component of the process that forms cell membranes in your body; Cognizin is the proprietary form of this substance.
Because of its structural role, Cognizin may offer the ability to stabilize damaged membranes and prevent further injury from free radicals.
These benefits are most evident in those with vascular causes of memory loss.
Doses ranging from 500–4000 mg/day seem to:
Improve the recall of words and objects
Improve short and long-term memory
Improve attention
Improve behavioral and emotional self-control
Improve verbal memory
Safety and Side Effects
Qualia Mind is likely safe when used as directed as severe adverse effects in herbal extracts are rare.
B vitamins are water-soluble and easily removed in your urine if you consume too much. Cognizin has been tested orally, intramuscularly, and intravenously (500 mg–4g/day) without serious side effects.
The stimulant content of Qualia Mind may offer the highest risk for side effects.
At just 90mg of caffeine per serving, this supplement is well below the 400mg daily limit that is considered to be safe. However, if you consume Qualia Mind in addition to your typical coffee, tea, and soda intake, you may be at risk for consuming amounts that can cause adverse effects.
These can include nervousness, anxiety, irritability, nausea, tremors, sweating, restlessness, dizziness, irregular heartbeats, and elevated blood pressure. Also, be aware that the rapid consumption of 1,200mg of caffeine can be associated with seizures.
Lastly, your cognitive symptoms can be caused by many underlying conditions, some of which may require medical management.
Despite a favorable safety profile, speak with a doctor before use.
Qualia Mind Cost and Where to Buy
Qualia Mind is available directly from the product page, and Neurohacker offers a couple of purchasing options.
Single orders cost $139 and ship free. You can save if you opt for the Qualia Mind subscription. Your 1-month supply ships for $69.50, and then for $119 for each month after that. Shipping free.
Neurohacker is also currently running a promotion; your first-time single order ships free at 50% off. You'll pay just $69.50.
Your purchase is backed with a 100-day guarantee. While this product is expensive, the brand seems to give you plenty of time to determine its effectiveness.
According to their site, your refund applies to all first-time purchasers of an initial order or the final order of a subscription. To process your return or ask additional questions, email Customer Service or call (855) 281-2328.
This product is also available from Amazon. Pricing is identical, and shipping is also free. As Amazon only offers 30-day returns, this option may not lock you into Neurohacker's 100-day guarantee.
Alternatives to Qualia Mind
There are many products currently available that claim to offer benefits similar to Qualia Mind. At HighYa, we have reviewed a number of them.
Performix SST is a good example.
They claim to promote energy and boost mental focus in addition to kickstarting your metabolism. Like Qualia Mind, they allegedly accomplish these goals by offering ingredients like caffeine, B vitamins, mucuna pruriens, and huperzine.
Performix SST isn't cheap, but at $49.99 for a 1-month supply, it is more cost-effective than Qualia Mind. The Performix blend is not as complex, though this may not be a bad thing.
The Bottom Line
Qualia Mind contains a complex blend of nootropic ingredients. Most of those reviewed in this article have some scientific support. Some of this support is mainly in animal and laboratory studies, however.
At Amazon, 240 users rate Qualia Mind at 3.8-stars. While more than half of the reviews were 5-stars, many customers believe the lack of results does not warrant the expensive cost.
The price for a 1-month supply of Qualia Mind is one of the more expensive we have reviewed and also nearly three times as expensive as other products that claim to offer similar benefits.
With a lack of robust support for all of the ingredients, subpar reviews, and a hefty price tag, search elsewhere for cognitive support.
Your first step should be discussing any cognitive symptoms you're experiencing with your doctor. Together, you can work on the best plan of care.
Customer Reviews