Recoop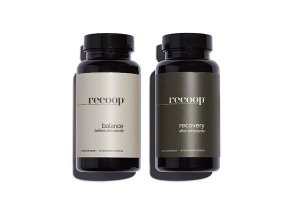 Recoop's claim to help you combat stimulant side effects is promising for the 15 million Americans using prescription stimulants. However, research indicates the supplement may not be worth its high yearly cost.
Recoop Supplement Review: Does It Work and Is It Worth It?
Recoop is a brand of supplements with morning and night doses designed to reduce the side-effects of prescription stimulants.
The company says their supplement accomplishes this through a series of vegan ingredients for which there are research and testing, a claim we'll examine in the review.
Claimed Benefits
Recoop comes in two forms: Balance and Recovery. Take two Balance capsules in the morning with 8 to 12 ounces of water and two Recovery capsules with 8 to 12 ounces of water 30 minutes before bedtime.
The Balance formula is meant to work in conjunction with prescription stimulants to reduce the drug's side effects.
The Recovery blend helps you fall asleep and get better rest. The company's FAQ page says Recovery "deactivates" the stimulants in your body, thereby helping you fall asleep quicker and get deeper sleep.
Recoop focuses on "high-achieving" professionals who either take stimulants (with or without a prescription) to maintain focus and stay awake. Some of the industries in which stimulant usage is highest, they say, are:
Academia
Corporate law
Consulting
Finance
Some of the more common prescription stimulants are given to patients with ADHD. Among these drugs include familiar names like Adderall and Ritalin, as well as Vyvanse and Concerta.
Around 16 million adults take prescription stimulants, according to a 2018 editorial in the American Journal of Psychology.
Fueling this use, notes JSTOR, is a 55% increase in ADHD prescriptions between 2008 and 2012.
This influx of new prescription stimulant users means an increase in stimulant side effects. Adderall's common side effects include loss of appetite, mood changes, anxiety, nervousness, increased heart rate, headaches, and sleep problems.
Recoop claims that its supplements are designed to reduce the following side effects:
Insomnia
Anxiety
Compulsive behavior
Impulsive decisions
Brain fog
Depression
Irritability
Stomach distress
Ingredients: Is There Scientific Evidence for Their Efficacy?
Balance's Ingredients:
Vitamin B6: 50 mg
Curcumin: 500 mg
Ashwagandha: 400 mg
L-Theanine: 300 mg
Coenzyme Q10: 100 mg
Vitamin B6 has shown some potential to counteract morning sickness if taken in 30 milligram daily doses. Aside from that, there isn't much research that shows B6 is effective in fighting nausea.
Curcumin taken orally is poorly absorbed and rapidly metabolized and eliminated, meaning its effects are limited. Furthermore, there is no substantial evidence to prove that curcumin improves cognitive function (a possible cure for stimulant brain fog) and that the ingredient requires long-term clinical trials to find out if it can help with depression.
Ashwagandha has two studies indicating that the ingredient reduces cortisol (the stress hormone) enough to reduce stress in study subjects.
The study, published in 2012, found conclusive evidence that test subjects experienced lower stress levels because of ashwagandha. Test subjects were taking 300 milligrams of ashwagandha, whereas one serving of Balance contains 400 milligrams.
L-theanine may lead to increased alertness up to two hours after taking the ingredient with caffeine. There's also some evidence to suggest it could decrease the rate of mental decline and improve mental function in elderly patients.
Coenzyme Q10 may help with the effects of various neurological disorders but solid evidence supporting its ability to combat some of the effects of stimulants is thin.
Oregon State's Linus Pauline Institute says Coenzyme Q10 is best absorbed when taken with fatty foods but that less than 5% of what you ingest actually makes it into your bloodstream.
"Therefore, pharmacological doses of coenzyme Q10 as high as 1,200 to 3,000 mg/day for adults and 30 mg/kg/day for children are usually needed to relieve symptoms in patients with coenzyme Q10 deficiency," the institute said.
A daily dose of Balance has 100 milligrams of coenzyme Q10.
Recovery's Ingredients:
Vitamin C: 300 mg
Magnesium: 400 mg
N-Acetyl L-Tyrosine: 350 mg
L-Theanine: 200 mg
Melatonin: 3 mg
Whereas several of Balance's ingredients may help with brain function, Recovery's ingredients focus on relaxation and improved sleep.
Vitamin C is well-known for a variety of benefits but, as it relates to Recoop, its most pertinent possible advantage is that it can combat hypertension (high blood pressure).
However, the Linus Pauling Institute indicates research is limited in this area. The most convincing study was done on 2,500 young adults and showed that increased vitamin C levels along with a healthy diet "reduced the risk of developing hypertension."
Magnesium is often included in supplements to help people sleep because it may help you fall asleep faster and can inhibit chemicals that contribute to your mind racing as you try to fall asleep.
N-Acetyl L-Tyrosine is possibly effective for sharpening your memory during stressful situations. However, there is no evidence that this ingredient would be helpful in preparing you for sleep.
Melatonin is a chemical your body releases around 9 p.m. each day. Its purpose is to help you fall asleep. The National Sleep Foundation says that taking between 1 and 3 milligrams of melatonin around bedtime will increase your melatonin levels by 1 to 20 times and help you fall asleep faster.
Possible Side Effects
Neither of the ingredients in this supplement is dosed at levels that will cause any significant side effects.
Curcumin and CEQ10 could have negative interactions with blood thinners. If you take blood thinners like warfarin, ask your doctor if there is any danger in you taking daily doses of 500 mg of curcumin and 100 mg of Coenzyme Q10.
N-Acetyl L-Tyrosine may cause heartburn, nausea, and fatigue.
A common side effect of magnesium is an upset stomach, cramping, and diarrhea.
Pricing and Return Policy
Balance and Recovery could be purchased together for $119 for a 25-day supply.
If you sign up for a recurring subscription, you'll pay $79 per pair. Shipping is free.
The company has an excellent return policy for first-time buyers. If you don't like your supplements for any reason, you can contact the company within 30 days and tell them you want a refund. You don't have to ship anything back to them.
The Bottom Line
Our research indicates that Recoop's ingredients are all across the board when it comes to evidence of their effectiveness. For example, melatonin is well-known to help people sleep better when used as a supplement. Also, magnesium may be able to help you fall asleep faster, too.
There is research that indicates that vitamin B6 could help with nausea. Ashwagandha has been proven to help with stress reduction and, to Recoop's credit, has a dosage that exceeds the research amounts.
L-theanine has a few studies backing its ability to help your brain function better, too.
However, other ingredients don't carry definitive evidence of their effectiveness. Coenzyme Q10 doesn't have strong research regarding cognitive clarity but, even if it did, your body would only absorb a fraction of the dosage included in each Balance capsule. The same goes for curcumin.
Also, neither vitamin C nor N-Acetyl L-Tyrosine has definitive research indicating they can help you fall asleep faster and sleep more soundly.
And, most importantly, none of the studies we researched showed that any of the ingredients would be effective when used in conjunction with popular stimulants like Adderall and Ritalin.
We cannot provide a recommendation because collective research doesn't warrant it. That being said, Recovery has the right ingredients to help you fall asleep.
Because of this, we'd consider the cost-benefit of this supplement to be risky, as you'll pay at least $79 for a 25-day supply. The yearly cost of a subscription would be $1,185.
Do not buy

By Eric R.

,

Alberta, Canada

,

Nov 3, 2020
Verified Reviewer

Length of Use: Less than 3 months

Overall Experience:

I regret impulsively buying this product via a Facebook ad.

I take medication for ADHD, a condition that causes me to struggle with detrimental levels of procrastination, impulsivity, as well as constant struggles with memory and motivation.

This medication has side effects which Recoop's marketing says it can alleviate.

In my experience, not only did I not experience relief from side effects, I experienced dense 'brain fog,' a complete deterioration of my already inhibited motivation levels, difficulty concentrating at even my pre-medicated levels as well as nausea and dizziness.

Not all supplements work for everyone, I get that. What really compelled me to leave this review is that I foolishly signed up for the subscription service, and now I have two VERY EXPENSIVE unopened bottles that I will never use and wouldn't give away let alone sell. I'm not employed, in a pandemic. I was on disability for mental health reasons and am trying to transition back to work at the worst time possible in my lifetime. Not only did they take my money, but the effects of their product interfered with my ability to better my situation.

Now, you may say, "you signed up for it, the onus was on you to cancel or return it within 7 days." Normally I would agree with you, as most services with subscription plans are not marketed at a specific subset of the population which is diagnosed with a psychological condition whose criteria include impulsivity, forgetfulness, and procrastination at levels that impair their ability to function at a normal level.

This product is. The ONLY people this product is marketed to are those taking prescription drugs for ADHD. Perhaps people abusing stimulants, but that's a different conversation.

If you order this set and have ADHD, journal about how you feel each day so you can track its effectiveness and set a reminder in your calendar to review your notes and assess its effects on you while you still have time to cancel. I wish I had.

Because I didn't do that, this company has $100 of my money that they have stated they will not refund even if I send back the unopened product. I am sure this has happened to a lot of people who have kept the experience to themselves as we ADHD people tend to see the manifestations of our psychiatric condition as personal failings instead of looking at the bigger picture - a company that knew you were likely to impulsively buy their product gave you a shiny, targeted ad promising you relief from your suffering, gave you a discount for signing up for a subscription that you were unlikely to remember to cancel, and made a return policy which very few of their targeted audience were likely to read or be able to adhere to.

Is it a scam? Maybe. Is it predatory business practices? Absolutely.

Pros and Cons:

The ads
Decreased motivation
Increased brain fog
Depression
Vivid disruptive dreams, poor sleep quality
Predatory business practices (subscription and return policy)
Did none of what it promised

Bottom Line: No, I would not recommend this to a friend

---