Mind Lab Pro Reviews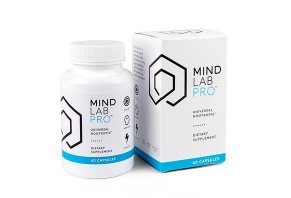 Mind Lab Pro from Opti-Nutra promises to deliver a mixed formulation of vitamins, minerals, and other ingredients that can meaningfully support optimal cognition and brain health.
About Mind Lab Pro
Advertised as a 'universal' nootropic dietary supplement, Mind Lab Pro's 11-ingredient blend promises to optimize a wide array of cognitive functions, including brain energy, circulation, regeneration, protection, chemical levels, and alpha wave generation.
Together, the website advertises the supplement can help support peak overall mental performance that adapts with your day, optimize memory and motivation, reduce brain fog, improve nutrient delivery for boosted brain cell nourishment, and stimulate creativity.
All you need to do is take two Mind Lab Pro capsules in the morning or early afternoon, and Opti-Nutra tells us you'll experience mental performance enhancements within two weeks.
However, when you need an extra boost (working out, taking an exam, giving an important business presentation, etc.), they say you can increase this dosage to four daily capsules. In these scenarios, many users report experiencing noticeable benefits within a couple of hours.
For maximum results, though, they recommend taking the supplement for at least 30 days and combining it with a healthy diet and regular exercise.
In today's fast-paced environment, we could all use some help in many of the areas Mind Lab Pro promises to support. But, is there anything about this formulation that might deliver better results that nootropic competitors?
Let's start with the supplement's ingredients.
Is There Robust Clinical Support for Mind Lab Pro's Ingredients?
Mind Lab Pro's supplement facts label lists the following ingredients, which Opti-Nutra indicates are encapsulated in 100% natural, vegan, tapioca-based Plantcaps:
Vitamin B6 (as BioGenesis) 2.5 mg
Vitamin B9 (as BioGenesis) 100 mcg
Vitamin B12 (as BioGenesis) 7.5 mcg
Citicoline (as Cognizin) 250 mg
Bacopa Monnieri 150 mg
Lion's Mane Mushroom 500 mg
Phosphatidylserine (as Sharp-PS Green) 100 mg
N-Acetyl L-Tyrosine 175 mg
L-Theanine 100 mg
Rhodiola Rosea 50 mg
Maritime Pine Bark Extract 75 mg
After researching hundreds of dietary supplements over the years, we found that the Mind Lab Pro website offered a great deal of insight into many of the individual studies supporting its ingredients' various benefits.
From a high-level perspective, websites like WebMD, Examine.com, and the Natural Medicines Database also report there's sufficient clinical evidence to rate vitamin B6 as possibly useful for reducing blood pressure, although no dosages are listed. Taking 200-500 mcg of vitamin B9 (this contains folate and folic acid) daily might also help lower blood pressure, as well as improve depression when taken along with antidepressants.
All of these are part of Opti-Nutra's BioGenesis formula, which they claim contains "lab-grown, nature-identical vitamin and mineral essentials in a matrix of cofactors" that "are highly bioavailable and active, as well as safer, cleaner, and more eco-friendly than conventional vitamins and minerals."
As a standalone substance, these same sites list 1,000-2,000 mg of citicoline per day as possibly useful for improving memory loss in individuals 50-85 years old. 600 mg per day may also help improve long-term blood circulation in the brain for those with cerebrovascular diseases, such as stroke.
The citicoline in Mind Lab Pro is a proprietary version named Cognizin, although the ingredient's manufacturer doesn't explicitly outline how the two are different. Cognizin itself has also undergone four clinical trials listed on the National Institutes of Health's PubMed, each of which appeared to report many of these same positive outcomes.
In general, we're told that 300 mg of phosphatidylserine per day for up to three months may help improve attention, language skills, and memory for those experiencing an age-related cognitive decline. Furthermore, 300-400 mg per day for six to 12 weeks could improve less-severe Alzheimer's symptoms, although benefits seem to become increasingly less effective after 16 weeks of continuous use.
The phosphatidylserine found in Mind Lab Pro is Sharp-PS Green, which is advertised as an ultra-high grade version.
A single 100-300 mg dose of tyrosine could improve mental performance and memory under stressful conditions. We're told 150 mg/kg of the ingredient could also help improve alertness following a lack of sleep.
As we can see, though, except tyrosine, each of the ingredients included in Mind Lab Pro's formulation is found in lower levels than what's referenced in supporting clinical studies.
Are There Potential Mind Lab Pro Side Effects?
The Mind Lab Pro website emphasizes that the formulation is completely safe to take. You shouldn't take more than four capsules in any 24-hour period, however, and you should cycle your use by following a four weeks on, one week off schedule. Or, a five days on, two days off schedule, for maximum effectiveness.
They advise that customers should "be smart" and consult with their doctor before taking the supplement. They can help you avoid side effects based on your diagnosis.
With these details in mind, WebMD and the Natural Medicines Database indicate that in some instances (no dosages provided), common side effects related to Mind Lab Pro's ingredients include:
Nausea, vomiting, stomach pain or upset – Pyridoxine (B6), citicoline, bacopa, Hericium erinaceus (lion's mane mushroom), tyrosine
Headache – Vitamin B6, citicoline, tyrosine
Diarrhea or increased bowel movements – Citicoline, bacopa
Sleepiness or fatigue – Vitamin B6, bacopa, tyrosine
Dry mouth – Bacopa, rhodiola
They also report that pyridoxine (B6) might cause loss of appetite or tingling, citicoline could lead to insomnia, low/high blood pressure, blurred vision, or chest pains, and rhodiola has been reported to cause dizziness, dry mouth, or excessive saliva production by some users. Again, no additional details (dosages or other circumstances) are indicated.
Finally, it's not known if taking citicoline for longer than 90 days, theanine for more than three weeks, and rhodiola for longer than 10 weeks is safe.
How Much Does Mind Lab Pro Cost?
Mind Lab Pro is only available from Opti-Nutra at the following prices:
1 Box (60 capsules): $65
2 Boxes: $130 ($65 per box)
4 Boxes: $195 ($48.75 per box)
The single-bottle option also comes with a flat-rate $9.95 S&H fee, while two- and- four-box orders come with free worldwide shipping. FedEx 2-Day is also available for $19.04. The company will email you a tracking number within 24 hours of dispatch.
Opti-Nutra recommends that customers use Mind Lab Pro for at least 30 days and if you're not satisfied, you'll have up to 60 days to return one empty bottle for a full refund.
Important: Per the Shipping and Returns page on their website, "Before requesting a refund, you must have taken one full bottle of Mind Lab Pro as suggested, between 2-4 capsules per day."
To request a refund, you'll need to send an email to cs@mindlabpro.com or a message via the contact form on their website.
How to Choose Between Mind Lab Pro & Competing Nootropic Supplements
The marketplace is swimming in nootropic supplement options these days, whether online or off.
In addition to Mind Lab Pro ($65), popular results on sites like Google Shopping and Amazon included Qualia Mind ($89), Onnit Alpha Brain ($34.95+), Neuro-Max ($15), and OptiMind ($43.31) at the time of our research, to name only a few.
Despite their sometimes vast price differences, you'll find that brain supplement formulas often include many of the same ingredients, including bacopa, phosphatidylserine, tyrosine, theanine, and many essential vitamins and minerals. How to decide?
In The Truth About Memory Supplements, we explain that any time you're thinking about taking a new supplement, Mind Lab Pro or otherwise, it's essential to start the process by talking with your doctor.
They can formulate a science-based diagnosis and then let you know whether or not supplements might deliver meaningful value as a result. And as mentioned earlier, a physician can also help you side-step potential side effects and medication interactions.
Based on their recommendation, you can narrow your options to manufacturers who provide supporting clinical documentation on their website. The FDA doesn't require companies to prove the legitimacy of their claims, so those who do are often more interested in helping their customers make a maximally informed decision.
As with any purchase, you'll also want to learn what online customers are saying about their experiences, which could represent what you might encounter after handing over your money. Pay close attention to frequent compliments or complaints.
Based on everything we've discussed so far, we can see that, although Mind Lab Pro was too new at the time of our research to accumulate online reviews, they provide extensive documentation to support their claims. This is in addition to the high-level clinical support provided for many of the formulation's ingredients as a whole, as reported by sites like WebMD and Examine.com.
Does this necessarily mean that you should go ahead and place an order, though?
Bottom Line
Although Mind Lab Pro's price is at the higher end of the spectrum compared to many popular competitors, Opti-Nutra stands behind each purchase with a satisfaction guarantee. So, if it doesn't meet your needs and preferences, you might not lose much more than S&H charges (original and return).
As explained earlier, it appears that except for tyrosine, Mind Lab Pro contains lower ingredient dosages than those found in support clinical studies.
Furthermore, like anything else you put in your body, how Mind Lab Pro's formulation impacts you will depend on many unique variables, including your doctor's diagnosis, any medications you're taking, what you eat, your level of physical fitness, and your body's specific biology, to name just a few potential factors.
>> Read next: How to Rewire Your Brain to Run on Gratitude