Provarin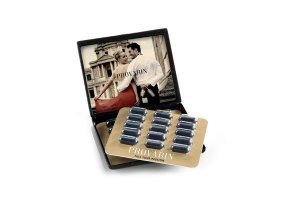 Using a mix of 16 different ingredients, Provarin says taking their capsules once a day will help improve your sexual performance, boost your energy and sharpen you focus.
Provarin Review: Ingredients, Effectiveness, Side Effects, and More
Provarin is a male-focused supplement that claims to increase sexual desire and performance, as well as improve your focus and the level of energy you have.
The company claims their formulation of 16 ingredients is based on "unique blossom seed extracts" that have driven the energy, passion and sexual activity of men from "Italy, Greece, Spain and all over Europe.
The company behind the supplement is Biotigen. We did some research about the company but couldn't find any additional information about it.
In this review, we will focus on how to take Provarin and what it claims to do, the ingredients each capsule includes, what science says about those ingredients and if there are any side effects. We'll also talk about how much the product costs, what its return policies are and how it compares to similar products on Amazon that receive excellent customer reviews.
At the end of the review, we'll give you our final conclusions about Provarin.
How Provarin Works and What It Claims to Do
According to the Provarin website, their capsules come in a one-month, three-month or six-month supply. They come in discreet packaging and require that you take one capsule a day.
When you follow this plan, the company claims that you can experience a wide variety of benefits that could happen in a few days or weeks. However, they say you should take their capsules for at least three months to experience "optimal" results.
Those results, the website says, include support of testosterone levels, nitric oxide production, oxygenated blood flow, and a healthy prostate.
Like any supplement, Biotigen says Provarin's effectiveness is based on the supplement's ingredients, which is a combination of 16 different things including fenugreek, oat straw extract, saw palmetto berry, L-citrulline malate and Eurycomea longifolia root, all of which, according to independent research company ConsumerLab, show up in male sex-drive supplements.
Pro tip: Provarin's website doesn't list the dosage amounts of each ingredient.
What Science Says About Provarin's Ingredients
To get a sense of how effective Provarin is, we went to ConsumerLab's supplement encyclopedia to find out information about the ingredients we mentioned above. Each capsule weights 596 milligrams.
Oat Straw Extract and Saw Palmetto Berry
According to ConsumerLab, the only studies that have shown any indication that this combination of ingredients helps with sexual function are from manufacturers who sell supplements with these ingredients.
The site also noted that, while some supplements like Provarin claim that they can support testosterone with ingredients like oat straw extract, there isn't much research to support it.
"Many oat straw websites state that, with advancing age, testosterone in the body tends to become bound up and inactivated, that this leads to numerous problems including failing sexual function, and that oat straw reverses this process. However, none of the parts of this argument are fully substantiated: the argument is speculation piled on speculation," ConsumerLab wrote.
L-citrulline Malate
This is another ingredient common in male sex-drive supplements like Provarin. The ingredient eventually converts into nitric oxide, which is a chemical that widens your blood vessels and, in theory, could help with erectile dysfunction.
While the theory behind the ingredient makes sense, ConsumerLab says that the studies supporting it are weak, at best. In fact, they said that, "placebos alone can be effective for some men."
Eurycomea Longifolia Root
This ingredient is another one that pops up in male-focused supplements. According to WebMD, there is some evidence to suggest the ingredient is "possibly effective" male infertility and sexual desire.
"Some clinical research suggests taking Eurycoma longifolia supplements by mouth improves sexual desire and quality of life in healthy married men," WebMD wrote.
However, the site says there insufficient evidence for the ingredient helping with erectile dysfunction, low testosterone and increasing interest in sex.
Panax Ginseng
This final ingredient is related to the claims that Provarin can help you with your focus, as ginseng is widely used in supplements to back claims of improved mental clarity.
According to ConsumerLab, however, there isn't sufficient evidence that indicates panax ginseng can help your mental focus.
"A systematic review of 8 randomized, placebo-controlled trials found that ginseng did not improve cognitive function in healthy adult," the site noted.
Provarin Side Effects
Both the Provarin site and the sites we used for our research indicate that you don't have much to worry about when it comes to the side effects you can experience with the supplement's ingredients.
However, ConsumerLab noted that mixing panax ginseng may cause manic episodes in those taking anti-depressants, alter the effectiveness of diabetes medicine, decrease the effect of warfarin and, interestingly, boost the effectiveness of the flu vaccine.
Provarin Cost and Return Policy
At the time of publishing, you could buy Provarin in three different amounts:
One-month cycle: $69.95
Three-month cycle: $139.90
Six-month cycle: $199.95
Shipping is either $8.95 for seven- to nine-day shipping and $9.95 for three- to five-day shipping. If you're unsatisfied with how Provarin works, you have 30 days from the date of purchase to return your capsules.
To start a return, you'll need to call (800)348-8784 and get a return merchandise authorization number. You can also reach out to customer support on the Provarin contact page.
How Provarin Compares to Other Male Enhancement Supplements
Amazon is home to an endless collection of male enhancement supplements that claim to increase sex drive, stamina, and focus.
Two of the more highly rated supplements we looked at were Max Man Testosterone Booster by VEGEPOWER and Genius Test by The Genius Brand.
Both of these supplements make similar claims to those that Provarin boasts. Max Man focuses on its ability to boost your testosterone and "revitalize your manhood", whereas Genius Test says it can support your brain, libido and fat loss.
Max Man includes fenugreek, eurycoma longifolia and a few other ingredients. Genius Test contains fenugreek. These ingredients have limited clinical evidence regarding their ability to boost sex drive and focus, ConsumerLab notes.
One month of Max Man costs $15.86, whereas one month of Genius Test is $55.09. Both of the products have average reviews of 4.6 stars or higher.
Based on this information, we'd say that Provarin has the advantage in terms of ingredients because it contains far more than the two alternative options. Don't forget, though, that our research of medical sites indicates that there isn't much sufficient evidence to prove that the ingredients in all three supplements do what their companies say they do.
In general, we think there are two ways to look at this. First, from a financial perspective, the other two supplements are cheaper. Max Man is significantly cheaper, costing about 25 percent of what Provarin costs. The other factor is ingredient variety. Provarin simply has more ingredients it claims can help with sexual performance, energy and focus.
In our opinion, there isn't enough scientific evidence that Provarin can provide the benefits the site says. If you're intent on trying a supplement for male performance, we'd suggest trying a cheaper alternative like Mad Max but keep your expectations low.
The Bottom Line
We mentioned several times throughout this review that research and analysis from reputable sites like ConsumerLab and WebMD say there isn't enough strong evidence to support most of the claims Provarin makes.
We do see there's a possibility that it eurycoma longifolia root may be able to improve your sexual desire and fertility. Aside from that, though, we believe reputable sites agree that the other ingredients will most likely not live up to what Provarin says they can do.