Viritenz Reviews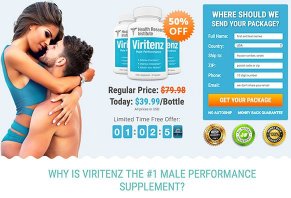 Viritenz's six-ingredient formula claims to deliver a wide variety of male sexual benefits, including harder erections and boosted stamina, without additives or side effects.
About Viritenz
Formulated with all-natural ingredients after years of intensive research, Viritenz is a male performance supplement that promises to increase stamina and sexual desire, boost endurance, reduce penile flexibility, and deliver more intense erections.
And all of this without worrying about bad side effects from prescription medications, or about unhealthy additives, preservatives, or synthetic ingredients. Just take on a daily basis as needed, and the manufacturer indicates you could experience full results in as little as a few weeks.
After you've handed over your money, can you expect Viritenz's formula to deliver on all the manufacturer's advertising claims? Will it at least provide a solid value? Let's answer these questions by taking a closer look at the two main conditions it promises to address.
The Basics of Erectile and Sexual Dysfunction
According to the Cleveland Clinic, at least one major study indicates that 40 percent of men over the age of 40 experience symptoms of erectile dysfunction— a number that skyrockets to 70 percent of those 70 and older. In fact, "age was the variable most strongly associated with ED," they report.
From a physical perspective (as mentioned on the Viritenz website), an erection occurs once the two main chambers of the penis fill with blood. Therefore, anything that could prevent this from occurring (e.g., heart disease, poor circulation, injury, etc.) can lead to problems achieving an erection.
However, it's a highly complicated whole-body process that also involves the brain (along with subsequent emotions), the release of hormones, and so forth.
Erectile dysfunction is just one type of sexual dysfunction, which Healthline defines as occurring "when you have a problem that prevents you from wanting or enjoying sexual activity."
It can happen to men and women of any age, and with such a broad definition, it might not come as any surprise there can be any number of causes, including everything from lifestyle factors (alcohol and drug use, poor diet, etc.) and psychological issues, to medical conditions and prescription medications.
The bottom line is that sexual dysfunction in general, and erectile dysfunction, specifically, are complex issues that only your doctor can help you properly diagnose. From there, they can recommend clinically proven methods of addressing the underlying cause.
Can Viritenz's Ingredients Address Erectile or Sexual Dysfunction?
There wasn't a supplement facts label provided on the Viritenz website (we reached out for a copy but hadn't received a response as of publishing), although it listed the following ingredients:
Oyster Extract
Maca Root
Ginseng Blend
Tongkat Ali
Oat Straw
Pumpkin Seed Powder
According to their summaries of the available clinical evidence, sites like the Natural Medicines, Examine.com, and WebMD indicate that taking 1,400 to 2,700 of Panax ginseng per day for 12 weeks is possibly effective for improving sexual function in men with ED.
However, this same level of evidence isn't reported for American or Siberian ginseng.
They also report that Tongkat Ali (Eurycoma longifolia; no dosages noted) may help improve the quality and concentration of sperm in infertile men, although nothing related to sexual desire or performance.
Similarly, they indicate that taking pumpkin seed (again, no specifics provided), with or without saw palmetto, may help BPH symptoms, but nothing specifically related to sexual dysfunction or ED.
Could Viritenz's Ingredients Cause Side Effects?
The website tells us that all of Viritenz's ingredients are natural and "formulated to be safe for all users. There are no significant worries of potential complications." However, they also point out it's always a good idea to talk with your doctor before taking a new supplement.
According to WebMD and the Natural Medicines Database, Panax ginseng is listed as possibly unsafe when used for longer than six months, as "researchers think it may have some hormone-like effects that could be harmful with prolonged use."
Related: 7 Ways to Increase Testosterone Naturally
Finally, they report pumpkin may cause ejaculation problems in some men (no dosages or other specifics reported).
How Much Does Viritenz Cost?
Viritenz is available in the following quantities:
1 Bottle: $79.98
3 Bottles: $179.94 ($59.98 per bottle)
5 Bottles: $199.95 ($39.99 per bottle)
Los Angeles-based Health Research Institute offers a 30-day money back guarantee on all purchases, less S&H and a 20 percent restocking fee, which you can request by reaching out to (310) 256-2605 or support@health-research-institute.info.
Viritenz vs. Other Male Enhancement & Testosterone Booster Supplements
Because sexual and erectile dysfunction is so widespread, and because it can have such negative impact on lives and relationships, there are perhaps hundreds of supplement formulations competing with Viritenz.
To help outline the wide variety of price points and formulas, here were some of the most popular on sites like Google Shopping and Amazon at the time of our research:
| Supplement | Price | Activte Ingredients |
| --- | --- | --- |
| Viritenz | As low as $39.99/bottle | Oyster Extract, Maca Root, Ginseng Blend, Tongkat Ali, Oat Straw, Pumpkin Seed Powder |
| Stamina Fuel | $24 | L-Arginine, Epimedium, Tongkat Ali, Maca, Ginseng, Tribulus, Saw Palmetto, Pumpkin, Muira Puama, Ginkgo, Cayenne, Oat, Licorice |
| Nugenix Testosterone Booster | $70 | Vitamin B6, Vitamin B12, Zinc, L-Citrulline, Fenugreek, Tribulus |
| Boost Elite Test Booster | $33 | Tribulus, Fenugreek, Maca, Zinc, Diindolylmethane (DIM), Panax Ginseng, Tongkat Ali, Yohimbe |
| Alpha XL | $28 | Horny Goat Weed, Maca, Mucuna Pruriens, Polypodium Vulgare, Yohimbe, Saw Palmetto, Muira Puama, Arginine, Panax Ginseng |
| Ageless Male | $30 | Vitamin B6, Magnesium, Zinc, Fenugreek |
How to choose the best male enhancement or testosterone-boosting supplement for you, whether from Viritenz or a third party? After researching dozens of these products over the years, here's our suggested three-step plan:
1. Talk with your doctor. As we briefly discussed at the beginning, erectile and/or sexual dysfunction can represent a complex problem. And in order to help you find the right solution, your physician needs to first diagnose the underlying issue(s).
2. Learn how to research. While you're waiting for your appointment to roll around, it's easier than you think to learn how to understand and analyze a supplement manufacturer's claims. This can put you in the driver's seat and help you formulate questions to ask during your physician's visit.
3. Look closely at the company. If your research indicates the company's claims are backed by evidence, and your doctor advises that a dietary supplement might provide some benefits, we'd recommend only doing business with companies who:
Price their products competitively
Offer at least 30-day refund policies, with no restocking fees
Come with mostly positive online customer service
What's the Bottom Line on Viritenz?
Based on what we learned from sites like WebMD, the Natural Medicines Database, and Examine.com, there seems to be some clinical support that Panax ginseng may improve sexual function in men with ED. Also, that Tongkat Ali (sperm quality and concentration) and pumpkin seed (BPH symptoms) supplement could provide related benefits.
However, the manufacturer doesn't provide dosages for any of Viritenz's ingredients, so we can't know if it contains the same amounts found in supporting clinical studies. Again, we're waiting to hear back.
Outside of this, these same sites report insufficient clinical evidence supporting any of the other claims made by the manufacturer. And while Viritenz is priced competitively and the company seems to stand behind it with a 30-day refund policy, you'll pay a 20 percent restocking fee if you're dissatisfied.
Taking everything together, as consumers ourselves, we think talking with your doctor before placing an order might deliver the most value.