Viritenz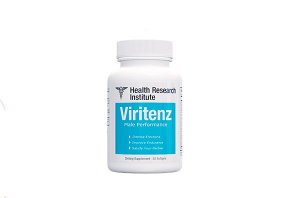 Summary
Can Viritenz really treat complicated sexual health-related conditions? In this review, we'll detail the available research to help you determine if there is any merit to its claims.
Viritenz Review: What You Should Know
Claimed Benefits
The Health Research Institute (HRI) claims that the blend of natural ingredients found in Viritenz will promote male sexual performance.
They claim that this blend is specifically designed to enhance your:
Erection rigidity
Sexual desire
Erotic pleasure
Sexual endurance
Testosterone levels
In a recent study from rural India, over 80% of the men surveyed reported at least one sexual health disorder. The most commonly described disorders were semen defects, loss of libido, erectile dysfunction (ED), and premature ejaculation.
As these issues affect many men, there are a variety of management options – both prescription and over the counter (OTC).
HRI claims that Viritenz can help relieve many of these conditions by simply taking one capsule daily.
Effectiveness of Active Ingredients
Each capsule of Viritenz offers the following:
Tongkat Ali – 200mg
Maca – 125mg
L-Arginine – 125mg
Ginseng Blend – 63mg
Proprietary Blend – 375mg
(Sarsaparilla, Pumpkin Seed, Muira Puama, Oat Straw, Nettle, Cayenne Pepper, Astragalus, Catuaba Bark, Licorice, Tribulus, Terrestris, Orchis, Oyster, Boron)
According to HRI, the proposed benefits of Viritenz are related to the combined action of these ingredients, though just six are considered active.
Thus, our literature review focused on the following active ingredients:
Oyster Extract
This saltwater mollusk may increase your libido. Though it is historically considered an aphrodisiac, this effect is not well documented.
While natural medicine has incorporated oysters for the proposed benefit of enhancing sexual desire and performance, modern scientific research does not support this claim.
Maca Root
Maca is a plant in the mustard family and has been used for centuries to enhance fertility in both animals and humans.
In a review of 4 randomized trials, researchers concluded that there is insufficient evidence from the available studies to support the use of maca in improving sexual function. Even doses at 3500mg/day, nearly 30x the total offered in Viritenz, Maca seems to be ineffective.
Ginseng
Found mainly in Asia, ginseng has been used in natural medicine for centuries to treat a wide variety of conditions. It proposed the ability to enhance sexual function has been studied more recently.
In the 90s, ginseng increased sperm function and testosterone levels in human subjects.
In a more recent review, seven randomized trials evaluated the effect of ginseng on ED. Researchers concluded that ginseng powder doses ranging from 1g to 9g moderately improved sexual function.
These doses are much larger than what is included in Viritenz, however.
Tongkat Ali
Also called Eurycoma longifolia, this herbal plant is found all over Southeast Asia. It is commonly included in traditional medicines for its suspected ability to offer relief for age-related conditions.
Tongkat Ali increased sexual performance in rodent studies. Also, 400mg daily for 5-weeks increased testosterone in active elderly males.
Though this dose was effective, it is double the amount offered in Viritenz.
Oat Straw
Avena sativa, or oat straw, is a cereal grass that is packed with many essential vitamins and minerals. In addition to suspected brain-boosting and anti-inflammatory effects, oat straw may also support sexual health.
Oat straw's ability to improve sexual function may be related to its effects on blood flow. Elderly patients that consumed 1500mg daily over 24-weeks improved blood flow measures. This effect has not been linked to better erections in the available research.
Pumpkin Seed
In a recent study, pumpkin seeds effectively promoted erections in rats. Actions supporting sexual functions have not been well described in human subjects. Much more work is needed to determine the potential role in sexual health.
Is Viritenz Safe?
Offering a favorable safety profile is a common benefit of using dietary supplements. That seems to also be the case with Viritenz.
While strong support regarding efficacy is lacking for most of the active ingredients, most have been tested at much higher doses than what is offered in the Viritenz blend.
With that being said, some of the ingredients are suspected of boosting testosterone levels. Elevated levels of testosterone can be harmful, though there is no evidence that the blend of ingredients in Viritenz will increase levels into an unsafe range.
Nonetheless, make sure you are aware of symptoms associated with elevated testosterone:
Facial and body acne
Voice changes
Excess body hair and male pattern baldness
Mood fluctuations
A number of factors can cause low testosterone and symptoms related to sexual health.
Also, your hormone levels are tightly regulated by many different systems in your body.
Managing hormone levels should be done under the supervision of a medical professional.
Pricing
Viritenz is currently only available directly from its website for $39.99 per bottle (1-month supply) with free shipping.
HRI backs each purchase with a 100% money-back guarantee. If you are unsatisfied with your results for any reason, call (310) 256-2605.
Alternatives
There are many products currently available with proposed benefits similar to those of Viritenz.
Ultra Men's Hard Max is a great example.
Like Viritienz, Hard Max also offers tongkat ali, maca, oat straw, tribulus, ginseng, and muira puama. Also, the Hard Max proprietary blend is more than 4x larger.
Ultra Men prices two 60-capsule bottles (4-month supply) at just $19.97. If you're interested in the potential benefits of similar supplements, Hard Max represents a cost-effective option.
When compared to Viritenz, Hard Max offers 4x the capsule-count and 4x the dose per serving at half the price.
Obtaining the ingredients offered in the Viritenz blend individually is also possible. As there are so many, this is likely to be a more expensive and less convenient option.
The Bottom Line
Viritenz offers a blend of many ingredients with suspected sexual health-related effects, though most lack strong scientific evidence.
The doses of these ingredients also seem to be much smaller than what was used in research studies. You are far less likely to experience adverse effects, though you may also miss out on any potential benefits.
Even with a 70% off promotion, you can still get more bang for your buck with other brands with similar blends. As the research is lacking, a more cost-effective option may be a better first step.
Nonetheless, you should always speak with a doctor before trying to manage symptoms related to your sexual health.
Customer Reviews