Legendz XL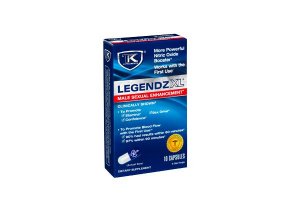 Summary
Legendz XL is a dietary supplement that offers a blend of herbal ingredients formulated to support sexual health. We review the available scientific evidence to help you determine if this supplement is right for you.
Legendz XL Review: A Detailed Look
Claimed Benefits
TK Supplements claims that Legendz XL's blend of herbal ingredients will support your sexual health.
By taking two capsules 60-minutes before sexual activity, TK Supplements claims that Legendz XL will:
Improve your sexual pleasure and satisfaction
Boost your Nitric Oxide (NO)
Promote blood flow
Increase your libido and sexual stamina
Boost your energy
TK Supplements summarizes these benefits by claiming that Legendz XL is designed to help you achieve better sex.
Legendz XL's Blend of Herbal Ingredients: Do They Work?
TK Supplements claims that Legendz XL's blend of herbal ingredients will deliver results by addressing several aspects of your sexual health. We'll highlight some of the science behind each ingredient.
Every serving of Legendz XL contains the following:
Vitamin B12 – 170mcg
You can get your B vitamins from meat, seeds, and nuts. Like other B vitamins, B12 may offer several health effects, including boosting your energy.
Vitamin B12 deficiency is associated with fatigue. You may boost your energy by supplementing B12 if you're deficient, though you may not see a benefit if your intake is already adequate.
Zinc – 3.3mg
Zinc commonly included in dietary supplements for its suspected health benefits. An essential mineral, zinc may boost testosterone levels, among other benefits.
This action may be related to its inhibitory effect on 5-alpha reductase, an enzyme that converts testosterone to dihydrotestosterone (DHT).
Zinc at 30mg doses over 56 days did not increase testosterone levels in healthy men. This same dosing regimen was also ineffective at boosting testosterone over the course of 8-weeks.
Even doses 10x larger than the zinc content in Legendz XL does not seem to support sexual health.
L-Arginine – 700mg
This amino acid is obtainable from dairy products, meat, poultry, and fish. L-Arginine may promote sexual health through its association with nitric oxide (NO).
NO plays a significant role in chemical pathways that optimize blood pressure, circulation, blood vessel health, and even exercise performance.
The combination of 7.7mg yohimbe and 6g of L-Arginine safely improved erectile dysfunction (ED), particularly in those with mild to moderate severity.
Proprietary Blend – 258mg
Ginger
Ginger has been an essential player in natural medicine for centuries. It may offer some health benefits. According to TK Supplements, ginger is included in the Legendz XL blend to boost your energy.
The energy-boosting effects are not well supported, however. Ten overweight men that were treated with 2g of ginger each day did not affect their resting energy expenditure.
Yohimbe
See the L-Arginine section above for the research behind the proposed sexual health benefit of this extract that is obtained from the bark of African evergreens.
French Maritime Pine (FMP)
This extract is obtained from the bark of a tree called Pinus pinaster. FMP may offer several health benefits, including improving mental focus and blood pressure.
FMP's blood flow-related effects were recently demonstrated in a study with menopausal women. Those who received FMP normalized a number of cardiovascular risk factors, including blood pressure.
Red Beet
Beets are nutrient-dense and may also positively affect blood pressure.
A recent review of 22 studies concluded that 70-500mL of beetroot juice daily significantly reduced blood pressure when compared to a placebo.
Beetroot may also contribute to claims that Legendz XL can improve sexual performance and endurance. A review of 23 studies found beetroot juice at 70-500mL doses improved the time to exhaustion during intense exercise.
Rhodiola
This herb is found in mountainous areas of Europe and Asia. Its many proposed benefits include boosting mental function, enhancing mood, improving performance, and increasing energy.
Those taking 576mg of rhodiola improved their fatigue.
Like beet extracts, rhodiola does have some support backing its suspected ability to improve performance. Those taking 200mg 2-hours before a ride boosted cycling performance.
Epimedium
Epimedium, or Horny Goat Weed, likely owes many of its proposed benefits to the flavonoid, icariin.
Epimedium may improve a variety of conditions like cardiovascular disease, menopausal symptoms, and ED.
Like prescription medications used to treat ED, icariin may inhibit phosphodiesterase-5 (PDE5) to facilitate better blood flow.
Forskohlii
This extract is found in the roots of a tropical plant and may offer testosterone-boosting capabilities.
This effect was demonstrated in a study of 30 obese and overweight subjects. Those treated with 250mg of Forskohlii twice daily for three months increased testosterone levels when compared to the placebo group.
Ginseng
Grown mainly in Asia, ginseng is an important component of natural medicine formulations. It may enhance sexual function in addition to many other proposed benefits.
A recent review of 7 randomized trials concluded that ginseng powder doses up to 9g moderately improved sexual function.
These doses are much larger than what is included in the Legendz XL Proprietary Blend.
Pulsatilla
This plant is found mainly in central and eastern Europe. Pulsatilla may relieve anxiety, though many of its suspected medicinal effects have not been well-studied.
Maca
This plant from the mustard family has been used for centuries to enhance fertility.
In a review of 4 randomized trials, investigators found insufficient evidence of maca's ability to support sexual health. Even doses at 3500mg/day were ineffective.
Possible Side Effects
The ingredients offered in Legendz XL have been safely studied at much larger doses. Thus this supplement is likely safe when used as directed by adults.
Nonetheless, TK Supplements still recommends conversing with a doctor before use. At HighYa, we tend to agree with this practice.
The need for medical involvement may stem from TK Supplements' claim that Legendz XL can promote blood flow. This action seems to be related to several ingredients that are suspected to affect NO levels.
While the blood vessel-widening action of NO is a vital component of the regulation of your cardiovascular system, it is not without risk.
As some of Legendz XL's active ingredients have been shown to affect blood pressure, the use of this supplement in conjunction with blood pressure and ED medications may lead to unsafe drops in your blood pressure.
Your blood pressure should be managed under the care of a medical professional – touch base with your doctor before using Legendz XL.
Pricing and Where to Buy
Legendz XL is available for purchase directly from the products page, though other major retailers also offer this product.
TK Supplements offers a 10ct for $24.95 + shipping and handling. At 4-capsules daily, you'll spend more than $300 to get you through the month.
A 30-day guarantee backs your order. To process your refund, call support at (877) 515–9909 to receive a Return Merchandise Authorization.
Though you have the option to purchase in-stores, Walgreens offers the 10ct at $26.99. You also have the option to ship to the store for free.
Rite Aid offers the Legendz XL 10ct for $19.99; spend $35 and your order ships free.
At Amazon, you'll pay $16.44 for your Legendz XL 10ct. Here you will also save on shipping with Prime.
Amazon offers the most cost-effective means of purchasing your Legendz XL. Even at just two capsules daily, however, you'll still need about $100 to get you through the month.
Alternatives
As sexual dysfunction affects many men worldwide, many products claim to offer support.
Viritenz is just one option. Like Legendz XL, it offers a blend of ingredients including ginseng, maca, and L-Arginine, though at smaller doses than the Legendz XL blend.
Nonetheless, Viritenz offers many more ingredients and for a fraction of the price. A 1-month supply is about $40.
Hard Max is another herbal blend that offers ingredients like maca, oat straw, and ginseng, among many others. Their proprietary blend is dosed more than 6x larger than that of Legendz XL.
Its two 60-capsule bottles (4-month supply) at just $19.97. Given the overlapping ingredients, as well as the inclusion of many more, Hard Max may give you more bang for your buck.
The Bottom Line
Legendz XL offers herbal ingredients that are supposed to support sexual health. Most lack robust scientific evidence, however.
The Legendz XL blend seems to be a gentler formulation when compared to many of the studies that tested higher doses of these ingredients. You may have a lower risk for side effects, but you may also miss out on the proposed benefits.
Nearly 30 Amazon users rate Legendz XL at 3.2-stars. Half of the reviews are 3-stars or less – some of the reasons cited for the low ratings include lack of results, restlessness, and prostate pain.
Legendz XL is also one of the pricier supplements that we've reviewed. Depending on your use and where you purchase, Legendz XL can cost you $100–$300 per month. That's a hefty price tag for a supplement that may not deliver the results you need.
If you feel that you need support for your sexual health, speak with a doctor. There are a number of causes for the symptoms you're experiencing, rule out the more serious ones first.
Customer Reviews
Posted on Nov 13, 2019
It's a booster not a cure for erectile dysfunction
I have a good experience with these with just 1 pill. It's to boost your hormones and energy levels, not make you hard. However, they do seem to make it easier to get hard and seem to keep your blood isolated once there. You need to be able to get hard yourself, it's not Viagra. However, during sex, I lasted about 3 hours and did not get tired once. When I climaxed it was the best I've ever felt.
Bottom Line: Yes, I would recommend this to a friend
Posted on Jul 14, 2019
Two-day supply
I took as directed, two hours later nothing. No response, no nothing, label says works within 60 minutes to 90 minutes from first-time use but here I am two hours later and nothing is happening.
Bottom Line: No, I would not recommend this to a friend
Our Promise to You
In order to safeguard you and ensure helpfulness and relevance, our compliance team manually assess every customer review before it goes live.
We have a zero-tolerance policy for fake reviews, and companies cannot control or alter any reviews at any time.