Legendz XL Reviews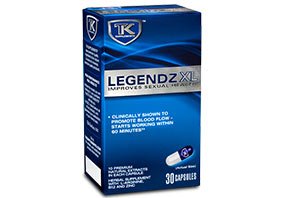 Legendz XL's proprietary formulation of 10 premium, standardized herbal extracts will boost blood flow, increase your energy, and support your physical needs.
About Legendz XL
Want to improve your sexual health and "ignite your mojo"?
Legendz XL is a nutritional supplement that's specifically formulated to enhance confidence and pleasure in the bedroom. How?
Legendz XL is clinically shown to promote blood flow, reduce stress, and increase energy, so it'll be able to support your physical and mental needs. All you have to do is take two capsules daily, and its proprietary formulation of 10 premium, standardized herbal extracts will start working within 60 minutes.
Ok, we'll admit that Legendz XL's commercial was mildly entertaining. But just because the company produced a fun video, does this necessarily mean they've produced a quality supplement that's worth the money? That's what you're here to find out, and we aim to deliver.
So to begin, let's dive right in and talk about Legendz XL's ingredients.
How Effective Are Legendz XL's Ingredients?
Perhaps a better way to put it is, "How effective are Legendz XL's ingredients for boosting your performance in the bedroom." Why is this distinction important?
Because many of Legendz XL's ingredients—including l-arginine, vitamin B12, zinc, rhodiola root, ginseng, epimedium, and maca extracts—have their own list of benefits. But according to the available clinical evidence, only l-arginine is "possible effective" for improving symptoms of erectile dysfunction (ED).
Ginseng may also be effective to relieving some symptoms of ED, although it's important to keep in mind that only Panax (Asian) ginseng is listed as "possibly effective." Why's this important? Because there are about a dozen different kinds of ginseng, and we're not told which one is contained in Legendz XL.
We're also not told how much of each ingredient the supplement contains, or whether or not this is enough to be effective. For example, WebMD recommends taking 5g of l-arginine daily, and 900mg of Panax ginseng three times daily, in order to address erectile dysfunction.
What about all the "clinically tested" claims on the Legendz XL website? Don't they hold some weight?
Is Legendz XL Really Clinically Proven?
Based on the following statements, what would you reasonably believe about Legendz XL?
"Clinically shown to promote blood flow."
"Tested in a controlled study to promote blood flow and work fast."
"We conduct scientific research and due diligence with every product we develop."
"Clinically tested in a single-blind study"
That the supplement has been clinically shown to be effective, right? But here's the problem: The Legendz XL website provides no clinical evidence to back these up. If you were the company, wouldn't this be something you'd want to prove to the whole world in order to boost sales?
Based on our experience reviewing these types of supplements (more about this next), the website is referencing some of Legendz XL's ingredients—specifically the l-arginine we discussed above—and not the supplement itself.
Everything we've talked about so far is based on research and experience. But what are Legendz XL's customers saying?
Do Legendz XL's Customers Think It's Legendary?
Most of these "testosterone boosters" are only promoted through a network of affiliates, and Legendz XL appears to be no different. So the only "reviews" we encountered during our research were fake review sites posted by these independent contractors.
However, most of these similar options to Legendz XL come with relatively low customer ratings (usually 2 stars or less), based on complaints of failure to work. Product aside, most customers also claimed to have experienced difficulty cancelling trials or obtaining refunds.
What Do We Know About Legendz XL's Manufacturer?
Technically, Legendz XL is brought to you by TK Supplements, whose CEO, Ted Karkus, is also CEO of ProPhase Labs. In fact, ProPhase Labs owns the trademark to Legendz XL, but are almost certainly better known for their Cold-Eeze drops.
According to a January 2016 article in Drugstore News, it appears the goal is to put Legendz XL on store shelves sometime in the near future, and to expand the product line under the TK Supplements banner.
Given everything we've discussed in this section, we're not necessarily throwing Legendz XL under the bus, but from what we can tell, their business model closely mirrors these other supplements. But since it comes from a fairly reputable company with an established business reputation, it might be an exception to the rule.
Speaking of business practices, let's talk more about these free trials and refund policies.
How Much Does Legendz XL Cost?
The only way to purchase Legendz XL is through a 14-day trial (a total of 10 capsules) for $5.95 S&H.
At the end of your trial, you'll be signed up for Legendz XL's membership program, where you'll get a new bottle of the supplement once per month, and will be charged $69.99 plus $5.95 S&H each time.
All Legendz XL purchases come with a 30-day satisfaction guarantee, less S&H charges. In order to request one, you'll need to call customer service at 800-319-5412.
Pro tip: In general, we recommend avoiding products sold only through free trials. However, as we mentioned in the previous section, because Legendz XL comes from an established company, they might not present the same level of risk. Ultimately, only you can decide whether or not it makes sense to you.
Let's make sense of everything we've talked about so far, alright?
Is Legendz XL a True Path To Boosting Your Sexual Prowess?
Taking everything together, we think it's refreshing to finally see this type of supplement coming from an upfront business (i.e. one that doesn't purposely hide from customers) with an existing track record.
But that doesn't necessarily mean than Legendz XL will work any better than the dozens of other testosterone booster supplements we've reviewed in the past. In fact, as we detailed above, the only ingredients that might provide you with any sexual benefits are l-arginine and ginseng, but we're not told how much the supplement contains, or if it's enough to be effective.
See Also: Do Testosterone Boosters Really Work? Find Out What Science Says
Given this, we might think you'd get more bang for your buck by purchasing separate ginseng and l-arginine supplements from your local pharmacy, which will provide two advantages. First, you'll know exactly how much of each ingredient you're ingesting, and 2) it'll cost you much less than Legendz XL. As always though, be sure to speak with your doctor first!
2 out 2 people found this review helpful

It's a booster not a cure for erectile dysfunction

By Ariez N.

,

Ohio

,

Nov 13, 2019
Verified Reviewer

I have a good experience with these with just 1 pill. It's to boost your hormones and energy levels, not make you hard. However, they do seem to make it easier to get hard and seem to keep your blood isolated once there. You need to be able to get hard yourself, it's not Viagra. However, during sex, I lasted about 3 hours and did not get tired once. When I climaxed it was the best I've ever felt.

Bottom Line: Yes, I would recommend this to a friend

---

5 out 6 people found this review helpful

Two-day supply

By Jim T.

,

Asheville, NC

,

Jul 14, 2019
Verified Reviewer

I took as directed, two hours later nothing. No response, no nothing, label says works within 60 minutes to 90 minutes from first-time use but here I am two hours later and nothing is happening.

Bottom Line: No, I would not recommend this to a friend

---

Advertisement

---