Provitalize Probiotic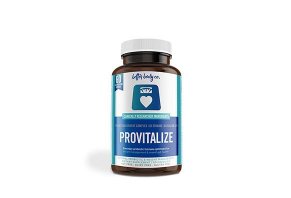 Summary
Better Body Co claims that Provitalize is an all-natural thermogenic probiotic supplement that will prevent weight gain, improve energy, and relieve bloating. The ingredients have been well studied, but the dose in Provitalize Probiotics is less, which may not be as effective.
Pros
Ingredients are well studied
May support weight management
Cons
It is expensive
May not increase energy levels preventing fatigue
Provitalize Probiotic Review: Is It Safe and Effective?
Provitalize is an all-natural thermogenic probiotic supplement from Better Body Co that is alleged to prevent weight gain, improve energy, and relieve bloating.
Provitalize probiotics seek to target the effects of menopause in women.
Menopause is a biological process that can contribute to the symptoms of hot flashes, emotional changes, and increase a female's risk of early mortality due to osteoporosis and decreased metabolism.
The age at which menopause appears is linked to genetics and is unaffected by race.
An imbalance of good bacteria located in the gut by estrogen has been correlated with menopause symptoms. Reports support that a good balance of gut bacteria may help estrogen in women after menopause.
In this article, we will review the available studies to determine if there is any merit to the proposed benefits of taking Provitalize to improve symptoms related to menopause.
How Does Provitalize Work?
Provitalize is a thermogenic probiotic supplement that works to boost the fat-burning capabilities of your cells.
Thermogenic supplements are typically used by individuals who are looking to decrease their body weight.
According to their company, to receive the alleged benefits of Provitalize, you will need to take two capsules in the morning and which provide the following ingredients:
Probiotic Strain Blend 68.2 Billion CFU:
L. Gasseri
B. Breve
B. Lactis
Herbal Blend:
Turmeric Root Extract 350 mg
Moringa Leaf Extract 350 mg
Curry Leaf Extract 150 mg
Bioperine ®3 mg
Sunflower Lecithin 50 g
Does Taking Provitalize Lead to Better Weight Management?
Provitalize utilizes three probiotic strains in the proprietary blend of ingredients.
Lactobacillus gasseri is a probiotic that supports immune systems and colonizes approximately 40% of your digestive tract.
A review of studies found a probiotic blend that included L. gasseri reduced Body Mass Index (BMI) by 0.5 units. It decreased waist circumference by more than 1.5 cm. The daily dose studied in this review was varied between 10 6 and 10 9.
Bifidobacterium lactis is a probiotic strain that is typically used to promote immune function. B. lactis improved age-related decline in immune function – elderly patients that received B. Lactis at 150 billion CFUs twice daily over 6-week significantly increased natural immunity.
Bifidobacterium breve is another probiotic strain used in Provitalize's proprietary blend and may provide benefits associated with menopause.
A randomized 10-week study administered a B. breve dose of 1 trillion CFU in postmenopausal women was found to be effective in providing relief of menopausal symptoms.
Provitalize probiotic proprietary blend is well studied. B.breve appears to show the most promise in helping to provide relief of menopausal symptoms.
Black pepper is a popular spice; it is included in Provitalize to boost metabolism to support weight loss.
In overweight individuals randomized to treatment with 6mg of black pepper daily, supplementation reduced BMI and body fat.
Provitalize likely selected black pepper fruit extract primarily to aid in improving an individual's body composition. However, the dose that is contained is less than what was utilized in the reference study.
Curry is used in many cultures worldwide and is found to Provitalize a proprietary blend of ingredients.
The findings from animal models show that when mice consumed curry, it lowered dietary fat absorption, allowing the fat to be excreted rather than stored.
Moringa is another ingredient that Provitalize and like turmeric. It has been in use for thousands of years and may offer a wide variety of health benefits.
In mice, 66mg/kg body weight daily provided anti-obesity and anti-diabetic effects.
A weight-loss blend containing 200mg of moringa (among other ingredients) improved body composition, body fat percentage, and quality of life in human subjects. However, it's important to note that the blend used in this study also contained other ingredients known to offer weight loss benefits.
In addition to its suspected antioxidant and anti-inflammatory roles, turmeric may also offer weight loss benefits proposed by Provitalize.
Curcumin, a molecule produced by turmeric plants, is likely responsible for this extract's proposed benefits.
More recently, a review of 21 studies examined curcumin's ability weight loss effects. They concluded that doses ranging from 250 to 2,400mg daily significantly reduced BMI and body weight in individuals with metabolic syndrome, obesity, heart disease, and diabetes.
Provitalize contains many ingredients studied, typically found in supplements that claim to aid in weight loss. The dosage in Provitalize is less than the available studies, which may provide varied results for women with menopause.
Will It Improve Fatigue Levels?
Provitalize provides sunflower lecithin, a mixture of phospholipids, and, when administered, will help repair damaged cells to alleviate fatigue.
A promising randomized study found that a high dose of 1200 mg of lecithin not only increased vigor but also helped in lowering diastolic blood pressure in postmenopausal middle-aged women.
Based on the available evidence, the dose contained in Provitalize is significantly lower than what was found to be effective. It is unlikely that it will improve energy levels associated with menopause.
Is Provitalize Safe?
While side effects from probiotics are not uncommon, they are generally mild.
You are most likely to encounter abdominal pain, gas, bloating, and diarrhea. These symptoms can be easily relieved by lowering your dose or discontinuing use.
As a wide variety of underlying conditions can cause your digestive symptoms, it is best to first speak with a medical professional to identify the source, especially if you have menopause.
How Much Does Provitalize Cost?
Provitalize is available for purchase on betterbody.co with multiple options. Each bottle will provide you with a 30-day supply (60 capsules).
One bottle: $49.00
Two bottles: $90.00
Three bottles: $109.00
Provitalize is backed with a 100% money-back guarantee by Better Body Co. To begin your refund process, you will need to email the company and then provide them with a tracking number of the Provitalize bottle you are returning and the reason. The amount to be refunded can be expected within 5-21 days.
The Bottom Line
Unlike traditional weight loss supplements claiming to offer thermogenic ingredients, Provitalize does not contain caffeine, which can be a harmful thermogenic stimulant.
Provitalize offers a diverse blend of probiotic strains at high doses. Based on the available research, this supplement is generally safe.
While we do not have information detailing each strain's precise amount in the proprietary blend, even if the total dose is substantial, the individual doses of some strains may not be effective.
It is always best to speak to your physician regarding the use of Provitalize to address symptoms associated with menopause.
If you're looking to avoid a supplement, probiotics are available in fermented foods. Check out yogurt, sauerkraut, kimchi, or kombucha to determine which is most easy to incorporate into your diet.
Customer Reviews