Estrovive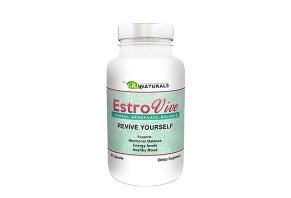 Summary
Estrovive is a USA-made, all-natural herbal supplement that allegedly alleviates your menopause symptoms without hormones. There is some clinical evidence backing the ingredients but there are some drawbacks.
Pros
Many ingredients show clinical evidence for reducing symptoms of menopause
Customer reviews show positive results are common
Cons
The formula contains controversial phytoestrogens like red clover and soy isoflavones
Some users experienced stomach problems at first
Isn't a permanent cure for menopause
Estrovive Review: What You Should Know
Menopause might be a natural stage of transition, but that doesn't make it any easier for the millions of women suffering from unpleasant side effects due to their changing hormones.
Estrovive is an herbal supplement for women that's designed to treat menopause symptoms. It claims to balance out your hormone levels so that you sleep better, experience fewer mood swings and hot flashes, and more easily maintain a healthy weight.
The supplement also promises to increase your concentration, boost energy levels, and even increase your libido.
According to the product website, this all-natural product has helped thousands of women through their menopause symptoms and boasts a 96% customer retention rate.
Claimed Benefits
Women can take Estrovive as a hormone-free supplement to combat their menopausal symptoms. Each product is made in an FDA-registered facility following FDA guidelines.
The company claims to have spent 18 months researching the best herbal ingredients before developing what they found to be the most effective combination for menopause relief. All of the supplement's ingredients are sourced from the United States from non-GMO growers.
According to the company's self-reported research, this supplement has a 98% success rate, and more than 95% of users repurchase a 3–6 months supply a little over a month after their initial purchase.
Though Estrovive claims that some women notice improvements within 7–10 days of supplementing, it suggests you commit to the routine for at least 60 days before deciding whether it works.
Effectiveness of Ingredients
EstroVive claims its supplements are made from a blend of beneficial herbs that show scientific evidence for reducing the severity of menopause symptoms. Here's what's inside:
Soy Isoflavones (30 mg): Isoflavones are a group of plant-based chemicals known as phytoestrogens that mimic estrogen in the body. Research shows that taking soy can suppress some of the signs of menopause. For instance, a 2012 analysis of 19 studies found that soy isoflavones reduced the severity of hot flashes by more than 25%.
Black Cohosh (160mg): This North American flower species is often used to treat menopausal symptoms. According to a 2010 meta-analysis, women who took black cohosh experienced a 26% reduction in symptoms like night sweats and hot flashes.
Dong Quai (150mg): Often called "female ginseng," this Asian root is a staple ingredient in traditional medicine. Though it's often taken to treat hot flashes, a 2006 study concluded that more research is needed to say whether it is effective.
Licorice (150mg): Licorice root is considered to be an effective remedy for menopausal hot flashes. A study within the Iranian Journal of Pharmaceutical Research found that the plant significantly reduced the frequency of hot flashes compared to a placebo over an eight-week trial period.
Vitex Berry (100mg): Commonly known as "chaste berry," the vitex berry is commonly used to treat PMS symptoms and menopause. However, a large double-blind study of vitex berry supplements found that they weren't more effective in reducing PMS symptoms than a placebo.
Red Clover (400mg): This common lawn plant is considered to be a remedy for menopause. That's partly because it contains isoflavones that mimic estrogen in the body. However, most research, including a literature review of four clinical trials, found that the plant is only minimally effective for relieving menopausal symptoms.
Sage (200mg): This fragrant herb is popular for culinary use but also shows evidence for aiding menopause symptoms. One clinical study found that it reduced hot flashes and night sweats, though only 30 people took part in the study.
False Unicorn (50mg): This herb is thought to contain chemicals that stimulate the uterus in beneficial ways. However, there's no clinical evidence it can help women dealing with menopause.
Squaw Vine (20mg): This herb has numerous health uses, and women often use it to treat vaginal discharge issues, ease childbirth, and treat depression. There's minimal evidence of any benefit when used for menopause.
Blessed Thistle (50mg): Not to be confused with milk thistle, this relatively rare herb was a bubonic plague treatment in the Middle Ages. Today, it's used in teas to treat many health issues.
Red Raspberry (50mg): Red raspberry tea is often used to lessen heavy menstrual flows and even induce labor. Again, there's minimal research available that it will help with menopause.
Mexican Wild Yam (15mg): Wild yam is a staple crop that's also thought to moderate estrogen levels to manage menopause. Research is limited, though, and one small study showed minimal benefits.
The majority show clinical evidence for boosting estrogen levels and otherwise reducing symptoms of menopause, especially hot flashes and night sweats.
Most of the other ingredients have historically been used for women's health issues, though there's less (if any) clinical evidence available that they make any difference for menopause.
Possible Side Effects
As with all supplement products, there might be side effects associated with taking Estrovive. Even so, the company claims that the supplement's ingredients are plant-based and all-natural and that there aren't any long-term side effects associated with them.
There weren't many negative side effects in customer reviews besides some minor stomach problems that many users shared went away after a few months.
Some people consider phytoestrogens like soy isoflavones, black cohosh, and red clover to be questionable. Due to their estrogen-mimicking properties, they are causally linked with higher rates of breast cancer, uterine fibroids, and endometriosis.
One 2010 analysis found that high levels of soy can affect ovary production, but more research is necessary to determine the risk factors and what doses may be dangerous.
If you're concerned about taking Estrovive because of preexisting health problems or because you're worried about the ways the supplement might interact with other medications, we strongly suggest you speak directly with your doctor before starting the supplement.
Pricing and Refund Policy
There are three ways to purchase EstroVive on the company website.
One-month supply: $38.99 plus $5.95 shipping
Two-month supply: $58.49 ($29.25/ bottle) with free shipping
Three-month supply: $81.87 ($27.29/ bottle) with free shipping
All EstroVive orders are shipped discreetly in unmarked packages.
A 90-day money-back guarantee covers all Estrovive products sold from authorized sellers. If you aren't happy with the supplement when you're taking it within that timeframe, you can get in touch with the company for a full refund, minus return shipping charges.
All that's needed is to return the supplement bottles (open or empty is fine) to the company's address at 2080 Industrial Rd Suite, Salt Lake City, UT, 84104.
Any further questions should be directed to customer service at support@estrovive.com or (855) 240-8889.
Analysis of Customer Reviews
On Amazon, Estrovive averages 3.9 stars after more than 200 reviews. Here's what those reviewers are saying.
Common Compliments:
Eliminated the worst symptoms of menopause
Consistent insomnia and hot flash relief
Common Complaints:
Supplement seemingly stopped working after several months of use
Seemed to cause stomach problems and flatulence
It takes several months to notice improvements
Doesn't work for everyone
Alternatives
Those considering hormone-free supplements for menopause symptoms have like considered other popular products such as Amberen and Relizen. Here's how they compare to Estrovive.
| | Estrovive | Relizen | Amberen |
| --- | --- | --- | --- |
| Monthly Cost | $27–$39 | $50 per box, $35 with a subscription | $30–$40 per box |
| Subscription Available? | No, possible to purchase in three-month supplies | Yes | Yes |
| Active Ingredients | All-natural herbal ingredients like soy isoflavones, black cohash, dong quai, licorice, vitex berry, etc. | Swedish pollen extract | Ammonium succinate, calcium disuccinate, magnesium disuccinate, zinc difumarate, glycine, monosodium L-glutamate, vitamin E |
| Purported Benefits | Reduces hormone imbalances, hot flashes, and other menopause symptoms | Prevents and relieves hot flashes | Relieves up to twelve menopause symptoms |
Though these three supplements claim to relieve the same menopause symptoms, they operate in different ways. Estrovive contains a blend of easily recognizable herbal ingredients, some of which show more evidence for improving the symptoms of menopause than others. Amberen's blend is equally long but less recognizable, though the formula is still hormone-free.
Relizen, in contrast, relies on a single active ingredient called Sérélys, or Swedish pollen extract. This compound was initially developed for use in male enhancement products because it works to improve prostate health and increase urine flow. Relizen uses it because it mimics estrogen to minimize menopause symptoms.
Note that only Estrovive contains the controversial phytoestrogens in its formula. If you find this concerning, we suggest considering a different product.
The Bottom Line
The research behind Estrovive's hormone-free supplement formula shows clinical support for alleviating some of the painful parts of menopause.
Many show clinical evidence for their effectiveness, and most of the others have been used in traditional medicine for menopause relief.
The biggest drawback for most shoppers about this brand will likely be the use of phytoestrogens.
These hormone mimickers do show evidence of causing a host of health problems like reproductive cancers and more, but the clinical research is still scant, and it's not clear what dose levels are risky.
It isn't difficult to find other hormone-free menopause products without phytoestrogens. We highlighted two popular options above at a similar pricepoint to Estrovive.
Regardless of what you take, keep in mind that menopause is a natural stage your body is meant to go through and that there's nothing you can take to stop it completely.
Likewise, each of these supplements will act only as a temporary solution. Once you stop taking them, your symptoms are likely to return.
Customer Reviews
Posted on Feb 4, 2020
Has saved my life!
Starting menopause 3 months ago had just about physically, mentally, and emotionally broke me. I was having full body hot flashes every 2 hours, all day and night! To the point that my scalp, behind my knees, and the bend at my elbows would sweat. I was getting no sleep waking up crying and experiencing mental fog where I knew what I wanted to say but nothing came out. I started Estrovive 3 weeks ago and I cannot believe the difference. It took effect within days! I am finally getting several hours of solid sleep a night. My hot flashes have minimized to 3-5 a day and are nowhere as intense. Prior to starting this I tried black cohosh, doTerra essentials, and Balanced Femme that did not help me one bit and was a waste of money. I could not imagine moving through this point of my life without Estrovive and I highly recommend this product.
Bottom Line: Yes, I would recommend this to a friend
Our Promise to You
In order to safeguard you and ensure helpfulness and relevance, our compliance team manually assess every customer review before it goes live.
We have a zero-tolerance policy for fake reviews, and companies cannot control or alter any reviews at any time.