Profemin
This company has claimed this profile, is getting alerted on any new customer reviews entering this page, and may engage in dialogue with its customers to address their matters.

Companies cannot pay money or provide goods in order to remove or alter customer reviews.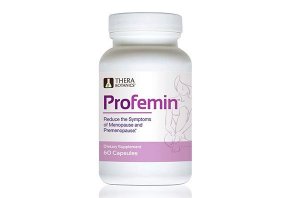 Summary
Profemin is a dietary supplement that blends 3 natural ingredients that allegedly helps relieve premenopausal and menopausal symptoms without the use of hormones. Although safe, long term benefits may not be sustainable.
Profemin Reviews - Does It Provide Menopause Symptom Relief?
What Is Profemin?
Profemin is a dietary supplement intended to offer relief for your menopausal symptoms with 3 natural ingredients.
Menopause is a process that is associated with the end of menstrual periods and the depletion of ovarian follicles. Symptoms are wide-ranging and may negatively affect your quality of life.
While most are familiar with "hot flashes", other common menopausal symptoms can include restless sleep, night sweats, mood disturbances, changes in urinary frequency, pain during sex, and even a rapid heart rate.
As these symptoms are thought to be related to the rapid decline of estrogen, medical management often includes hormone replacement.
According to Profemin, you can find relief without the use of hormones. But is their blend of ingredients actually proven to alleviate your menopausal symptoms?
In this article, we'll review the science behind each ingredient, if any, to help you make a more informed decision about using Profemin to manage your symptoms.
Profemin's Ingredients: Does Science Back Them?
According to the product page, simply taking 1 Profemin capsule twice daily will relieve many of the common symptoms that can be associated with menopause.
Each capsule contains a 257mg blend of the following:
Angelica gigas Nakai extract
Angelica gigas Nakai (AGN) is an herb cultivated mainly in Korea and China that has been a common ingredient in folk medicine for centuries. AGN is often included in dietary supplements as it is proposed to improve blood flow, pain, cognitive function, and much more.
According to Profemin, AGN is included in their blend to support gynecological health. The evidence for this in human subjects is lacking, however.
Rats that consumed 500 mg/kg body weight of AGN over 8-weeks improved estrogen and bone density measures when compared to placebo.
Interestingly, researchers also found that rats treated with ultrafine AGN had better effects than those who received coarsely ground AGN. Thus, the processing of the AGN offered in Profemin may affect its ability to deliver results.
A laboratory study tested the active compounds found in AGN and concluded that these ingredients would be challenging to formulate into an oral supplement. Another laboratory study found that these same compounds inhibited the growth of human breast cancer cells by targeting estrogen receptors.
While there is some evidence that AGN and its active compounds do have estrogen-related actions, most of the support is in animal and laboratory studies. Much more work is needed to determine the long-term effects regarding use in women's sexual health.
Cynanchum wilfordii extract
Cynanchum includes about 300 species that are found all over the world, including both tropic and subtropic regions of Africa, Europe, and Asia. Like AGN, it has been included in various natural medicine formulations for centuries.
Cynanchum wilfordii's (CW) support for its proposed ability to manage menopausal symptoms is mainly in animal and laboratory models.
Menopausal rats treated with 200mg/kg bodyweight of CW over 7-days had reduced hot flash symptoms, though treatment did not boost estrogen levels.
Additional support for the sole use of CW to improve symptoms related to menopause is lacking. Again, more studies are needed with human subjects to determine the lasting effects.
Phlomis Umbrosa extract
Another common folk medicine ingredient, Phlomis Umbrosa (PU), may offer anti-inflammatory and pain relief capabilities.
However, studies investigating the sole use of PU in managing symptoms related to menopause are lacking.
Studies Examining the Combination of Profemin's 3 Ingredients
While Profemin's herbal ingredients have not been extensively studied individually regarding their abilities to manage menopausal symptoms, their combined actions have been investigated in perimenopausal women.
According to Profemin's website, their supplement was studied on a clinical trial. Profemin claims that nearly 97% of the women randomized to treatment experienced an improvement in 4 or more menopausal symptoms.
This study has yet to be published in a medical journal, however. Results must be interpreted with caution as the study has not undergone a rigorous peer-review process to determine if the scientific methods were sound.
Two other studies investigating these ingredients do offer published results, however.
In a 2005 study, 48 perimenopausal women were randomized to herbal treatment or placebo. The herbal treatment was a 315mg blend of AGN, CW, PU, and about 10 other extracts taken twice daily.
At 3-months of herbal treatment, women experienced improvements in hot flashes and joint pain. At 1-year, bone density was improved when compared to placebo.
More recently, 64 pre-, peri-, and postmenopausal women were randomized to treatment with an herbal blend or placebo. The herbal blend was a 514mg blend of AGN, CW, and PU.
Women treated with the herbal supplement over 3-months experienced improvements in hot flashes, poor sleep, nervousness, mood, vertigo, fatigue, vaginal dryness, and joint pain when compared to placebo
The Takeaway Message:
The evidence supporting the sole use of the Profemin ingredients in treating menopausal symptoms is lacking. The fact that similar blends were tested in human trials adds merit to Profemin's claims, however.
So far, it seems as though short-term relief of menopausal symptoms is possible at doses of AGN, CW, and PU comparable to what is offered in Profemin. Safety has also been demonstrated in the long-term, though only improvements in bone density were noted at 1-year.
Are There Any Profemin Side Effects?
The ability of Profemin's ingredients to individually address menopausal symptoms was studied mainly in laboratory and animal studies. While these types of investigations can highlight a potential role in treatment, they do not guarantee safety and efficacy in humans.
The combination of the 3 ingredients was studied in 2 published clinical trials at dosing comparable to what is available in Profemin, however. Both studies did not report any serious adverse effects, even with use of the herbal blend up to 1-year.
As most herbal blends have a favorable safety profile, the presence of published research further strengthens the claim that Profemin is safe. Nonetheless, there is currently no data for the use of Profemin beyond a 1-year duration.
While this blend of ingredients has not been demonstrated to alter hormone levels in human trials, it is still best to speak with your doctor before use.
Even if you can avoid medical management of your menopausal symptoms, your doctor can answer any questions regarding dietary supplements and ensure they are safe for you to use.
The Cost and Where to Buy It
Profemin is available directly from their website. They offer several purchasing options.
For $9.95, you can "try it before you buy it." They'll ship a 2-month supply, though if you don't call to cancel within 30-days, you'll be charged $39.95 for subsequent monthly deliveries.
Ordering a 2-month supply otherwise costs $69.90 + $9.95 shipping. Again, if you don't cancel, you'll be charged $79.90 + $9.95 shipping for subsequent 60-day supplies.
Lastly, single orders are also available. You'll pay $59.95 per 30-day supply + $9.95 shipping.
A 30-day guarantee backs all orders. Call support at 800-221-0905 to cancel the order and return your unused portion for a full refund.
Amazon carries a 30-day supply a bit cheaper at $57.95. Purchasing here also allows for a 30-day return.
What Are the Alternatives to Profemin?
Profemin isn't the only supplement that claims to offer relief for menopausal symptoms without the use of hormones.
In fact, you find the same blend for much cheaper.
Herbal Pause from Now Foods offers the same dosage of all 3 ingredients in a patented blend called EstroG-100. This is the same blend tested in the 2012 trial reviewed above. They offer a 30-day supply for just $15.11.
Though you should still speak with your physician before use, Herbal Pause may be a better option as their specific blend was researched and you can get a 4-month supply for the cost of 30-day's worth of Profemin.
The Bottom Line
The ability of Profemin's 3 ingredients to manage menopausal symptoms has not been well studied individually.
The combination of these ingredients was proven safe and effective in managing menopausal symptoms in 2 clinical trials, however. Still, more work is needed to identify the long-term benefit of Profemin.
At Amazon, Profemin garners a 3.7-star rating on 187 reviews. Though half are 5-star, many users are unsatisfied due to a lack of results, continued menopausal symptoms, and side effects like headaches.
While it may be advantageous to avoid some of the side effects that can be associated with the medical management of menopausal symptoms, I would still recommend speaking to your primary care physician before using Profemin or similar products.
Even if you wish to avoid medical treatment, a visit with your doctor may help clarify some of your questions, determine the safety, and identify a plan of action if a dietary supplement does not offer the relief you need.
Customer Reviews
Posted on Sep 13, 2019
Treacherous billing practices prompted me to return the product
Ordered this product as a trial offer and when it arrived there was an invoice for $99.80 starting on October 3rd. By the date the product came, I had 3 weeks only to try the 30-day trial before I incurred on recurrent full payments. For this "trial" shipment I paid $17.90 (more than the usual cost of this non-overnight shipment).
I called customer service to complain and cancel and was instructed to return all the bottles received at my cost. In the end, I wasted my money in shipments of a product advertised and promised to be a free trial but I definitely canceled this scam (I hope so).
In summary, the marketing practices of this company are misleading, deceiving and fraudulent because the prospective customer has to pay elevated postal fees to get the trial and pay again to return it without any trial to avoid further high costs bills for a product that probably does not work at all. I hope this review is useful for other women who desperately need to relieve the climacteric nuisances like me and are desperate looking for a remedy just to be lured in this scam.
Bottom Line: No, I would not recommend this to a friend
Company Response from Ideal Living Management, LLC
Sep 14, 2019
Thanks Frances for the review.
We show that you ordered on 8/27 the Profemin Ultra trial for $9.95 s/p and added a bottle of Citratrim for $7.95 s/p hence the initial charge of $17.90. Tracking shows it was delivered on 9/5-usually we ask to allow 5-7 business days for delivery but with Labor Day there was a short delay for delivery. From the delivery date to the charge date of 10/3 is exactly one month. We typically try to add additional time to factor in delivery time and any occurrences that might have that are not "normal" ie-weather.
Yes, we do ask for our product back if you do not wish to take it and/or pay for it-which is part of the 30-day free trial. Return postage is the responsibility of the customer as you changed your mind. Per your comments, you have not tried it and we know that it has worked for thousands of woman to relieve the pre and menopausal symptoms. We are sorry that the offer was not clear to you and that you did not want to try it.
Posted on Apr 12, 2019
Menopause vitamins
Overall I liked Profemin, it worked for me in a lot of areas. Most of all it helped me feel myself instead of feeling confused or who I am. It controlled my mood swings and hot flashes, it helped with sleep. The price was a little high, but worth it for someone who doesn't have menopause that bad this would be good for them. Customer service is good.
Bottom Line: Yes, I would recommend this to a friend
Company Response from Ideal Living Management, LLC
Apr 13, 2019
Hi Raelynn,
Thanks for the review and for sharing your experience with Profemin. :-)
Posted on Jan 18, 2019
Worst customer service
I ordered Profemin for the trial offer. They advertised that for shipping and handling of $9.95, you could get two bottles of the product. I received the product and a notice from my bank that Profemin requested $79.00.
I called customer service and was told that the trail was not the full cost of the product. I told them I didn't approve of the selling tactic and wanted to return the product.
I sent the product back and a month later the product was returned to me because there wasn't a "return code."
I tried to use the customer service email and only got the (not sent) error. I tried to call customer service many times and can't seem to connect with anyone.
Bottom Line: No, I would not recommend this to a friend
Company Response from Ideal Living Management, LLC
Jan 18, 2019
Hi Madeline,
Thank you for the review. We are sorry for any inconvenience. The trial offer is s/p upfront and the balance due in 30 days unless you contact us to return the product. We would typically not return an order without a return code so we definitely need to investigate this further. Can you please email marmstrong@idealliving.com with the name and zip code used when placing the order so we can find exactly what happened.
Posted on Sep 4, 2018
Doesn't work!
I have taken two per day as directed for three weeks, and absolutely ZERO relief! Complete rip-off! The CitraTrim pill that you can add, also a rip-off. It doesn't do anything for belly fat! I'm sending it all back for a refund and got a prescription from my regular doctor for 900mg of gabapentin per day that is taken at night, and it totally helps! It was $6 per bottle with my insurance. I recommend going to your doctor.
Bottom Line: No, I would not recommend this to a friend
Company Response from Ideal Living Management, LLC
Sep 5, 2018
Hi Fonda,
Thank you for the review. We are sorry that Profemin and Citratrim did not meet your individual needs. It is a herbal supplement and everyone's body absorbs at different rates and reacts differently as well. You might have just needed to take them longer, which is why we send a 60-day supply. We did receive your return and the pending delayed payment was canceled as well as future shipments. We are glad that you reached out to your healthcare provider to get what was right for you!
Posted on Feb 7, 2018
Profemin
I've taken this product for one year and I stopped because I was afraid of long-term side effects. So I kept my two full bottles for the month of November 2017, and on December 13, 2017 (one month later), I went into the hospital with kidney dehydration and was going into renal failure. My kidneys were at stage 3.
We have no idea what caused it, and I'm not saying Profemin did it, and I'm not saying it didn't, we just don't know, so I'm afraid to take it anymore. It was a very scary feeling for me and my family to be laying in the hospital bed for 4 days, waiting for my kidneys to go back to normal and thinking I needed dialysis. But thanks to God, my kidney went from stage 3 back to stage 1, back to normal.
So my question is, should I risk taking my last 2 bottles? Not being sure if Profemin caused my kidney failure or not, I wish I had the answer because I don't like these hot flashes. Please help me make the right decision.
Bottom Line: No, I would not recommend this to a friend
Company Response from Ideal Living Management, LLC
Feb 7, 2018
Hi Nelly,
Thank you for the review. We are sorry to hear what happened to you. It would be best for you to discuss this with your healthcare provider to make sure Profemin is right for you.
Posted on Oct 22, 2016
It is a good product for Menopause
I've been using Profemin for about two months. After using it I haven't had any hot flashes and was able to do my daily routine without worrying about it anymore. I was also able to have better sleep in the night.
Bottom Line: Yes, I would recommend this to a friend
Posted on Aug 26, 2016
Love it!
I've been using Profemin for about a month now. Literally after the first use I haven't had any hot flashes and have been sleeping like a baby.
I ordered through Amazon as I wanted to try first and I must admit that it is working great for me.
I definitely recommend this product
Bottom Line: Yes, I would recommend this to a friend
Posted on Apr 23, 2016
Nurse
I love Profemin. I've been taking it for 2 weeks now, and I fell so good. I used to have hot flashes every 45 minutes, I was so embarrassed when I was in public, my face dripping sweat and my makeup would be smeared. Thank God for Profemin. And it's natural.
Bottom Line: Yes, I would recommend this to a friend
Posted on Jul 21, 2015
It does help, but what is in there?
I bought Profemin through eBay, paying a lot less. I took it for a couple of months and found my hot flashes and night sweats greatly reduced. However, I am rather nervous about the ingredients. I have developed severe headaches over the last few weeks and am wondering if these pills may be the cause. I have stopped taking them. "Proprietary Blend" can mean anything. What is really in there? I am not willing to take that risk.
Bottom Line: No, I would not recommend this to a friend
Company Response from Ideal Living Management, LLC
Jan 23, 2018
Hi Dorly. We're sorry that the ingredients weren't made clear to you. Here's more information on Profemin™, it is a dietary supplement that was formulated to utilize the synergistic benefits of three Asian botanicals that have been used for hundreds of years throughout Asia. Profemin™ is a patented blend of Angelica gigas nakai extract, cynanchum wilfordii extract, and phlomis umbrosa extract. Profemin™ is a safe, natural, state-of-the-art modern health solution for menopausal relief without the use of hormones. In addition, Profemin™ is a gluten-free supplement.
Posted on Jul 15, 2015
Please Read Before You Buy
I bought this and used it for two months. I took it to get rid of hot flashes and night sweats. It made them worse. I called the company and they said I was not giving it enough time. So took it another month. Then told them I would like to cancel. I still got a shipment on the tenth of March and was told it had to be back in there hands on the 21st. Also had to do all kinds of stuff to package to send back. But they were willing to offer me a 20% discount if I did not want to go through the hassle of sending it back! What a scam.
Bottom Line: No, I would not recommend this to a friend
Posted on Jul 15, 2015
Two months and no difference
I started taking this on December 1st and now into February, I'm still taking Profemin and never missing a dose. I'm not even seeing a small difference in my hot flashes or sleeping. As I'm writing this review, I'm getting hot flashes so in my opinion this product does not work and do what it was supposed to do. Please don't waste your money like I did.
Bottom Line: No, I would not recommend this to a friend
Our Promise to You
In order to safeguard you and ensure helpfulness and relevance, our compliance team manually assess every customer review before it goes live.
We have a zero-tolerance policy for fake reviews, and companies cannot control or alter any reviews at any time.