Revaree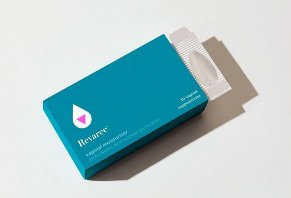 Summary
Revaree is an all-natural women's health product that purportedly promotes sexual health by countering the effects of post-menopausal vaginal dryness without affecting your hormone levels. Research supports the benefits of this product but there are some drawbacks.
Revaree Review: Is It Safe and Effective?
Medically Reviewed by Anthony Dugarte, M.D., C.S.C.S
Revaree is an over-the-counter non-hormonal women's health product that allegedly helps alleviate vaginal dryness associated with menopause, particularly during intercourse.
Vaginal dryness (known as atrophic vaginitis) can lead to itching, burning, and even tears in the vaginal wall. This dryness makes the naturally acidic pH vagina more alkaline and susceptible to infection.
Low estrogen levels are a primary trigger for the condition, which can be caused by menopause, giving birth, and certain prescription medications.
While many treatment options are available for vaginal dryness, including medical management, Revaree claims to offer a hormone-free solution.
In this review, we take a detailed look at how Revaree claims to work, why it relies on hyaluronic acid, and how it stacks up against its competition.
Claimed Benefits
Revaree is a mess-free vaginal insert that acts as a lubricant and moisturizer to provide women with lasting, hormone-free relief. The product is designed for women who experience vaginal dryness, especially when triggered by menopause.
The Revaree website highlights the product as an 'odorless, colorless, hormone-free, paraben-free, and steroid-free' option for vaginal dryness.
This medical device contains hyaluronic acid, which the company states helps your body retain moisture within vaginal tissues. As Revaree doesn't affect your body's estrogen levels, the brand claims it is an ideal solution for those who can't or don't want to take hormones.
The product is branded as both a lubricant and a moisturizer, meaning that it provides short-term lubrication for intercourse and also helps you maintain long-term vaginal health.
With regular use, Revaree will purportedly regenerate vaginal tissue so that sexual intercourse becomes possible without additional lubricant.
How Does Revaree Work?
Revaree relies on a vaginal insert (called a suppository) that is approximately the size of a fingertip to provide relief and comfort for both daily life and intimate moments.
Suppositories are small, round objects put directly in the body, usually the rectum, urethra, or vagina. Once inside, the suppository melts and releases its medication. For best results, the company website suggests women use Revaree every 2–3 days.
Revaree's active ingredient is hyaluronic acid (2g), a mucopolysaccharide which the company states can retain water and form a moist environment within the vagina that supports both hydration and lubrication.
Hyaluronic Acid for Vaginal Dryness: What Does the Research Say?
Hyaluronic acid is a naturally occurring substance that conserves water molecule levels in your skin cells, and studies published show that it is integral to cell development and wound healing. These molecules can absorb up to 1,000 times their weight in water, which promotes vaginal softness and elasticity.
Given its mechanism of action, Hyaluronic acid certainly seems like a logical choice for managing vaginal dryness.
Hyaluronic acid may be effective in relieving vaginal dryness and itching, burning, and pain during sex.
A 2015 study involving rats revealed that the hyaluronic acid combats vaginal dryness by attracting and retaining moisture within your cells, which helps heal thinning, damaged skin in the vaginal lining.
These actions were also investigated in human subjects.
In a clinical study, women treated with vaginal suppositories containing hyaluronic acid, vitamin E and vitamin A reported better dryness, itching, burning, and pain with sex over the course of 14-days. These products were not tested against placebo, however.
Hyaluronic acid delivered results comparable to treatment with vaginal estrogens in women with vaginal dryness, though creams rather than suppositories were used for treatment.
When compared head to head, both a 5mg hyaluronic acid suppository and a vitamin E suppository relieved vaginal dryness. However, the results were better with hyaluronic acid.
In women treated with radiation therapy for cervical cancer, biopsies demonstrated that 2g hyaluronic acid suppositories improved vaginal dryness and symptoms related to radiation damage.
As most studies seem to examine hyaluronic acid over short durations, will hyaluronic acid work over the long term? We posed this question to OB/GYN Doctor Renje Chang, and he offered the following comments:
"The benefit of hyaluronic acid is that it is absorbed by your vaginal tissue cells to improve moisture, temporarily. However, hyaluronic acid does not affect the vaginal pH or microbiome environment. As a result, the moisturizing effect of hyaluronic acid does not last. With the vaginal use of hyaluronic acid, the humectant may absorb water from the mucosa, as there is no air in the vaginal cavity. [This means that] frequent applications are required."
Is Revaree Safe?
Multiple studies have report hyaluronic acid to be a safe alternative to traditional medical management for vaginal dryness. Research has demonstrated safety in both topical and suppository applications.
Daily dosing comparable to that which is offered in Revaree was safe over a 4-month span.
While more long-term research is needed to characterize the safety and efficacy of hyaluronic acid vaginal suppositories, the available research is promising.
Still, it is best to discuss your symptoms with your doctor, as medical management may be warranted.
Pricing
On the company website, a four-week supply of Revaree (ten vaginal inserts) is available for $55 plus $5 shipping. If you prefer to sign up for a subscription, you can receive one box at your selected frequency for $40, with no additional shipping costs.
You can cancel your subscription at any time, though you'll need to cancel five days before the next processing date to stop the next month's shipment.
Returns and refunds aren't permitted with this product. However, they will replace defective orders at no additional cost if the request is submitted within ten days of receiving your shipment.
Alternatives to Revaree
| | | |
| --- | --- | --- |
| | Revaree | Vagisil Prohydrate |
| Price | $55 for ten inserts ($5 S&H) | $12 for eight applicators |
| Active Ingredient | Hyaluronic acid | Hyaluronic acid |
| Application Type | Suppository | Pre-filled applicators |
| Amazon Reviews | 4 stars (7 reviews) | 3.5 stars (168 reviews) |
| Usage Time Per Purchase | 20–30 days | 24 days |
Vagisil Prohydrate is an internal vaginal moisturizing gel and lubricant that treats dryness without added perfumes, dyes, preservatives or estrogen (like Revaree). This gel also contains hyaluronic acid, but the product is applied with pre-filled applicators rather than a suppository.
On Amazon, Vagisil averages 3.5 stars. While most reviews we noticed were positive, a few mentioned that it had a faint rose scent and caused irritation. Many reviewers appreciated that the moisturizer didn't drip once applied internally (a concern we noticed with Revaree).
Pricewise, you'll pay about $12 for eight applicators of Vagisil Prohydrate. That's cost-saving compared to Revaree ($55 for ten inserts). From what we found on the two company's websites, both purchases last about a month.
The Bottom Line
Revaree's active ingredient has demonstrated the ability to relieve vaginal dryness when used as a topical cream or as a suppository.
Revaree makes sense for women that want to boost their vagina's moisture content without altering their hormone levels. You aren't likely to experience side effects from using it, but it's important to keep in mind that any benefits you get from the product will stop once you stop using it.
Amazon users seem pleased – 127 have rated Revaree 4.2-stars. Those happy with their results report finding relief when other products failed, as well as a lack of side effects with use.
If you're interested in seeing whether hyaluronic acid works for you, there are cheaper products available. Vagisil Prohydrate also contains the compound, and it will cost you about $12 (compared to $55 for Revaree) for a similar length of treatment time. However, we found that Revaree received better reviews overall for how well it worked.
In summary, there's a lot of evidence to suggest that Revaree might be a smart treatment for vaginal dryness for many women.
Customer Reviews
Our Promise to You
In order to safeguard you and ensure helpfulness and relevance, our compliance team manually assess every customer review before it goes live.
We have a zero-tolerance policy for fake reviews, and companies cannot control or alter any reviews at any time.