Revaree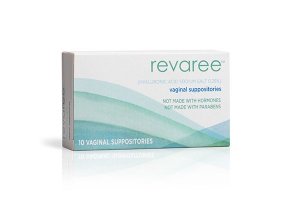 Revaree is an all-natural women's health product that purportedly promotes sexual health by countering the effects of post-menopausal vaginal dryness without affecting your hormone levels.
Revaree Review - Ideal For Your Vaginal Dryness?
Launched in the U.S. in 2018, Revaree is an over-the-counter non-hormonal women's health product that is designed to alleviate vaginal dryness associated with menopause, particularly during intercourse.
The Mayo Clinic tells us that vaginal dryness (also known as atrophic vaginitis) can lead to itching, burning, and even tears in the vaginal wall. This dryness makes the naturally acidic pH vagina more alkaline and susceptible to infection. Low estrogen levels are a primary trigger for the condition, which can be caused by menopause, giving birth, and certain prescription medications.
Will Revaree successfully treat vaginal dryness? Let's dive into the details about how Revaree claims to work, why it relies on hyaluronic acid, and how it stacks up against its competition.
What is Revaree?
Revaree is a mess-free vaginal insert that acts as a lubricant and moisturizer to provide women with lasting, hormone-free relief. The product is designed for women who experience vaginal dryness, especially when triggered by menopause.
Revaree is a product of JDS Women's Health, an extension of the parent company JDS Therapeutics. The company reports that they hold over 100 patents on natural, bioactive substances for promoting human health and wellness.
The Revaree website highlights the product as an 'odorless, colorless, hormone-free, paraben-free, and steroid-free' option for vaginal dryness that has already benefited over one million women. This medical device contains hyaluronic acid, which the company states helps your body retain moisture within vaginal tissues. As Revaree doesn't affect your body's estrogen levels, the brand claims it is an ideal solution for those who can't or don't want to take hormones.
The product is branded as both a lubricant and a moisturizer, meaning that it provides short-term lubrication for intercourse and also helps you maintain long-term vaginal health. With regular use, Revaree will purportedly regenerate vaginal tissue so that sexual intercourse becomes possible without additional lubricant.
How Does Revaree Work?
Revaree relies on a vaginal insert (called a suppository) that is approximately the size of a fingertip to provide relief and comfort for both daily life and intimate moments.
Web MD tells us that suppositories are small, round objects put directly in the body, usually the rectum, urethra or vagina. Once inside, the suppository melts and releases its medication. For best results, the company website suggests women use Revaree every 2-3 days.
Revaree's active ingredient is hyaluronic acid, a mucopolysaccharide the company states can retain water and form a moist environment within the vagina that supports both hydration and lubrication.
Let's look closer at these claims.
Why Does Revaree Use Hyaluronic Acid?
Hyaluronic acid is a naturally occurring substance that conserves water molecule levels in your skin cells, and studies published on Nature.com shows that it is integral to cell development and wound healing. These molecules can absorb up to 1,000 times their weight in water, which promotes vaginal softness and elasticity.
Reports show that hyaluronic acid is equally effective at relieving vaginal dryness and itching, burning, and other pain during sex as leading prescription hormonal creams. Research from Gynecological Endocrinology revealed that the compound combats vaginal dryness by attracting and retaining moisture within your cells, which helps heal thinning, damaged skin in the vaginal lining.
According to WomanLab.org, hyaluronic acid's hydrating capabilities make it ideal for solving dryness problems in the vagina, which makes it a viable option for women who choose to avoid using estrogen or other hormonal products.
Overall, the clinical studies we looked through reported that the compound is side-effect free, doesn't impact your hormone levels, and can produce results within a few days of use. However, more research is necessary to prove these claims, as the studies we looked at typically involved sample sizes of less than 100 and used the compound in conjunction with other ingredients to study the efficacy of specific brand name vaginal products.
Will hyaluronic acid work over the long term? We posed this question to OB/GYN Doctor Renje Chang, and he offered the following comments,
"The benefit of hyaluronic acid is that it is absorbed by your vaginal tissue cells to improve moisture, temporarily. However, hyaluronic acid has no effect on the vaginal pH or microbiome environment. As a result, the moisturizing effect of hyaluronic acid does not last… With the vaginal use of hyaluronic acid, the humectant may absorb water from the mucosa, as there is no air in the vaginal cavity. [This means that] frequent applications are required."
How temporary is temporary? Our research showed a variance in opinion, though hyaluronic acid-based dermal fillers that are used in the face (especially the lips) can last six months or longer). Suppositories, however, don't penetrate the epidermis like an injection and last less long. Notably, Revaree told us that the product should be used every two to three days for best results.
For these reasons, WomanLab.org recommends talking with your doctor before using a compound like hyaluronic acid to treat vaginal dryness to ensure that the treatment makes sense for you.
Is Revaree Safe?
You're normal for questioning the safety of an over the counter treatment like Revaree. Let's look at the facts.
According to Medical News Today and Web MD, vaginal suppositories are considered both safe and effective for treating vaginal dryness. In fact, the sites state that they provide faster, more targeted relief with fewer side effects than oral medications.
Revaree's website backed up these claims, as they stated that no serious adverse events were reported during the product's clinical trials. Saying this, we still found some recommendations on Revaree's website for safe use to ensure you don't develop problems from the product.
For example, the website makes it clear Revaree is intended only for topical use and shouldn't be swallowed or make contact with your eyes. They also recommend you follow the expiration date and stay away from packages that are opened or damaged.
Where to Buy Revaree
At the time of writing, the Revaree website noted that their product was only available through their website and jdswomenshealth.com, or through their toll-free number at 1-866-738-2733. Though they state that it can't be found in retail pharmacies or stores, we did find it available on Amazon.
On the company website, a four-week supply of Revaree (ten vaginal inserts) is available for $55 plus $5 shipping. If you prefer to sign up for a subscription, you can receive one box at your selected frequency for $40, with no additional shipping costs.
The brand makes it clear you can cancel your subscription at any time, though you'll need to cancel five days before the next processing date to stop the next month's shipment.
You can direct further questions to support@revaree.com.
What is the Return Policy?
Revaree's website told us that returns and refunds aren't permitted with this product, though they will replace defective orders at no additional cost if the request is submitted within ten days of receiving your shipment.
Notably, this policy doesn't extend to any products purchased from unauthorized Revaree sellers.
Comparing Revaree to Other Vaginal Creams
There are dozens of products that claim to cure vaginal dryness. To figure out which one would work best for you not only takes an understanding of the product, but it also helps to know how other products perform in comparison to Revaree.
Revaree's website tells us that their product stands out because it doesn't come with the risks of hormone replacement therapies or the messiness and short-lived results of creams and lubricants. Does this match with the facts? We choose to look at two other products for vaginal dryness (Vagisil Prohydrate and Membrasin) to see how they compare to Revaree.
| | | | |
| --- | --- | --- | --- |
| | Revaree | Vagisil Prohydrate | Membrasin |
| Price | $55 for ten inserts ($5 S&H) | $12 for eight applicators | $60 for sixty "pearls" |
| Active Ingredient | Hyaluronic acid | Hyaluronic acid | Omega-7 oil |
| Application Type | Suppository | Pre-filled applicators | Natural supplement |
| Amazon Reviews | 4 stars (7 reviews) | 3.5 stars (168 reviews) | 4 stars (87 reviews) |
| Usage Time Per Purchase | 20-30 days | 24 days | 30 days |
Now let's unpack this information further.
Vagisil Prohydrate is an internal vaginal moisturizing gel and lubricant that treats dryness without added perfumes, dyes, preservatives or estrogen (like Revaree). This gel also contains hyaluronic acid, but the product is applied with pre-filled applicators rather than a suppository.
Vagisil also contains a few more ingredients than Revaree, which include propanediol, carbomer, homopolymer Type B, phenethyl alcohol, Ethylhexyl glycerin, and sodium hydroxide. A cursory look at the Environmental Working Group Cosmetic Database (an organization that provides research-based information about health and environmental impacts of cosmetic ingredients) didn't reveal problems with these compounds.
On Amazon, Vagisil averages 3.5 stars. While most reviews we noticed were positive, a few mentioned that it had a faint rose scent and caused irritation. Many reviewers appreciated that the moisturizer didn't drip once applied internally (a concern we noticed with Revaree).
Pricewise, we found that you'll pay about $12 for eight applicators of Vagisil Prohydrate. That's a cost saving compared to Revaree ($55 for ten inserts). From what we found on the two company's websites, both purchases are designed to last about a month.
Membrasin is another product purported to help improve vaginal moisture and reduce burning and itching. Unlike Revaree, Membrasin is a dietary supplement and the active ingredient is omega-7 oil.
Victoriahealth.com told us that the omega-7 fatty acids contribute to the structural components of mucous membranes that form protective linings in the body, particularly the vaginal tract. The site also reports that a study from The Department of Obstetrics and Gynaecology noted that the oil could trigger positive improvements in vaginal atrophy for postmenopausal women.
Amazon reviews of Membrasin awarded the product four stars out of five, and many reviewers noted that the supplement seemingly led to improvements for their skin, nails, and hair, as well as for their sex life. This makes Membrasin an appealing choice for women who would prefer to take a supplement than use a suppository.
Pricewise, you'll pay about $60 for a thirty-day supply (sixty "pearls") which puts it at a similar price-point as Revaree.
Which product is best for you? Looking at reviews from previous customers can help you decide.
Customer Reviews of Revaree
As Revaree only entered the market in 2018, we couldn't track down many online reviews at the time of writing. The brand's affiliated website JDSwomenshealth.com offered over one hundred reviews and came to an average of 3.5 out of 5 stars.
In these reviews, many women disclosed that Revaree made sex less painful after just a few weeks of use. Others commented that the suppository worked significantly better than estrogen tablets and didn't produce adverse side effects.
We saw numerous reviews from menopausal women that highlighted how much Revaree helped their symptoms, and many praised it for being a gentle, effective solution.
On the negative side, a few women wrote that the cost per unit seemed high and that they wished the treatment was covered by insurance. Others noted that the product didn't work for them, was messy and complicated to insert without an applicator, or never arrived after ordering.
Amazon also had a handful of Revaree reviews (six at the time of writing). Averaging four out of five stars, these reviews highlighted how well the product worked, with one woman mentioning that it provided her with relief from chronic dryness for the first time in a decade.
Our View: Is Revaree Worth Using?
Those dealing with vaginal dryness have several options for treating the condition. The experts we learned from suggested treatments that ranged from having more sex to taking prescription-strength vaginal tablets to boost estrogen levels.
From what we've found, a hyaluronic acid suppository like Revaree makes sense for women that want to boost their vagina's moisture content without altering their hormone levels. You aren't likely to experience side effects from using it, but it's important to keep in mind that any benefits you get from the product will stop once you stop using it.
If you're interested in seeing whether hyaluronic acid works for you, there are cheaper products available. As we stated previously, Vagisil Prohydrate also contains the compound, and it will cost you about $12 (compared to $55 for Revaree) for a similar length of treatment time. Saying this, we found that Revaree received better reviews overall for how well it worked.
In summary, there's a lot of evidence to suggest that Revaree might be a smart treatment for vaginal dryness for many women. If you're curious about whether this product is right for you, we recommend talking with your doctor to gain an expert opinion.
Works for me!

By Mary E.

,

Georgia

,

Aug 8, 2019
Verified Reviewer

My best friend, an NP working for a gynecologist, suggested I use Revaree. I'm 61 and I can't use estrogen products because of breast cancer.

I used one package and can tell a difference, and so can my husband.

The pain is still there but not as severe. I've suffered for years so I will continue to use it in hopes the pain will subside to nothing.

My thinking years of dryness will take a while for Revaree to make it go away.

Bottom Line: Yes, I would recommend this to a friend

---

Really works!

By Toni T.

,

Washington

,

Jun 18, 2019
Verified Reviewer

I am in my mid-60s and sex has been totally impossible from the pain for a long time.

I ordered a one month supply to try. I followed the 3-day recommended use, and by the second application (6th day) there was a huge difference. Still not totally comfortable at that point, but considering it was not even possible before, this was a huge change.

By the third application (day 9) the pain was hardly worth mentioning, and the next application eliminated the pain altogether.

I would recommend waiting an hour or so after insertion before testing it out. And we still use a good lubricant, which just makes everything much easier. But be patient and give it 6 to 9 days to really feel the difference.

I had bought the first order on a one time order. But I have just signed up for the monthly auto-ship.

It has changed our lives in a very positive way, that I couldn't even imagine before.

Bottom Line: Yes, I would recommend this to a friend

---

Advertisement

---

Severe side effect

By Elena T.

,

New York

,

Jun 13, 2019
Verified Reviewer

I had finished up 6 suppositories and the next day I got burning on my skin outside my vagina. It was so bad that I could barely walk or sit. I felt like I was on fire. I contacted customer service and asked if I can send them an unused portion of my package and get a refund for them but they replied with a very detailed explanation of what this product is made of and how useful it is. I had to send them my question about refund again and this time they answered that no refunds, no returns. I believe that it is a very unfair policy of returning because the unused part of the package is completely intact. If they are so sure about the benefits of their product, why do they not allow people who cannot benefit from it to get their money back? Very disappointing experience! I have read on Amazon that several women have complained of the same issues.

Bottom Line: No, I would not recommend this to a friend

---

Burned me so badly after using 5 over the course of 2-3 weeks

By Phen S.

,

Florida

,

Apr 16, 2019
Verified Reviewer

Worked well to eliminate dryness and burning until I had finished up 5 suppositories and I started burning so badly that I had to get up after going to sleep and showering to try and get rid of the awful sensation. I felt like I was on fire. They are frightfully expensive and only available as an order of 10. So needless to say, I threw away roughly $25. Unethical to have us buy 10 at a time. Very disappointed and will report this to my gynecologist who introduced me to them. I have read on Amazon that several women have complained of the same issue.

Bottom Line: No, I would not recommend this to a friend

---

Advertisement

---