Amberen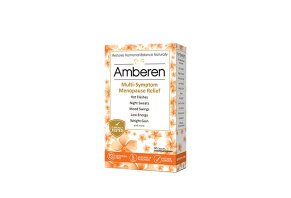 Amberen is a hormone-free supplement designed to elevate your estrogen levels in order to lessen the impact of unpleasant menopause symptoms.
What Is Amberen?
Amberen is a proprietary supplement designed to alleviate the most common symptoms of menopause. This non-herbal, non-hormonal supplement works to encourage your body to produce its own hormones to keep your body functioning optimally.
The company claims Amberen is designed to treat up to twelve menopause symptoms, including hot flashes, night sweats, sleeplessness, mood swings, low energy, difficulty concentrating, irritability, low sex drive, weight gain, joint aches, headaches, and stress.
Currently manufactured by Lunada Biomedical, Amberen became available in the United States in 2007. In the ensuing years, the company claims it has helped millions of women experience less severe menopause symptoms.
Does this match up what the facts say? We looked at the research to get a better idea.
What Does Amberen Claim to Do?
While Amberen is hormone-free, it claims to work by targeting the hormonal imbalances that lead to menopause by stimulating the body to increase its estrogen production.
As reported by the company website, the hypothalamus is the part of your brain responsible for regulating hormone levels. As you age, it loses its sensitivity to receive signals from hormone-producing organs, which can lead to imbalances, especially in your estrogen levels. Over time this triggers menopause symptoms.
Amberen promises to re-stimulate your body's natural estrogen production. It purportedly does so by restoring communication between the hypothalamus and your organs to better regulate hormone production. The goal is to encourage your body to produce more estrogen and consequently reduce the symptoms of menopause.
What are the Benefits of Amberen?
According to Amberen, this supplement has been proven effective in three double-blind, placebo-controlled randomized human clinical trials. They report that women who took Amberen daily for 90 days experienced the following improvements:
78% had fewer night sweats
91% had reduced hot flashes
80% had fewer mood swings
87% had reduced sleeplessness
However, it's important to note that these studies were sponsored by the company and the claims haven't been verified through further testing.
Says Dr. Carolyn Dean, a well-published health, diet and nutrition expert, "Amberen does not have compelling published research to back-up claims of preventing menopausal symptoms such as weight gain, mood swings, irritability, low energy, sleeplessness, and concentration issues."
How Do You Take Amberen?
We learned from the company website that Amberen should be taken as a daily dietary supplement. You are meant to take two capsules (one orange and one white) daily after eating breakfast. For best results, they suggest taking it throughout all stages of menopause, or thirty days at a minimum.
How soon will you notice improvements? The Amberen website makes it clear that every woman's journey through menopause looks different, so it's difficult to predict the severity and variety of symptoms or how quickly your system will respond to the supplement. Saying that, they report their clinical studies show many women experience symptom improvements within the first 30 days.
If this doesn't match your experience, they suggest contacting the company's health experts through NurseAid to adjust your regimen. This is the company's platform for accessing licensed nurses by phone (800 211-8021) or through the company contact page. You can request a consultation get answers to general menopause questions as well as the specifics of Amberen and your personal treatment plan.
What Ingredients are In Amberen?
We learned from the company website that Amberen contains a proprietary blend of succinates, amino acids, minerals, and Vitamin E. What does that mean for your health?
First, Consumer Labs tells us that the term "proprietary blend" is used when a company discloses the kinds of ingredients within a product without specifying their specific amounts, though they must be listed in weighted order.
This makes it difficult to make any concrete comments about the ingredient's effectiveness because we don't know whether each serving contains enough of the active ingredients to make a difference.
Saying that, we'll highlight the health claims of Amberen's ingredients. Note that each recommended dose of two capsules contains 400mg of the proprietary blend.
Ammonium Succinate: According to WebMD, ammonium succinate works to regulated the endocrine (hormone) system by acting as a signaling molecule to normalize hormone production to reduce the symptoms of menopause.

Calcium Disuccinate: The Amberen website reports that calcium disuccinate is a form of calcium your body can absorb quickly and that it contributes to bone health. This is important, because, according to Medscape, postmenopausal women tend to retain less calcium due to lower estrogen production.

Magnesium Disuccinate: Livestrong states that magnesium is critical for proper organ functioning as well as the health of your teeth and bones, but that your levels go down significantly once you hit menopause. Amberen claims to offer a variety your body can easily absorb.

Zinc Difumarate: From what we learned from Amberen, this mineral is added to the supplement to trigger activity for more than 300 enzymes and to help your system synthesize and secrete hormones.

Glycine: WebMD classifies glycine as a non-essential amino acid that is commonly used to treat sleep problems (a symptom of menopause), among other health conditions like strokes and schizophrenia.

Monosodium L-glutamate: According to Amberen, Monosodium L-glutamate (MSG) is an amino acid form of salt that regulates chemical reactions and stabilizes energy status. There might be reason to be wary of MSG. Here's what Dr. Dean told us: "When MSG reaches the brain, it can produce an MSG rush with flushing, headaches, scalp tension, migraine, and seizures. MSG also lowers the pain threshold for people with chronic pain, headaches, and fibromyalgia. This can occur in susceptible people. Who are those susceptible people? Those with magnesium deficiency."

Tocopheryl Acetate (vitamin E): The National Institutes of Health states that this fat-soluble antioxidant protects cell membranes and stabilizes general cell functioning.
Regarding production, the company claims online that each ingredient is synthesized through a manufacturing process that creates products that contain the same chemical composition as they have in nature. The final product produced in a Southern California facility that complies with FDA guidelines.
Does Amberen Have Side Effects?
There are no official adverse side effects associated with Amberen. Saying that, the company states that the product might lead to temporary weight gain through water retention and that it's not uncommon for Amberen to cause your period to return if you are still perimenopausal.
If you are post-menopausal and notice spotting or bleeding, they suggest speaking with your doctor. Likewise, they state you should talk with your doctor before taking Amberen if you've had a hysterectomy or an oophorectomy.
What Do Customer Reviews of Amberen Show?
Customer reviews of Amberen show some variance in perspective on how well this supplement works.
Amberen users who left reviews on HighYa reported that the product caused them to retain water and consequently gain weight. Others noted that it left them feeling more unsettled than before they began the treatment and that it made little difference in their menopausal symptoms.
The story on Amazon is different, as Amberen has earned four stars after more than 450 reviews. Some of the top commenters talk about the significant difference it made for them after several weeks of daily usage. Many reported that they were sleeping better at night with fewer hot flashes and experienced more energy during the day. Those who took a negative perspective tended to say they didn't think it worked as described.
What Does Amberen Cost?
At the time of writing Amberen was sold through the company website as well as through major retailers like Walmart, Walgreens, Target, and more. The company website offered a promotion for "buy two months, get one free" for $59.94 at the time of writing, but this is subject to change.
The standard price for Amberen online depends on how many months you choose to commit to.
A 30-day supply costs $49.99, 90-days is $79.99, and paying for 180 days will cost you $149.99. Each of these offers enrolls you in an automatic subscription program where you will be billed for and sent a new dosage when your first one is set to run out.
You can customize the size of future shipments or cancel your subscription entirely by calling customer service at (800) 222-3304. It's also possible to request a full refund within sixty days of your initial purchase if you don't love your results.
Our View: Is Amberen Worth It?
Now that we've looked at the research, what's our view on Amberen? There's a reason to believe that this hormone-free supplement can improve your estrogen levels in ways that mitigate the worst effects of menopause.
Customer reviews of Amberen show that many women have found it to be a viable solution for symptoms like restless sleep and hot flashes, though we found less evidence that it makes a difference in other menopause symptoms like irritability, weight gain, and joint aches. In fact, a few women stopped taking Amberen because it caused them to retain water weight.
Speaking of results, the company states you'll have the best chance of experience Amberen's effects if you take it for at least 90 days. That costs $60-$80 on the company website, which might be more than you want to spend to determine if the supplement works for you.
It's also worth noting that Amberen might not give you permanent results.
Says Caleb Backe, a health and wellness expert for Maple Holistics, "This supplement aims to restore your hormone balance. With that in mind, this is not a long-term solution to the symptoms of menopause but a temporary quick-fix that could be better resolved through a natural multi-vitamin."
Our advice? If you're interested in seeing the results Amberen promises, be prepared to commit to the product for the long term. Once you stop your daily supplementation, there's a strong chance your estrogen levels will return to their post-menopausal baseline.
Retains water

By Lisa B.

,

Long Island, NY

,

Mar 6, 2019
Verified Reviewer

Within the fourth day, my hot flashes, night sweats, and energy level and concentration were much better, This was a plus. However, I noticed the reason I was finally sleeping at night was because I was retaining my water weight so I wasn't getting up to use the bathroom four times in the night. My body can retain up to ten pounds of water weight. This is a side effect I do not like at all. This is why many women are saying they gained weight and immediately lose once they stop taking the pills, it's the water they are retaining. As of now, I am going to stop taking them, which is upsetting me. Wish there was a way they can improve the product. I do recommend if you can find a way of not retaining the water without having to take a water pill. Personally I do not want to have to take any additional pills, and the water weight will make it harder on me when exercising.

Bottom Line: Yes, I would recommend this to a friend

---

Horrible weight gain

By Robin G.

,

Cincinnati, OH

,

Jan 16, 2019
Verified Reviewer

I began using Amberen with such high hopes, but within a week I began feeling more tired than I ever have been. Then came the weight gain - 11 pounds in three weeks. I then (unfortunately) read reviews and discovered this is a common problem. I did not even finish the 30-day pack. I stopped taking it on a Friday, and by Wednesday (five days), 8 pounds came off confirming that this product was not for me. Good luck ladies.

Bottom Line: No, I would not recommend this to a friend

---

Advertisement

---

Spotting

By Rose D.

,

California

,

Sep 12, 2018
Verified Reviewer

I read about these pills, so I bought them for my daughter. She tell me they have helped her feel better. My concern is now she spotting. Is this normal? She is three weeks in. Please let me know if this has happened to other women.

Bottom Line: Yes, I would recommend this to a friend

---

It doesn't work!

By Paula B.

,

Cleveland, OH

,

May 29, 2018
Verified Reviewer

This product does not work. I took it as directed for the 90 days. I feel worse. I have more anger and anxiety than before I started Amberen. Don't waste your money. I did better on Estroven but decided to give Amberen a chance because it was supposed to tackle more of the symptoms of menopause.

Bottom Line: No, I would not recommend this to a friend

---

Advertisement

---

Don't buy

I used this product it did nothing for me; no energy, gained weight, and hot flashes were still unbearable. What's the worst is when I tried to write a review on their site, they BLOCKED me! To me, that's not fair; you need to show the bad with the good.

Bottom Line: No, I would not recommend this to a friend

---