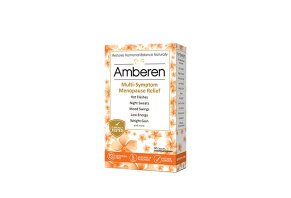 Using only safe and unique ingredients, Amberen is a clinically tested menopause relief formula promising to address the common symptoms in women.
About Amberen
Menopause may be a natural part of aging, but that doesn't mean you need to accept its unpleasant symptoms as inevitable. If you've found yourself in the market for a natural way to diminish the impacts of menopause in your life, you've probably heard of Amberen (sometimes referred to as Amberin).
As a dietary supplement designed to lessen or even eliminate the symptoms of menopause in women over 40, Amberen is formulated to provide your body with the nutrients and vitamins it needs to maintain wellness as you age. Because Amberen doesn't require a prescription, it is easy to find in online stores and on the supplement's official website.
The Causes of Menopause
Menopause might look different in every woman, but all its symptoms are traced back hormone imbalances due to aging. Once a woman hits middle age and beyond, the part of her brain in control of hormonal balance (called the hypothalamus), begins to lose its sensitivity and becomes less effective at controlling the organs responsible for hormone production, meaning that the levels of critical hormones like estrogen become diminished in the body. This chronic hormonal imbalance causes the classic symptoms of menopause, including hot flashes, weight gain, and mood changes.
While menopause is a natural part of getting older, the resulting symptoms can be uncomfortable. Amberen claims to improve the experience of menopause by encouraging the brain to naturally restore the body's hormone production to pre-menopausal levels.
How Does Amberen Work?
According to the company website, Amberen treats the symptoms of menopause by combating the hormone imbalances that cause them. By stimulating the hypothalamus to improve its ability to communicate with the rest of the body, Amberen indirectly causes the ovaries to increase their levels of estrogen production, which leads to a decrease in severity of menopausal symptoms.
Though Amberen has not been evaluated by the FDA, it claims to target the hormonal imbalances that are the underlying cause of twelve menopause symptoms, including hot flashes, sleeplessness, night sweats, mood swings and more. As a dietary supplement, Amberen doesn't contain herbal ingredients, soy or hormones. Instead, it is a proprietary blend of US patented succinates, amino acids, minerals and vitamin E that is formulated to directly benefit the hypothalamus.
According to the Amberen website, you can notice improvements from taking Amberen within 30 days. However, clinical studies have shown that most woman need to take Amberen for at least 90 days before noticing significant improvement in their menopause symptoms.
Who Should Take Amberen?
Amberen is specifically designed to be used by women over 40 who are seeking relief for their menopausal symptoms, including night sweats, hot flashes, low energy and more. If you find that your menopause has progressed to the point where it is interfering with your daily life and you're ready to lessen the impacts of your symptoms, Amberen may be right for you. According to the Amberen website, the right time to take Amberen is when your symptoms have started to prevent you from feeling like yourself.
What Amberen Promises to Achieve
When taken as part of a daily health regime, Amberen claims to provide relief for the symptoms of hormonal imbalance throughout every stage of menopause. By prompting the brain to reconnect with the organs responsible for hormone production, Amberen purportedly restores estrogen levels in the body, and in the process reduces the symptoms of hot flashes, headaches, night sweats, low sex drive, mood swings, sleeplessness, low energy, irritability, stress, and joint aches. At this time, no severe negative side effects for Amberen have been reported.
Active Ingredients in Amberen
Amberen's formula has a blend of ingredients that have been tested through decades of clinical research for their effectiveness at treating menopause. The main ingredients found in Amberen are as follows:
Ammonium Succinate: This chemical compound is known for regulating the functioning of the hypothalamus. As a mitochondrial antioxidant, ammonium succinate has been shown to work as a fuel for mitochondria and as a block against the activity of free radicals in order to stop them from causing significant damage to cells.
Calcium Disuccinate: As a natural source of easily digestible calcium, calcium disuccinate builds up and maintains strong bone tissue. This helps reduce the risk of osteoporosis, which is a condition that menopausal women are susceptible to.
Magnesium Disuccinate: Responsible for the activity of the body's enzymes as well as muscle relaxers, bone and heart health and the regulation of nerve impulses, studies have shown that increases in magnesium helps reduce the prevalence of hot flashes in women- especially cancer patients.
Zinc Difumarate: This type of zinc can be found in over 300 enzymes, and it is essential for the synthesis and secretion process for many hormones. This makes zinc useful for normalizing fat and carbohydrate metabolism to prevent the weight gain that often comes with menopause.
Glycine: Important for regulating brain cell activity, glycine is an amino acid that can combine with magnesium to promote estrogen production and help normalize emotional swings in order to stabilize moods in menopausal women.
Monosodium L-glutamate: Despite its name, this salt found in certain amino acids is significantly different than the MSG used in food. Monosodium L-glutamate has been shown to improve the performance of receptors in the brain to help stabilize moods and energy levels. However, too much MSG can lead to headaches, and some Amberen users have reported increased headaches for their first few weeks of treatment. Because each serving of Amberen contains just 40 mg of Monosodium L-glutamate, you are unlikely to suffer adverse effects unless you are highly sensitive to MSG.
Vitamin E: Found in Amberen in the form of tocopheryl acetate, vitamin E is a fat-soluble form of natural antioxidant that helps stabilize membrane structure and prevents free radicals from entering cells and compromising their hormone production.
Clinical Tests
Amberen and the active ingredients it contains have been extensively tested in clinical trials for several decades. At this point, Amberen has been registered in three separate double-blind, placebo-controlled, randomized human clinical trials, as well as a two-year observational study.
The common consensus from these studies is that Amberen is safe to use and effective for treating menopause symptoms. While some users may experience minor side effects, no serious complaints or symptoms have ever been reported from the use of Amberen.
According to the results of a randomized, double-blind, placebo-controlled experiment that was published in October of 2016,
… Amberen stabilizes patients' psychological state with a statistically significant decrease in anxiety, increased stress resistance and improved adaptability. Comparative analysis of the vital signs measurements, blood tests and urinalysis did not show any negative effects of Amberen on the patients. Our findings indicate that Amberen can be considered a method of choice to relief mild/moderate climacteric symptoms.
45 years of clinical research has shown that women who take Amberen report statistically significant improvements in many of their menopausal symptoms, especially when compared to a placebo group.
How to Take Amberen
To find relief for your menopausal symptoms with Amberen, you need to take two capsules (one orange, one white) with breakfast every morning. Improvement in your symptoms can often be noticed within a month, but the best results come from taking Amberen as directed for at least 90 days.
Every woman's experience of menopause is different, and the time it takes to notice improvement can vary considerably. For this reason, Lunada Biomedical, the company that produces Amberen, recommends talking to one of their licensed nurses if you get discouraged about the speed of your progress.
Where to Buy Amberen
Amberen is available for purchase from Amberen.com as well as most major drugstores, including CVS, RiteAid, Walgreens, Meijer, GNC and many more. When ordered directly from the company's website, Amberen costs $39.99 for a 30-day supply, or $149.99 for a 180-day supply. The company promises a 45-day money back guarantee, as well as free shipping and free returns.
Things to Keep in Mind
While research shows that taking Amberen can be a healthy, natural way for many women to lessen the severity of their menopausal symptoms, there are some things that should be kept in mind before trying Amberen for yourself.
According to Amazon online reviews, some women find that Amberen occasionally interacts with their existing medications and causes unpleasant side effects like headaches, watering eyes, itching and rashes.
Per the company website, It's not recommended that you take Amberen if you are already using an over the counter medication designed to alter your hormone levels, as they might negatively affect each other.
Women with extreme sensitivity to MSG may find that taking Amberen can lead to an increased risk of hypertension.
Some women have found that taking Amberen leads to weight gain, acne and even the return of their period.
The impacts of Amberen on patients with hormone-receptive cancers like breast cancer is unknown, as they haven't been included in Amberen's clinical trials.
Amberen should never be used by nursing or pregnant women or anyone with severe hypertension.
Final Verdict for Amberen
Today, Amberen is one of the most popular menopause relief products on the market, and the reason for its enduring popularity seems to come from the decades of clinical research it has taken part in. If you find yourself suffering from the symptoms of menopause and eager for relief, Amberen may be right for you. Because of its almost nonexistent risk of negative side effects and Amberen's 45-day money back guarantee, you have little to lose from giving this dietary supplement a try.
Retains water

By

Lisa B.

,

Long Island, NY

,

Mar 6, 2019
Verified Reviewer

Within the fourth day, my hot flashes, night sweats, and energy level and concentration were much better, This was a plus. However, I noticed the reason I was finally sleeping at night was because I was retaining my water weight so I wasn't getting up to use the bathroom four times in the night. My body can retain up to ten pounds of water weight. This is a side effect I do not like at all. This is why many women are saying they gained weight and immediately lose once they stop taking the pills, it's the water they are retaining. As of now, I am going to stop taking them, which is upsetting me. Wish there was a way they can improve the product. I do recommend if you can find a way of not retaining the water without having to take a water pill. Personally I do not want to have to take any additional pills, and the water weight will make it harder on me when exercising.

Bottom Line: Yes, I would recommend this to a friend

---

Horrible weight gain

By

Robin G.

,

Cincinnati, OH

,

Jan 16, 2019
Verified Reviewer

I began using Amberen with such high hopes, but within a week I began feeling more tired than I ever have been. Then came the weight gain - 11 pounds in three weeks. I then (unfortunately) read reviews and discovered this is a common problem. I did not even finish the 30-day pack. I stopped taking it on a Friday, and by Wednesday (five days), 8 pounds came off confirming that this product was not for me. Good luck ladies.

Bottom Line: No, I would not recommend this to a friend

---

Advertisement

---

3 out 3 people found this review helpful

Spotting

By

Rose D.

,

California

,

Sep 12, 2018
Verified Reviewer

I read about these pills, so I bought them for my daughter. She tell me they have helped her feel better. My concern is now she spotting. Is this normal? She is three weeks in. Please let me know if this has happened to other women.

Bottom Line: Yes, I would recommend this to a friend

---

5 out 6 people found this review helpful

It doesn't work!

By

Paula B.

,

Cleveland, OH

,

May 29, 2018
Verified Reviewer

This product does not work. I took it as directed for the 90 days. I feel worse. I have more anger and anxiety than before I started Amberen. Don't waste your money. I did better on Estroven but decided to give Amberen a chance because it was supposed to tackle more of the symptoms of menopause.

Bottom Line: No, I would not recommend this to a friend

---

Advertisement

---

9 out 9 people found this review helpful

Don't buy

I used this product it did nothing for me; no energy, gained weight, and hot flashes were still unbearable. What's the worst is when I tried to write a review on their site, they BLOCKED me! To me, that's not fair; you need to show the bad with the good.

Bottom Line: No, I would not recommend this to a friend

---