Ristela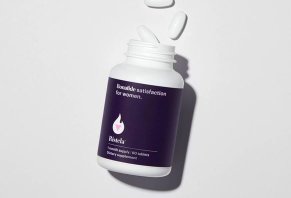 Ristela is a plant-based, non-hormonal supplement that promises to improve female sexual enjoyment and arousal without any side effects.
Ristela Review: Effectiveness, Ingredients, Cost, and More
What Is Ristela?
Ristela is a plant-based, non-hormonal product designed to boost sexual arousal and satisfaction in women.
Bonfide, the distributor of Revaree, Relizen, and Serenol, produces and sells this natural supplement as a solution for countering a low libido.
While Ristela has only been available in the United States since 2019, the company states that European women have been successfully taking it for more than two decades.
They claim that taking this supplement daily will promote healthy blood flow that leads to better sexual enjoyment over the long run.
Can a plant-based supplement really help you get your sexual mojo back? Here, we'll look at Ristela's claims and see whether they can withstand scrutiny.
How Do You Take Ristela?
To use, Ristela suggests that you take two tablets once per day at the time of your choosing with a glass of water. The tablets are scored so that you can easily crush them or break them in half if they are difficult to swallow.
Some people find the supplements upset their stomach, so consider taking it with food to minimize this risk.
You'll likely need to take it daily for a month before you start noticing its effects. There's no reason to double a dose if you occasionally forget.
The company suggests taking Ristela for as long as you want to experience its effects.
Will Ristela Work as Promised?
According to the supplement website, Ristela's central purpose is to promote healthy blood flow and circulation, two crucial factors for female sexual enjoyment. But will it really work as described?
Bonafide claims to have research that Ristela works. They reference a double-blind, placebo-controlled clinical trial that showed significant improvements for female arousal, orgasm, and desire.
By their records, participants experienced the following improvements by month two:
75% increase in arousal
74% increase in orgasm
75% increase in overall sexual satisfaction
When we spoke with Ristela customer support team, we were told that the supplement's potential impacts on men hadn't been studied yet.
About Ristela's Active Ingredients
Next, let's talk about Ristela's ingredients to see whether there's a reason to believe they can deliver the promised results. Below we've shared the pertinent facts about the supplement's active ingredients.
Unless specified, our research came from ConsumerLab.com, a leading research site for health and nutritional products.
L-Arginine (as Arginine HCI): This amino acid helps the body produce nitric oxide, which works to relax blood vessels to improve blood flow. There's preliminary evidence that it can increase arousal by controlling blood flow to the genitals, especially for men. One study focused on women who took a proprietary blend that contained L-arginine found that they experienced a 70% increase in sexual satisfaction.

L-Citrulline (as Citrulline HCI): This non-essential amino acid is converted within the body to L-arginine.

Rosvita® Rose Hips extract: Rose hips are the seed pods of wild rose plants, and they are valued for their vitamin C content. Traditionally, rose hips are used to treat bladder stones, arthritis, and colds and flues.

Pycnogenol® French Maritime Pine Bark Extract: Considered one of the most popular herbal products in the 1990s, pine bark extract has been used as a treatment for erectile dysfunction, as well as a way to improve menopause symptoms.
It's clear from this information that these ingredients have purported benefits for female sexual enjoyment.
We found that L-Arginine seems to have the most clinical research backing up its effectiveness, but it's important to note most published studies focus only on men, and further research is still needed to validate these findings for its benefits for females.
Saying that, some experts are more skeptical of any real benefit from Ristela's ingredients.
"The only effect that a plant-based non-hormonal formula could have on female arousal is a possible placebo effect," says Dr. Richard Honaker, chief medical advisor at Your Doctors Online. "There is no scientific-based evidence otherwise."
What Does Ristela Cost?
At the time of writing, Ristela costs $55 on the company website. This includes a 30-day supply of 60 tablets.
Alternatively, you can pay $45 per month by signing up for an auto-ship subscription. Shipping is included with both arrangements.
You can cancel your subscription at any time by messaging the company at support@hellobonafide.com or (833) 266-2343.
It's best to cancel at least five business days before your next delivery to avoid paying the next charge.
A company representative informed us that the company doesn't have a return or refund policy.
Analysis of Ristela Customer Reviews
Ristela was a relatively new product at the time of publication, which means that there weren't many verified reviews on its benefits.
Its Amazon listing had seven customer reviews at the time of publishing, and the supplement averages 3.5 stars out of five.
Some of these reviews are glowing. One customer wrote that she noticed a significant uptick in her arousal level after just two weeks on Ristela without any side effects.
Others noted that they appreciated the cost savings from ordering a subscription and thought the product was making a subtle difference in their lives.
A few reviewers were less enthused, saying they didn't notice any changes at all. Others wrote that the supplements triggered painful side effects such as an overactive bladder, breast tenderness, inexplicable weight gain, and mood changes.
One customer expressed concern because she'd contacted Bonafide about her side effects but was dismissed because the company claimed that the all-natural supplement wasn't causing them.
This matches what we read on the Ristela website, as Bonafide claims that this supplement doesn't have any known side effects. We looked up potential side effects for these active ingredients and didn't find anything noteworthy.
The Bottom Line: Should You Try Ristela?
Now let's summarize; does Ristela show promise for improving sexual enjoyment? The active ingredients in this supplement work to increase blood flow, which is beneficial in sexual situations.
Both L-Arginine and pine bark extract show promise in clinical studies for counteracting erectile dysfunction, though the research is more limited when it comes to women.
One thing to keep in mind is that a supplement like Ristela may owe a lot of its effectiveness to the placebo effect. That's because sexual arousal is highly suggestible, so telling women a pill will make them enjoy sex more tends to become a self-fulfilling prophecy.
You can see this playing out through the fact that previously-referenced research on the benefits of an L-Arginine proprietary blend revealed that women who took a placebo experienced a 40% increase in sexual satisfaction.
When you use that to anchor the supplement's purported improvement rate of 75%, the impacts of this supplement aren't quite as impressive.
Our view is that Ristela may help you improve your libido, but there are other strategies you can try that can be just as effective.
Dr. Carolyn Dean, a health and wellness expert, told us that improving your sex life goes beyond blood flow and circulation.
"[I recommend you] get healthy if you are not," Dr. Dean told us. "This means a proper diet, exercise, and nutrition. The main method that I recommend is magnesium…It will relax muscles and calm nerves and increase energy and help sleep and do all the things that can lead up to a satisfying sexual encounter and improved overall health."
Dr. Honaker believes that improving the intimacy in your relationship is the best way to improve sexual satisfaction.
"Since a woman's emotional state plays a role in arousal, consider seeking relationship counseling if you are unhappy. Individual Cognitive Behavioral Therapy (CBT) is effective," Ronaker said.
Overall, the consensus seems to be that Ristela may have an impact on your sexual enjoyment, but the reasons why may all be in your mind.
You might be better off spending your money in a different direction, such as by investing in healthier food, a gym membership, relationship counseling, or even date nights to restore the spark.