Livia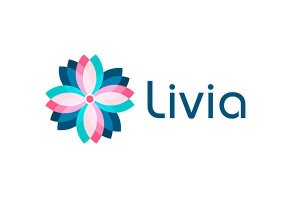 Summary
Livia sends safe electrical pulses into your abdomen to block pain sensations from reaching your brain in order to give you pain relief from period cramps. Our review examines whether this device works and who can benefit from it.
Pros
The discrete device can be worn without detection
14-hour charge should last all day
Begins relieving pain within 30 seconds
90% of users in clinical trials experienced some level of pain relief
Cons
Clinical studies involved small sample sizes
Doesn't work for all participants
Might not work for plus-sized users
Livia Review: A Detailed Look
Medically Reviewed by Anthony Dugarte, M.D., C.S.C.S
Livia is a device that allegedly helps alleviate cramps and pain related to menstrual cycles. This subtle device should be worn against your skin, and by pushing a button, you can make it stimulate your nerves to block pain.
The company claims that using Livia is safe for all users and capable of providing immediate relief.
In this analysis, we'll investigate whether Livia will work as described and whether it's worth the investment.
How Does Livia Work?
Livia's underlying technology is based on what's known as the Gate Control Theory. Dr. Anthony Dugarte, HighYa's medical researcher, said that this theory was first developed in the 60s by Ronald Melzack and Patrick Wall.
The theory's premise is that pain sensations associated with injuries are transmitted to the brain from the peripheral nerves through the spinal cord. Along the way, the pain signal encounters "gates" it must go through to continue passing on the message. If these gates are closed, your brain can't sense the pain.
"The interplay between the central and peripheral nervous systems is complex and not completely understood, says Dr. Dugarte. "Nonetheless, it seems as though a number of factors can affect whether the nerve gates are open or closed."
Products like Livia work to close these gates by stimulating your nerves so that you don't feel pain in real-time. This device uses the company's patented "SmartWave" technology to send out electric micro-pulses to prevent you from feeling menstrual pain.
Once you start using the device, you should experience some level of pain relief within a minute.
Livia utilizes similar mechanisms of action to TENS units (transcutaneous electrical nerve stimulation), as both provide pain relief through stimulatory impulses.
They will differ in their pulse frequency and the specific waveforms they send out. The company claims that Livia is the only TENS-style product optimized explicitly for period pain.
Clinical Studies
Livia has undergone three clinical trials since its creation in 2016. Below is a summary of the results from these studies:
Study 1: 61 women were assessed for menstrual pain over four cycles. 90% experienced pain relief when using a Livia prototype, 31% reported complete relief, and 32% found that it delivered relief faster than drugs.

Study 2: 102 women monitored their menstrual pain for four cycles, using an improved prototype. 86% reported pain relief, 57% experienced complete pain relief, and 72.5% stated it worked faster than drugs.

Study 3: 65 women monitored period pain for two cycles. Half used a Livia prototype, and half used a sham device that created tingling sensations for the first cycle, and then both groups switched. The study found a statistically significant difference between the prototype and sham device, and participants reported general improvements in their quality of life after using it.
Though these findings seem promising for Livia's effectiveness, it's essential to keep them in context.
"While the independent testing does add some merit to their claims, they have yet to be published," Dr. Dugarte shares. "This means they have not gone through a rigorous peer-review process to determine if their methods were sound."
Likewise, the sample sizes are small and might not be indicative of the general population's response to the device. Saying that, it seems that Livia and similar products do show promise for managing period pain for some users.
Side Effects
Livia works externally, which means that it doesn't have any impact on your menstrual cycle, hormone balance, or other functions.
Likewise, there are no known side effects associated with using the device as described.
The one exception is if you have a heart pacemaker, as the device's electrical impulses may interfere with it. Don't use Livia if you have one.
How to Use Livia
Livia comes as a small colored device (about the size of an MP3 player) with two connected electrode pads that come pre-coated with gel.
You are meant to stick onto your skin at the site of the pain, usually your lower stomach or back. Secure the device in your pocket or by clipping It to your pants and turn it on.
It's designed to be inconspicuous to wear throughout daily life or even while exercising – though keep it from getting wet.
The device can be recharged through a micro USB cable, and a single charge should last up to 14 hours.
A small LED indicator above the power button shows you what level the device is set on and how to adjust it from high to low intensity. There are 16 settings total, and tapping the button four times will increase it by one.
Pricing and Refund Information
| | One-Time Purchase | Subscription |
| --- | --- | --- |
| Cost | $199 | $8/mon. (The first month is free, $29 signup fee) |
| Warranty | 2 years | Lifetime |
| Gel Pods | 3-month supply | Lifetime supply (request more when needed) |
| Shipping | Free across the US | Free worldwide |
| Bonus Features | NA | Receive new Livia every three years |
You can also purchase a six-month supply of gel pods for $29.
With the subscription plan, you must sign up for a minimum of four months. You can return your Livia and cancel your subscription at any time after.
It's also possible to purchase Livia "skins" to change the color and texture of your device. Each costs $12.
One-time Livia purchases come with a 120-day money-back guarantee. The device must be in good physical condition, and you are responsible for all taxes and return shipping costs.
Analysis of Customer Reviews
There are more than 90 reviews for Livia on our website, averaging 3.2 stars. Here's are the most common trends:
Compliments:
Easy to take out in public when necessary
Reduces period pain as well as painkillers or a heating pad
Period relief without side effects
Complaints:
Slow refund process or refund not honored
Didn't relieve period pain as promised
Might not be big enough for plus-sized users
The Bottom Line
Livia claims to offer women with painful periods a drug-free way to get their lives back with minimal inconvenience. The existing clinical trials are small, but they indicate this electrical stimulus device could be effective for many people.
"I do like that Livia is non-invasive, drug-free, and FDA approved," says Dr. Dugarte. "Independent clinical testing shared by Livia demonstrated safety and efficacy when this product is used as directed."
However, it's important to acknowledge that there are multiple causes of menstrual pain, and a device like Livia merely works to cover up the symptoms rather than addressing the problem.
Dr. Dugarte is concerned that using the device might cause you to delay seeking medical treatment for your pain that could potentially lead to the diagnosis of a serious health issue.
If you deal with chronic, debilitating menstrual pain, it's best to talk with your doctor about your symptoms to rule out other health problems first.
Customer Reviews
Posted on Jun 7, 2021
It works!
I'm happy with Livia and the natural method to ease period cramps. I have assistants that have borrowed mine, and they took less painkillers! Isn't that amazing? Something that actually helps, and maybe we can finally relieve the pain and reduce the use of meds! This is healthier for everyone!
Length of Use: 2+ years
Bottom Line: Yes, I would recommend this to a friend
Pros and Cons
Pain relief
Cute
Practical
Loosened up a bit too fast
The cord just snapped
Could be better to attach for wheelchair users
Posted on Jun 3, 2021
No more pain!
Easy to use, several options for pain management and great colors, and it works perfectly for me! I can charge it wherever and use it whenever I need it.
Length of Use: 2+ years
Bottom Line: Yes, I would recommend this to a friend
Pros and Cons
Pain management choices
Tiny product
Colors
Expensive
Posted on Jun 2, 2021
Love it!
I love my Livia - it is more effective than any painkillers and is super discrete so I can wear it around during my day. The skins are cute and you can change them depending on how you feel!
Length of Use: 2+ years
Bottom Line: Yes, I would recommend this to a friend
Pros and Cons
Effectiveness
Discrete
Cute designs
Would like more settings
Battery charge
Posted on May 4, 2021
A helpful device
It's not magic but it helps!
It's not magic and I still have some discomfort, but the worst of the pain is gone when I use my Livia. I've had it for over a year and I use it nearly every month, I've even traveled with it. It's small, discreet, and easy to use. Ordering tip: buy extra sticky pads! They get gummy and worn out quicker than I expected.
Length of Use: 1–2 years
Bottom Line: Yes, I would recommend this to a friend
Pros and Cons
Discreet
Helpful
Easy to use
Gummy pads
Short leads
Not 100%
Posted on Apr 27, 2021
Simply great!
Finally something that really works! I've been using it for years now, I'm so so happy! Great product, can't recommend it highly enough. Thanks Livia!
Length of Use: 2+ years
Bottom Line: Yes, I would recommend this to a friend
Pros and Cons
Easy to use
Really works
Discrete
No "cons" were specified in this review
Posted on Apr 26, 2021
Works great
It really helps to relieve my period pain, if I have shooting pains I still feel them but with Livia, it is much better. I hardly have to take any additional painkillers anymore.
Length of Use: 2+ years
Bottom Line: Yes, I would recommend this to a friend
Pros and Cons
Discrete
Pain relief without taking pills
The cables of the electrodes are fragile
You don't really know when the battery is going to run out
Posted on Apr 26, 2021
Finally some relief
I suffer from endometriosis and have tried everything with no success with the pain for periods. Well, that was before trying Livia, and I have never been happier until now. I finally can get relief from my period pain, and sleep at night.
Length of Use: 6–12 months
Bottom Line: Yes, I would recommend this to a friend
Pros and Cons
The size
How easy it is to use
That I can't take it everywhere
No "cons" were specified in this review
Posted on Apr 25, 2021
Livia is a lifesaver
I have always experienced extreme cramps that leave me crying on the couch and nothing seemed to help. That is, until I bought the Livia. As soon as I turned it on, the cramps lessened to a hardly noticeable ache and my mood heightened. The brain fog from the pain cleared as well. My only complaint about the product is how quickly the sticky pads lose their ability to adhere.
Length of Use: 2+ years
Bottom Line: Yes, I would recommend this to a friend
Pros and Cons
The easily changeable electric stimulation.
The clip to hold it on clothes without it being seen.
Its general stealthy design.
Gel pads lose ability to adhere quickly.
Isn't the most comfortable of things to wear as a slightly larger woman.
Posted on Apr 16, 2021
It really works for me!
As someone who was misdiagnosed with endometriosis, I know about menstrual pain. For years, I took BC to cope with period pain, though it didn't help much. I found Livia when it first came out and was eager to try anything that could maybe help me cope with the first two days of a cycle, they are the hardest for me! I bought Livia and it was delivered relatively quickly and when I tried it for the first time, within a minute I felt the difference. Once I got used to the sensation, I forget it was there but felt significantly less cramping pain. It clipped right on top of my waistband and is quiet and wireless, so no one knows you're wearing it. It's one of those gadgets that I actually use and really works.
Length of Use: 2+ years
Bottom Line: Yes, I would recommend this to a friend
Pros and Cons
Wireless and rechargeable
Can wear all day as needed
Instant pain relief
The battery light is a little unclear
Posted on Apr 8, 2021
Grateful for Livia
It helped me to continue my normal life, almost forgetting my period. I have the worst period cramps since I was 11 years old, having bed rest and strong medications to alleviate the pain. Now with Livia and sometimes Advil or Tylenol, my pain goes away.
Length of Use: 6–12 months
Bottom Line: Yes, I would recommend this to a friend
Pros and Cons
Helps me to continue my normal life
Alleviates my pain
No need for strong medication
I can't sleep with it
I need to have it on 24 hours on my period and its battery dies in 10 hours
Posted on Apr 7, 2021
It works!
When I found out about this product, I didn't think it would work. I had tried every drug on the market, and nothing worked for me. I've had endometriosis for years and my periods are very painful. I vomit and get dizzy from the pain.
When I bought Livia I thought it wouldn't work for me, but it worked. The first time I tried it the pain disappeared within a few minutes. It was incredible. I didn't believe it. Since then every time I have my period, I use it and I can get on with my life.
I think it is an incredible invention and that I recommend it to all women who have pain in their periods.
Length of Use: 3–6 months
Bottom Line: Yes, I would recommend this to a friend
Pros and Cons
Takes away the pain
Easy to use
Small, discreet, drug-free
Short battery
Our Promise to You
In order to safeguard you and ensure helpfulness and relevance, our compliance team manually assess every customer review before it goes live.
We have a zero-tolerance policy for fake reviews, and companies cannot control or alter any reviews at any time.