Livia Reviews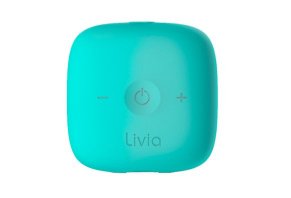 Livia is a small device that uses electromagnetic pulses to help you manage painful period cramps. Learn the theory behind Livia, how it works, and other concerns with backing a crowdfunded product.
What Is Livia?
Do painful menstrual cramps leave you sidelined for several days every month? A nifty new gadget called Livia claims it can rescue you from discomfort.
Livia is a device that's roughly the size of an iPod Nano, and this ingenious contraption has been called everything from "life changing" (Seventeen) and "an off switch for cramps" (HuffPost Women) to "The best wearable I've ever tried. Period." (TNW).
So, why isn't Livia on store shelves? Those overwhelming endorsements you just read are press resulting from Livia's Indiegogo campaign—meaning that Livia is a crowdfunded product.
If you're unfamiliar with crowdfunded products from the likes of Indiegogo and Kickstarter, know off the bat that they take some special consideration before purchasing. That's because most are merely concepts that haven't yet made it to the manufacturing line—and some never make it at all.
To learn if Livia lives up to the hype, we dug deep to learn who's behind the product campaign, their claims, and the nitty gritty of how Livia is supposed to work. But first...
What's a "Wearable" and Why Consider Tech to Relieve Cramps?
"Wearables" is short for wearable tech. And, even though the term might be new to your ears, chances are it describes products you already know and love.
Popular wearables include smartwatches, fitness trackers, even heated jackets, and smart clothing. Essentially, there's been some serious innovation happening in the realm of technology that's worn on the body, but Livia is breaking new ground.
That's because consumers looking to relieve menstrual cramps have limited options: over-the-counter pain relievers and heating pads.
Pain relievers take some time to kick in and the relief is temporary. Plus, not everyone is comfortable taking medication for several days a month. Heating pads offer more natural relief, but keep you tethered to the closest wall socket.
What Does Livia Claim to Do?
Livia claims to overcome the disadvantages of other options, offering a drug-free, portable, discreet, and instant pain relief. There are no side effects and Livia relieves pain for as long as it's being used.
Additionally, Livia claims that you can't build up a tolerance to its method of treatment. Meaning that you can buy Livia once and use it for years.
How Does Livia Treat Menstrual Cramps?
The Livia is pretty simple to use. Attach the two pulse sensors with sticky pads to wherever you're feeling cramps, including your lower belly or back, then turn it on.
You can clip the main device your waistband or pocket. Adjust the intensity with the plus and minus buttons until you find the setting that's comfortable for you. Livia claims that relief will start instantly, and pain will disappear within 15 minutes.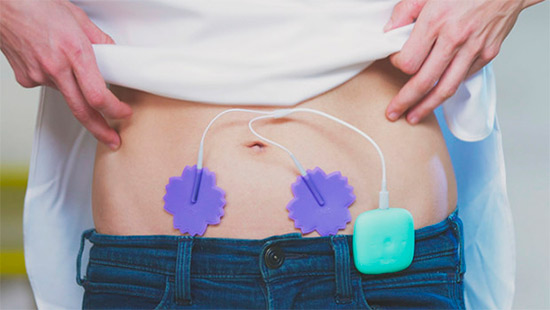 Image Credit: https://www.indiegogo.com/projects/livia-the-off-switch-for-menstrual-pain-women-health
The device works by sending out electromagnetic pulses. These are unobtrusive and interpreted more like a light heat or tickly to the user. But, those pulses keep your nerves occupied, meaning that pain signals from cramps aren't ever received by your brain.

Image Credit: https://www.indiegogo.com/projects/livia-the-off-switch-for-menstrual-pain-women-health
This type of pain management is called the gate control theory, which claims that non-painful sensory input closes the "gates" to painful input.
Why does the pulse sensation win out over pain?
To understand the premise, we'll go back to 1965, when two men who first proposed the gate theory. Neuroscientist Patrick Wall and psychologist Ronald Melzack, based their idea on several points:
First, Wall and Melzack knew that there are two types of nerve fibers: Thin-diameter nerve fibers are responsible for transmitting pain, while large-diameter nerve fibers transmit touch, pressure, and vibration.
There was also proof that the large-diameter nerve fibers (myelinated) transmitted information faster than the thin-diameter nerves (unmyelinated).
Using the concept of "fast blocks slow," Wall and Melzack proposed that sensations transmitted by the larger (faster) nerves—including touch, pressure, and vibration—could get to the brain faster.
Once there, the brain's sensors are so preoccupied with the sensations transmitted by larger nerves, that they can't perceive the pain.
For example, think of the last time that you got a paper cut or sliced your thumb and how simply grabbing the area with your other hand helps to relieve pain.
The response is also felt when you run water over a burn. It doesn't matter if the water is warm or cool, the simple sensation distracts from the pain felt in the injured area.c
It's worth noting that the gate theory, as originally proposed by Wall and Melzack, has been found to contain a few flaws and, in general, is considered a little oversimplified.
We're not sure how greatly Livia's pulses differ from the original premise. However, most customers do state that Livia works to discomfort from menstrual cramps. (More on this in reviews.)
Who's Behind Livia?
The Livia team is headed by co-founder Chen Nachum, a software engineer. However, the "brains" behind Livia's tech is credited to be Zvi Nachum, a Medical Patents Developer and electrical engineer.
The additional six members of Livia's team include several industrial designers and Professor Bari Kaplan, who is in charge of clinical research supporting the device.
By all accounts, Livia team member's combined credentials let consumers know that they're not whistling Dixie when it comes to research and product development. However, it does appear to be everyone's first go at a crowdfunded campaign—which is possible the reason why Livia supporters have been left grumbling about campaign management.
What You Should Know Before Ordering Livia
For the uninitiated, crowd-funded products are presented as an idea alone. Often there's a prototype and a business plan. However, "backers" are asked to pitch in funds to help bring the idea into reality in exchange for a reduced price on the initial rollout and the excitement of getting something before almost everyone else.
However, there are risks. Almost every crowdfunded product, experiences unexpected bumps along the way—something we talk about in The Risks of Backing a Crowdfunded Campaign—and Livia is no different.
In our article, we interviewed several inventors who had successfully launched a crowdfunded product and learned during our research is that "success" isn't just getting out what was promised to your backers.
Instead, success is also defined by good campaign management, including leaving wiggle room in your schedule for unexpected hiccups, and offering transparent communication along the way. After all, backers have given you their money and are often waiting for up to a year to receive what they paid for.
With that in mind, Livia was initially promised to ship in January 2017. This hasn't occurred, and there are two issues holding up their progress:
Livia experienced some initial manufacturing issues that resulted in the first round of inventory being smaller than expected. The problem has been fixed and they are expecting to catch up by shipping an additional 3,000-4,000 units this week, but are behind schedule.
But the orders being filled will only ship to backers outside of the United States.
That's because Livia is still waiting on FDA approval. Campaign managers state that they're expecting their approval any day now. However, backer's comments complaining about the wait state that they've been told the same thing for months.
That being said, some backers have received their Livia and have left reviews. We'll share more about those in just a moment. But first…
How Much Does Livia Cost?
Because it's not yet officially rolled out, you can still get a Livia for the Indiegogo price of $85 plus shipping (varies by location) for a single unit. Other options include:
1 Livia plus 3 colorful skins for $95
2 Livia (Sister Pack) for $155
2 Livia plus 4 skins for $165
You can also purchase extra gel pads in different quantities:
6-month supply of extra gel pads for $12
12-month supply of extra gel pads for $18
Once Livia's campaign ends, the price is estimated to go up to $149 each, with a six-month supply of gel pads increasing to $16 and a 12-month supply increasing to $18.
What Customers Are Saying About Livia
In regards to Livia's ability to effectively relieve pain, customer reviews have been somewhat mixed. Again, at the time of writing, only a small percentage of Livia orders have been fulfilled, so the reviews aren't conclusive.
However, of the five reviews, we were able to locate in Livia's comments section, only two stated that Livia completely relieved their cramps.
Two additional reviews state that Livia reduced discomfort, but that pain relievers were still needed to help with extreme pain. One reviewer stated that Livia did not work for her.
Other comments from backers who'd received Livia include concerns about how long the battery lasts. That's because Livia can't be simultaneously used and charged. Additionally, Livia's management cautions only use the device after it has been fully charged (12 hours) to ensure the battery's capacity isn't depleted.
One review also commented that, while the device is thin enough to be discreet under clothing, the flashing lights make it visible.
Other concerns unrelated to Livia's performance include high customs fees. Livia ships from Israel and customs fees aren't included in your shipping costs. Customers report paying fees up to $60-$70 for a single shipment. Many express concern that they will have to pay more customs when it's time to reorder additional gel pads.
Since Livia's over 18,000 backers expected it to ship in January, you can imagine that there are far more comments from those who are still waiting for their device.
These comments number in the hundreds, as backers become increasingly impatient for updates. While it would be too tedious to list them individually, it's worth noting that several have stated Livia is the "worst managed product launch" (Saurabh Singhi, unedited) they've experienced.
Further, backer unedited then asks, "How about you stop accepting new backers until you can fulfill your existing orders?"
Which is a potentially good point. Why is Livia continuing to accept orders as they scramble to catch up with their promised dates?
The answer is likely that, as a new company, they want to capture every possible sale. Still, the number of backers left waiting for their package leads to a better question:
Should You Order Livia?
As a women you can certainly appreciate Livia's promise, especially if you've used a hot water bottle or heating pad to help with muscle spasms. And, reviews of the device leave us hopeful that it can at least assist in easing your period cramps, if not wipe them out altogether.
The theory behind Livia is sound and, as a consumer, we'd definitely want to purchase one of these—once it's approved by the FDA and they catch up to fulfilling their existing orders.
But for now, it seems pointless to spend your money on a product that may or may not get caught up in regulation red tape for an unknown period of time. Plus, we're hoping that once approved, Livia can work out some less-expensive options for re-upping your gel pad supply.
In short, we'll definitely be keeping an eye on Livia, but will hold off on ordering until all inventory and approval issues are resolved.
Want to learn more about what to consider when backing a crowdfunded product? Check out The Risks of Backing a Crowdfunded Campaign for expert advice.
Refund not honored - SCAM

By Clio F.

,

Manson's Landing, British Columbia, Canada

,

Dec 17, 2019
Verified Reviewer

I purchased the Livia machine directly from their website and it has now been 9 months since I sent the Livia machine for refund following their exact return instructions, STILL NO REFUND.

Despite my many attempts to get my money back "risk-free" as they boast on their website, I am still waiting.

I have emailed, used Facebook Messenger, and called a number of times in the past 9 months and never have received a refund.

I have managed to speak to a representative using 1-718-715-4647, although all they say is that they are working on my case. Now the phone number goes to an answering service that instructs the caller to dial a number to be connected (always a different number, every time I call) and after pressing the said number it simply hangs up.

If this isn't the definition of a SCAM, I don't know what is. DO NOT BUY LIVIA. IT DOESN'T WORK. YOU WILL NEVER GET YOUR MONEY BACK.

I have emailed:

Support support@mylivia.com via zendesk.com

Wed, Oct 23, 12:23 PM

Your request (55629) has been received and is being reviewed by our support staff.

_______________________________

Valeria (Support) support@mylivia.com Oct 23, 22:31 IDT

Dear Clio,

I want to assure you that you have been added to the refund list.

Your request regarding your refund has been already sent to my colleague from the Financial Department, so I am sure your issue will be fixed asap.

Used Facebook Messenger:

Hello Clio! My name is Valeria and I am a customer support representative at MyLivia project.

Let me please return to your case.

We have received your package in the warehouse and you were added to the refund list.

Please note that I've forwarded your request to the Financial Department again and reminded them about the necessity to process a refund for you.

Once I have any update from them, I'll contact you.

Bottom Line: No, I would not recommend this to a friend

---

GOT NO MONEY BACK

By Antonia S.

,

Vienna, Austria

,

Dec 16, 2019
Verified Reviewer

I ordered MyLivia in December 2018 and got it in February 2019. Unfortunately, it didn't work for me (and that's ok, they do not promise that it will work for everyone), but what they DO PROMISE is that you can get your money back when you send them the item back. I did send it back within the 120 days where they promise the 100% MONEY BACK GUARANTEE. I wrote them on a weekly basis and still got NO MONEY BACK. I am really annoyed! So don't make the same mistake and order this item! It is the worst and most dubious company I've ever been in contact with!

Bottom Line: No, I would not recommend this to a friend

---

Advertisement

---

1 out 1 people found this review helpful

SCAM. DO NOT BUY.

By Brayden K.

,

Big Rapids, MI

,

Dec 10, 2019
Verified Reviewer

I did not want to write this review, but the team at MyLivia did not leave me much of an alternative. I had purchased MyLivia with the expectation that I could return the product for a full refund if it was not of satisfactory quality. I was wrong. MyLivia did little more for my girlfriend than provide her with a weird tingly feeling. It did not reduce the pain she felt. I then tried to return the faulty product for a refund but failed. I emailed MyLivia every week for a month after my refund was due, yet I did not receive the funds. I was only told that it would take a little longer every time I emailed. I will gladly remove this review if this problem can be fixed, however, I am not holding my breath.

TL;DR: MyLivia is ineffective and comes with a fake money-back guarantee.

Bottom Line: No, I would not recommend this to a friend

---

1 out 1 people found this review helpful

AVOID, SCAM!

By Leah S.

,

New York

,

Dec 4, 2019
Verified Reviewer

Not only did the product not work for me, the company has been TERRIBLE about honoring their own refund policy. I have sent back the item and MONTHS and MONTHS later no refund. AVOID at all costs. I'm out $160 and have nothing to show for it. Very bad way to do business. Shame on Livia.

Bottom Line: No, I would not recommend this to a friend

---

Advertisement

---

1 out 1 people found this review helpful

FRAUD - they took my money and so many others

By Soraya B.

,

Huntington, WV

,

Sep 26, 2019
Verified Reviewer

Pray it works for you because if it doesn't, you can count on Livia to take your money, NOT honor their money-back guarantee, and give you the runaround for MONTHS on your refund that was supposed to have been put through 10 calls ago. Fraud. I can't even believe the audacity of them to do this to so many people and simply delete comments on Facebook as if the issue doesn't exist.

Bottom Line: No, I would not recommend this to a friend

---

1 out 1 people found this review helpful

Canceled right away, didn't receive...still no refund

By Emily M.

,

United Kingdom

,

Sep 18, 2019
Verified Reviewer

After over "30 business days," as they say on their website, I still have no refund. As soon as I'd bought it I canceled it due to health reasons and not wanting to antagonise it.

They said it was being forwarded to the "financial department." I never even received the product as I canceled it right away.

Still waiting on a refund...

Bottom Line: No, I would not recommend this to a friend

---

1 out 1 people found this review helpful

No refund after returning Livia 6 months ago

By Bridie S.

,

Devon, United Kingdom

,

Aug 20, 2019
Verified Reviewer

Livia customer service confirmed that they have received my return nearly 6 months ago, but they have yet to issue my refund. I email them monthly and I am told I am in a queue. If there is a 6-month queue for all the returns then I guess that reflects how many people return their Livia, which doesn't work...need I say more.

Bottom Line: No, I would not recommend this to a friend

---

1 out 1 people found this review helpful

NO REFUND AFTER 5 MONTHS

By Hess A.

,

London, England

,

Aug 20, 2019
Verified Reviewer

It's the same old story clearly! I am another victim of this awful company. I get responses back from a "Maria" and try to get palmed off every time. The last message being:

"Unfortunately, we as support agents are not aware of the reason for delay.

We are able to forward the request to our supervisor and then they are transferred to our Financial Department"

It's been the most time-wasting and exhausting messaging of my life! They owe me and many women money! I will be taking this further.

Bottom Line: No, I would not recommend this to a friend

---

1 out 1 people found this review helpful

Do not trust this company

By Chelsea O.

,

Ohio

,

Aug 9, 2019
Verified Reviewer

Their money-back guarantee IS NOT GUARANTEED. They say they will get you your refund within 30 business days. I was one of the few people to get their refund back (after two months). I only think I got my refund in that time because I was so annoying. I emailed them weekly, I commented on their Facebook posts, I commented on others' Facebook posts, I made Facebook posts, and I made memes calling them out. When I started urging others to make a complaint with the FTC and BBB they finally got my refund to me, and then they blocked me from commenting and posting on their Facebook page. They also delete comments and posts that aren't positive about their product. Super shady business taking advantage of people in pain.

Save yourself the headache AND DO NOT BUY.

Bottom Line: No, I would not recommend this to a friend

---

1 out 1 people found this review helpful

Scam alert! Do not buy this product.

By Roberta P.

,

Catalonia, Spain

,

Aug 6, 2019
Verified Reviewer

If you're considering buying Livia for period pain, DON'T. If it doesn't work for you, you'll never get your money back. Like so many other women, I've been waiting 4 months for a refund, which never comes. They fob you off by telling you you're on the "urgent, urgent list" and hope you'll forget about it. I love what another woman on here said about trying to get a refund from Livia is more painful than an actual period! Most women who buy this over-priced product are desperate for some relief and Livia gives us just the opposite. Has anyone actually gotten a refund off them? How did you do it?

Bottom Line: No, I would not recommend this to a friend

---

2 out 2 people found this review helpful

SCAM

By Becky M.

,

Seattle, WA

,

Jul 25, 2019
Verified Reviewer

I was supposed to get a refund no later than March. It's now July and I still haven't gotten my money back. They just keep saying they've refunded me even though my bank confirmed that they haven't. THIS IS A SCAM.

Bottom Line: No, I would not recommend this to a friend

---