Livia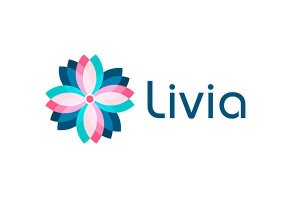 Summary
Livia sends safe electrical pulses into your abdomen to block pain sensations from reaching your brain in order to give you pain relief from period cramps. Our review examines whether this device works and who can benefit from it.
Pros
The discrete device can be worn without detection
14-hour charge should last all day
Begins relieving pain within 30 seconds
90% of users in clinical trials experienced some level of pain relief
Cons
Clinical studies involved small sample sizes
Doesn't work for all participants
Might not work for plus-sized users
Livia Review: A Detailed Look
Medically Reviewed by Anthony Dugarte, M.D., C.S.C.S
Livia is a device that allegedly helps alleviate cramps and pain related to menstrual cycles. This subtle device should be worn against your skin, and by pushing a button, you can make it stimulate your nerves to block pain.
The company claims that using Livia is safe for all users and capable of providing immediate relief.
In this analysis, we'll investigate whether Livia will work as described and whether it's worth the investment.
How Does Livia Work?
Livia's underlying technology is based on what's known as the Gate Control Theory. Dr. Anthony Dugarte, HighYa's medical researcher, said that this theory was first developed in the 60s by Ronald Melzack and Patrick Wall.
The theory's premise is that pain sensations associated with injuries are transmitted to the brain from the peripheral nerves through the spinal cord. Along the way, the pain signal encounters "gates" it must go through to continue passing on the message. If these gates are closed, your brain can't sense the pain.
"The interplay between the central and peripheral nervous systems is complex and not completely understood, says Dr. Dugarte. "Nonetheless, it seems as though a number of factors can affect whether the nerve gates are open or closed."
Products like Livia work to close these gates by stimulating your nerves so that you don't feel pain in real-time. This device uses the company's patented "SmartWave" technology to send out electric micro-pulses to prevent you from feeling menstrual pain.
Once you start using the device, you should experience some level of pain relief within a minute.
Livia utilizes similar mechanisms of action to TENS units (transcutaneous electrical nerve stimulation), as both provide pain relief through stimulatory impulses.
They will differ in their pulse frequency and the specific waveforms they send out. The company claims that Livia is the only TENS-style product optimized explicitly for period pain.
Clinical Studies
Livia has undergone three clinical trials since its creation in 2016. Below is a summary of the results from these studies:
Study 1: 61 women were assessed for menstrual pain over four cycles. 90% experienced pain relief when using a Livia prototype, 31% reported complete relief, and 32% found that it delivered relief faster than drugs.

Study 2: 102 women monitored their menstrual pain for four cycles, using an improved prototype. 86% reported pain relief, 57% experienced complete pain relief, and 72.5% stated it worked faster than drugs.

Study 3: 65 women monitored period pain for two cycles. Half used a Livia prototype, and half used a sham device that created tingling sensations for the first cycle, and then both groups switched. The study found a statistically significant difference between the prototype and sham device, and participants reported general improvements in their quality of life after using it.
Though these findings seem promising for Livia's effectiveness, it's essential to keep them in context.
"While the independent testing does add some merit to their claims, they have yet to be published," Dr. Dugarte shares. "This means they have not gone through a rigorous peer-review process to determine if their methods were sound."
Likewise, the sample sizes are small and might not be indicative of the general population's response to the device. Saying that, it seems that Livia and similar products do show promise for managing period pain for some users.
Side Effects
Livia works externally, which means that it doesn't have any impact on your menstrual cycle, hormone balance, or other functions.
Likewise, there are no known side effects associated with using the device as described.
The one exception is if you have a heart pacemaker, as the device's electrical impulses may interfere with it. Don't use Livia if you have one.
How to Use Livia
Livia comes as a small colored device (about the size of an MP3 player) with two connected electrode pads that come pre-coated with gel.
You are meant to stick onto your skin at the site of the pain, usually your lower stomach or back. Secure the device in your pocket or by clipping It to your pants and turn it on.
It's designed to be inconspicuous to wear throughout daily life or even while exercising – though keep it from getting wet.
The device can be recharged through a micro USB cable, and a single charge should last up to 14 hours.
A small LED indicator above the power button shows you what level the device is set on and how to adjust it from high to low intensity. There are 16 settings total, and tapping the button four times will increase it by one.
Pricing and Refund Information
| | One-Time Purchase | Subscription |
| --- | --- | --- |
| Cost | $199 | $8/mon. (The first month is free, $29 signup fee) |
| Warranty | 2 years | Lifetime |
| Gel Pods | 3-month supply | Lifetime supply (request more when needed) |
| Shipping | Free across the US | Free worldwide |
| Bonus Features | NA | Receive new Livia every three years |
You can also purchase a six-month supply of gel pods for $29.
With the subscription plan, you must sign up for a minimum of four months. You can return your Livia and cancel your subscription at any time after.
It's also possible to purchase Livia "skins" to change the color and texture of your device. Each costs $12.
One-time Livia purchases come with a 120-day money-back guarantee. The device must be in good physical condition, and you are responsible for all taxes and return shipping costs.
Analysis of Customer Reviews
There are more than 90 reviews for Livia on our website, averaging 3.2 stars. Here's are the most common trends:
Compliments:
Easy to take out in public when necessary
Reduces period pain as well as painkillers or a heating pad
Period relief without side effects
Complaints:
Slow refund process or refund not honored
Didn't relieve period pain as promised
Might not be big enough for plus-sized users
The Bottom Line
Livia claims to offer women with painful periods a drug-free way to get their lives back with minimal inconvenience. The existing clinical trials are small, but they indicate this electrical stimulus device could be effective for many people.
"I do like that Livia is non-invasive, drug-free, and FDA approved," says Dr. Dugarte. "Independent clinical testing shared by Livia demonstrated safety and efficacy when this product is used as directed."
However, it's important to acknowledge that there are multiple causes of menstrual pain, and a device like Livia merely works to cover up the symptoms rather than addressing the problem.
Dr. Dugarte is concerned that using the device might cause you to delay seeking medical treatment for your pain that could potentially lead to the diagnosis of a serious health issue.
If you deal with chronic, debilitating menstrual pain, it's best to talk with your doctor about your symptoms to rule out other health problems first.
Our Promise to You
In order to safeguard you and ensure helpfulness and relevance, our compliance team manually assess every customer review before it goes live.
We have a zero-tolerance policy for fake reviews, and companies cannot control or alter any reviews at any time.