Roman ED Meds
This company has claimed this profile, is getting alerted on any new customer reviews entering this page, and may engage in dialogue with its customers to address their matters.

Companies cannot pay money or provide goods in order to remove or alter customer reviews.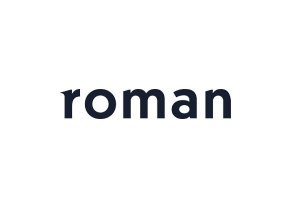 Summary
Roman is a telemedicine company that offers name brand and generic erectile dysfunction medications, shipped directly to your door. Learn more about how Roman works, as well as the safety and efficacy of their products.
Roman ED Meds Review: Is It the Right Treatment for You?
During sexual arousal, your brain, hormones and nervous system collaborate to drive the blood necessary for an erection into your penis. Erectile dysfunction (ED) can occur when one or more of these systems perform inadequately.
Multiple treatments are available as ED affects up to 20% of men worldwide; first-line therapy is phosphodiesterase type 5 (PDE5) inhibitors. These drugs work to increase blood flow to your penis during arousal by blocking the action of PDE5, an enzyme involved in the regulation of blood vessel diameter.
To combat this problem, Roman offers a subscription service for Viagra and Cialis, as well as their generic forms, through telemedicine technology. From the comfort of your own home, you can manage your ED in conjunction with a U.S. licensed physician and have medication shipped to your doorstep.
In this review, we will tackle Roman's subscription process, as well as the safety and efficacy of their products.
Getting Started with Roman
Treating your ED with Roman is achievable in 3 steps:
1. Your Online Visit
As Roman provides medical treatments for ED that require a prescription, the first step is to meet with a physician. This service is offered remotely through its telemedicine platform. Simply submit your photo, a form of I.D., and a recent blood pressure measurement to determine eligibility.
While ED is often due to malfunction of one or more of the aforementioned systems, certain lab tests can paint a clearer picture of the underlying cause. Though not mandatory, Roman strongly suggests sending them your recent blood tests for a free analysis - this serves to optimize your treatment.
Physicians diagnose your ED through Roman's platform as they would for any in-office visit – through a detailed history of your symptoms and assessment of your general health. You play a key role in this process as this information can help determine the best treatment options available for your needs.
Roman lists a number of important details to share with the physician prior to starting treatment; be honest and thorough. Any history of heart, vascular or lung disease, should be detailed. Recent surgery, liver or kidney issues, as well as a list of current medications must be shared during this visit.
2. Free Deliveries
Once the appropriate treatment for your ED is selected, place your order, and simply wait as your medication arrives with free 2-day shipping. The total cost to manage your ED is a function of the number of doses and shipping frequency.
3. Follow-Up Care
Roman offers free, unlimited follow-up visits through their telemedicine platform. Your feedback is an important part of your treatment plan. You can message the physician anytime so they are aware of the results, if any, as well as side effects you may be experiencing. Your treatment regimen may need to be altered.
What Medications Are Available and How Do They Work?
Roman offers Viagra and Cialis, as well as their generic forms, sildenafil and tadalafil, respectively. What's the difference between the name brand and generic medications? Pricing (more on this later).
As the patent for Viagra expired in 2012, while that of Cialis in 2018, other drug companies began the manufacturing and sale of the generics. The U.S. Food and Drug Administration (FDA) requires rigorous testing prior to a drug being made available for sale.
Additionally, the FDA applies standards to all generic medications requiring them to be created equally when compared to the brand name in terms of dosage, safety, and efficacy.
Sildenafil
ED occurs when psychological cardiovascular, or metabolic factors hinder the flow of blood to your penis. The latter two categories can be effectively managed with ED medications.
Sildenafil is the active ingredient in Viagra. As a phosphodiesterase type 5 (PDE5) inhibitor, it is considered first-line treatment for ED. This drug class works to block the action of PDE5, an enzyme that works to control the diameter of blood vessels, thereby allowing for increased blood flow.
When you become sexually aroused, sildenafil facilitates the blood flow into your penis that is required to achieve and maintain an erection. Doses at 25, 50, or 100mg are labeled as Viagra or its generic form. Doses at 20mg are considered Revatio or its generic form.
While Revatio and its generic are used to treat pulmonary hypertension, the Roman physicians may prescribe doses of this medication at 20mg increments in what is technically an "off-label" use. Again, the active ingredient, safety, efficacy, and route of administration are identical to Viagra.
Sildenafil has an onset of action of about 30 minutes, while it works for up to six hours. As this is the shorter-acting medication of the available options, it is prescribed to be used as needed and must be taken within 4 hours of sexual activity.
Tadalafil
Also a PDE5 inhibitor, tadalafil is the active ingredient in Cialis and its mechanism of action is comparable to that of sildenafil. Tadalafil differs from sildenafil in that its effects can last 24-36 hours. This allows for both a daily dosing regimen or an as-needed prescription.
Roman offers both Cialis and generic tadalafil in identical doses. For both medications, 2.5–20mg tablets can be prescribed for as-needed use. If you prefer daily use, only the 2.5 and 5mg doses are available for this treatment option.
The Takeaway
Viagra and Cialis are the brand names for sildenafil and tadalafil, respectively. Sildenafil is short-acting and prescribed as needed, whereas as tadalafil's longer-lasting actions allow for both daily and as-needed use. The brand name drugs are identical to their generic counterparts, though the generics are significantly cheaper.
Do These Medications Work?
Sildenafil
The International Index of Erectile Capacity Form (IIEF) is a commonly used survey to measure various self-reported aspects of erectile performance, where higher scores indicate improvement. On average, this score nearly doubled after 1-month of treatment with 50mg of sildenafil in 141 patients and more than nearly 85% of patients in this study benefited from treatment at 6-months.
In another study, the efficacy of tadalafil and sildenafil did not differ. Additionally, the FDA reports a study comparing sildenafil treatment to placebo in 1,700 patients in which more than 60% of those treated with sildenafil reported improved erectile performance.
Tadalafil
In a review of 4 studies comparing once daily and as-needed use of tadalafil in more than 1,000 patients, daily use demonstrated a greater improvement in IIEF. Another investigation demonstrated successful intercourse within 30-minutes of tadalafil treatment in 52% of the patients included.
The FDA cites more than 20 studies, 7 of which were randomized controls, in which the efficacy of tadalafil was investigated in over 4,000 subjects. The US trials demonstrated significant improvements in patient-reported erectile performance in both academic and community centers.
The Takeaway
Both drugs offer a variety of effective dosing regimens for the treatment of ED. The timing of doses with regards to sexual activity differs between sildenafil and tadalafil, with patient and partner preferences in favor of the latter.
What's Your Best Option?
Roman offers plenty of options. Your medical history and symptoms will largely determine your eligibility for telemedicine ED treatment. Once approved, your price range, frequency of sexual activity, and interest in spontaneity will guide your physician in selecting the best plan of care for your needs.
In light of its shorter-acting effects, sildenafil requires careful planning as you must take it 4 hours prior to sexual activity. Tadalafil eliminates this requirement as it can be active for up to 72 hours. This increases spontaneity, while also allowing for daily or as needed dosing; both patients and partners seem to prefer it for these reasons.
The Takeaway
Consider your frequency of sexual activity, interest in spontaneity, and budget as Roman can offer options to accommodate most needs.
Are These Medications Safe?
While efficacy is similar for both drugs, they also have similar safety profiles. Nonetheless, they are not without risk, nor are they for everyone with ED.
The rate of adverse effects are similar for both medications and commonly include:
Nasal congestion
Upset stomach
Headaches
Back pain
Being thorough in your medical history prior to starting treatment is imperative. Share any history of heart, lung, liver, kidney, or bleeding disorders.
Be sure to provide a detailed medication list; drugs used to treat chest pain, blood pressure, HIV, and fungal infections can interact dangerously with ED medications.
Lastly, priapism, a painful, prolonged erection, is a medical emergency – seek immediate medical attention.
The Takeaway
A detailed medical history, description of symptoms, and a list of medications are important to share with your physician as ED treatment can be dangerous in certain conditions or in conjunction with certain medications.
How Much Does Treatment Cost?
This will vary patient to patient and depend on numerous factors, though there are some constants. For example, your membership, first visit, subsequent follow-up visits, and 2-day shipping remain free. No commitment necessary.
Pricing can vary greatly depending on medication, dosing regimen, and frequency of sexual encounters. Price per dose for each medication is detailed in the chart below.
Sildenafil (Revatio)
Generic Viagra
Viagra
Generic Cialis
Daily Generic Cialis
Branded Cialis
Daily Calis
Dose (mg)
Price
Dose (mg)
Price
Dose (mg)
Price
Dose (mg)
Price
Dose (mg)
Price
Dose (mg)
Price
Dose (mg)
Price
20
$2
25
$34
25
$70
2.5
$11
2.5
$8
2.5
$17
2.5
$13
40
$4
50
$34
50
$70
5
$11
5
$8
5
$17
5
$13
60
$6
10
$34
100
$70
10
$44
10
$69
80
$8
20
$44
20
$69
100
$10
Can I Obtain These Medications Elsewhere?
Both the brand name and generic medications are available from other telemedicine services with similar platforms that allow you to skip the office visit and have your medication delivered to your doorstep.
BlueChew and hims are 2 options; both offer free visit with licensed physicians, free 2 day delivery, and a variety of dosing regimens.
Generic forms of first-line ED medications decrease cost substantially, monthly orders can still add up, however. A daily regimen of generic Cialis would approach $3,000 for a year of treatment with Roman.
Though these telemedicine services are convenient, it may be worth exploring the potential of your insurance provider in covering ED treatment (Medicare and many private insurers do not cover medications used to treat ED).
Another option includes doing some investigation of your own as regular drugstores and some discount online programs offer these medications at just pennies on the dollar.
What Are Customers Saying About Roman?
Based on 48 reviews here on HighYa, Roman averages 3.1-stars (out of five). In examining these reviews, it is apparent that Roman staff is extremely responsive – definitely a plus for this company. They seem to readily reply to both favorable reviews, as well as to those form customers with poor experiences.
While most praise Roman for their fast shipping and effective products, their less than perfect rating is related mainly to negative reviews from more recent customers that had a single issue with the shipping process. These reviews centered around experiencing slower than advertised transit or being charged in error.
In these instances, a representative from Roman reached out to apologize and rectify the situation by providing additional contact information as well as offering credit for another shot at their services.
Digging back farther, there were also a number of complaints regarding the fee for the initial visit. As Roman no longer charges this fee it seems as though they are willing to implement customer feedback.
The Bottom Line
Roman provides a wide variety of dosing regimens for brand name and generic ED treatments. The medications offered are effective, and safe if used correctly.
These medications are not without risk, however, so sharing a detailed medical history is paramount prior to starting treatment. Dangerous effects can occur in those being treated for cardiovascular-related issues.
The convenience of telemedicine treatment for ED can be costly; even the pricing for generic medication adds up over time.
Customer Reviews
Posted on Mar 17, 2018
Very good
I was very skeptical about ordering from an online pharmacy, but after talking with my doctor and weighing the options, I decided to give it a try. I was pleasantly surprised as to the professionalism, and respect for privacy of this site. The free trial pack came in a timely manner, and was very discreet. I will continue to order from here without hesitation.
Bottom Line: Yes, I would recommend this to a friend
Posted on Apr 25, 2018
Convenient, discreet, professional
I was very happy with my experience with Roman. The entire process was very smooth and convenient. I would say the what I was most hesitant about was the interaction(s) with the physicians, but I was pleased with the professionalism and response time of the physician matched with me. I had several questions over the course of a few days, and they answered them all with great detail that made me feel comfortable. Shipping was fast and discreet. I would definitely recommend Roman.
Bottom Line: Yes, I would recommend this to a friend
Posted on Apr 24, 2018
Everything should be like this
I'm a married guy in late 30s and had taken others' V, but would never have asked my doctor for ED meds. I don't know why. I learned of this from a friend or probably wouldn't have even clicked. It's super easy and an obviously legit startup with reputable media coverage. I can easily login to see or change delivery. I get emails BEFORE and after auto-renew. They come in a cute little box and WORK just like they should! This is literally how easy I want everything to be. The low review on this site sounds ridiculous to me. I will continue to "getroman."
Bottom Line: Yes, I would recommend this to a friend
Posted on Apr 24, 2018
Saved my marriage!
I first saw ads for Roman in my Facebook feed and didn't think it was real. I mean, Viagra basically invented internet spam. But, I needed Viagra, couldn't spend $70 a pill, and decided to give it a shot.
It was absolutely amazing. I went through the original on-boarding in about 10 minutes, sent a few messages back and forth with the doc, and that was it. I was approved! A few days later a box showed up at my door. What would have cost me $400 cost me $48.
I was a bit worried that the box would say what it was so I pinged customer support and they let me know that it's shipped in an all brown box with no mention of Roman on the outside. This was crucial for me. Privacy is obviously a huge concern here.
I've ordered a few times since and have actually had a conversation on the phone with one of the docs about a few ways to optimize my regimen.
I would definitely recommend and will continue to use Roman for as long as I can.
Bottom Line: Yes, I would recommend this to a friend
Posted on May 13, 2018
Great idea
I tried Roman for the first time. I have been treated in the past for ED, however, it's very expensive. So I gave Roman a try and so far it's great. I answered a few questions, and I received a phone call from their doctor who had an office about two hours away from where I lived, so I knew he was real. I talked to the doctor longer then I did my PCP and found the best medication and route to go with and within four hours my medication was sent by UPS and it showed up in a brown box and was everything they said it would be. The medication was 100% real. Also, just to let you know, in the past I've gotten fake V from a different company, and it's always something I don't want to go through again.
Bottom Line: Yes, I would recommend this to a friend
Posted on May 22, 2018
Couldn't be easier.
To be honest, even the name Roman didn't appear to me to be legit at the beginning. But I needed to impress my girlfriend, so I gave it a try.
The whole process literally took like seven minutes. I did everything by phone while just sitting in a grocery store parking lot in a car.
I was approved, and they say the parcel is on its way. Wow! Too good to be true but it seems like it is! I'm happy so far!
Bottom Line: Yes, I would recommend this to a friend
Posted on Jun 7, 2018
Easy, works, economical!
Just as the article describes, I filled out a brief online questionnaire, then a physician called me by phone and discussed my case. He agreed I was a good candidate for the drug, so he created a prescription and order, and in about one week, I had my first eight doses of generic sildenafil (Viagra). I would highly recommend going that route as it is much cheaper than the brand-name drug and it worked wonderfully for me!
I have since found it easy to send follow-up messages to the online doctor I was assigned to and get prompt replies. I have since changed my ordering quantity to get more doses per month since they have proven themselves to be safe, reliable and accessible.
This service is really terrific and is something MUCH needed in the medical community. My only word of advice is to remember, like they say, this service and doctor are not intended to replace your regular doctor, and what you do, TELL THE TRUTH on the medical questionnaire and when you talk to the doctor by phone. Remember, he is relying on your honesty to know if it is safe to prescribe you an ED medication. If you lie about other health conditions, drugs you are taking, etc., you can really harm or kill yourself, so do the right thing. Be straight up with them, and they will be straight with you.
Bottom Line: Yes, I would recommend this to a friend
Posted on Jul 28, 2018
Will be a huge help
I spoke to my doctor about ED. I am over 50, and things don't respond like they're 30 years old anymore.
At my last doctor visit, he gave me some of the Viagra sample packs to try. The ones they get for free to hand out. It was amazing to be back in peak performance again. I went back several weeks later for a prescription. My health plan would be $160 for four pills. Heck no! I tried several different T-boosting supplements with little to no results.
I saw a commercial for Roman, signed up, and they answered the questions. I spoke to a doctor, and they're being shipped. Much less expensive and right to my door and less than the supplements that did nothing.
Bottom Line: Yes, I would recommend this to a friend
Posted on Sep 18, 2018
Great product
This is a great product. It gave me a strong erection that lasted about 20 minutes. Ended in a very powerful way. I have not had an experience like this in a very long time. I would definitely recommend it.
Bottom Line: No, I would not recommend this to a friend
Posted on Sep 25, 2018
Heck yeah!
I was/am very impressed with this service. The entire process was seamless and I received the product at my door in less than a week. And wow, it worked amazingly, for this guy anyway. Awesome feeling when you know you rocked somebody's world beyond a shadow of a doubt.
Bottom Line: Yes, I would recommend this to a friend
Company Response from Roman Health
May 15, 2019
Thanks so much, J! You know where to find us if you need us :)
Posted on Oct 27, 2018
Fast service, real meds!
I started the process around 6 pm on Tuesday and got my meds (generic Viagra) around noon on Friday! I ordered the 6/60mg, but received 18/20mg! Which was better because I was going to try to cut the 60mg in 1/4 with a pill splitter anyway! I try one 20mg around 4 and then proceed to give my wife 45 minutes of the best sex in years! She wanted to call off from work for more fun! So meds are definitely real! I am writing this at 6 am Saturday morning and I'm still getting extremely hard erections like I was 16 years old (I'll be 50 in February)! I am waiting for my wife to get home from work now.
Bottom Line: Yes, I would recommend this to a friend
Our Promise to You
In order to safeguard you and ensure helpfulness and relevance, our compliance team manually assess every customer review before it goes live.
We have a zero-tolerance policy for fake reviews, and companies cannot control or alter any reviews at any time.