Roman ED Meds
This company has claimed this profile, is getting alerted on any new customer reviews entering this page, and may engage in dialogue with its customers to address their matters.

Companies cannot pay money or provide goods in order to remove or alter customer reviews.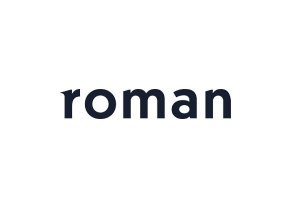 Summary
Roman is a telemedicine company that offers name brand and generic erectile dysfunction medications, shipped directly to your door. Learn more about how Roman works, as well as the safety and efficacy of their products.
Roman ED Meds Review: Is It the Right Treatment for You?
During sexual arousal, your brain, hormones and nervous system collaborate to drive the blood necessary for an erection into your penis. Erectile dysfunction (ED) can occur when one or more of these systems perform inadequately.
Multiple treatments are available as ED affects up to 20% of men worldwide; first-line therapy is phosphodiesterase type 5 (PDE5) inhibitors. These drugs work to increase blood flow to your penis during arousal by blocking the action of PDE5, an enzyme involved in the regulation of blood vessel diameter.
To combat this problem, Roman offers a subscription service for Viagra and Cialis, as well as their generic forms, through telemedicine technology. From the comfort of your own home, you can manage your ED in conjunction with a U.S. licensed physician and have medication shipped to your doorstep.
In this review, we will tackle Roman's subscription process, as well as the safety and efficacy of their products.
Getting Started with Roman
Treating your ED with Roman is achievable in 3 steps:
1. Your Online Visit
As Roman provides medical treatments for ED that require a prescription, the first step is to meet with a physician. This service is offered remotely through its telemedicine platform. Simply submit your photo, a form of I.D., and a recent blood pressure measurement to determine eligibility.
While ED is often due to malfunction of one or more of the aforementioned systems, certain lab tests can paint a clearer picture of the underlying cause. Though not mandatory, Roman strongly suggests sending them your recent blood tests for a free analysis - this serves to optimize your treatment.
Physicians diagnose your ED through Roman's platform as they would for any in-office visit – through a detailed history of your symptoms and assessment of your general health. You play a key role in this process as this information can help determine the best treatment options available for your needs.
Roman lists a number of important details to share with the physician prior to starting treatment; be honest and thorough. Any history of heart, vascular or lung disease, should be detailed. Recent surgery, liver or kidney issues, as well as a list of current medications must be shared during this visit.
2. Free Deliveries
Once the appropriate treatment for your ED is selected, place your order, and simply wait as your medication arrives with free 2-day shipping. The total cost to manage your ED is a function of the number of doses and shipping frequency.
3. Follow-Up Care
Roman offers free, unlimited follow-up visits through their telemedicine platform. Your feedback is an important part of your treatment plan. You can message the physician anytime so they are aware of the results, if any, as well as side effects you may be experiencing. Your treatment regimen may need to be altered.
What Medications Are Available and How Do They Work?
Roman offers Viagra and Cialis, as well as their generic forms, sildenafil and tadalafil, respectively. What's the difference between the name brand and generic medications? Pricing (more on this later).
As the patent for Viagra expired in 2012, while that of Cialis in 2018, other drug companies began the manufacturing and sale of the generics. The U.S. Food and Drug Administration (FDA) requires rigorous testing prior to a drug being made available for sale.
Additionally, the FDA applies standards to all generic medications requiring them to be created equally when compared to the brand name in terms of dosage, safety, and efficacy.
Sildenafil
ED occurs when psychological cardiovascular, or metabolic factors hinder the flow of blood to your penis. The latter two categories can be effectively managed with ED medications.
Sildenafil is the active ingredient in Viagra. As a phosphodiesterase type 5 (PDE5) inhibitor, it is considered first-line treatment for ED. This drug class works to block the action of PDE5, an enzyme that works to control the diameter of blood vessels, thereby allowing for increased blood flow.
When you become sexually aroused, sildenafil facilitates the blood flow into your penis that is required to achieve and maintain an erection. Doses at 25, 50, or 100mg are labeled as Viagra or its generic form. Doses at 20mg are considered Revatio or its generic form.
While Revatio and its generic are used to treat pulmonary hypertension, the Roman physicians may prescribe doses of this medication at 20mg increments in what is technically an "off-label" use. Again, the active ingredient, safety, efficacy, and route of administration are identical to Viagra.
Sildenafil has an onset of action of about 30 minutes, while it works for up to six hours. As this is the shorter-acting medication of the available options, it is prescribed to be used as needed and must be taken within 4 hours of sexual activity.
Tadalafil
Also a PDE5 inhibitor, tadalafil is the active ingredient in Cialis and its mechanism of action is comparable to that of sildenafil. Tadalafil differs from sildenafil in that its effects can last 24-36 hours. This allows for both a daily dosing regimen or an as-needed prescription.
Roman offers both Cialis and generic tadalafil in identical doses. For both medications, 2.5–20mg tablets can be prescribed for as-needed use. If you prefer daily use, only the 2.5 and 5mg doses are available for this treatment option.
The Takeaway
Viagra and Cialis are the brand names for sildenafil and tadalafil, respectively. Sildenafil is short-acting and prescribed as needed, whereas as tadalafil's longer-lasting actions allow for both daily and as-needed use. The brand name drugs are identical to their generic counterparts, though the generics are significantly cheaper.
Do These Medications Work?
Sildenafil
The International Index of Erectile Capacity Form (IIEF) is a commonly used survey to measure various self-reported aspects of erectile performance, where higher scores indicate improvement. On average, this score nearly doubled after 1-month of treatment with 50mg of sildenafil in 141 patients and more than nearly 85% of patients in this study benefited from treatment at 6-months.
In another study, the efficacy of tadalafil and sildenafil did not differ. Additionally, the FDA reports a study comparing sildenafil treatment to placebo in 1,700 patients in which more than 60% of those treated with sildenafil reported improved erectile performance.
Tadalafil
In a review of 4 studies comparing once daily and as-needed use of tadalafil in more than 1,000 patients, daily use demonstrated a greater improvement in IIEF. Another investigation demonstrated successful intercourse within 30-minutes of tadalafil treatment in 52% of the patients included.
The FDA cites more than 20 studies, 7 of which were randomized controls, in which the efficacy of tadalafil was investigated in over 4,000 subjects. The US trials demonstrated significant improvements in patient-reported erectile performance in both academic and community centers.
The Takeaway
Both drugs offer a variety of effective dosing regimens for the treatment of ED. The timing of doses with regards to sexual activity differs between sildenafil and tadalafil, with patient and partner preferences in favor of the latter.
What's Your Best Option?
Roman offers plenty of options. Your medical history and symptoms will largely determine your eligibility for telemedicine ED treatment. Once approved, your price range, frequency of sexual activity, and interest in spontaneity will guide your physician in selecting the best plan of care for your needs.
In light of its shorter-acting effects, sildenafil requires careful planning as you must take it 4 hours prior to sexual activity. Tadalafil eliminates this requirement as it can be active for up to 72 hours. This increases spontaneity, while also allowing for daily or as needed dosing; both patients and partners seem to prefer it for these reasons.
The Takeaway
Consider your frequency of sexual activity, interest in spontaneity, and budget as Roman can offer options to accommodate most needs.
Are These Medications Safe?
While efficacy is similar for both drugs, they also have similar safety profiles. Nonetheless, they are not without risk, nor are they for everyone with ED.
The rate of adverse effects are similar for both medications and commonly include:
Nasal congestion
Upset stomach
Headaches
Back pain
Being thorough in your medical history prior to starting treatment is imperative. Share any history of heart, lung, liver, kidney, or bleeding disorders.
Be sure to provide a detailed medication list; drugs used to treat chest pain, blood pressure, HIV, and fungal infections can interact dangerously with ED medications.
Lastly, priapism, a painful, prolonged erection, is a medical emergency – seek immediate medical attention.
The Takeaway
A detailed medical history, description of symptoms, and a list of medications are important to share with your physician as ED treatment can be dangerous in certain conditions or in conjunction with certain medications.
How Much Does Treatment Cost?
This will vary patient to patient and depend on numerous factors, though there are some constants. For example, your membership, first visit, subsequent follow-up visits, and 2-day shipping remain free. No commitment necessary.
Pricing can vary greatly depending on medication, dosing regimen, and frequency of sexual encounters. Price per dose for each medication is detailed in the chart below.
Sildenafil (Revatio)
Generic Viagra
Viagra
Generic Cialis
Daily Generic Cialis
Branded Cialis
Daily Calis
Dose (mg)
Price
Dose (mg)
Price
Dose (mg)
Price
Dose (mg)
Price
Dose (mg)
Price
Dose (mg)
Price
Dose (mg)
Price
20
$2
25
$34
25
$70
2.5
$11
2.5
$8
2.5
$17
2.5
$13
40
$4
50
$34
50
$70
5
$11
5
$8
5
$17
5
$13
60
$6
10
$34
100
$70
10
$44
10
$69
80
$8
20
$44
20
$69
100
$10
Can I Obtain These Medications Elsewhere?
Both the brand name and generic medications are available from other telemedicine services with similar platforms that allow you to skip the office visit and have your medication delivered to your doorstep.
BlueChew and hims are 2 options; both offer free visit with licensed physicians, free 2 day delivery, and a variety of dosing regimens.
Generic forms of first-line ED medications decrease cost substantially, monthly orders can still add up, however. A daily regimen of generic Cialis would approach $3,000 for a year of treatment with Roman.
Though these telemedicine services are convenient, it may be worth exploring the potential of your insurance provider in covering ED treatment (Medicare and many private insurers do not cover medications used to treat ED).
Another option includes doing some investigation of your own as regular drugstores and some discount online programs offer these medications at just pennies on the dollar.
What Are Customers Saying About Roman?
Based on 48 reviews here on HighYa, Roman averages 3.1-stars (out of five). In examining these reviews, it is apparent that Roman staff is extremely responsive – definitely a plus for this company. They seem to readily reply to both favorable reviews, as well as to those form customers with poor experiences.
While most praise Roman for their fast shipping and effective products, their less than perfect rating is related mainly to negative reviews from more recent customers that had a single issue with the shipping process. These reviews centered around experiencing slower than advertised transit or being charged in error.
In these instances, a representative from Roman reached out to apologize and rectify the situation by providing additional contact information as well as offering credit for another shot at their services.
Digging back farther, there were also a number of complaints regarding the fee for the initial visit. As Roman no longer charges this fee it seems as though they are willing to implement customer feedback.
The Bottom Line
Roman provides a wide variety of dosing regimens for brand name and generic ED treatments. The medications offered are effective, and safe if used correctly.
These medications are not without risk, however, so sharing a detailed medical history is paramount prior to starting treatment. Dangerous effects can occur in those being treated for cardiovascular-related issues.
The convenience of telemedicine treatment for ED can be costly; even the pricing for generic medication adds up over time.
Customer Reviews
Posted on Jul 31, 2018
Edit
To those making comments about my review, it is not illegal to perform telemedicine in Nebraska; it's illegal to prescribe without actually talking to a doctor per Nebraska telemedicine laws. I was expecting a call from a doctor and instead just received the medication in my mail. I immediately canceled my service and reported them. Weird also how a lot of positive reviews on this site are from New York, the headquarters of Getroman. Hmmm...
Bottom Line: No, I would not recommend this to a friend
Posted on Aug 9, 2018
Big rip-off warning
After taking a charge of $15 on my credit card they didn't contact me as they said they would, and repeated calls to the listed phone number gets you to a Google Phone Number with a "leave a message." Discover Card refuses to refund me the charge, even after Roman repeated fails on returning my phone calls and website messages. So avoid Roman and Discover Card.
Bottom Line: No, I would not recommend this to a friend
Posted on Oct 15, 2018
They are a fraud and scam
It was my first experience with them and I have never received my order or my $15 back. I checked my bank account and sure enough, they took the money. Since our last correspondence, they stopped replying. I will now do all that's possible to report them everywhere I can. Beware of angry old men!
Bottom Line: No, I would not recommend this to a friend
Posted on Oct 21, 2018
Sent incorrect dosage
I purchased six 60 mg tablets for $36, instead, I received six 20 mg tablets. I contacted customer service and received a reply saying that I need to take three 20 mg tablets to get the 60mg. 60mg tablets are $6 a piece and 20 mg tablets are $2 a piece.
Bottom Line: No, I would not recommend this to a friend
Posted on Nov 3, 2018
No luck!
This is an embarrassing subject. I signed up, went through the process, I described what the website asks, the phases, questions asked, gave my full information, credit card, and the instructions said you will be billed $15 and the rest after the doctor speaks to you. I contacted via email and online chat, my email and info were up on the site over 24 hours and bang, my info disappeared. All I got was you never completed the forms, no one looked into anything, and now I'm going to be charged 15 bucks, and I'll have to tell them I contacted an ED company about meds. These people do not care...all they said was you did not complete the process? How would I know the details then...
They got my 15 bucks, and all I got was the runaround. My advice is to go to the real doctor, these guys are clowns. Sorry, no one cares at Roman or is accountable, you're just not here on our records Mr. Smith/Jones or whatever, see YA! Sammy...very poor customer service. Feel free to make an effort Roman.
Bottom Line: No, I would not recommend this to a friend
Posted on Nov 7, 2018
Stay away
I used this to quit smoking; they sent a prescription for Bupropion. I had a severe reaction to this medication. Then in a couple of weeks I received another bottle, and they charged my account, at which point I contacted them to refund my money for a product I could not take, and of course they refused, citing FDA guidelines, which does not state they cannot refund the money on a product I do not want, nor can I use it.
Bottom Line: No, I would not recommend this to a friend
Posted on Nov 22, 2018
Total Scam and ripoff
They advertise the first month free but still charge you. You have to argue with customer service. Stay away from this horrible service. You will be sorry. Can't believe pro sports lets a scam advertise on national TV.
Bottom Line: No, I would not recommend this to a friend
Company Response from Roman Health
Jul 16, 2019
Hi J, this is Mike - I'm the Community Manager here at Roman. I've reached out privately to catch up on what happened here - I'm afraid my initial reply to you (last year) was never posted! Looking forward to reconnecting if your issue hasn't been resolved already. Thanks for getting in touch and apologies for any frustration.
Best,
Mike
Posted on Dec 7, 2018
Scam
I filled out a bunch of questions and paid $15 for a doctor to "review my chart," only to be automatically denied based on my answers to the questions. They could have rejected me without a doctor's review and without taking my money, so thanks for the scam.
Bottom Line: No, I would not recommend this to a friend
Company Response from Roman Health
Jan 17, 2019
Hi This is Mike from the Roman care team. I understand your frustration following the decision your physician made, and would be happy to clarify.
The $15 consultation fee is paid to your physician and their practice for the consultation they provided. This is the same as if you visited a doctor in person and paid a co-pay to discuss your sexual health. Just as in a doctor's office, we cannot provide a refund for this fee.
As stated on our website, the only cases in which a refund is provided are if the individual has too complex of a medical history to be properly evaluated via telemedicine, which was not the case here.
I'm so sorry you did not receive the results you wanted. If you'd like, we can offer a free phone consultation with our clinical director to speak about any health concern you may have and to further expand on this decision. You can schedule that through email at care@ro.co . Thanks David!
Posted on Dec 10, 2018
Fraud!
Initiated contact, sent $15, and submitted headshot and ID photos. The latter was sent 4 times with ro.co saying that they never got it or was blurry. Then they stopped responding after I sent a larger, very clear photo of my ID. I have requested a refund and submitted a complaint to Visa.
Bottom Line: No, I would not recommend this to a friend
Company Response from Roman Health
Jan 17, 2019
Hi AG - thanks for the note! This is Mike with the Roman care team. We're sorry if we missed your last email. However, our physicians and pharmacists need a clear ID photo in order to ensure they're treating the right person. I'll be happy to search for that ID photo sent over, just send an email to care@ro.co with the information you provided above and I'll take care of the rest. Thanks AG!
Posted on Jan 13, 2019
Rip off shipping! Dates! Amount of time!
I went through all the questions and answers. I paid $330.00 for BPH meds and waited. The site states ships in as few as two days (I started to look around the web about this site for problems with shipping and fulfillment), also found more info (takes seven days for them to start the shipping process, then two days to ship the meds). Then however long it takes for the shipper to deliver the meds, if you even get the items at all. I asked to cancel shipments, delete the account, and refund money. So long story short, go to a good doctor, be embarrassed, get the correct medication! So you can get some sleep without waiting for the medicine to let you empty your bladder (yes I was looking to get generic tadalafil 2.5mg but it is still $11 a pill current from this site). Tadalafil in a daily small dose for me has zero side effects and I can pee like a racehorse!
Bottom Line: No, I would not recommend this to a friend
Company Response from Roman Health
Jan 17, 2019
Hi Scott - I really appreciate your honesty regarding your recent experience, this is how we can work to improve and offer a better experience for all members.
Once you complete that online visit, we are usually able to process your first time order through our pharmacy within 1-2 business days. From there, we ship free 2nd day air! We apologize if that process was delayed for you in any way. It sound like you got the treatment you needed, and that's the most important thing! We're here if you need us, and would love to be of service down the line, if needed. Thanks Scott!
Posted on Jan 16, 2019
Suspicious
This company will not tell you who manufactures their drugs and in what country. "Against policy." Big red flag about product quality if they won't disclose this.
One would assume they must be making their money from their drug sales, but they claim to provide the Rx to your local pharmacy if you want. If so, then how would they be making money? One wonders they might be selling the personal identity info they collect. They require a photo ID like a driver's license, passport, etc. Why would they need that? I certainly don't give that personal info to medical providers here in the U.S.
When you log onto my.ro.co, notice the domain name suffix: "co," that is Columbia, a country known for its illegal drug trafficking and counterfeit drugs.
One should exercise great caution.
Bottom Line: No, I would not recommend this to a friend
Company Response from Roman Health
May 15, 2019
Hi Stevn, I'm not a doctor so I can't answer that question here. However, once you complete an online visit at getroman.com a US licensed physician will review your medical info and make that determination based on the info provided. Don't hesitate to email us at care@ro.co if you have further questions I can answer. Thanks!
Our Promise to You
In order to safeguard you and ensure helpfulness and relevance, our compliance team manually assess every customer review before it goes live.
We have a zero-tolerance policy for fake reviews, and companies cannot control or alter any reviews at any time.