SmileDirectClub
This company has claimed this profile, is getting alerted on any new customer reviews entering this page, and may engage in dialogue with its customers to address their matters.

Companies cannot pay money or provide goods in order to remove or alter customer reviews.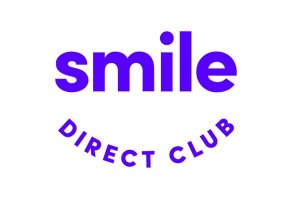 Summary
SmileDirectClub promises to give you a straighter smile within six months of wearing its customizable aligners. While this procedure can straighten teeth for some people, it has limitations compared to traditional braces.
Pros
More cost-effective than braces
Many positive customer success stories
Simple pricing plan, often covered by insurance
Faster results than traditional braces
Cons
Only works for mild to moderate tooth issues
Didn't work for everyone
Some customer complaints about quality, receiving the wrong aligners
You won't undergo comprehensive medical testing beforehand as you would with traditional dental procedures
SmileDirectClub Review: A Detailed Look
SmileDirectClub sells the promise of straighter teeth without the inconvenience of years of braces. These clear aligners will purportedly straighten your teeth within 4–6 months of continuous use—no orthodontics appointments necessary.
This straightening solution works best for mild to moderate teeth issues and is marketed towards teens, though you can use the system at any age.
The company claims that you'll save up to 60% compared to braces and will get results more than twice as fast.
In this review, we take a look at the effectiveness and other important details of this product to help you decide if this is the right option for you.
How It Works
SmileDirectClub's clear aligner therapy program works to shift your teeth into straighter positioning over about six months. You'll receive several sets of custom-made retainers designed to build on the progress of each other.
These aligners are designed for mild to moderate teeth correction problems, including teeth spacing, crowding, rotations, and bite correction. You can take the company's short assessment to learn whether you could be a candidate.
SmileDirectClub is available for anyone 12 and older, but teens under 18 need an adult's permission before signing up.
You'll start the ordering process either by visiting a SmileShop retail location for an in-person scan or ordering an Impression Kit online.
All SmileShops let you book 30-minute appointments, during which a SmileGuide will make a 3D image of your smile using an optical camera.
This scan is sent to the SmileDirectClub lab so that a licensed dental professional can assess your mouth.
If you're found to be a good candidate for the aligners, the company will use those images to build your custom treatment plan, which includes before and after 3D visualizations of how your teeth will move during treatment.
Another option is to order an Impression Kit, which is priced at $29–$49, depending on the promotion.
The kit lets you take impressions of your smile and send them back to the company in the included prepaid packaging.
As with the SmileShop images, a dental professional will review your impression and create a plan for you if you qualify.
Your money will be refunded if the company's experts determine that its aligners aren't the right treatment option.
Once your treatment plan is approved, SmileDirectClub will send you a full set of custom-made aligners.
The set will include instructions for how to wear them and when to switch between them. You can register your aligners online for digital alerts when it's time to upgrade.
Each aligner is designed to make slight adjustments to the position of your teeth so that they gradually shift into better alignment over several months.
You'll likely feel some soreness for the first few days you wear a new aligner set, but it should go away within a few days.
As the aligners are removable, you won't have any food restrictions during your treatment time. You also won't need to complete any further in-office appointments but can reach out to the company for support through its telemedicine platform at any time.
The company will replace aligners for you at any time if necessary, but you might be charged up to a $99 replacement fee.
Treatment Options
Smile Direct Club currently offers two types of aligners—Clear Aligners and Nighttime Clear Aligners.
The Clear Aligners are designed for 22+ hours of wear per day and should give you results within four to six months.
This makes them the brand's quickest option for straightening teeth, but you need to commit to wearing them at all times besides meals.
Nighttime Clear Aligners, in contrast, must be worn for only ten continuous hours at night. This makes them a more flexible option for anyone who doesn't want to wear their aligners during the day or who is concerned about accidentally losing them.
Since you wear them for less time, it can take twice as long to achieve the same results.
After you finish your treatment, Smile Direct Club recommends that you purchase a custom-fit clear retainer. Wearing it as you sleep can prevent your teeth from shifting back over time.
Each retainer set costs $99 and will be available to purchase once you are within 4–5 weeks of completing your treatment. The company suggests you replace them every six months to keep them fresh.
The Difference Between SmileDirectClub Clear Aligners and Braces
The company claims to speed things up compared to traditional metal brackets by putting equal force on each tooth so they move simultaneously.
This speeds up the shifting process, but it also allows for less flexibility for correcting nuanced problems.
For example, the aligners won't work for some people who have crowns or implants, and you might run into problems if you have missing teeth.
Traditional braces can be adjusted to put less pressure on these spots and may lead to fewer complications in the long run.
SmileDirectClub aligners are best for only mild to moderate teeth correction and can't treat many of the bite and jaw disorders that regular braces address.
Dr. David Frank, the owner of Austin-based Walden Dental, has other concerns about invisible aligner companies. "The biggest concern is that there are no X-rays or any other data to rule out where the tooth roots are in position," he shared. "It limits any type of accuracy of long term shifting of the teeth."
This makes it almost impossible to tell if there are underlying root, bone, or jaw issues that are affecting your teeth, and whether using aligners could be ineffective or even harmful for them.
"If you have the presence of bone disease and gum disease, you will dissolve the root surface and you can cause permanently loose teeth that may result in them having to be removed," he told us.
That's not to say that aligners can't be a viable option for some people, especially those who aren't able to commit to regular braces.
"It may work for those people who have no access to dental care and have limited budgets," Dr. Frank said, "for someone who is willing to take the risks of not having a well-controlled followed-up success, and has accepted the limitations of it not working."
Pricing and Return Policy
Smile Direct Club offers two payment strategies. You can make a one-time payment of $1,895 or sign up for the SmilePay plan. This lets you pay $85 per month for 24 months after a $250 initial deposit, for a total cost of $2,290.
All customers over 18 will receive a complimentary one-week supply of Bright On teeth whitening. This includes four pens, each with four applications, that should be used twice per day to brighten your teeth. The results should last for up to 90 days.
The club claims their costs are up to 60% less than competitors. The American Dental Association reports that the average price for braces in the United States ranges from $5,000–$6,000, or about 59% more than making a one-time payment for the Smile Direct Club.
Your costs for Smile Direct Club will also include $49 for your initial 3D imaging and $200 a year for retainers to maintain your results.
Many insurance plans will pay for all or part of the procedure. It's in-network for health providers such as UnitedHealthcare, Aetna, Anthem Blue Cross and Blue Shield, and Cigna. You can find out if you are covered here.
It's possible to return any unused custom-made aligners within 30 days of receiving them.
Your treatment plan is also covered under warranty for 30 days past the end date. If at the end of the treatment, you don't have a straighter smile, you can contact the company and have an expert re-evaluate your results. If approved, you'll receive additional aligners to continue the straightening process.
Analysis of Customer Reviews
More than 550 customers have left reviews for the SmileDirectClub on our site, which average 3-stars and a 50% recommendation rating. Here's a closer look at some of the most important points.
Common Compliments:
Worked as described to straighten teeth
Much cheaper than traditional straightening procedures
Improved teeth within six months of use
Common Complaints:
Some people were shipped the wrong sizes or were sent two top or two bottom aligners
Led to painful, bloody gums for some users
Some users had significant delays with their orders
Higher charges than some users were expecting
Popular Alternatives to the SmileDirectClub
| | SmileDirectClub | Byte Invisible Aligners | Candid |
| --- | --- | --- | --- |
| Cost | $49 molding kit, $1,895–$2,290 for aligners | $29 molding kit, $1,895 for aligners | $95 for molding kit, $1,900 for aligners |
| Is Financing Available? | Yes, $85/month for 24 months plus $250 deposit | Yes, Bytepay starts at $62/month | Yes, Affirm pricing starts at $80 per month |
| Treatment Timeframe | 4–6 months for standard aligners (22+ hours per day) | The average time is five months | 6–11 months |
| How It Works | Complete a 3D image of your mouth (either at home or at a SmileShop) and receive multiple sets of clear aligners that gradually shift your teeth to straighten them | Send the company an impression of your mouth to receive a variety of aligners that straighten your teeth | Make five impressions of your teeth to send to Candid (or go to a Candid studio). If approved, you'll receive custom aligners to shift your teeth into a better position. |
| Return Policy | 30-day returns for unused aligners | Lifetime guarantee for a new set of aligners any time your teeth shift (barring the company's exceptions) | Refunds may be possible if your orthodontist approves a different treatment plan |
Each of these three companies operates similarly. You'll pay for an initial consultation/ teeth mold (which is usually refundable if you don't qualify for treatment) and then pay a set amount for a series of aligners.
All three claim to work within the approximate same time frame, offer a payment plan, and can be potentially covered by insurance. In other words, you're receiving a similar service with each one.
There are a few notable differences. SmileDirectClub requires you to pay an additional $99 for retainers post-treatment, while they are included free with Candid.
Likewise, Candid claims to have an orthodontist review your results, rather than a regular dentist. The company claims this extra level of education ensures that its aligners are more personalized to each patient.
One advantage of SmileDirectClub is that the company offers nighttime only aligners for the same price as traditional ones.
While this option doubles your treatment time, many people will likely prefer not having to worry about wearing the aligners during the day and potentially misplacing them after eating.
Overall, though, these differences are minor and your choice between the three will likely come down to personal preferences based around cost and your insurance plans.
The Bottom Line
SmileDirectClub claims to help thousands of people straighten their teeth quickly, and customer reviews seem to indicate that it works—at least for some people.
SmileDirectClub will only work for relatively moderate teeth alignment issues. This treatment can't address or diagnose any underlying issues with your teeth and will do little to adjust your bite. In some cases, it has the potential to make teeth problems worse by loosening your teeth.
However, these aligners offer an excellent alternative to braces for many teens who wouldn't be able to afford them otherwise. One clear advantage is that you can take them out at any point, which makes it possible to maintain better oral hygiene habits than some people do with braces.
Because of the potential drawbacks, we recommend talking with your dentist before committing to SmileDirectClub. They will help you understand whether you are potentially putting your mouth at risk and if your mouth issues could be better addressed in other ways.
Customer Reviews
Posted on Apr 17, 2017
Very Happy with Smile Direct Club
I started SmileDirectClub back in August and I'm currently on tray 11 of 16. So far I'm very happy with my results and can't wait until I complete my treatment plan. I wanted Invisalign for years but it's too much money for me. Smile Direct Club was in my budget and I did a ton of research prior as well.
Bottom Line: Yes, I would recommend this to a friend
Posted on Jul 10, 2017
In love with my new smile
I had amazing results with SmileDirect. After being quoted over $5000 for Invisalign, I thought I was never going to have straight teeth. But then came SmileDirect. It was the best decision I ever made. In only seven months my teeth are straight and white; it's like a dream.
Bottom Line: Yes, I would recommend this to a friend
Posted on Oct 2, 2017
Life changer
I keep seeing all these reviews giving this company a bad name, and I don't believe them. I had a 6-month plan, and I received all of my aligners on time with zero problems what so ever. My teeth are now straight just like they said they would be and I am completely satisfied.
The price is so much better than Invisalign. And traditional braces as well. I couldn't afford them growing up, so SmileDirectClub literally changed my life. Don't listen to the negative reviews because most likely they are dentists or orthodontist making these false reviews because they are jealous of SmileDirectClub's newfound fame and competition.
I am not a promoter nor do I work for the company. I am just a satisfied customer. If you want to know more facts, there is a Facebook group called "SmileDirectClub members." You should check it out because you will see over 12,000 members who are extremely satisfied like myself. I owe SmileDirectClub everything as they have helped me with my confidence that I have never had before.
Bottom Line: Yes, I would recommend this to a friend
Posted on Jan 30, 2018
SmileDirect
My experience has been very good. No complaints. They have been very responsive to every concern and question. They treated me an additional two months to get my teeth straighter. They had me come into their office to reassess for two months more treatment. They credited me one payment when my aligners were late. They have done absolutely everything a reasonable customer could ask for in service. I felt compelled to write a review for them when I saw that there were some negative reviews.
Bottom Line: Yes, I would recommend this to a friend
Company Response from Smile Direct Club
Mar 7, 2018
Thank you so much Craig! Your support means a lot to us.
Posted on Mar 13, 2018
My SmileDirectClub experience
The SmileDirectClub gave me the ability to correct my teeth on my own schedule. I travel a lot for business, so conventional aligners that require ortho visits would be difficult, so having my teeth straightened was not an option until the SmileDirectClub was available. The experience was just as they explained to me, the straitening schedule progressed as planned, and the results at the end are exactly what I expected. I did not have any issues with coffee or drinks like other folks had, and the aligners fit perfect without any modifications.
I have referred several of my colleagues, and they are going to take advantage of the flexibility of the process.
Bottom Line: Yes, I would recommend this to a friend
Company Response from Smile Direct Club
Mar 14, 2018
We appreciate your recommendation Ray. We love being able to provide a convenient option for our customers to get the smile of their dreams. We appreciate your support very much!
Posted on Mar 13, 2018
Wow
I had no idea what to expect, but the experience was incredible. Erin was thorough, knowledgeable, and friendly. The Nashville location was beautiful and energetic. The entire appointment took fifteen minutes and I left very excited and eager to receive my "box." I have been contemplating Invisalign for four years, and then SmileDirectClub came along.
Bottom Line: Yes, I would recommend this to a friend
Company Response from Smile Direct Club
Mar 14, 2018
This is fantastic to hear Donna! Thank you so much for your kind words about our team, your support truly means the world.
Posted on Mar 19, 2018
Quick and easy
Quick, easy, and affordable. I am really happy with the results. I was able to complete the treatment while my husband was deployed, so it was an exciting reveal when he came home. I have recommended to friends and family who asked about my new and improved smile.
Bottom Line: Yes, I would recommend this to a friend
Company Response from Smile Direct Club
Mar 19, 2018
Wow, this means so much to us Jennifer! Thank you so much for sharing your support and recommendation. You truly made us smile.
Posted on Mar 22, 2018
Very nice place and people
I had a great experience and can't wait to get my smile back! I need to save for the down payment of $250, but after that, I can't wait! The girl Dayani that helped us was very nice and very knowledgeable! Thank you, SmileDirectClub, for making my smile come alive again.
Bottom Line: Yes, I would recommend this to a friend
Company Response from Smile Direct Club
Mar 23, 2018
This is fantastic to hear Lindsay! We're truly proud of our team, and we appreciate the shout out. Thank you for your support.
Posted on Mar 29, 2018
Happy so far
I signed up for SmileDirectClub today at their Las Vegas location. Nikki explained how everything worked and patiently answered all my questions. Then she scanned my teeth with her camera wand. She gave me the free whitening kit, and I was on my way. It's going to take four weeks to get my aligners, that's the only downside. I highly recommend it!
Bottom Line: Yes, I would recommend this to a friend
Company Response from Smile Direct Club
Apr 2, 2018
This means so much to us Annette! Thank you for taking the time to share your review. We appreciate your support.
Posted on Mar 29, 2018
SmileDirect with a smile
The location was a bit of a challenge to find at first, however, the staff went out of their way to help me find it and to find parking. My visit was quick fast and easy the employees were all kind knowledgeable and friendly. Fun and interesting way to obtain a new smile.
Bottom Line: Yes, I would recommend this to a friend
Company Response from Smile Direct Club
Apr 2, 2018
Thank you so much for your feedback Angela! We appreciate the shout out, we're very proud of our team.
Posted on Jun 5, 2018
Love them!
People only tend to write reviews when they're unhappy and need to make it known, so I feel it's important to let you all know that there ARE those of us who SmileDirectClub has worked great for. I received my five months worth of aligners very quickly after sending in my impressions and noticed great improvement very quickly. I do have bite issues now that I didn't have before, but as my dentist confirmed, they will come from any form of alignment. It doesn't affect my eating or speaking; it just takes a while to get used to your new smile. I have also gotten whiter teeth from the included pens. Talking with the aligners is easy, and they're relatively painless. I did have to file edges that were sharp or wear dental gum for the first day of each new set.
Bottom Line: Yes, I would recommend this to a friend
Company Response from Smile Direct Club
Jun 6, 2018
Thank you so much for taking the time to share this Veronica! This truly means the world to us -- we appreciate your support.
Our Promise to You
In order to safeguard you and ensure helpfulness and relevance, our compliance team manually assess every customer review before it goes live.
We have a zero-tolerance policy for fake reviews, and companies cannot control or alter any reviews at any time.