Synbiotic 365
This company has claimed this profile, is getting alerted on any new customer reviews entering this page, and may engage in dialogue with its customers to address their matters.

Companies cannot pay money or provide goods in order to remove or alter customer reviews.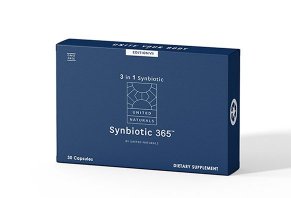 Summary
Synbiotic 365 is a dietary supplement that is alleged to help you address your digestive issues by combining probiotics and prebiotics. While the individual actions of these ingredients have scientific support, research confirming the benefits of synbiotics is lacking.
Pros
There is some research backing the individual ingredients
Added B vitamins are a bonus if you're deficient
Favorable return policy
Favorable safety profile, though immunodeficient people should avoid
Cons
Research specific to synbiotics is needed to identify the potential role
Pricier compared to other synbiotic blends
A probiotic supplement with a high-fiber diet may be just as effective
Synbiotic 365 Review: Can It Address Your Digestive Issues?
What Is Synbiotic 365?
United Naturals claims that Synbiotic 365 will offer relief for digestive issues and bloating through a blend consisting of prebiotics, probiotics, and B vitamins.
Probiotics are the friendly bacteria that live in your gut. Prebiotics are a form of fiber that serve as a food source for probiotics and enhance their actions.
On their own, both may offer many health benefits related to digestion, immunity, weight loss, and more. Synbiotic supplements incorporate both pre- and probiotics, as their combined actions may offer even greater benefits.
In this article, we'll review the science behind Synbiotic 365's list of ingredients to help you determine if this supplement can help alleviate your digestive symptoms.
Synbiotic 365's Ingredients: Do They Work?
According to the supplement facts label listed on the United Naturals website, Synbiotic 365 contains:
Vitamin B1 (Thiamin) 2.4 mg
Vitamin B2 (Riboflavin) 2.6 mg
Vitamin B3 (Niacin) 32 mg
Vitamin B6 3.4 mg
Vitamin B9 800 mcg (480 mcg folic acid)
Vitamin B12 4.8 mcg
Vitamin B7 (Biotin) 60 mcg
Vitamin B5 (Pantothenic Acid) 10 mg
Probiotic Blend 20 billion CFU – Lactobacillus gasseri BNR17, OPTI-BIOME Bacillus subtilis MB40, Lactobacillus paracasei Lpc-37, Bifidobacterium lactic BI-04, Lactobacillus plantarum Lp-115, Streptococcus thermophilus St-21, Lactobacillus Casei Lc-11, Lactobacillus reuteri, Lactobacillus salivarius Ls-33, Lactobacillus rhamnosus Lr-32, Lactobacillus fermentum, Bifidobacterium bifidum Db-06, Bifidobacterium longum BI-05, Saccharomyces boulardii
Chicory Root Inulin 315 mg
In the following section, we'll break up these ingredients into 3 main categories and highlight the available research supporting each group.
Vitamins
Vitamin B deficiency is common, especially in people that live a plant-based life. Deficiency can be associated with a variety of unwanted effects like nerve issues, dry skin, fatigue, and impaired mental capacity.
There are 8 B vitamins included in Synbiotic 365; with the exception of Biotin, this supplement offers close to, or well beyond, the RDA.
The folate in Synbiotic 365 plays a crucial role in growth and development, and also for preventing birth defects.
B12 supports the development of red blood cells; deficiency is associated with anemia.
Probiotics
Their genus identifies probiotic bacteria (e.g., Lactobacillus), which is like an extended family; their species (e.g., acidophilus), and their strain (La-14).
These friendly bacteria impact your digestion and support your immune function. They may also work to reduce allergies, as well as improve diarrhea and constipation. Each strain behaves differently and offers strain-specific effects.
L. casei may relieve digestive symptoms.
In 70 individuals with constipation, those treated with 65 mL of a Lactobacillus casei Shirota containing beverage had reduced symptoms when compared to placebo. A 100g (97 ml) drink with L. casei, L. bulgaricus, reduced the number of antibiotic-associated diarrhea cases in hospitalized patients.
Many L. plantarum species have been studied; the Lp-115 strain has been extensively investigated.
L. Plantarum N14 reduced inflammation in intestinal cells in a laboratory model. 100 mg/kg injections of L. plantarum K8 decreased enzymes associated with heart disease in mice.
L. Gasseri is also thought to aid digestion and reduce allergies.
L. Gasseri TMC0356 at 200mL decreased the level of antibodies associated with allergies in 15 subjects over 4-weeks. Subjects treated with L. gasseri OLL2716 at 109 CFU doses experienced improved indigestion symptoms over 3-months.
L. salivarius may offer antimicrobial effects.
In 59 children with oral disease, treatment with L. salivarius reduced bacterial and fungal levels.
In the Bifidobacteria genus, lactis may reduce inflammation and aid in the management of diabetes, bifidum shows promise for addressing constipation and lung infections, and longum may also be useful for constipation and airway infections, in addition to IBS and ulcerative colitis.
Bifidobacterium lactis strains can offer immune support and allergy relief. B. longum may provide the same benefits.
In a laboratory model, B. Longum CCUG 52486 had anti-inflammatory, especially in samples from elderly individuals. These effects were confirmed in a trial with human subjects; BB536 boosted antibody and white blood cell levels in elderly individuals.
S. boulardii is a fungal probiotic. Its potential benefits have been researched, though most of the available data is found in animal and laboratory models.
Prebiotics
Fiber is a type of carbohydrate that can't be digested or absorbed. Prebiotics, also classified as fiber, pass into your gut fully intact and serve as food for probiotic bacteria.
Additionally, they can absorb water and expand to make you feel full. Prebiotics may also improve blood glucose levels, promote weight loss, and enhance digestion.
The inulin in Synbiotic 365 may offer these benefits.
Inulin reduced hunger, desire to eat, and food consumption in obese adults randomized treated for 12-weeks. 12g of inulin daily for 4-weeks resulted in softer stools, increased stool frequency, and increased amounts of probiotics in constipated adults.
Side Effects and Safety
The company provides details for the total amount of ingredients in the probiotic blend, though they don't offer amounts for each ingredient. Also, strains behave in a strain-specific manner and may provide different effects when compared to similar strains within the same family.
These factors make it challenging to compare many of these ingredients to those that have been specifically studied.
Probiotic strains are often tested at doses comparable to the probiotic blend in Synbiotic 365. These amounts are generally safe in pre-and probiotic blends, with only mild side effects reported.
Most often, these include digestive symptoms like abdominal pain, gas, bloating, and diarrhea. These can typically be relieved by lowering your dose or discontinuing use.
Lastly, Synbiotic 365 contains a fungal probiotic. While the risk for fungal infections may be small, they are not uncommon. Therefore, critically ill patients, as well as those with a compromised immune system, should avoid using Synbiotic 365.
Whether you're considering Synbiotic 365 or another probiotic-containing supplement, have an in-depth conversation with a healthcare provider before ordering.
In addition to making recommendations that could maximize value, they can also help minimize any potential side effects based on your diagnosis.
How Much Does Synbiotic 365 Cost?
Synbiotic 365 is only available on the United Naturals website, priced as follows:
1 Box: $45
3 Boxes: $119 ($39.67 per box)
6 Boxes: $229 ($38.17 per box)
All orders come with a 30-day refund policy, less S&H, which customers can request by calling support at 844-794-7728.
Synbiotic 365 vs. Competing Probiotic & Prebiotic Supplements
While Synbiotic 365's exact formulation is less common, there are a number of synbiotic supplements currently available.
Syntol AMD ($40, 90 capsules), Dr. Axe Formula SBO Probiotic ($41, 60 capsules), HLC Synbiotic Intensive ($43, 7 sachets), NutriCology SymBiotics with FOS ($23, 40 servings), are a few examples.
These supplements are alike in that they're priced competitively, and each combines a relatively similar blend of probiotics, prebiotics, vitamins, and minerals. These often include many of the same species among the Lactobacillus and Bifidobacteria genera, vitamins C and B, and various extracts like apple cider vinegar or black pepper fruit.
The differences between Synbiotic and competing supplements mostly relate to the quantities of each ingredient they contain, as well as the form in which they're available (e.g., capsules vs. loose powder).
Alternatively, you can opt for a diet rich in both pre- and probiotics. A diet would include adding fermented foods like yogurt, sauerkraut, or kimchi, as well as fiber-rich whole grains and vegetables to your daily meal plan.
The Bottom Line
While pre- and probiotic blends both seem to offer many desirable health benefits, more research is needed to determine the role of synbiotics. Also, the added vitamins might not provide much value unless you're deficient.
Additionally, Ultra Naturals does not provide specific quantities for the ingredient offered in their blend. This makes a comparison to the available literature challenging.
Nonetheless, similar blends are generally safe to use though individuals with impaired immune function should use fungus containing supplements with caution.
Given the need for more research regarding synbiotic supplements, you may be better off opting for a more cost-effective option. You can also choose an effective probiotic supplement and increase the fiber-rich foods in your diet.
Lastly, be sure to seek the opinion of a medical professional before use. Symptoms that you're experiencing may be related to a more serious cause that should be cared for by a physician.
Customer Reviews
This company is actively collecting reviews from its customers. All reviews submitted are subject to moderation and approval to ensure they meet our
Review Guidelines
.
Posted on Nov 1, 2018
Best ever!
I'm on opiates for back pain and have a very difficult time with my bowel movements, sometimes not going for days! I took a chance and ordered this product. After just a few days I started having bowel movements. They became more and more frequent, and now I'm beginning to go two or three times a day. I also noticed my stomach wasn't bloated or sick as I would every day feel sick. I also noticed that I get up in the morning wide awake and cannot take any more small naps during the day. This is too hard to believe, but it's true! All I can say is WOW! And I am very grateful for this product. It definitely is not s rip-off! I'm totally on board with this and suggest you do too.
Bottom Line: Yes, I would recommend this to a friend
Posted on Nov 26, 2018
Tremendous improvement
I have been taking SYN 365 for three months now and see a huge difference in how I feel. I have always been very healthy but want to continue to improve. I have found that I am no longer hungry all the time despite eating less now than I did before taking SYN 365. I find myself satisfied with less and better food choices and having more energy. I walk 3 miles a day or more and sleep soundly. No stomach issues with taking the supplement.
Bottom Line: Yes, I would recommend this to a friend
Posted on Dec 12, 2018
Very positive so far
I only received Synbiotic 365 five days ago and I immediately took my first one that morning. So four days later I feel an increase in energy. But most important I don't feel bloated at all and am making regular bowel movements, although it's only five days. I will update my review.
Bottom Line: Yes, I would recommend this to a friend
Posted on Jan 6, 2019
Excellent product
I have used this for two weeks now and have found I am having more frequent bowel movements and greatly reduced bloating. I have Barrett's Disease of the esophagus and have to take an Acid Reducer prescription twice daily. I have reduced now down to once a day. My energy level has been refreshed as well.
I highly recommend trying this product. You must drink your water as recommended. Good luck.
Bottom Line: Yes, I would recommend this to a friend
Posted on Jan 14, 2019
Stomach cramps
My name is Cerrone Postell. I have been taking Symbiotic 265 for three months now. Before first taking Symbiotic, after every single meal, my stomach would cramp, and I would have to run straight to the bathroom. Now after three months, when I eat, there is virtually no pain after, and movements have become more regular. My stomach feels so much better. I just want to say thank you to Dr. Pedre, and his team, for creating this miracle supplement. It truly works. Thanks!
Bottom Line: Yes, I would recommend this to a friend
Posted on Jan 19, 2019
After 1 week: de-inflammation, sleep and mood improvement
I am happy to report near elimination of back and joint pain at night that was previously interfering with sleep (for years). Also fewer night time bathroom pee trips. Along with less pain, this means better sleep, better mood, more energy, a better gauge on appetite, fewer bad cravings and more healthy ones. Bloating and gut discomfort persist, but previous overall malaise, which I'd linked to perimenopause, is gone. I will update later.
Bottom Line: Yes, I would recommend this to a friend
Posted on Feb 2, 2019
Cured my low stomach acid condition
In 2014 I was diagnosed with a form of reflux called Laryngopharyngeal Reflux (LPR) and was put on a Proton Pump Inhibitor (PPI). The PPI made the condition worse, so I researched the condition and determined that the primary cause was low stomach acid. Insufficient acid translates to incomplete digestion and non-acidic gasses creeping up into the upper respiratory area. I had severe bouts of hoarseness, asthma and had a large polyp in my nose from the irritation. I fixed the problem by supplementing with Hydrochloric Acid with Pepsin (HCL). I started taking Synbiotic 365 a month ago and have been able to completely discontinue the HCL and have had no further incidences of LPR symptoms. I strongly suspect that Synbiotic 365 had a material effect on allowing my body to produce its own acid.
Bottom Line: Yes, I would recommend this to a friend
Company Response from United Naturals
Feb 22, 2019
Dennis, I am glad you are seeing such great results. We love hearing positive feedback!
Posted on Feb 5, 2019
Great product
This product has worked for me. I needed something that would keep me regular. At first, I doubted that it would, but it works. I no longer have to take psyllium every day. I'm on my last box and I'm reordering today so that I won't run out.
Bottom Line: Yes, I would recommend this to a friend
Company Response from United Naturals
Feb 22, 2019
Samairah, I am glad to hear about your success! Remember, consistency is key. Keep it up!
Posted on Feb 22, 2019
Worked for me
My acid reflux had gotten so bad that I bought a bed so I could sleep tilted. It took three weeks, but this product worked for me. No problem getting the order or reordering. I have recommended it to others.
Bottom Line: Yes, I would recommend this to a friend
Posted on Feb 22, 2019
Impressive from the start
I received my order of Synbiotic 365 a month ago, after having heard good things from a friend who is also using it. I've been using a probiotic for the last few years after hearing all it could be of help with, but had noticed minimal to no positive effect. After the first day I took Synbiotic 365, I told my wife, "either today was just a particularly good day, or this stuff really works!" 30 days later, they have all been good days. I can vouch for the effects and benefits of Synbiotic 365 compared to my previous probiotic. My gut is more settled and reacts better to the foods I eat, I am more clear-headed and energetic, more regular in my trips to the bathroom, and have even lost a few pounds with no other changes to my diet or exercise. The combo in this Synbiotic made a huge difference in comparison to what I'd tried in a probiotic previously, and I cannot recommend it highly enough.
Bottom Line: Yes, I would recommend this to a friend
Posted on Mar 2, 2019
Synbiotic 365
I have taken this for 30 days and feel more energy and my gut is calmer and more regular. I just reordered for this month. Thank you United Naturals. I was diagnosed with Crohn's in 2006.
Bottom Line: Yes, I would recommend this to a friend
Our Promise to You
In order to safeguard you and ensure helpfulness and relevance, our compliance team manually assess every customer review before it goes live.
We have a zero-tolerance policy for fake reviews, and companies cannot control or alter any reviews at any time.