Tamaflex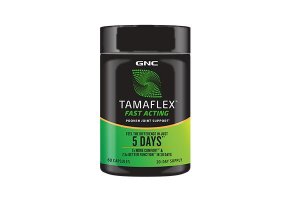 Tamaflex is a series of three different types of turmeric supplements from nutrition store GNC that claim to relieve joint pain and stiffness and increase joint mobility.
Tamaflex Review - Does It Provide Pain Relief?
What is TamaFlex?
GNC claims that TamaFlex's blend of all-natural ingredients will support healthy joints.
Joint pain is among the most common reasons to seek the care of a physician. Often a progressive condition, management options range from conservative care to more invasive procedures.
If you have been experiencing joint pain, you may already be aware of traditional treatment options.
These typically include physical therapy, exercise and weight loss, over-the-counter (OTC) and prescription medications, injectable formulations, and joint replacement surgery. Some of these options can carry the risk for unwanted events as well as a hefty price tag.
According to GNC, TamaFlex represents another option.
In fact, they claim that by taking just 2 capsules daily, you can expect joint support that encompasses more joint comfort, better joint function, improved stiffness, and reduced discomfort after exercise.
GNC also states that you can feel the difference in just 5-days. But are the purported benefits too good to be true?
In this article, we'll help you determine if there is any merit to GNC's claims by highlighting some of the available research for TamaFlex's blend of ingredients.
The Active Ingredients: Is There Any Scientific Support?
TamaFlex allegedly provides relief through just 3 ingredients. According to GNC, this blend is proven.
In each capsule, you'll get the following 125mg of TamaFlex (a proprietary blend) and 50mg of Boswellia serrata. When taken as recommended, you'll effectively double these doses each day.
Let's take a closer look at the research.
Tamarind Seed & Turmeric Extracts - 125mg
Tamarind is a tropical fruit, and like turmeric, it has been used for both culinary and medicinal purposes. Found on trees that grow mainly in the Eastern Hemisphere, tamarind is often included in supplements for its suspected ability to reduce inflammation and oxidative stress.
A laboratory model demonstrated the bone and cartilage-protecting abilities of tamarind. They found that the extract effectively altered pathways involved in the inflammatory processes associated with arthritis.
The anti-inflammatory and anti-arthritic effects of tamarind were corroborated in a recent review. Research again pointed out that the majority of available research involves animal and laboratory models, however,
While turmeric may offer numerous health benefits, though its role in the inflammatory process is the primary reason it is found in Tamaflex. Its ability to regulate the inflammatory response are likely related to curcumin, a molecule produced by turmeric plants.
Aspirin relieves pain by blocking the action of cyclooxygenase (COX). In a laboratory model, curcumin inhibited this enzyme in human colon cancer cells.
More recently, a review of 8 studies found that the use of curcumin dosages ranging from 500-1500mg daily may offer relief for arthritis. Researchers concluded that a definitive recommendation couldn't be made, however, as the data available from these studies was insufficient.
Early studies examining the anti-inflammatory effects of these extracts, while promising, highlight the need for research in human subjects.
ApresFlex: Boswellia serrata Extract - 50mg
ApresFlex is a patented Boswellia Serrata extract supplement. Yet another extract with suspected anti-inflammatory effects, this herb is obtained from Middle Eastern Boswellia trees.
In 60 patients with knee arthritis, those treated with 100mg of Boswellia Serrata extracts for 3-months improved joint pain and function. As some patients experienced relief in less than a week, these findings may be the reason behind some of GNC's claims.
It's important to note that this study was supported by Laila Nutraceuticals, the owner of the ApresFlex patent.
This extract demonstrated an ability to relieve joint pain at the same doses offered in Tamaflex, though we only have evidence for what it can do in the short-term. More work is needed to identify the safety and efficacy over longer durations.
TamaFlex Randomized Trial
TamaFlex has also been studied as a stand-alone product in a recently published randomized trial. Non-arthritic adults that consumed 250 or 400mg of Tamaflex over 90-days improved knee joint pain and function after physical activity.
While the ingredients offered in TamaFlex are often studied in relation to arthritis, support for benefits in those with healthy joints is advantageous, especially at doses comparable to the recommended use.
Safety and Side Effects
The ingredients found in TamaFlex are generally safe for use.
Nutraceuticals can be advantageous in those with joint pain that wish to avoid or delay the need for traditional management. Even OTC options can be damaging to the liver and kidneys over time.
Tamarind is generally safe, though much of our knowledge of its side effects are from animal studies. Nonetheless, even at massive doses (4500mg/kg bodyweight in rats) did not harm vital organs, though the loss of appetite and restlessness were observed.
Turmeric offered even at 1500mg per day was without adverse effects. Boswellia serrata at almost 2x as what's provided in Tamaflex was not associated with adverse effects.
Still, your joint pain can be related to a serious underlying condition that requires more than a dietary supplement. Be sure to speak with your doctor to determine the best plan of care.
TamaFlex: The Cost
TamaFlex is currently only available at GNC online or in-stores.
While all products contain the TamaFlex proprietary blend, some bolster the blend with other common ingredients that are found in joint relief supplements like d-Glucosamine Hydrochloride, type II collagen, and Chondroitin Sulfate Sodium.
Their product line ranges from $29.99 - to $69.99. The TamaFlex Fast Acting formulation, the focus of our review, in 1 or 2-month supplies for $39.99 and $69.99, respectively.
Also, GNC is running a buy one, get one 50% off promotion and orders over $49 ship free.
Available Alternatives
There are many similar products on the market; you can compare brands online.
Instaflex is a great example.
This supplement offers a formulation that is almost identical to TamaFlex Complete. The 30-count is available at Amazon for $58.84 and GNC for $64.99.
The Bottom Line
While TamaFlex offers a blend of ingredients that may all offer joint relief, it is the Boswellia Serrata content that stands-out. It is proven safe and effective, at least in the short term, at improving pain and function in healthy joints.
Nonetheless, you may not experience the same results if you have arthritis.
Also, the cost is comparable to similar products we have reviewed, though you'll save with the current promotion offered by GNC.
Still, speak with a doctor before use as your symptoms may require more than a dietary supplement for adequate management.
---
Extremely helpful!

By Kathleen W.

,

Lancaster, PA

,

Jan 11, 2020
Verified Reviewer

Overall Experience:

I've been using this product for over a year. I have degenerative disc disease (mild case). I'm also a major klutz. When I fall, it's usually my knees and shoulders that take a brunt of the jolt. Since I started the Tamaflex, I fell twice, once worse than the other. The mild one was like nothing ever happened. The second one, my knee was swollen but not painful. I was able to work out in the gym without any problems. It also didn't affect my job or my walking (I walk 20 to 30 miles a week). I love this stuff.

Bottom Line: Yes, I would recommend this to a friend

---

A Marine sniper living with pain from the war in my knees and shoulders joints

By Benjamin D.

,

Arizona

,

Mar 13, 2019
Verified Reviewer

Overall Experience:

I had to live with extreme pain in my knees and my shoulders and my wrist from all the injuries from my years as a Marine sniper. I've tried several things and nothing seems to work. One day the GNC, they suggested Tamaflex. It's been the first time I felt a little bit of relief, all the painkillers in the world do not help, but Tamaflex has the edge and I can work. I still feel it, but it's bearable and you can imagine that Marines have a very high pain tolerance, so for me to say it hurts it is very bad for a man that has set his own broken bone in his arm during the war in combat. Tamaflex really works.

Bottom Line: Yes, I would recommend this to a friend

---

Advertisement

---

Critical error in review

By William H.

,

Castle Rock, CO

,

Jan 10, 2019
Verified Reviewer

Overall Experience:

Important to note - an error in the review posts the Boswellia extract is only offered in the TamaFlex Complete. IT IS NOT! It is included in the TamaFlex Fast Acting product, not the Complete. That said, I am an active 65-year old man who suffers from Bursitis-related hip pain, enough pain to wake me up at night. After taking the Fast Acting TamaFlex for only 24 hours (two capsules), I estimate a 50% reduction in my pain. While not a "clinical trial," I am hopeful and will report back.

Bottom Line: Yes, I would recommend this to a friend

---