Relief Factor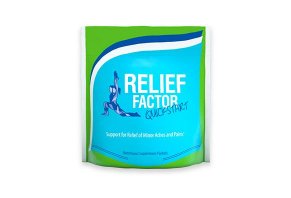 Summary
Relief Factor combines four main natural ingredients to help you relieve pain without using any drugs that you'd normally see at pharmacies or grocery stores.
Relief Factor Review - Does It Work, Safety, Ingredients, Cost
Pain is among the most common reasons for doctor visits. The underlying cause, as well as the affected area, can be highly variable. Similarly, management options may be diverse, ranging from rest, to more invasive procedures.
There may be alternatives for those wishing to avoid long-term use of medication or surgery, however. Relief Factor may be one such option.
A blend of botanical ingredients and fish oil, Relief Factor claims to alleviate the most common forms of pain associated with aging, exercise, and everyday living.
In this review, we will summarize research supporting the safety and efficacy of this product, as well as who may benefit from use.
Relief Factor Ingredients: Do They Work?
Relief Factor works to support the body's inflammatory response through a blend of key ingredients: turmeric, resveratrol, icariin, and omega-3. The combination of these ingredients is said to lower or eliminate pain by attacking it at the source.
One serving size is a single packet that contains 2 capsules (botanical ingredients) and 2 softgels (omegas). The recommended dosage is 2 packets (8 total pills) each day.
Turmeric - 667mg
In use for thousands of years, there may be more to this spice than simply its culinary or textile role. Turmeric is reported to have numerous benefits related to heart health, brain function, and even fighting off cancer, though its role in the inflammatory process is why this extract is found in Relief Factor.
The inflammatory response is responsible for the process of healing that occurs after injury. It is vital for survival, though chronic activation of this response may be associated with various ailments such as heart disease, diabetes, arthritis, and cancer.
Turmeric's role in regulating some of the pro-inflammatory messengers involved in the response are thought to be related to curcumin, a molecule produced by turmeric plants.
Curcumin's anti-inflammatory effects involve action in multiple pathways:
NF-kB is considered the "holy grail" in terms of potential targets for anti-inflammatory treatment. Curcumin has been shown to counteract NF-kB in mouse and human studies.
C-reactive protein is another major mediator of the inflammatory response; levels may be reduced by curcumin supplementation.
Cyclooxygenase (COX) are enzymes with a well known role in the inflammatory process - so much so, that drugs you may have heard of were developed to block their actions; aspirin is one example. Curcumin may also act on these enzymes.
When this rationale was applied to arthritic patients, improvements in patient reported outcomes and walking distance were seen.
Nonetheless, the challenge remains finding the best way to increase absorption as circumin is rapidly metabolized and eliminated.
Resveratrol - 70mg
This antioxidant works to neutralize free-radicals, atoms or molecules that damage cells. Found in grapes, berries, and peanuts, resveratrol is also associated with anti-inflammatory actions.
It may act to combat some of the same pro-inflammatory mediators as turmeric. Additionally, resveratrol may have cardiovascular benefits. It may increase nitric oxide synthesis, a gas vital to the process that leads to increased diameter of blood vessels.
In patients with rheumatoid arthritis, supplementation improved tenderness, swelling, and disease activity scores.
Icariin - 20mg
The flavonoid icariin is the active ingredient in Horny Goat Weed - extracts from these plants are thought to benefit a variety of conditions like cardiovascular disease, menopausal symptoms, and erectile dysfunction (ED).
Icariin is thought to have a similar effect as compared to medication used as first-line treatment for ED - inhibiting phosphodiesterase-5 (PDE5) to facilitate increased blood flow. Additionally, it may work in conjunction with the effects of resveratrol in promoting nitric oxide formation.
Omega-3 - 900mg
Omega-3s are fatty acids found in walnuts, flax seed, and fatty fish that have been said to have various benefits related to cardiovascular and cognitive health, though their suspected anti-inflammatory role is responsible for their inclusion in Relief Factor.
The omegas found in Relief Factor are composed of eicosatetraenoic acid (EPA, 647mg) and docosahexaenoic acid (DHA, 253mg). The latter may play a role in reducing pro-inflammatory mediators, especially after exercise. EPA may serve as a substrate in the creation of hormones that regulate the inflammatory response.
The Takeaway
The reported benefits of Relief Factor ingredients are wide ranging, though many are the result of their anti-inflammatory roles. Similarly, the potential as a therapeutic intervention has been examined in many different populations.
With respect to patient populations that experience chronic pain, such as those with osteo- and rheumatoid arthritis, there appears to be a role for turmeric, resveratrol, icariin, and omegas.
The following footnote is included on the Relief Factor website with regards to their list of ingredients and purported benefits:
These statements have not been evaluated by the Food and Drug Administration. This product is not intended to diagnose, treat, cure, or prevent any disease. Individual results may vary.
This means it is the responsibility of the manufacturer to ensure safety prior to sale. Always include the opinion of a medical professional before starting a new supplement.
Safety and Possible Side Effects
Even at doses more than 6x the daily recommended dose of Relief Factor, there were no reported toxic effects of curcumin treatment. Mild side effects such as headache, stomach pain, or nausea may be possible.
Resveratrol doses 5x the dosage of Relief Factor were well tolerated. Mild side effects related to digestion or stomach pain are possible.
Icariin works to dilate blood vessels and therefore may be unsafe for those who are treated for cardiovascular issues, though long-term safety investigations are lacking.
Omegas are generally safe at doses comparable to what is offered in Relief Factor, occasional gastrointestinal issues are possible.
Always consult a medical professional prior to starting a new supplement.
The Takeaway
Low side effect profiles are often a benefit of nutraceuticals like Relief Factor, though this does not mean they are without risk.
This supplement is generally safe when used as described and ingredients seem to be well-tolerated at high doses.
Mild digestive issues are possible with use, and icariin may interact with medications used to treat cardiovascular issues.
Always consult a medical professional before use.
Pricing and Where to Buy It
Getting your Relief Factor seems easy enough - simply call or head to their website. The most cost-effective way to order appears to be becoming a preferred customer:
Purchase a "3-week quickstart" for $19.5 + $6.95 standard shipping.
Two weeks later, your regular 30-day supply (60 packets = 240 pills total) is sent out after you're charged $79.95 + $6.95 standard shipping.
This fee is then charged monthly unless you specify otherwise
There are no obligations, you can cancel anytime. In comparison, the non-member rate for a 30-day supply is $93.95 + $6.95. Returns of sealed packages are accepted within 90-days.
Alternatives
There is about 200mg of curcumin in 1tsp of turmeric - you'd need more than 6 of these to get a days worth of what's included in 2 packets of Relief Factor. This supplement is sold by various retailers.
Resveratrol is found in grapes (and therefore wine), berries, and peanuts. Obtaining this naturally would take some effort however - more than 120 glasses of wine to achieve the dose included in Relief Factor. This is obviously not recommended. Various retailers offer this supplement.
Icariin is the active ingredient in horny goat weed, a plant found in China, Korea, and Japan. This is also easy to obtain from various retailers
Omegas are easily obtained from nuts, seeds, and fatty fish like salmon, though supplements are also common.
These products are all offered by multiple retailers ranging from about $12-$70. Keep in mind, serving size, dosages, and supplies vary. Though it may be possible to save money by looking beyond Relief Factor, it may be less convenient to purchase ingredients separately.
Analysis of Reviews
Available reviews are found on the company's Facebook page; 3.6/5 on 79 reviews.
The happy customers report decreased pain, return to activities like golf, and improved quality of life.
The negative reviews revolve around billing issues like being charged 10x the monthly fee or being charged after cancellation.
Relief Factor representatives did message these individuals to offer an apology for the poor experience, as well as resolution.
The Bottom Line
Relief Factor targets pain through a blend of turmeric, resveratrol, icariin, and omega-3s. The reported benefits of these ingredients are broad, and their anti-inflammatory roles are thought to be responsible.
It is generally safe, even at doses beyond what is included in this supplement. Associated adverse effects are mainly related to digestive issues.
The proposed mechanism for targeting pro-inflammatory mediators has been examined various populations include those battling obesity, diabetes, heart disease, cancer, and Alzheimer's.
With regards to pain, these ingredients have been well studied in some patient populations that experience regular pain, chiefly osteoarthritic patients and those with rheumatoid arthritis.
There appears to be a clear benefit for those with joint pain due to these conditions. Consult your physician before use.
Customer Reviews
Posted on May 29, 2021
Unethical company and a total scam
Like so many others, I suffer from chronic lower back and joint pain and anyone who can relate understands the feeling of desperation that leads to purchasing any and all products claiming to reduce pain on any level. Unfortunately, that desperation tends to make those of us suffering from pain extremely easy targets for unethical scammers like the people behind Relief Factor.
I made the mistake of ordering the product in the middle of a painful sleepless night. As any of us know, pain has a way of making people vulnerable and susceptible to almost any solution providing a glimmer of hope. There are companies and people out there who provide hopeful solutions because they sincerely believe they can help but I'm entirely convinced that Relief Factor is far from one of those companies. They recognize the vulnerability of people suffering from chronic pain and they take every possible measure to capitalize on the opportunity. Nearly every aspect of the company's business practices scream SCAM and as obvious as it may be people just like me go out of our way to give them the benefit of the doubt in the hope that our instincts are wrong and that there could actually be relief around the corner.
As far as the product itself is concerned, other than a fairly unique combination of very common ingredients, there is nothing outstanding about the makeup of Relief Factor. And although a couple of the ingredients MAY aid with the reduction of inflammation, the quality is questionable. In fact, the tumeric used in the product is listed as being vastly inferior to most tumeric products on the market when considering the purity or percentage of curcumin. Yes, I should have done the research before ordering but that's exactly the behavior this company relies on. And as soon as you make the final purchase click and become another one of their victims, it is very difficult to cancel, get a refund, or just speak with a human who's remotely willing to assist you.
Needless to say, Relief Factor is simply a scam. It seems that all they did was throw a weak product together with a couple of common old ingredients and developed a big loud marketing strategy to go fishing for desperate people like me and lock us into paying $80/month for a bag of garbage that probably does more harm than good. Shame on Relief Factor and any celebrity or actor falsely endorsing it. I can almost guarantee that any 5-star reviews were posted by people with a stake in the company. SCAM.
Length of Use: Less than 3 months
Bottom Line: No, I would not recommend this to a friend
Pros and Cons
No "pros" were specified in this review
Price
Unethical practices
Provided none of advertised benefits
Posted on Mar 16, 2021
I am happy with my results
I have been taken Relief Factor for 3 months. I started taking it because of muscle and joint pain after exercise. After taking for 2 weeks the pain went away. I am a 52-year-old woman going through menopause. Since taking I do not have hot flashes, brain fog, and my mood is stable. All things I was not expecting. I stop taking it over a 3-day period and found that pain came back, hot flashes, and anxiety. Very happy with the results.
Length of Use: 3–6 months
Bottom Line: Yes, I would recommend this to a friend
Pros and Cons
Took away pain
Took away anxiety
Took away hot flashes
Price
Stomach upset in beginning
Posted on Jan 22, 2021
Review includes initial order only
All instructions were followed. Was billed $86.90 two days before completing the order. Second order shipped late and will not be received for another day...maybe! Saw absolute minimum benefit from consuming initial order, and NO effect from missing nearly a week from paid for/not received second order. Concluded that product is a waste of money with little benefit. Canceled my commitment with Relief Factor, and plan to return the second order if and when received.
Length of Use: Less than 3 months
Bottom Line: No, I would not recommend this to a friend
Pros and Cons
Easy to open plastic wrappers
Actual effect of capsules on my condition
Lag time between using one order and waiting for next order after it was charged to my credit card
Posted on Nov 9, 2020
Tried some of a friends to see if It had any effect, it doesn't, and all the scientific research on the compounds indicate that it won't
This product is a heavily advertised product that claims efficacy in pain relief from any condition. After trying it myself to see if it actually did anything for 30 days, I crossed over to a placebo sugar pill for 30 days. Net/net - no effects from either product on pain relief. I was blinded to which product I was taking so no bias there.
After a thorough review of the scientific and clinical literature (since I am a scientist), there's no rationale for relief factor working on any type of pain. The ingredients contained are there in small doses and even if there were evidence of efficacy, there isn't enough substance to make a difference.
The doctor (not a scientist) mentioned above clearly didn't do his homework or just because the substances at higher doses 'worked' in animals or cellular systems that it meant it worked in people. It doesn't and there's no, none, zero, nada evidence that the ingredients do so either singly or in combination. The product is probably non-toxic in the low doses given but no data there either. The advertised rationale of 4 different biochemical pathways is unsupported by studies or data and is unlikely to be real. So if you have pain and money to burn, then treat this product just like any other untested and unproven OTC product that is unregulated by the FDA. Buyer beware, and if you believe it works - it may. Just don't bet on it.
Length of Use: Less than 3 months
Bottom Line: No, I would not recommend this to a friend
Posted on Sep 3, 2020
Hang in, be steadfast
Well, I decided to give it a try, got the three-week plan or package, it did nothing. Being in desperation with low back, sciatica pain, I ordered another and the pain was still intermittent in my case. Now I ordered the third bag and BAM, it's working.
SO, don't give up so easy. The first two did almost nothing but I was stubborn and it paid off. I'm now on my fourth bag of goodies and am enjoying an 80-90% improvement. No bull, man, it works.
Length of Use: 3–6 months
Bottom Line: Yes, I would recommend this to a friend
Pros and Cons
It works
Somewhat expensive
If I don't melt them in my mouth before swallowing they come out the back end unrecognizable from swallowing
Posted on Nov 11, 2019
No noticeable difference.
Didn't see any real difference. Age just seems to bring pain and stiffness. I think you'd be better discussing it with your Doctor and tell him you're against medication, what can you do.
Bottom Line: No, I would not recommend this to a friend
Our Promise to You
In order to safeguard you and ensure helpfulness and relevance, our compliance team manually assess every customer review before it goes live.
We have a zero-tolerance policy for fake reviews, and companies cannot control or alter any reviews at any time.