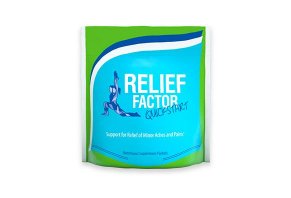 Relief Factor combines four main natural ingredients to help you relieve pain without using any drugs that you'd normally see at pharmacies or grocery stores.
Relief Factor Reviews - Hype or Legit?
Relief Factor is a series of pill-based treatments that claims to relieve your aches and pains via four main ingredients.
What makes these pills a little different than other pain relievers you might read about is that they don't use any drugs in order to quell your aches and pains.
The owners of the company are a father-son team by the name of Pete and Seth Talbot. The Relief Factor website has a video of the pair pitching their product.
"We're awfully glad you decided to look into this amazing, 100-percent drug-free supplement that's helping so many people across the country," Pete says to open the video.
In this review, we're going to discuss what this supplement claims to do, what its ingredients, what science says about those ingredients and what this supplement costs.
We'll also provide you with a quick analysis of how this supplement's pricing and ingredients compare to top-rated drug-free pain relievers on Amazon.
How Relief Factor Works and the Ingredients It Uses
The video we mentioned earlier reveals that doctors designed this supplement, a fact that the website points out in a section titled, "Our Story":
"Physicians at a well-known clinic in the Pacific Northwest were asked by their patients to create a 100% drug-free supplement to help their bodies lower or eliminate pain."
Basically, you take the pills three times a day for a week then two times a day for two weeks and you should see some changes. This regiment of supplements is known as the Quick Start and is what you'll use.
The supplement does this through three different pills that contain varying ingredients. The big four that the site highlights, though, are:
Icariin
Resveratrol
Omega-3 fatty acids
Turmeric
Relief Factor says that their ingredients, together, can:
Improve production of nitric oxide (icariin)
Reduce free-radicals that damage cells (resveratrol)
Better response to overexertion (turmeric)
Strengthen healthy tissue and immune response (Omega-3 fatty acids)
In addition to the ingredients listed above, the pill regiment includes fish oil, Japanese fleeceflower root and barrenweed.
According to Relief Factor, you'll take two capsules and two softgels that include all of these ingredients.
Now, the video we mentioned earlier includes an important disclaimer from the son, Seth.
"Do we guarantee to lower or eliminate your aches and pains? Of course not," he says. "Everybody's different."
What Science Says About Relief Factor's Ingredients
We turned to reputable medical websites to get a read on how effective Relief Factor's four main ingredients are in reducing or eliminating pain.
Icariin
Icariin is a component of an ingredient called horny goat weed, an ancient Eastern ingredient used for a variety of conditions. WebMD doesn't speak specifically to this ingredient but it does address horny goat weed.
While the weed is a popular supplement taken for a variety of conditions including erectile dysfunction, and weak or pained joints. However, the site says there is insufficient evidence for horny goat weed's ability to help with joint pain.
Resveratrol
This ingredient is pretty well known for being an antioxidant that protects against damage coming from aging and your environment.
In our own studies, we've found that resveratrol's most significant studies were not done on humans and that the dosage required to see benefits go far beyond what's included in the average supplement serving.
"The dosages in most resveratrol supplements are typically much lower than the amounts that have been shown beneficial in research. Most supplements contain 250 to 500 milligrams," WebMD's resveratrol page notes. "To get the dose used in some studies, people would have to consume 2 grams of resveratrol (2,000 milligrams) or more a day."
Omega-3 Fatty Acids
Omega-3's are a common chemical found in fish oil and other things like avocados. They've long been known to help with heart disease, blood pressure and high triglycerides, WebMD says.
However, there are limits to these fatty acids. WebMD notes that the maximum amount of fish oil you should take in a day, according to the American Heart Association, is 3 grams.
One packet of supplements from Relief Factor contains 1.4 grams of fish oil. Their recommendation that you take three packets a day for a week when you first start to program pushes the amount of fish oil past what WebMD is safe.
Therefore, we echo WebMD's suggestions that you speak with your doctor before taking more than 3 grams of fish oil per day.
Turmeric
This final main ingredient is similar to resveratrol in that it has become somewhat of a buzzword in the supplement world over the past few years.
Unlike resveratrol, though, there is a growing body of evidence to suggest that turmeric can help with a variety of conditions including arthritis, we pointed out in our guide to turmeric and curcumin.
The doctors with whom we spoke for that guide were pretty decisive in their acknowledgement that turmeric has been shown to provide various health benefits.
We also found positive support for turmeric on WebMD, where the site says the spice is possibly effective for osteoarthritis.
Side Effects of Relief Factor's Ingredients
All the research we looked at indicates that side effects are relatively minor for icariin, omega-3's and resveratrol.
Turmeric, however, is a bit more dangerous in the sense that it has multiple possible side effects for pregnant women, those with gallbladder or bleeding issues, people with diabetes or GERD and those with various types of female-specific cancers.
Relief Factor Cost and Return Policy
AT the time of publishing, you could get one three-week Quick Start package of Relief Factor for $19.95. This price, the site says, is only for first-time customers. After that, the company will charge you $79.95 for a 60-day supply 15 days after you make your order for the $19.95 supply.
What's a bit confusing about this is that, after chatting with an online rep from the company, we found that the $19.95 price is only good if you want automatic shipments. If you don't want automatic shipments, then you'll have to call their customer service line at (800) 500-8384. and order their QuickStart bag of supplements for $39.95 plus $6.95 for shipping.
We pressed the rep for more information, asking them what would stop someone from ordering the $19.95 deal online and then canceling before the automatic shipment was charged. The rep told us that nothing is stopping people from doing that and that, "you are more than welcome to do that."
One thing to keep in mind about returns is that they won't accept any open bags. If you get a 60-day supply, open one Relief Factor bag and decide you aren't going to take any of the supplement packets inside, you cannot make a return.
If you need to make a return, you can call them, use their website's chat support or email them at contactus@relieffactor.com.
Comparing Relief Factor to Other Painkillers
The main draw of this supplement, in our opinion, is that it doesn't use any drugs to help you cope with your pain. Based on our research, though, we believe that there isn't enough conclusive evidence out there to say this supplement is guaranteed to reduce your pain.
Top-rated pain relievers on Amazon include popular names like Advil, Tylenol and Motrin, all of which have a long track record of relieving pain. And even generic painkillers like Walmart's Equate ibuprofen get solid reviews.
Furthermore, these well-known over-the-counter painkillers are much cheaper than Relief Factor. A 100-count bottle of 200mg ibuprofen pills from Equate was $1.98 at the time of publishing.
We had a hard time finding all-natural, non-drug painkillers, though, which indicates that Relief Factor is somewhat unique.
If you are committed to finding a non-drug painkiller, it may benefit you to at least try the $19.95 three-week supply of Relief Factor to see how it works for you. At that point, it may make more financial sense to buy the four main ingredients separately, as they'll cost you considerably less than around $80 for two months worth of doses.
The Final Word – Is Relief Factor a Good Fit?
In our opinion, Relief Factor presents a bit of a risk because the ingredients they claim help you with pain haven't been conclusively proven to do the job well, as multiple medical sites and professionals indicated during our research.
However, the supplement presents the valuable distinction of being drug-free, which means those looking for homeopathic solutions to their temporary or chronic pain may be willing to try Relief Factor to see if it works.
A few seconds ago we pointed out that, if this is you and you want a drug-free solution, try Relief Factor for $19.95 and cancel. Then, head to Amazon or Walmart and buy separate jars of turmeric, omega-3 fish oil, resveratrol and horny goat weed.
Based on our research of highly rated products on Amazon, using this method would cost you around $56 with free shipping. This is about $30 less than what you'd pay for Relief Factor's two-month supply.
While we think other supplements provide better value, we do think trying out Relief Factor for $19.95 is a smart way of testing the ingredients' effectiveness at a relatively inexpensive price.
1 out 1 people found this review helpful

No noticeable difference.

By

Ron C.

,

New Castle, PA

,

Nov 11, 2019
Verified Reviewer

Didn't see any real difference. Age just seems to bring pain and stiffness. I think you'd be better discussing it with your Doctor and tell him you're against medication, what can you do.

Bottom Line: No, I would not recommend this to a friend

---

Advertisement

---