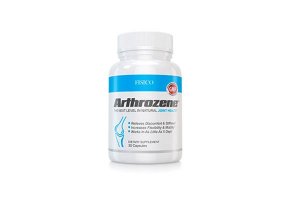 The Arthrozene dietary supplement claims to attack joint pain and stiffness at their root, providing you with a meaningful reduction in inflammation, pain, and discomfort.
Arthrozene Review: Ingredients, Side Effects, Cost
Arthrozene is a three-ingredient dietary supplement that promises to soothe inflammation, slow down cartilage degradation, and increase lubrication, resulting in improved comfort, flexibility, and mobility.
And by attacking joint pain and stiffness at their root, Fisico Inc. advertises that their clinically tested, caffeine and stimulant-free formula can help you get back to the daily activities you love and enjoy—in as little as five days. Just take one capsule per day with water on an empty stomach.
Whether your joint pain levels are mild or off the charts, finding effective relief could be life-changing. But, is this what you can expect from Arthozene's formulation? Is it really a next-generation joint pain solution, as advertised?
Let's dive right in and take a closer look at its ingredients.
What Ingredients Are Found in Arthrozene's Formulation?
Like anywhere else on the body, ongoing pain, inflammation, and discomfort in the joints only signals that something's wrong, but not specifically what's going on.
For example, common causes of joint pain can range from everything between different types of arthritis (e.g., osteoarthritis, psoriatic arthritis, rheumatoid arthritis, gout) and autoimmune diseases like lupus, to Lyme disease, hypothyroidism, and fibromyalgia, not to mention trauma like strains, sprains, dislocations, and so forth.
Which of these will Arthrozene potentially help address? Per its supplement facts label, here's what it contains:
AprèsFlex Boswellia Serrata Extract 100 mg
Mobilee Natural Chicken Comb Extract (Standardized to 60% hyaluronic acid, 5% collagen type II, and 10% glucosaminoglycans) 80 mg
B-2Cool Native Collagen type II (chicken sternum) 40 mg
AprèsFlex
AprèsFlex is a patented version of Boswellia serrata (more commonly known as Indian frankincense) and a registered trademark of Laila Nutraceuticals.
According to sites like WebMD, the Natural Medicines Database, and Examine.com, taking 100 mg of ApresFLEX (formerly known as Aflapin) daily is listed as possibly effective for reducing "pain and improve mobility in people with osteoarthritis in joints. Research shows that it might decrease joint pain by 32% to 65%."
Some of this clinical data is provided directly on the Arthrozene website.
Mobilee and B-2Cool
Similarly, Mobilee and B-2Cool are licensed trademarks of BIOIBERICA, SA.
Mobilee is a GRAS ingredient in the US derived from chicken comb that's naturally rich in components essential for joint health, including 60-75% hyaluronic acid, 10% polysaccharides, and 5% collagen. The BIOIBERICA website indicates the ingredients is backed by four double-blind, placebo-controlled, randomized clinical trials.
Again, several of these studies are listed on the Arthrozene website, many of which involved human participants (versus studies conducted only on rats or cultured cells).
B-2Cool is another proprietary collagen ingredient, this time derived from chicken sternums, which BIOIBERICA advertises is manufactured "through a strictly controlled process that preserves the active parts of the molecule." They reference two clinical studies for support:
A 2013 study indicating that supplementation in rats "showed a significant prevention of pain threshold alterations."

A 2016 study showing that the collagen supplement, when combined with 1500 mg per day of acetaminophen, was superior to acetaminophen alone for improving joint pain, function, and quality of life.
Could Arthrozene's Ingredients Cause Potential Side Effects?
The supplement's website reports "Arthrozene is an all-natural formula that is considered safe and extremely effective for nearly everyone."
Still, it's always a good idea to have a discussion with your doctor before taking any new dietary supplement, who can (among other things) help you avoid potential side effects and drug interactions.
With this said, WebMD and the Natural Medicines Database report that, while boswellia usually doesn't cause significant side effects, some might experience digestive upset and diarrhea. No dosages or specifics were provided.
How Much Does Arthrozene Cost?
Arthrozene is priced as follows:
1 Bottle: $49.95
3 Bottles: $134.85 ($44.95 each)
6 Bottles: $239.70 ($39.95 each)
The single-bottle option also comes with a $5.95 S&H fee, while the three- and- six-bottle options included free shipping.
Westford, MA-based Fisico Inc. provides a 90-day money-back guarantee (less any S&H) on all Arthrozene purchases, which you can request by calling 800-392-4727 or sending an email to support@arthrozene.com.
Are these prices competitive?
Arthrozene vs. the Competition: How Can You Choose the Right Joint Supplement?
While we didn't encounter any identical formulations to Arthrozene during our research, a quick online search for joint supplements revealed hundreds of different options competing for your money, many of which contained several of the same generic ingredients.
Here were some of the more popular options:
| | | |
| --- | --- | --- |
| Supplement | Price | Ingredients |
| Arthrozene | $39.95+ | AprèsFlex, Mobilee Chicken Comb Extract B-2Cool Native Collagen type II |
| Life Extension ArthroMax Advanced | $18 | Glucosamine Sulfate 1500 mg, ApresFlex 100 mg, UC-II Collagen 40 mg, Boron 1.5 mg |
| MDrive Joint | $30 | UC-II Collagen 40 mg, Sodium Hyaluronate 20 mg, Boswellia Serrata 230 mg, Bromelain 210 mg, Turmeric 110 mg |
| Instaflex Advanced | $61 | Turmeric 200 mg, Resveratrol 100 mg, ApresFlex 100 mg, UC-II Collagen 40 mg, Hyaluronic Acid 5 mg, Bioperine 5 mg |
| Puritan's Pride Youtheory Joint Collagen Type 2 | $24 | Hydrolyzed Chicken Collagen 500 mg, Advanced Joint Blend 500 mg (Boswellia, Cinnamon, Turmeric, Quercetin |
| Osteo Bi-Flex | $40 | Vitamin C 60 mg, Manganese 2 mg, Glucosamine HCl 1.5 g, Joint Shield Boswellia serrata Extract 100 mg, Chondroitin/MSM Complex 1103 mg (Chondroitin Sulfate, MSM, Hydrolyzed Collagen Gelatin, Boswellia, Boron, Hyaluronic Acid) |
Given the fact that this is just a small sample of your joint supplement options, how can you use these details to make a more informed decision?
Not to sound like a broken record, but any time you're considering taking a new dietary supplement, the first person you should turn to for advice is your regular healthcare professional.
This is especially important when it comes to chronic conditions like pain, which can have a big impact on the quality of like.
If they recommend pursuing a dietary supplement like Arthrozene for some measure of relief, we can see from the table above that it's one of the higher-priced formulations (especially if you choose to purchase one bottle), which could be important if the lowest price is your main factor.
Another potentially important thing to keep in mind is that some of these formulas are available at national retailers, which could potentially save on S&H charges, while also getting them in your hands faster.
Outside of these, after reviewing hundreds of dietary supplements over the years, the HighYa team has learned that you'll want to do business with companies who:
Provide clinical support for their claims
Back their products with at least 30-day refund policies and no restocking fees
Come with mostly positive online customer feedback
Our Bottom Line on Arthrozene
If your doctor gives you the green light, it appears that Arthrozene comes from a company with several years in business, and who has a mostly positive online customer reputation.
In fact, Fisico Inc. held an A rating with the Better Business Bureau, based on 25 customer reviews and two closed complaints, as of 7/18/18.
Furthermore, the companies behind each proprietary ingredient in their formulation support their claims with robust clinical data—at least related to osteoarthritis.
Regardless of the cause, if Arthrozene ultimately doesn't meet your needs, Fisico provides a 90-day refund policy, which should be more than enough time to discern if it's right for you. Just remember that you'll have to pay to ship your bottle(s) back.
2 out 2 people found this review helpful

Sore knees

By

Constance C.

,

Bethlehem, PA

,

Oct 5, 2019
Verified Reviewer

Started last month taking Arthrozene. Took about a week for me, sure everyone is different, but I like to do my walking exercise. I have osteoarthritis, but after I start taking this, my knees seemed a lot better for my exercising. I'm out now so time for more, but I'd say they did help a bit, and my knees are not good, I'm 66. I guess with winter coming to the real test will come, and see how I feel.

Bottom Line: Yes, I would recommend this to a friend

---

11 out 13 people found this review helpful

Lost hope

By

Robert F.

,

Wyoming

,

Sep 20, 2019
Verified Reviewer

I was having painful knees, especially my left knee. I read about Arthrozene, and I couldn't wait to order 3 bottles. I finished the first bottle, and no relief. I thought to myself just give it some more time. Two bottles gone, no change. So, with high hopes, I used the 3rd bottle until I was out of supply. No change! Hence, I wasted my hard-earned money on what I hoped would have been a cure for my daily pain, that I am now stuck with. I would think that a refund of sorts would be in order, but I don't expect it!

Bottom Line: No, I would not recommend this to a friend

---

10 out 12 people found this review helpful

No relief after 5 weeks

By

Teryn G.

,

Florida

,

Sep 7, 2019
Verified Reviewer

I bought 12 bottles on my first order and am just into the second bottle now, but want people to know that I have had no joint relief yet. I will take all of the product bought, one a day for the rest of the year, but I am not one who can say I felt relief in the first few days or even weeks.

I made the mistake of also buying a product they call Bioslim at the same time I bought the Arthrozene and, after taking it as directed over these weeks, have lost no weight. Now I have added not eating after 6 pm and only drinking water for at least a 12 hour period each night, still taking the Bioslim 30 minutes before my big meal, and I hope on the next weigh-in to have lost at least a couple of pounds in the week. I don't know if I will be able to attribute any loss though to the Bioslim!

Bottom Line: No, I would not recommend this to a friend

---

48 out 49 people found this review helpful

Product integrity

By

Sharon T.

,

Hollister, CA

,

Mar 8, 2019
Verified Reviewer

These people are over the top. Watch out. I purchased a ninety day supply of their Arthrozene in 2018, small green-blue soft capsules. In February this year, I thought I was purchasing the same item. Pills are plastic looking capsules with white, beige and other color sprinkles in them. I have contacted Fisico three times regarding why the change. Their supervisor to return my call today. I finally called at 4:50 Eastern time. She said perhaps I was "taking" the other pills and thought they were Arthrozene. Said never made changes. She suggested that I take a photo of one of the capsules, email it to her and (uh she has family) so sometime Monday she'll let me know if I am taking a valid product, no one knows of any changes, the pills are 100% different but identified as the same and they really aren't concerned. I have spent over $300.00 on these pills and am very concerned about what I have been taking. I also referred a friend that has Lupus and she purchased three bottles also. These people should be in jail.

Bottom Line: No, I would not recommend this to a friend

---

Advertisement

---

23 out 26 people found this review helpful

Works well

By

Thomas W.

,

Westborough, MA

,

Feb 21, 2019
Verified Reviewer

I was told 3 years ago that knee replacement surgery was in my future due to lateral meniscus damage and stage 1 arthritis. I was 62 when I started on Arthrozene, about 5 months ago. After 5 days my knee stiffness and joint pain related to the meniscus problem was much better. There have been no side effects. I take it on a very empty stomach at 5 or 6 am with about 8 oz of water, then relax or sleep until breakfast an hour or two later. After dealing with the knee pain for so long as it crept into my right side joint, I realized one day that I had almost forgotten I had that problem. I would get up and go without stiffness or pain. I know my knee is not repaired by taking Arthrozene. I have learned over 3 years to pace myself, and continue to do so.

Bottom Line: Yes, I would recommend this to a friend

---

73 out 74 people found this review helpful

Arthrozene works...able to delay hand surgery!

By

Louise L.

,

Saugerties, NY

,

Nov 26, 2018
Verified Reviewer

I'll begin by saying that my Basel joint in my right hand was bone on bone. But I didn't need a picture to tell me...the pain was shocking. I couldn't even put on underwear, brush my teeth, open the cat's canned food...in short, any use of my right hand (my dominant hand) left me sometimes, gasping for air, due to the sharp jolts of pain. I'm a musician and a writer and the impact to my work was adding to my stress and depression. I live in severe chronic pain, with other parts of my body, but, our hands represent our ability to manage our lives. I was in the medical machine, dealing with surgeons and even had a date set for surgery to my hand. So, it was serious.

After I received Arthrozene, I took it faithfully and was told by my primary doctor to allow a window of, say, 6 hours...if you take morning meds, as the supplement can bind to your med and this would impact the effect of the Arthozene. He's a wonderful and enlightened doctor and supports alternative wellness programs. With me, it took about 6 weeks before I realized my pain level had dropped by a good 30% in my hand. I was doing things without the jolt of pain running up my arm. I hadn't even noticed when exactly it happened but it did.

My doctor felt the cock's comb and sternum in the formula was a major component of the success of the supplement. Also, I was taking Boswellia before Arthrozene, along with my regimen of supplements...but the dosage for the "therapeutic" need is key in any medicine or supplement/mineral use. Facing hand surgery, with tendon's removed and rolled up into an Anchovy roll, inserted into my joint would be a long recovery. I was worried about permanent "numbness" in the joint area as I need my thumb. Imagine doing anything without your thumb! Since I live alone, it was a huge worry for me, and I have had numerous surgeries and still have pain.

Well, that's my story. I stopped the surgery and believe firmly that there are other ways to get that joint regenerated. Important to know - everybody is different, anyone who has arthritis has to keep mobile, our diet is key to our health (I'm a vegetarian) and only eat organic foods. Certain foods wreck our ligaments. Long-term use of NSAID's will not help, but certainly, hurt you. Learn about Fibrin and how it works when we are injured. Knowledge is power. Do not put your precious body into the hands of a doctor...just because he is a doctor. I've met surgeon's I wouldn't let peel an apple!

Lastly, there are many, many remedies from other parts of the world that have been used for longer than this country has been a country! Learn about them because once you have gone under the knife, you can't go back. Offered in Health and Peace!

Bottom Line: Yes, I would recommend this to a friend

---

75 out 79 people found this review helpful

Great product

By

N C.

,

Powder Springs, GA

,

Oct 25, 2018
Verified Reviewer

I started taking Arthrozene about three weeks ago. The pain and stiffness in my knees were unbearable. I could hardly stand or walk, especially any distance. I was considering knee replacement surgery. After three days the pain was considerably less. Now, the pain is gone, and each day it gets better. I have an ulcer and the product has not affected my stomach. I looking forward to seeing the progress in three months.

Bottom Line: Yes, I would recommend this to a friend

---

97 out 107 people found this review helpful

Side effects and interactions

By

Lisa D.

,

Pennsylvania

,

Oct 24, 2018
Verified Reviewer

I feel that the company that manufactures Arthrozene is negligent in not alerting their customers to possible side effects and interactions. One of the key ingredients is Boswellia serrata. It can cause diarrhea, skin rashes, nausea and more, and should NOT be taken in conjunction with NSAIDs, like Ibuprofen, Aleve, Naprosyn, etc. It can cause liver toxicity.

It had minimal effect on my knees. I took Ibuprofen with it and developed severe diarrhea. In searching for the cause, I examined recent changes in my habits and therefore did more research into the ingredients.

Bottom Line: No, I would not recommend this to a friend

---

64 out 70 people found this review helpful

Arthrozene, it worked!

By

Joan W.

,

New Jersey

,

Oct 23, 2018
Verified Reviewer

I was almost to the point of having knee surgery when I saw an article on my phone regarding Arthrozene. I read it and with one last attempt to try something else, I placed the order. I have been suffering with knee pain for over 10 years. I have had injections, tried creams, water therapy and much more. Depression set in because my life changed. I could barely get up and move without pain. I am a Realtor, and I couldn't even drive my car without getting out to stretch my legs to give my knees a break. I received Arthrozene, took it a directed, and I am moving like I never had any knee problems at ALL! Today I am ordering 3 bottles and will continue to order because this actually works. I pay attention to my body and am experiencing NO SIDE EFFECTS AT ALL. I have recommended this to my sister and friends already!

Bottom Line: Yes, I would recommend this to a friend

---

39 out 80 people found this review helpful

This stuff works!

By

Ken R.

,

Fort Lauderdale, FL

,

Oct 22, 2018
Verified Reviewer

I am a masseur. I use my hands, fingers, and arms every day. Before I discovered Arthrozene, I had very painful fingers and wrists. I had to limit the number of clients I helped each day. I have been taking Arthrozene for three months now, I am relatively pain-free, and I am back to seeing four to six clients a day. Thank you Arthrozene!

Bottom Line: No, I would not recommend this to a friend

---

93 out 102 people found this review helpful

Did nothing for me.

By

Patricia H.

,

New Jersey

,

Oct 19, 2018
Verified Reviewer

I have been taking Arthozene for almost one month now, each morning on an empty stomach, as directed. I am sending it back today, as they promise to refund money, even if only returning an empty bottle. I am so disappointed. Let's see if they hold true to their word and issue a prompt refund. I'm a bit skeptical, as I called their customer care center yesterday and left a voicemail (no option to hold) and am still awaiting a return call.

Bottom Line: No, I would not recommend this to a friend

---