Instaflex Advanced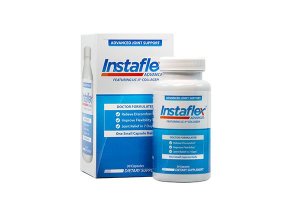 Summary
Instaflex Advanced is a supplement that allegedly helps relieve your joint pain after one week of use. Are the benefits backed by science and research?
About Instaflex Advanced
HighYa is supported by our readers. When you buy something through a link on this page, we may earn an affiliate commission. Learn more.
What Is Instaflex Advanced?
Instaflex Advanced is a joint support dietary supplement formulated by Dr. David Katz, Director and Co-Founder of the Yale Prevention Research Center.
Joint pain is one of the most common reasons for seeking the care of a doctor. With so many people affected, treatment options that aim to delay or prevent the need for joint replacement surgery remain a topic of much debate.
Per their website, Instaflex promises to "strive to provide the best science-backed products that deliver the best results possible.'' According to Dr. Katz, Instaflex Advanced accomplishes this goal.
Dr. Katz states that you can experience joint relief in just 7-days by taking 1 pill with water each day. The proposed benefits may be possible without glucosamine or chondroitin, the common joint relief supplement ingredients.
But is there any scientific support to back these claims?
In this article, we'll review the safety and efficacy of Instaflex Advanced to help you determine if this supplement can relieve your joint pain.
Ingredients
According to their site, the original Instaflex formula was improved upon by Dr. Katz. The Instaflex Advanced formula allegedly helps relieve joint discomfort and improve flexibility through its blend of ingredients.
In this section, we'll go through each ingredient and discuss the available support for the proposed benefits.
Turmeric (rhizome)(standardized to min 95% curcuminoids) 200 mg
Turmeric has been used in preparing food and creating clothing for thousands of years. Is there more to this spice?
Turmeric may help benefit heart health and brain function. Its proposed anti-inflammatory actions are likely why it has been included in Instaflex Advanced, however.
Your inflammatory response promotes healing after injury. Though this process is important, chronic activation can be associated with arthritis. Turmeric may limit the inflammatory response through curcumin, a molecule produced by turmeric plants.
Aspirin blocks the action of cyclooxygenase (COX), enzymes that play a key role in inflammation. Curcumin inhibited these enzymes in a laboratory model using human colon cancer cells.
In a recent review of 8 studies, the use of curcumin dosages ranging from 500-1500mg per day were found to benefit arthritis. The researchers did conclude, however, that more research is needed as the data available from these studies was not sufficient for a definitive conclusion.
While turmeric may have a role in the inflammatory response, evidence in human subjects is lacking.
Resveratrol (from Polygonum cuspidatum root extract) 100 mg
Resveratrol is a substance found in blueberries, grapes, and peanuts. It behaves as an antioxidant that combats free-radicals, or molecules that damage cells.
Resveratrol may also offer anti-inflammatory effects by acting on the same mediators as turmeric.
In rabbits with knee arthritis, those that received injections with resveratrol experienced decreased cartilage destruction when compared to the control group.
In 50 patients with inflammatory bowel disease, those treated with 500mg of resveratrol over 6-weeks reported improvements in quality of life; these results were, in part, due to resveratrol's ability to reduce inflammatory enzymes.
Most of the scientific support for resveratrol's ability to reduce inflammation has been in laboratory and animal models. While some human studies demonstrate the anti-inflammatory effects, these actions have yet to be demonstrated in human trials.
UC-II® (10 mg total collagen, 3 mg undenatured type II collagen) 40 mg
Type II collagen is a key component of cartilage. UC-II is a type of collagen that is obtained from the breastbone of chickens. It may improve joint function by reducing collagen destruction, inflammation, and pain.
In patients with hand, hip, or knee arthritis, those treated with type II collagen had better results for arthritis lab tests at 6-months and 1-year when compared to other treatments.
Arthritic rats treated with 1, 3, and 10 mg kg-1 doses of type II collagen over 2-weeks improved balance, weight-bearing and lab tests for arthritis.
Most recently, 39 patients with knee arthritis were randomized to either Tylenol alone or 10 mg/day type II collagen & Tylenol treatment; those treated with type II collagen reported improved function and quality of life at 3-months.
The early results for type II collagen's ability to offer joint pain relief are promising. Joint pain often spans for decades, however. So the available short-term data must be taken with a grain of salt. More work is needed to identify its role in the long-term.
Hyaluronic Acid (HA) (min 89%) 5 mg
HA is the main component of joint fluid. Pain and dysfunction can occur when your joints dry up.
Injectable forms of HA are well studied, though current research does not demonstrate a benefit.
When taken orally, HA may help reduce joint pain and swelling.
In 20 patients with knee pain, those treated with 80mg/day of HA improved pain and function after 8-weeks. Similarly, 80mg/day of HA over 3-months improved muscle strength in subjects with mild knee pain.
While these findings demonstrated a possible role for HA and benefits in treating knee pain, Instaflex Advanced contains doses smaller than the amounts used in this study.
Apresflex®-Boswellia serrata Extract (resin) 100 mg
AprèsFlex® is a patented Boswellia Serrata extract. This herb is obtained from Middle Eastern Boswellia trees and may possess anti-inflammatory properties.
In 60 patients with knee arthritis, those treated with 100 mg of Boswellia Serrata extracts for 3-months had improved joint function and reduced pain.
It's important to note that Laila Nutraceuticals, the owner of the AprèsFlex® patent, supports this study.
Some patients in this study experienced relief in as little as 7-days. This extract may be responsible for the quick-relief claims made by Dr. Katz. Still, these results were short-term, so we don't know if there are lasting effects.
Bioperine®-Black Pepper Extract (BPE) (fruit) (standardized to min 95% piperine)
Bioperine®-Black Pepper Extract may have antioxidant and anti-inflammatory effects, as well as disease-fighting capabilities.
Additionally, it is thought to promote the many benefits of turmeric. The joint-related effects of (BPE) have not been well studied, however.
In a laboratory setting, 10 to 100 microg/ml of BPE reduced inflammatory lab results. In an animal model, BPE reduced signs of inflammation in rat ankles.
These early results highlight the need for further studies, particularly with human subjects.
Safety and Side Effects
Part of the potential benefit of nutraceuticals is their safety profile. Joint pain and arthritis are long-term issues, often requiring medical management. Even over the counter treatment options can be damaging to the liver and kidney over time.
These issues may be avoided with the ingredients offered in Instaflex Advanced, all of which are generally safe.
Turmeric offered even at 1500mg per day was without adverse effects. Similarly, according to tests, resveratrol is safe at doses 5x higher than what Instaflex Advanced contains.
Type II collagen was safely tested at doses higher than those offered in this supplement.
HA was safe in those treated with 80mg doses. Boswellia Serrata treatment at doses identical to those offered by Dr. Katz were not associated with adverse effects.
BPE is generally safe to use, but the studies examining its anti-inflammatory effects in human subjects with joint pain are lacking.
While the safety profile of this extract is likely favorable, your joint pain may be caused by an issue that should be medically managed. For this reason, you should speak with your doctor first to properly identify that cause.
Pricing and Where to Get It
The company offers a 14-day sample for $4.99 in shipping charges. Afterwhich, you'll automatically be enrolled in an autoship program for $69.99 per month. You'll continue receiving a 30-day supply until you cancel.
Should you enroll in the 14-day trial, you must cancel your membership within 18 days of enrollment to avoid being charged the full amount.
Additionally, a bottle of Instaflex Advanced (30-count) costs $69.99 plus $4.99 in shipping should you want to bypass the free sample.
Dr. Katz backs your purchase with a 30-day guarantee.
The 30-count can be purchased at Amazon for $57.99. GNC offers the 30-count at $64.99.
At Walgreens, 14 capsules are available for $29.99.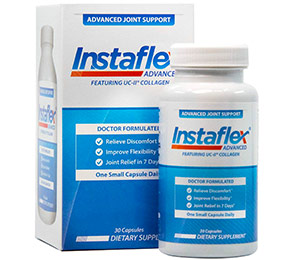 Buy Instaflex Advanced from Amazon:
Instaflex Advanced costs $57.99 for a 30-count bottle, with free shipping. It is recommended that you take 1 pill each day, so one bottle is equal to a 30-day supply. It is rated 4.1-stars based on 1,250+ reviews.
Instaflex Advanced vs. Arthrozene
Arthrozene is another product with proposed joint relief benefits. It has some ingredients in common with Instaflex Advanced.
| | | |
| --- | --- | --- |
| Ingredient | Instaflex Advanced | Arthrozene |
| Turmeric | ✔ | |
| Resveratrol | ✔ | |
| Type II Collagen | ✔ | ✔ |
| HA | ✔ | ✔ |
| Boswellia Serrata | ✔ | ✔ |
| BPE | ✔ | |
Keep in mind that you'll miss out on 3 of the Instaflex ingredients. As turmeric, reservatrol, and BPE lack strong evidence for their efficacy in human subjects, you're likely not missing out on much.
However, and you'll pay nearly $80 for a 30-day supply of Arthrozene - $30 more expensive than Instaflex.
In this instance, Instaflex seems to be more cost-effective and also packs in a few more ingredients for your money. Though not inexpensive, the 30-day guarantee should give you enough time to determine if you find it to be effective.
The Bottom Line
Instaflex Advanced contains a blend of ingredients that may play a role in reducing the pain and inflammation associated with joint pain and arthritis, though more human trials are needed.
Most of the ingredients have been studied at doses much higher than what is offered in this supplement. While this speaks to the probable safety of Instaflex Advanced, this also means that the reported benefits may be less likely.
Amazon users rate this product at 3.9 out of 5-stars on over 1000 reviews. Over 30% of the reviews are 3-stars or less. Most of the customers that offer negative reviews believe this supplement to be too pricey for the limited benefits it offers.
As much of the available research includes study durations of 3-months or less, we can't speak to the long-term effects of these ingredients. The long term effects are an important piece of information that we lack as joint pain is a chronic condition.
Nonetheless, some of the other common treatments (Tylenol, for example), can be harmful when used for long periods. As the upside of finding relief with a nutraceutical can be delaying or avoiding medical and surgical management, they may be a reasonable option to try.
Be sure to speak with a doctor about your symptoms first, however. Identifying the cause of your pain is the first step in the plan of care.
Customer Reviews
Posted on Jul 5, 2021
Never received sample...
They automatically renewed me, nevertheless. I only noticed on the second charge. My fault, I know...I noticed one day after the second charge. They refused to refund my money one day after the charge. They said the items had already been shipped. They must be more efficient than Amazon! (Yeah, right!) Nevertheless, they still tried to sell me vitamins. Absolutely ridiculous.
Length of Use: Less than 3 months
Bottom Line: No, I would not recommend this to a friend
Pros and Cons
No "pros" were specified in this review
Being scammed by the company selling it
Posted on Jun 5, 2020
How well the product works
I work in a doctor's office and I have been taking this product daily for my knee pain from standing and walking a lot. I recommend this product to our patients because it works so great.
Length of Use: 6–12 months
Bottom Line: Yes, I would recommend this to a friend
Pros and Cons
Product does what it says on the label
No "cons" were specified in this review
Posted on Mar 12, 2020
Trial offer
I called about a refund because I had no idea by agreeing to their Terms about having a full bottle sent to me. So I called and I have been lied to with phone call (5 times) now. I called a few minutes ago and was given a different story about my refund. I have a dispute against it with my bank and they tried telling me in another lie my bank refused the refund.
Seriously, how stupid just Instatflex think I am, being 63 I've been around the block a few times. I even went the distance to contact the BBB and the Consumer Rights Commission and Legal Aid. Being disabled, like I told them in the beginning, do they think they have the right to get me to jump through hoops for them? All this DRAMA because personally I think the product is a joke and their Customer Service is even worse acting towards customers who want a refund. All we hear are lies and more lies, it's just right and I have a strong feeling they will pay for it strongly.
Bottom Line: No, I would not recommend this to a friend
Posted on Sep 26, 2019
Should have read reviews
While the first two days my knees improved quickly, I was not prepared for the cramping and diarrhea that began. Each day diarrhea became increasingly worse. Really disappointed because my shellfish allergy limits available product choices.
Bottom Line: No, I would not recommend this to a friend
Posted on Sep 25, 2019
It works for me!
September 19, 2019 is my second week of taking Instaflex Advanced. A friend recommended this product as it helped her with arthritis pain. I have lived in 24/7 pain due to Osteoarthritis. I refuse to take prescription medication so I was willing to try anything. I felt better from day one. I have arthritis in my back, hips, pelvic bones and left knee. Walking was very difficult and painful. I took one capsule of Instaflex and 2 extra strength Tylenol in the morning and I was able to walk better with very little pain. I'm about 80% better! This product works for me and I'm very thankful to have found something natural to help me. I got the 14-day free trial to test the product. I'm now on monthly auto-refill. Thank you, Dr. Katz, for creating something that works great!
Bottom Line: Yes, I would recommend this to a friend
Posted on Jul 15, 2019
Really works
I usually go in for Cortizone Shots every three months. I'm on my third bottle this month and no shots. These pills work, the knee pain is 75% better and I'm happy for that. Just ordered 5 bottles!
Bottom Line: Yes, I would recommend this to a friend
Posted on Mar 13, 2019
Rip off
This is the most dishonest company around. They talk about fake reviews, stop selling a fake product and misleading people. I paid $4.99 for the sample pack. Don't fall for the $29.95 deal, it's not a bottle, it's just another sample pack. But they call it a travel pack. Biggest rip off ever. Turning them into the Better Business Bureau.
Bottom Line: No, I would not recommend this to a friend
Posted on Mar 7, 2019
Instaflex is a scammer.
This Instaflex company is a scammer, don't order their drug. Immediately after you order it, they will be removing money from your bank account and mail you a drug you did not order. Secondly, their drug is not good nor working; when I took it I didn't see any improvement at all.
Bottom Line: No, I would not recommend this to a friend
Posted on Jan 18, 2019
Unethical marketing
I think their marketing procedure is unethical. I never asked for a bottle after I used the trial, which didn't work. I also never received their policy in writing, and never received any emails. They make it very difficult in regard to stopping the program.
Bottom Line: No, I would not recommend this to a friend
Posted on Jan 16, 2019
Seems to be effective.
I've been taking Instaflex for about three months...I find it to have helped quite a bit. My knee is arthritic and probably has limited cartilage. I'm trying to hold off knee replacement as long as possible...I have better joint flexibility and less pain.
Bottom Line: Yes, I would recommend this to a friend
Posted on Dec 15, 2018
Don't waste your money!
Don't waste your money. They auto send you more at $75.00 a pop. I wanted to try, and it was shipped. I didn't know it was an autoship. I'm 70, on a fixed income, and $75 is a lot to me. There should be a law against these kinds of scams!
Bottom Line: No, I would not recommend this to a friend
Our Promise to You
In order to safeguard you and ensure helpfulness and relevance, our compliance team manually assess every customer review before it goes live.
We have a zero-tolerance policy for fake reviews, and companies cannot control or alter any reviews at any time.