Heal-n-Soothe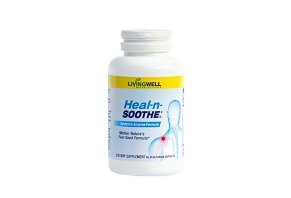 By taking one to four capsules of Heal-n-Soothe per day, the website advertises you'll experience improved comfort, boosted circulation, and improved healing.
Heal-n-Soothe Review - Does It Work and Is It Safe?
HighYa is supported by our readers. When you buy something through a link on this page, we may earn an affiliate commission. Learn more.
By combining 12 natural anti-inflammatory ingredients with enzymes, Heal-n-Soothe is a dietary supplement that allegedly helps promote healing and recovery, reduce muscle discomfort, and support healthy circulation and immune response.
All you have to do is take at least one capsule (up to four times daily, if needed), 30 minutes before or 60 minutes after meals, and the company reports the supplement's 'systemic enzyme therapy' could begin delivering results.
In this review, we'll examine the scientific evidence to help determine how effective Heal-n-soothe is for you.
What Is Systemic Enzyme Therapy and Is It Effective?
Writing for Science-Based Medicine, Scott Savura defines it as consuming enzymes orally "with the intent of whole-body effects."
Specifically, the therapeutic approach is often promoted as a way to address inflammation, which Scott reports is a "host of complex physiologic processes mediated by the immune system," often expressed as redness, heat, pain, and swelling.
From a clinical perspective, he points out that enzyme therapy "can be science-based," since it's often used to treat pancreatic disease and cystic fibrosis. Still, he tempers this by emphasizing that "those are not uses where the enzymes need to be absorbed from the gastrointestinal tract," since large doses aren't often injected.
Comparatively, "the concept of giving enzymes orally, and achieve meaningful therapeutic effects in the body, is one with a considerable number of drug design hurdles," he says.
As a result, "until better evidence appears to demonstrate the efficacy and safety of systemic enzyme therapy," he emphasizes, "their use can't be considered science-based."
Taking a Closer Look at Heal-n-Soothe's Ingredients
According to the supplement facts label listed on their website, Heal-n-Soothe contains the following ingredients:
Boswellia Extract 150 mg
Boswellia Serrata extract is obtained from trees found in the Middle East and may provide anti-inflammatory effects.
Heal-n-Soothe offers a larger dose than what was found to be effective in joint pain.
In 60 knee arthritis patients, those randomized to treatment with 100mg of Boswellia Serrata extract over 3-months improved joint pain and function.
Citrus Bioflavonoids 90 mg
There are thousands of varieties of these plant-based compounds. The flavonoids found in fruits vegetables may offer a vast array of health benefits, including antioxidant effects,
According to this recent review of 91 studies, it was not possible to establish daily intake recommendations as the available studies varied greatly in methodology.
They did note that the average intake in these studies was about 900 mg/day, much larger than the dose offered in Heal-n-soothe.
While the researchers concluded that a diet rich in these plant-based compounds minimize the risk for heart disease and other chronic medical conditions, they also pointed out that the methods in which these benefits are tested must be standardized.
Ginger Extract 90 mg
Ginger has been used in both diet and medicine for thousands of years. It may offer a wide variety of health benefits.
This review highlighted support for numerous benefits related to ginger.
They found that ginger can reduce muscle pain after intense physical activity, promote immune functions, and even fight some forms of cancer.
The ability of ginger to reduce muscle pain with physical activity was seen at 2g doses over 11-days. This dose is more than 20x larger than a single dose of Heal-n-Soothe.
Mojave Yucca (root) 90 mg
The edible fruits, seeds, and flowers of this plant may offer immune-boosting and anti-arthritic capabilities.
This review mentioned a few studies from the 70s that examined the effects of yucca in treating arthritis. While the pain and swelling relief demonstrated in these early studies have led to the use of yucca in both humans and animals, the available support for these effects remains sparse.
Much more work is needed in human subjects to identify the role of yucca in managing inflammatory conditions.
Turmeric 60 mg
This spice has been used for dietary and medicinal purposes by cultures all over the world. In addition to its suspected antioxidant and anti-inflammatory roles, turmeric may also offer weight loss benefits.
Curcumin, the active component of this extract, may help regulate inflammation.
In a laboratory setting, curcumin inhibited the same enzyme that is targeted by Aspirin.
More recently, a review of 8 studies examined curcumin's effect on arthritis. They found that doses ranging from 500-1500mg per day may relieve symptoms. Definitive recommendations can't be made, however, as the studies included lacked strong methodology.
Early studies examining the effects of turmeric are promising, though they highlight the need for long-term research in human subjects.
Alpha Lipoic Acid (ALA) 50 mg
ALA may offer powerful antioxidant and anti-inflammatory effects. Thus, its potential therapeutic roles remain of interest to researches.
The potential for ALA to treat nerve pain in diabetic subjects was recently demonstrated. Doses at 600mg daily reduced symptoms and improved their quality of life over 40-days.
Rutin 30 mg
Rutin is another flavonoid; it is abundant in apples. Like other flavonoids, it may offer antioxidant
In rats, 15mg/kg doses of rutin reduced oxidative stress and inflammation associated with arthritis. In a laboratory model, rutin demonstrated an ability to slow the effects of age-related bone loss.
While these studies are promising, research in human subjects is needed to characterize the ability of rutin to treat inflammatory conditions.
Devil's Claw Extract 30 mg
The roots of this South African plant may offer relief for muscle and joint pain.
Though this extract has been studied in relation to its potential to manage symptoms of arthritis, the available research can't offer a definitive answer regarding the safety and efficacy.
Larger randomized control trials are needed to investigate the effects of devil's claw in the long-term.
Systemic Enzyme Blend 750 mg: Protease AM 225 AP, Bromelain 6M FCCPU, Protease 6.0 60,000 HUT, Alkaline Protease 12,000 USP, Papain 1.5M FCCPU
The addition of these enzymes can maximize the digestion and absorption of proteins, while also eliminating the excess that may accumulate during inflammation.
In a randomized study, those treated with proteolytic enzyme doses around 1000mg for 7-days experienced better wound healing when compared to the placebo group.
This study corroborates the proposed benefits of Heal-n-Soothe, though subjects were treated for only a short duration and with larger protease enzyme doses.
Potential Side Effects Related to Heal-n-Soothe's Ingredients
The disclaimer at the bottom of Heal-n-Soothe's website emphasizes that some of these ingredients could thin blood and that the supplement shouldn't be taken by anyone who's allergic to pineapple or papaya, or by those who are pregnant or nursing.
They also note that it's possible to experience side effects (no dosages or other circumstances noted) like sinus drainage, gas or loosening of the stool, and decreased blood pressure.
Digestive symptoms are likely the most common side effects you may experience, though these are often mild and relieved by discontinuing the product.
Most of the ingredients have been safely studied at much larger doses than what is present in Heel-n-Soothe. This may make unwanted effects even less likely.
Despite a favorable safety profile, you should discuss this blend of ingredients with your doctor. This practice ensures your best of avoiding side effects or unsafe interactions with other medications or supplements you may be taking.
How Much Does Heal-n-Soothe Cost?
Heal-n-Soothe is only available directly from the manufacturer, through the following two options:
One-Time Order (90 vegetarian capsules): $59
Free Trial: $9.95 S&H
If you choose the trial option, you'll be billed the full price of $49.95 after 14 days have passed and will continue receiving a new bottle each month and paying $49.95 each time, until you cancel.
Living Well Nutraceuticals offers a 90-day refund policy on all Heal-n-Soothe orders, less S&H, which you can request by calling (888) 231-9901 or sending an email to info@livingwellnutraceuticals.com.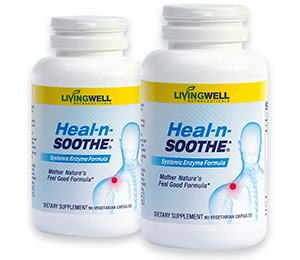 Buy Heal-n-Soothe from Amazon:
Heal-n-Soothe costs $59.90 for one bottle (90 capsules) and $95.85 for two bottles (180 capsules). Shipping is free. It is rated 3.9-stars based on over 400 customer reviews.
A Look at Customer Reviews
Heal-and-Soothe is available through Amazon, where more than 440 customers had given the supplement an average rating of 3.9 stars.
Common compliments from customers included reduced pain and inflammation. However, complaints often referenced no results, difficulty obtaining a refund, and side effects like digestive upset.
As far as the company, Heal-n-Soothe is distributed by Living Well Nutraceuticals, based out of Glendale, CA.
Heal-n-Soothe vs. Other Systemic Enzyme Therapy Supplements
Browsing online marketplaces like Amazon and Google Shopping, we encountered several popular enzyme supplements competing with Heal-n-Soothe:
| Supplement | Price | Active Enzyme(s) | Other Ingredients? |
| --- | --- | --- | --- |
| Heal-n-Soothe | $49 - $59 | Bromelain, Papain | Boswellia, bioflavonoids, ginger, yucca, turmeric, ALA, rutin, devil's claw |
| NOW Super Enzymes | $11+ | Bromelain, Ox Bile, Pancreatin, Papain | No |
| Doctor's Best Proteolytic Enzymes | $21 | Bromelain, Papain, Amylase, Lipase, Serratiopeptidase, Lipase | Neutral, fungal, and bacterial protease, rutin |
| Enzymedica Repair Gold | $30+ | Bromelain, Amylase, Catalase, Papain, Serratiopeptidase, Lipase | No |
| Source Naturals Daily Essential Enzymes | $42 | Pancreatin, Acid-Stable Protease, Lipase, Amylase, Amyloglucosidase, Cellulase, Lactase | No |
| Wobenzym N | $25+ | Pancreatin, Papain, Bromelain, Trypsin, Chymotrypsin, Rutoside | No |
Given all these options, formulations, and price points, what's the best way to figure out which one—if any—is right for you?
As we always emphasize, start by talking with your doctor. They can help diagnose the underlying cause of your pain, discomfort, and inflammation, and then recommend a science-based treatment from there.
If they recommend pursuing a dietary supplement, we'd recommend only doing business with manufacturers who:
List all of their ingredients, including dosages, with no proprietary blends (which don't list dosages)
Support their claims with quality clinical evidence
Back their products with at least 30-day refund policies and don't charge restocking fees
Our Final Thoughts About Heal-n-Soothe
Pain is a complex process, and it will take the help of a physician to narrow down what's causing yours, and then prescribe a viable treatment. So—again—whether you're considering Heal-n-Soothe or another dietary supplement, they're perhaps your best option.
While systemic enzyme therapy as a whole might not seem to have much clinical support, several of Heal-n-Soothe's ingredients have been studied. However, most of the ingredients lack strong scientific support for the proposed benefits.
Also, most studied used doses much higher than those offered in Heal-n-Soothe. You may avoid some of the mild side effects, though you may not get quite enough of the active ingredients to see results.
Even when referencing the same source of pain, the reality is that everyone's body is different, so what works for one patient might be a total fail for another.
For this reason, it's positive that Living Well Nutraceuticals seems to stand behind Heal-n-Soothe with a 90-day refund policy—just keep in mind that you'll have to pay to send the bottle back if you're dissatisfied.
RIP off

By Kim R.

,

United Kingdom

,

Mar 5, 2020
Verified Reviewer

I ordered a bottle of Heal-n-Soothe, two bottles came. I was charged £45.00, £1.25 for the card fee, plus £14.00 to the post office for extra charges. I ordered the pain relief thinking that was what I was going to get. This time they charged me £45.00, plus a £1.25 credit card fee, plus £15.00 to CNN to pick it up at post office for extra delivery, and when I opened the package there was only 1 bottle of the same supplement, they worked for a few days then back to the arthritis pain, which is very bad. I've tried to sign and send an email asking for my money back. I was so angry being this time because I was in FB pain and it really got to me how vulnerable I was to these bad people. I did send an email to some other email I found but of course, the message didn't get delivered. I will try the one on this page.

All I can say is, do not bother wasting your money or time. There are other ways to get pain relief. If they don't care, KARMA DOES.

Bottom Line: No, I would not recommend this to a friend

---

Heal-n-Soothe

By Gary B.

,

Whangarei, New Zealand

,

Mar 5, 2020
Verified Reviewer

A complete waste of time and money. I told them I didnt want to be sent any more, until I had tried their product. After using 2 bottles (180 tabs) I had no pain relief whatsoever! The most annoying thing is that I have emailed them on numerous occasions and have not had any reply. Is this a reputable company or just in it for greed! Now I have been sent another bottle and have had my credit card charged without my consent. It is a scam, some people might in their mind find this ok, but they may as well suck a stone twice a day and get their imagined relief. I am not happy!

Bottom Line: No, I would not recommend this to a friend

---

SCAM

By David B.

,

Lancashire, England

,

Feb 12, 2020
Verified Reviewer

These people are complete fraudsters. Avoid at ALL costs. Do NOT give them your credit card details. They will bleed you dry. They have robbed my bank account. They are a bunch of thieves. I thought I was ordering one bottle. I was wrong. They will keep shipping further bottles, and keep robbing your bank account. I have been forced to cancel my credit card. In addition...if you collect your product at the post office, you will be charged a further £15 delivery. It makes the product VERY expensive...even BEFORE you have your bank account emptied. A complete and utter rip-off. To be avoided at all costs. These people are simply scamming you for your card details. Have nothing to do with them. They should be closed down ASAP.

Bottom Line: No, I would not recommend this to a friend

---

So far, so good!

By Milton J.

,

Arkansas

,

Jan 23, 2020
Verified Reviewer

For several years I have had issues with inflammation and cramping of my right leg. I had much success with Omega 3 for several years, but lately it wasn't doing it for me. Beginning about 3 months ago, I suffered increasing leg pain and hip joint discomfort; to the point that I was wincing in pain when I got out of my car. I was limping from pain in my right hip. I was taking NSAIDs with only moderate relief.

I received my trial order of Heal-n-Soothe about three weeks ago, and have had a remarkable reduction in pain and inflammation. Currently no hip joint pain and no limping. The only side effect has been some mild acid-stomach symptoms, which are manageable. I have gone off the NSAIDs, and am experimenting with reduced dosages of Heal-n-Soothe.

Hey folks, nothing's perfect, but when something works this well, what more can you ask? Oh, I forgot to mention...I'm age 85.

Bottom Line: Yes, I would recommend this to a friend

---

Advertisement

---

Paid for and never received anything, unauthorized monthly charge too!

By Karen B.

,

United Kingdom

,

Dec 16, 2019
Verified Reviewer

I bought a bottle to try, declined the free trial and subscription, thought if it worked I would order more. Bought some rub-on cream too, paid for postage to the UK. Listed my full address and contact details.

Seven weeks later, NOTHING had ARRIVED. Started being bombarded with emails from some back institute I have never heard of, apparently, I was a customer. I couldn't log in as I didn't have a password so did a password reset because they clearly had my email, and logged in. Well, there it was all set up with a subscription the whole works, things I have never authorized and never would.

It came to my attention 7 weeks down the track when more money was taken out of my bank account a month later, about $50 USD. When I realized I had never received the first order, I had emailed asking where it was and forgot about it due to starting a new job. No reply to the email, so I found a customer support area on their website in my "account" area. It asked you to log in when you clicked on the "email us" button - it then told you that your password or email was not correct - over and over again.

I checked the tracking online as the "order" had been sent via DHL, AND a second order had apparently been sent as well. DHL had not been given my full address, they were only given the town name, and country, and they were given an incorrect postcode as well. DHL was not given a phone number to contact me on. DHL said "failed to deliver" and nothing else. The second order did not even seem to arrive in the UK. I will be calling DHL to see what it was they tried to deliver, and what about the second order - DHL would not leave it at that if it was a parcel.

I will be calling the company tomorrow, and advising VISA I have not received anything, and it looks like they never intended to send me anything legitimate - evidenced by the no complete address on what they sent (there was a complete and correct address on my order record in my account so I can only assume that to place an incomplete and useless address on what they sent via DHL was to ensure whatever they did send would not arrive).

Bottom Line: No, I would not recommend this to a friend

---

Did not help with my joint pain or back pain.

By Tina B.

,

Louisiana

,

Dec 11, 2019
Verified Reviewer

I have joint pain every day. Sometimes I'm very limited to what I can do. I have been having fibromyalgia for 12 years. I purchased three bottles, faithfully took six to eight a day. Plus I bought super joint support to help out with joint pain. I did not find a difference in taking this supplement. My pain is still here and very real. I e-mail the healthy back, lose the back pain, on Heal-n-Soothe several times to see about my refund. I have received no response. All the supplements were taken within two months after I purchased them. This is my second time trying this product. I am so desperate to get relief from my fibromyalgia that I tried this product twice and twice it has failed me.

Bottom Line: No, I would not recommend this to a friend

---

Did not receive free item

By Pearl W.

,

London, England

,

Nov 13, 2019
Verified Reviewer

I paid postage and packaging, almost £20.00 to be precise, for the bottle of Heal-n-Soothe lose the back pain capsules, in which I did not receive, plus I made sure to decline any other offers which required payment. This week Heal-n-Soothe attempted to take $49.95 out of my account? They certainly were not authorized to take any money from my account and on top of that, I've paid £20.00 for something which hasn't arrived!

Bottom Line: No, I would not recommend this to a friend

---

No difference after second bottle

By Rose D.

,

Aug 1, 2019
Verified Reviewer

This is my second review. Finished first bottle with no results. Same with the second bottle. I will not buy any product online that touts miracles again. One bad apple spoils it for the rest.

Bottom Line: No, I would not recommend this to a friend

---

Very effective.

By Gabriel G.

,

Auckland, New Zealand

,

Apr 27, 2019
Verified Reviewer

The product worked very well in my case. Helps me to keep under control my back and knee pain that I had in the past. Now I can move freely in the tennis court being able to be involved in many hours of tennis coaching a day, plus playing hard tennis 3+ hours, 3 times a week. I consider a great product to take which will improve your overall body mobility and overall body health.

Best advice: Make sure you will take it exactly how they stated, 30 minutes before meals or 60 minutes after meals with plenty of water.

Bottom Line: Yes, I would recommend this to a friend

---

Extortion is bad

By Mercy F.

,

Lagos, Nigeria

,

Apr 17, 2019
Verified Reviewer

My mum has Arthritis that kept her indoors for three months. I read about Heal-n-Soothe online and I thought of buying for my mum. I made an order from Nigeria on February 25th, I was debited, but I have not seen the drugs yet, it has not been delivered.

On March 25th I was debited tripled the previous amount. I was asked to block my account so it won't occur again. I refused. I said let me call back the institute for a refund. I did and no one picked all my call until I got exhausted.

Please, I need a cancellation and I need my money refunded. Have mercy on the mercies and stop extorting money from the poor, it was out of pity I raised that money to get that drug and I have not seen it, yet I got debited twice.

Bottom Line: No, I would not recommend this to a friend

---

I love Heal-n-Soothe!

By Pamela C.

,

Huntington Beach, CA

,

Mar 13, 2019
Verified Reviewer

I was very hesitant to try this product. I have not felt better after exercise in over a year. I retired and thought I was getting old and I should go back to work. I could hardly get up from the chair or car or bed without feeling pain. I could feel the difference after taking it for two weeks. And for a bonus, I had this scar almost completely disappear. I had some stomach upset with the product, so I emailed them. Their customer service rep told me to rinse off the capsules before taking them and to drink a glass of water 15 minutes after taking the capsule. It worked. I can't take Advil or Tylenol for very long before it bothers my stomach. This is a fantastic product. My husband is starting to take it too. I hope it helps him too.

Bottom Line: Yes, I would recommend this to a friend

---