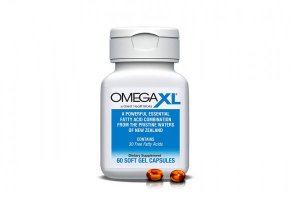 OmegaXL is a daily supplement containing New Zealand mussel extract that claims to reduce your joint pain and inflammation.
Omega XL Review: Ingredients, Effectiveness, Cost, Side Effects, and More
What Is Omega XL?
Touted as the "secret" to relief from joint pain, OmegaXL is a nutritional supplement that claims to feature a highly-concentrated extract containing up to 22 times more free fatty acids than regular fish oil.
OmegaXL is manufactured by Great HealthWorks based out of Hollywood, FL.
The supplement, which is endorsed by American television and radio host Larry King, is claimed to provide reduced joint pain and inflammation. Will it work as promised? Let's find out here.
How OmegaXL Works
OmegaXL is an omega-3 joint health supplement that uses a patented, highly concentrated formulation of 30 fatty acids, including DHA and EPA. Specifically, the company lists the supplement's active ingredients as a Perna canaliculus proprietary oil extract, natural monounsaturated olive oil, and Vitamin E.
You won't find any information on the product website about the amount of these active ingredients per capsule, or per serving.
According to WebMD, Perna canaliculus is the name for the New Zealand Green-Lipped Mussel. When taken as a supplement, the mussel has purported medicinal benefits for treating rheumatoid arthritis, osteoarthritis, and asthma.
OmegaXL states online that they source their supply of mussels from "pristine" waters where they are harvested after 18 months.
Once procured, these mussels are processed into a "powerful fatty acid combination" that is all-natural, contains no harmful toxins or PCBs, and has no fishy aftertaste.
The resulting lipid extract is claimed to be backed by "30 years of multiple published clinical studies" which show its effectiveness in reducing inflammation and stiffness, decreasing bronchial tightness (often associated with asthma), and reducing aches and pains.
What the Research Says About the Effectiveness of Omega XL's Ingredients
Most of the research regarding this mussel seems to be related to arthritis.
"They are rich in omega-3 acids, which can have an anti-inflammatory effect," Dr. Henry Gasiorowski, a medical expert at Greenwich Dermatology, told us.
We found a 2017 study of a brand name supplement with green-lipped mussel extract known as BioLex. In this study, 80 patients with arthritis in their hips or knees were given either the supplement or a placebo for twelve weeks.
The results from this study were mixed, Gasiorowski said.
"Studies such as this one have not provided a great deal of evidence that green-lipped mussel extract helped with immediate pain relief," says Dr. Gasiorowski. "However, after 12 weeks these subjects did reduce their paracetamol use compared to subjects who [took a placebo]."
A therapeutic evaluation from 2015 suggests this mussel does offer wider anti-inflammatory properties and may be able to boost the effects of NSAIDs medications when taken together.
Omega XL Side Effects
According to the product's website, there are no known side effects or drug interactions, and OmegaXL is even safe to use for individuals with shellfish allergies.
However, WebMD and RXList seem to disagree with this statement, as both sites state that the mussel is known for causing some mild side effects when taken by mouth, including itching, swelling, abdominal pain, heartburn, stomach problems, and possibly liver problems.
Pregnant and breastfeeding women should avoid this supplement, as there's preliminary evidence it can slow down development and possibly delay birth.
OmegaXL Pricing and Returns
At the time of writing, you can buy OmegaXL directly from the manufacturer as a buy-one-get-one-free deal for $39.95, plus applicable taxes and $4.95 for shipping. For this, you'll receive 120 soft gels (two bottles of 60 soft gels each), which translates into a 60-day supply.
Keep in mind that as soon as you place your order, you'll be enrolled in the company's auto-ship program. As a result, you'll be sent a fresh 30-day supply of OmegaXL once per month, and your credit card will be charged $39.95, plus shipping and handling.
OmegaXL comes with a 90-day refund policy, which begins the day your order is placed, less shipping and handling charges. Outside this 90-day period, no refunds will be honored.
To cancel your auto-ship subscription or to initiate the refund process, simply contact customer service at 800-609-4818 or support@omegaxl.com.
Analysis of OmegaXL Customer Reviews and Complaints
This supplement has several hundred reviews on Amazon and averages four stars.
Most positive reviewers wrote that the supplement soothed their pain symptoms and made their joints feel better. Many wrote that they had to take the supplements for several weeks before they started noticing any improvements.
The most common complaints include failure to work, too little transparency about ingredients, and the high price point. Others mentioned that the capsules arrived fused as if they had melted during shipping.
According to consumer reviews on our website, OmegaXL isn't a fan favorite. The supplement earned 2.4 stars after 35 reviews.
HighYa reviewers took issue with the company's subscription policy and wrote that it was difficult to cancel their orders.
Others felt like the product didn't deliver any of the promised benefits and that it cost too much compared to competing supplements.
How Does OmegaXL Compare to Similar Products?
OmegaXL isn't your only option if you're interested in trying out the benefits of New Zealand green-lipped mussel.
Two popular alternatives include the Swanson Green-Lipped Mussel supplement and the FoodScience of Vermont Sea Mussel supplement.
We chose to look at these products because they have high ratings on Amazon and contain Perna canaliculus as their main ingredient.
Each bottle of Swanson supplements contains 60 capsules and gives you 500mg of freeze-dried mussel per serving. Unlike OmegaXL, the mussel is the only ingredient in the Swanson supplement.
Customer reviews on both Amazon and the Swanson store are primarily favorable. This product earns four stars out of five on both platforms, with many reviewers saying that it left them pain-free after numerous other remedies failed to work.
Most of the negative reviews we read seemed to come from people who didn't appreciate the fishy aftertaste or who thought the supplement didn't work as described for their symptoms.
Pricewise, you'll pay between $4 and $8.99 for sixty capsules (a two-month supply).
In contrast, you'll get 180 capsules from FoodScience of Vermont for $25. That's about $0.14 per capsule, which is more expensive than Swanson ($0.06–$0.15) but cheaper than OmegaXL ($0.37).
However, it's suggested that you take two capsules at a time for both FoodScience and OmegaXL, so the real price per serving is $0.30 and $0.74, respectively.
This brand averages four stars out of five after more than 120 reviews, and it contains nothing but mussel, alfalfa leaf, gelatin, and cinnamon oil for flavoring.
The Bottom Line: Is OmegaXL Worth It?
First off, while there is some clinical research about the benefits of the New Zealand green-lipped mussel, the evidence for many of its purported benefits (such as asthma control) is relatively sparse. Also, remember that some of the evidence is not based on human clinical trials.
On top of this, we read several complaints that OmegaXL does not contain high enough concentrations of active ingredients to make any real impact on your health.
Next, there are no ingredients listed on the product's website. Based on our experience, failing to include a product label or a full list of ingredients is a big red flag that you should stay away.
Our take? Even though a celebrity endorses OmegaXL, there are many similar nutritional supplements on the market, so it may be worth your time to do some research.
Both the Swanson and FoodScience of Vermont supplements we referenced above are a fraction of the price of OmegaXL and don't automatically enroll you in an auto-ship program.
You might find that they are a better way to experiment with whether Perna canaliculus will work for you.
15 out 16 people found this review helpful

Shameful hard sell when trying to cancel for my mother who is at end of life

I called to cancel a subscription for my mom who is dying, cannot swallow pills, and is hardly eating or drinking anything at all. The rep repeatedly tried to sell me on the product, tell me that the pills I was trying to cancel weren't for her, they were for my dad (I had already explained to him that my dad only ordered the pills for my mom). I told him I didn't want to hear sales, that I am trying to get my parents' affairs in order during a very difficult time, he told me he was just trying to tell me my options.

When he came back from putting me on hold, he told me he suspended the account for the next few months. I told him it was completely inappropriate to do this and to cancel the order as I had asked because my mother is at the end of her life. He continued to argue with me that they weren't for her, they were for my dad, that he was trying to help me by telling me my options.

When he came back from hold to say he had in fact canceled the order, I told him I wanted to speak to the manager. Previously he had said ok, and at that point, he said there was no manager there. He gave me a line about how he put all that I said into notes and that the company would know what my complaint was. It is absolutely outrageous and shameful their relentless efforts to keep you hooked in, and reps are not trained to deal with sensitive situations anywhere close to appropriately.

Bottom Line: No, I would not recommend this to a friend

---

19 out 19 people found this review helpful

ALERT, do not buy Omega XL

By

Adrianne B.

,

Pensacola, FL

,

Aug 1, 2019
Verified Reviewer

Omega XL is bad, it has fish oil and to those who are allergic BEWARE. And also it doesn't work, everything is a scam to make money off everyone who comes into this TRAP, don't let them TRAP you into their LIES. 100% SCAMMERS. If you are not allergic to fish they sell those at Walmart, Walgreen's, etc. Don't let them get away with their scam, it's not worth every dime you spend on this JUNK.

Bottom Line: No, I would not recommend this to a friend

---

Advertisement

---

30 out 30 people found this review helpful

Can't turn them off!

By

Rick M.

,

Eden, NC

,

Jun 18, 2019
Verified Reviewer

I signed up and started receiving my pills. After 6 months or so I wanted to stop. I called them up and told them to stop shipping pills and quit debiting my credit card. All these people did was transfer me to another person and put me on hold until I got tired. That is their method. You never get to the person that can stop your order. Now I'm going to my credit card company and have them reject/cancel the automatic payment. For that reason, I would not do business with these ass hats.

Bottom Line: No, I would not recommend this to a friend

---

25 out 26 people found this review helpful

Bad for heartbeat

By

Ross Y.

,

Toronto, Ontario, Canada

,

May 17, 2019
Verified Reviewer

Please whoever has an irregular heartbeat or AF, please do not take it. I was suffering for 3 days after I took only 2 pills, I almost wanted to call an ambulance. I don't know about the benefits, but be alert.

Bottom Line: No, I would not recommend this to a friend

---

Advertisement

---

25 out 26 people found this review helpful

Still haven't received my refund

By

Gwendolyn E.

,

Brooklyn, NY

,

May 7, 2019
Verified Reviewer

Great HealthWorks withdrew money from my account without my authorization. When I checked my bank statement online, I noticed money was taken out so I called and asked for my money back. I was told that I would have to wait 10-15 business days for my refund because of their policy. I waited and my 15 days ended last Friday, April 26, 2019 and still no money in my account. I told the customer service representative that if I do not receive my money by the end of today that I will file a complaint and open an investigation with my bank. Each customer service representative I talk to gives me the same run around to wait it takes time to show up on my account but with my bank, it always shows up automatically even though the money is pending. I would not recommend anyone to deal with this company because they are quick to take your money out from your account and are slow to give you your money back. I am currently still waiting for my money! If you can stay avoid dealing with this company!

Bottom Line: No, I would not recommend this to a friend

---

48 out 50 people found this review helpful

Don't buy

By

Maria S.

,

Vancouver, British Columbia, Canada

,

Feb 28, 2019
Verified Reviewer

My left knee suddenly was in so much pain that I had to walk with a cane. By chance, my daughter saw the advertisement and thought this Omega-XL would do miracles. I ordered and finished the two bottles. It did not reduce my pain one bit! My pain got worse and at the end, I had to see my doctor.

Bottom Line: No, I would not recommend this to a friend

---

58 out 58 people found this review helpful

Worst customer service

By

Lila P.

,

Sayreville, NJ

,

Feb 12, 2019
Verified Reviewer

I have tried to cancel their mailing orders and it is impossible to reach the Cancellation Department, after been on the phone for 50 minutes each time you get disconnected, or they give you the runaround. Very disappointed. They also increased the price twice in two months without notification.

Bottom Line: No, I would not recommend this to a friend

---

85 out 88 people found this review helpful

Scammers

By

Avtar R.

,

Victoria, British Columbia, Canada

,

Jan 20, 2019
Verified Reviewer

We have canceled our subscription three times! We keep getting products and charged. I have waisted 10 hours of my life on hold trying to get this rectified! I'm on hold as we speak!

These guys are scammers!

Bottom Line: No, I would not recommend this to a friend

---

105 out 106 people found this review helpful

Not what it claims.

By

Raul N.

,

Abbotsford, British Columbia, Canada

,

Dec 5, 2018
Verified Reviewer

After trying this product for three months I was completely let down. It did not relieve pain at all! Nothing claimed in the infomercial is true about this product. The product is available at Walmart - contrary to the claim made in the infomercial that it is not available anywhere but through the company itself. As well, customer service is almost non-existent. Rude. Pushy. Terrible customer service. I DO NOT recommend this product.

Bottom Line: No, I would not recommend this to a friend

---

34 out 61 people found this review helpful

Buy this stuff

By

Judy P.

,

Illinois

,

Oct 27, 2018
Verified Reviewer

If you have joint pain of any kind, especially if nothing has worked for you to relieve the pain, BUY THIS STUFF! I have a painful ankle from being broken many years ago and never set. Nothing ever worked to keep me from hobbling around in pain all day, especially if I was on my feet a lot. I tried this and after about a month or so of taking this, I was completely pain free and remain so to this day. You have to be patient and diligently take this for about a month to let it build up in your system. After that, you will have a big smile on your face! I rarely write reviews on products, but I just had to write this one. Kudos to Omega XL! BUY THIS STUFF!

Bottom Line: Yes, I would recommend this to a friend

---

153 out 154 people found this review helpful

Doesn't work! Terrible customer service!

By

John N.

,

Norco, CA

,

Oct 3, 2018
Verified Reviewer

Exactly one month ago on September 2, 2018, I saw the infomercial with Larry King. I was skeptical at first, but, believed he wouldn't endorse anything that wasn't legit. Wow! What a fool I was! I was also intrigued by the 90-day refund policy. Anyhow, I ordered it and tried it fully for 30 days. It doesn't work! Waste of money! I wish I had checked the reviews online!

Then, I just found out that they took another payment from my credit card without my permission. I tried to contact them with nothing but rudeness and the run around! No worries. I contacted my bank and disputed the transaction and future transactions by them! I hope this realistic review saves a lot of people from getting taken like me!

Bottom Line: No, I would not recommend this to a friend

---