Omega XL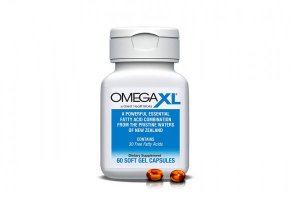 Summary
OmegaXL is a daily supplement containing New Zealand mussel extract that allegedly reduces your joint pain and inflammation. Clinical evidence of the ingredients are still lacking, however.
Omega XL Review: Is It Safe and Effective?
HighYa is supported by our readers. When you buy something through a link on this page, we may earn an affiliate commission. Learn more.
What Is Omega XL?
Omega XL is a nutritional supplement that allegedly addresses your joint pain and inflammation by utilizing a concentrated extract containing up to 22 times more free fatty acids than regular fish oil.
Omega XL is manufactured by Great HealthWorks based out of Hollywood, FL.
This review analyzes the product's efficacy and safety to help you determine whether it's right for you.
How Does It Work?
Omega XL claims to offer a highly concentrated formulation of 30 fatty acids.
The company lists the supplement's active ingredients as a Perna canaliculus proprietary oil extract, natural monounsaturated olive oil, and Vitamin E.
They also boast about providing "22x more omega-3 fatty acids than standard fish oil capsules." You won't find any information detailing the amount of these active ingredients per capsule, or per serving, however.
Of the many omega-3s, the most discussed include alpha-linolenic acid (ALA), eicosapentaenoic acid (EPA), and docosahexaenoic acid (DHA). Omega XL claims to offer EPA and DHA among the 30 fatty acid blend.
Omega-3s are thought to have wide-ranging effects such as improving mental health, reducing the risk for heart disease, fighting inflammation, and alleviating joint pain.
Perna canaliculus, or the New Zealand Green-Lipped Mussel, provides much of the fatty acids Omega XL claims to offer. They report that their supply of mussels are sourced from "pristine" waters where they are harvested after 18 months.
As there are 60 soft gels in a bottle, perceivably 1 serving is 2 soft gels. Omega XL recommends taking the capsule with meals if you have a sensitive stomach, though they provide no information regarding use beyond this.
Effectiveness of The Ingredients
Most of the research regarding this mussel seems to be related to arthritis.
In a 2017 study of a brand name supplement with green-lipped mussel extract known as BioLex, 80 patients with moderate to severe arthritis in their hips or knees were given either 600mg of BioLex daily or a placebo for twelve weeks.
The results of this study were mixed.
Studies such as this one have not provided a great deal of evidence that green-lipped mussel extract helped with immediate pain relief. However, after 12 weeks these subjects did reduce their paracetamol use compared to subjects who took a placebo.
A therapeutic evaluation from 2015 suggests this mussel does offer wider anti-inflammatory properties and may be able to boost the effects of NSAIDs medications when taken together.
In a review of 4 randomized trials, doses of green-lipped mussel extract ranging from 210-1150mg/day all seemed to offer clinical benefit. Two of the 4 studies were thrown out, however, as the scientific method and statistical analysis were unsatisfactory.
This review highlights the mixed nature of current data, as well as the need for much more work to characterize the benefits.
In 49 patients with rheumatoid arthritis, those randomized to receive olive oil capsules containing 6.8 gm of oleic acid had less benefit when compared to subjects receiving fish oil supplements, particularly at high doses.
In 43 patients with rheumatoid arthritis, those randomized to receive fish oil omega-3 fatty acids (3 g/d) and 9.6 mL of olive oil over 24-weeks experienced more relief than those that received placebo or fish oil alone.
A recent review of available research points to mixed results regarding any potential benefit with Vitamin E in those with joint pain, particularly osteoarthritis.
While 200-400mg doses were associated with improved walking, standing, and patient-reported benefits, many other studies found a negligible or negative relationship between vitamin E and joint health.
The Takeaway:
Scientific support for joint relief from Perna canaliculus use in human subjects is minimal. Furthermore, questionable methods and statistical analysis were used in much of the available literature. More work is needed to clarify any potential benefit for joint pain.
The available data regarding joint relief with olive oil supplementation is mixed, though when added to fish oil supplementation, the benefits may be greater than with fish oil alone.
Vitamin E and the potential for joint pain relief has been extensively studied in subjects with osteoarthritis. Though support exists, the results are mixed.
While strong support for the ingredients in this supplement is lacking, we also do not know the total, or individual, amounts of the ingredients.
Side Effects
According to the product's website, there are no known side effects or drug interactions, and Omega XL is even safe to use for individuals with shellfish allergies.
This may not be the case, however, as mussels do possess a known allergenic protein, Per v 1. Mussels are the least likely shellfish to cause a reaction.
Even at doses up to 1150mg daily, no adverse effects were reported with green-lipped mussel extract. Olive oil supplementation was similarly safe at 9.6mL daily over 24-weeks. Vitamin E was safe up to 400mg daily.
Of course, this information is not as helpful as it could be as we do not have information regarding the amounts of each active ingredient offered in Omega XL.
For omega-3 supplements in general, reported side effects include bleeding, impaired immune function, and impaired lipid and glucose metabolism, though they are likely safe up to even 5,000mg per day.
The Takeaway:
While safe in general, we do not know the amount of each ingredient included in Omega XL. It is best to speak with a physician before use.
The Cost
At the time of writing, you can buy Omega XL directly from the manufacturer as a buy-one-get-one-free deal for $39.95, plus applicable taxes and $4.95 for shipping. For this, you'll receive 120 soft gels (two bottles of 60 soft gels each), which translates into a 60-day supply.
Keep in mind that as soon as you place your order, you'll be enrolled in the company's auto-ship program. As a result, you'll be sent a fresh 30-day supply of Omega XL once per month, and your credit card will be charged $39.95, plus shipping and handling.
Omega XL comes with a 60-day refund policy, which begins the day your order is placed, less shipping and handling charges. Outside this 60-day period, no refunds will be honored.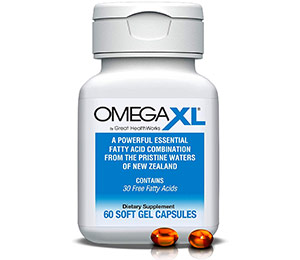 Buy Omega XL from Amazon:
Omega XL costs $47.99 for a 60-count bottle, with free shipping. (Single purchase, no subscription.) It is recommended that you take 2 soft gels each day, so one bottle is equal to a 30-day supply.
Customer Reviews and Complaints
This supplement has several hundred reviews on Amazon and averages four stars.
Most positive reviewers wrote that the supplement soothed their pain symptoms and made their joints feel better. Many wrote that they had to take the supplements for several weeks before they started noticing any improvements.
The most common complaints include failure to work, too little transparency about ingredients, and the high price point. Others mentioned that the capsules arrived fused as if they had melted during shipping.
According to consumer reviews on our website, Omega XL isn't a fan favorite. The supplement earned 2.4 stars after 35 reviews.
HighYa reviewers took issue with the company's subscription policy and wrote that it was difficult to cancel their orders.
Others felt like the product didn't deliver any of the promised benefits and that it cost too much compared to competing supplements.
Alternative Products
Omega XL isn't your only option if you're interested in trying out the benefits of New Zealand green-lipped mussel.
Two popular alternatives include the Swanson Green-Lipped Mussel supplement and the FoodScience of Vermont Sea Mussel supplement.
We chose to look at these products because they have high ratings on Amazon and contain Perna canaliculus as their main ingredient.
Each bottle of Swanson supplements contains 60 capsules and gives you 500mg of freeze-dried mussel per serving. Unlike Omega XL, the mussel is the only ingredient in the Swanson supplement.
Customer reviews on both Amazon and the Swanson store are primarily favorable. This product earns four stars out of five on both platforms, with many reviewers saying that it left them pain-free after numerous other remedies failed to work.
Most of the negative reviews we read seemed to come from people who didn't appreciate the fishy aftertaste or who thought the supplement didn't work as described for their symptoms.
Pricewise, you'll pay between $4 and $8.99 for sixty capsules (a two-month supply).
In contrast, you'll get 180 capsules from FoodScience of Vermont for $25. That's about $0.14 per capsule, which is more expensive than Swanson ($0.06–$0.15) but cheaper than Omega XL ($0.37).
However, it's suggested that you take two capsules at a time for both FoodScience and Omega XL, so the real price per serving is $0.30 and $0.74, respectively.
This brand averages four stars out of five after more than 120 reviews, and it contains nothing but mussel, alfalfa leaf, gelatin, and cinnamon oil for flavoring.
The Bottom Line
Support for the efficacy of this supplement is lacking. Even the most extensively studied ingredient provides us only with mixed results.
There are many similar nutritional supplements on the market, so it may be worth your time to do some research.
Both the Swanson and FoodScience of Vermont supplements we referenced above are a fraction of the price of Omega XL and don't automatically enroll you in an auto-ship program.
You might find that they are a better way to experiment with whether Perna canaliculus will work for you, though having a conversation with your primary physician before use is your best bet.
Customer Reviews
Posted on Mar 8, 2023
Disappointed
I have been taking Omega XL for a month now and my body hurts more than it did, I've also been taking vitamin XL D3 immune bone, and brain health, I've been having headaches since I have been taking them. I was hoping that this would work, but it was totally the opposite.
Length of Use: Less than 3 months
Bottom Line: No, I would not recommend this to a friend
Posted on Feb 15, 2023
Scam tactics
I did a one-time purchase of Omega XL online and made sure I did not click or sign up for any auto-ship. My emailed receipt also didn't mention anything about auto-ship and neither did the infomercial. Yet they charged my credit card $78 without my authorization. The representative proceeded to tell me that I absolutely knew what I was signing up for and that I had to wait to refuse the delivery and I would have to pay for the shipping. Outrageous! This is an absolute scam for a mediocre BS product. I'm enraged at a company that blatantly steels the customer's money. I trusted them with my credit card and they go and criminally steal my money. They claim I have to wait 30 days for a reduced refund since I have to pay for shipping. Additionally, the representative repeatedly continues to give me a product review and ask me a bunch of medical questions about my health and the weather and inflation, etc. What BS of customer service. I will never purchase from this company ever. They are thieves in disguise.
Length of Use: Less than 3 months
Bottom Line: No, I would not recommend this to a friend
Pros and Cons
No "pros" were specified in this review
Scam
Posted on Jan 25, 2023
Snake oil advertising
Don't waste your money on this crap! This so-called doctor is a scammer snake oil salesman. He is a quack who belongs back in the 1800s when snake oil salesmen peddled their phony product. Didn't do a thing for my friends or me. Better off buying a quart of Jack Daniels. Phony company needs to be shut down!
Length of Use: 3–6 months
Bottom Line: No, I would not recommend this to a friend
Pros and Cons
No "pros" were specified in this review
Does not work
False advertising
Posted on Dec 28, 2022
Terrible customer service service!
You cannot order this product unless you give permission for this company to take money out of your account every few months! Rude customer service. Got mad and hung up when I didn't give permission to my account every few months!
Bottom Line: No, I would not recommend this to a friend
Posted on Jul 30, 2020
Easy to order, but difficult to cancel order
I felt no difference with the product and decided to cancel within the 90 days.
I was promised a 30-day supply for free, if I gave it another try, but that 30-day free supply didn't show up.
After about an hour on hold to cancel, I called on a different line as a new customer and someone picked up the phone within like 20 seconds, but expressed he had no authority to cancel my subscription.
Length of Use: 3–6 months
Bottom Line: No, I would not recommend this to a friend
Pros and Cons
No "pros" were specified in this review
Customer service
Difficulty to cancel
Posted on Aug 27, 2019
Shameful hard sell when trying to cancel for my mother who is at end of life
I called to cancel a subscription for my mom who is dying, cannot swallow pills, and is hardly eating or drinking anything at all. The rep repeatedly tried to sell me on the product, tell me that the pills I was trying to cancel weren't for her, they were for my dad (I had already explained to him that my dad only ordered the pills for my mom). I told him I didn't want to hear sales, that I am trying to get my parents' affairs in order during a very difficult time, he told me he was just trying to tell me my options.
When he came back from putting me on hold, he told me he suspended the account for the next few months. I told him it was completely inappropriate to do this and to cancel the order as I had asked because my mother is at the end of her life. He continued to argue with me that they weren't for her, they were for my dad, that he was trying to help me by telling me my options.
When he came back from hold to say he had in fact canceled the order, I told him I wanted to speak to the manager. Previously he had said ok, and at that point, he said there was no manager there. He gave me a line about how he put all that I said into notes and that the company would know what my complaint was. It is absolutely outrageous and shameful their relentless efforts to keep you hooked in, and reps are not trained to deal with sensitive situations anywhere close to appropriately.
Bottom Line: No, I would not recommend this to a friend
Posted on Aug 1, 2019
ALERT, do not buy Omega XL
Omega XL is bad, it has fish oil and to those who are allergic BEWARE. And also it doesn't work, everything is a scam to make money off everyone who comes into this TRAP, don't let them TRAP you into their LIES. 100% SCAMMERS. If you are not allergic to fish they sell those at Walmart, Walgreen's, etc. Don't let them get away with their scam, it's not worth every dime you spend on this JUNK.
Bottom Line: No, I would not recommend this to a friend
Posted on Jun 18, 2019
Can't turn them off!
I signed up and started receiving my pills. After 6 months or so I wanted to stop. I called them up and told them to stop shipping pills and quit debiting my credit card. All these people did was transfer me to another person and put me on hold until I got tired. That is their method. You never get to the person that can stop your order. Now I'm going to my credit card company and have them reject/cancel the automatic payment. For that reason, I would not do business with these ass hats.
Bottom Line: No, I would not recommend this to a friend
Posted on May 17, 2019
Bad for heartbeat
Please whoever has an irregular heartbeat or AF, please do not take it. I was suffering for 3 days after I took only 2 pills, I almost wanted to call an ambulance. I don't know about the benefits, but be alert.
Bottom Line: No, I would not recommend this to a friend
Posted on May 7, 2019
Still haven't received my refund
Great HealthWorks withdrew money from my account without my authorization. When I checked my bank statement online, I noticed money was taken out so I called and asked for my money back. I was told that I would have to wait 10-15 business days for my refund because of their policy. I waited and my 15 days ended last Friday, April 26, 2019 and still no money in my account. I told the customer service representative that if I do not receive my money by the end of today that I will file a complaint and open an investigation with my bank. Each customer service representative I talk to gives me the same run around to wait it takes time to show up on my account but with my bank, it always shows up automatically even though the money is pending. I would not recommend anyone to deal with this company because they are quick to take your money out from your account and are slow to give you your money back. I am currently still waiting for my money! If you can stay avoid dealing with this company!
Bottom Line: No, I would not recommend this to a friend
Posted on Feb 28, 2019
Don't buy
My left knee suddenly was in so much pain that I had to walk with a cane. By chance, my daughter saw the advertisement and thought this Omega-XL would do miracles. I ordered and finished the two bottles. It did not reduce my pain one bit! My pain got worse and at the end, I had to see my doctor.
Bottom Line: No, I would not recommend this to a friend
Our Promise to You
In order to safeguard you and ensure helpfulness and relevance, our compliance team manually assess every customer review before it goes live.
We have a zero-tolerance policy for fake reviews, and companies cannot control or alter any reviews at any time.