Dr. Ho's Decompression Belt
Claimed This company has claimed this profile, is getting alerted on any new customer reviews entering this page, and may engage in dialogue with its customers to address their matters.

Companies cannot pay money or provide goods in order to remove or alter customer reviews.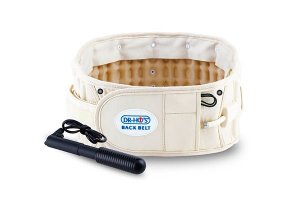 Dr. Ho's Decompression Belt claims to provide in-home relief from chronic, acute back pain using gentle and effective traction, by using it for 30 minutes per session. Research shows that it may work but not always if you have certain underlying conditions.
Dr. Ho's Decompression Belt Reviews - Does It Provide Back Pain Relief?
HighYa is supported by our readers. When you buy something through a link on this page, we may earn an affiliate commission. Learn more.
What is Dr. Ho's Decompression Belt?
Dr. Ho's Decompression Belt is a device claimed to offer relief from back pain by decompressing your spine.
Dr. Ho states that the Decompression Belt offers 2-in-1 relief; it supports your lower back and also stretches your spine to reduce pressure.
Specifically, his Decompression Belt is said to:
Offer decompression through spinal traction
Relieve inflammation and allow nutrients better access to the spine
Support and strengthen your lower back
Stretch tight muscles and ease stiffness
Reduce the load of the upper body on your lower back
According to his site, Dr. Michael Ho is a Doctor of Chiropractic Medicine and Acupuncture with over 30-years' experience helping people relieve pain. Part of his mission is to provide the tools necessary to achieve pain relief on your own, without the need for expensive medical treatments.
His Decompression Belt is just one option he offers. But is it the tool you need to relieve your back pain?
In this article, we'll discuss spinal decompression, review how the belt works, and highlight any pertinent scientific research that investigated the safety and efficacy of this product.
Vertebral Anatomy
Your spine, or vertebral column, is made up of a series of vertebrae. These are stacked on top of one another, forming a column that extends from your skull to your tailbone.
There are 3 segments, all with distinct features.
The 7 cervical spine vertebrae support your head.
The 12 thoracic spine vertebrae support your arms and trunk.
The 5 vertebrae in your lumbar spine bear much of your body weight.
Your vertebral column plays many essential roles. It transmits and protects your spinal cord. The column provides a point of attachment for many of your muscles and ligaments. It also works as a shock absorber, dispersing the forces placed on your body.
The intervertebral discs between each vertebra also work as shock absorbers and promote flexibility and mobility by keeping your vertebrae spaced appropriately.
As your lumbar spine bears the most weight, these discs are often affected the most. Over time, these discs can degenerate and cause pain.
Supposedly, this is where Dr. Ho's Decompression Belt may be able to offer relief.
How Does the Decompression Belt Work?
DR-Ho's Decompression Belt is an inflatable device that he claims can both support your lower back, as well as apply traction to your lumbar spine.
Spinal traction is synonymous with distracting or decompressing. It essentially means to apply forces that pull your vertebrae apart, rather than compress them. This action relieves the forces applied to your intervertebral discs.
Dr. Ho claims that his belt can offer relief in as little as 30-minutes. Though the belt is portable and offers convenience, there are many steps you should follow to ensure you maximize your benefits.
How to Use:
Place the fully deflated belt around your waist with the bottom of the belt cradling the top of your hip.
Close the metal-air valve on the belt by turning it clockwise.
Clip the air pump nozzle onto the metal-air valve on the belt tightly to prevent air leakage while pumping.
To pump, push all the way down and lift your foot off entirely with each stroke.
Once fully inflated, you will hear the air release from the safety air release valve on the foot pump.
At this point, remove the nozzle from the belt.
When you've finished your session, deflate the belt by turning the metal air valve counterclockwise.
While inflating the belt is thought to offer decompression, it doesn't always need to be used in this manner. When not inflated, Dr. Ho claims that his belt will act as a support brace by stabilizing and strengthening your lower back during activity.
Is There Any Science Backing These Claims?
As your lower back pain can be related to any number of sources, the available treatment can be just as variable. Often, this can include multiple doctor visits, medications, or even surgery.
Is there a more effective and less effective way of finding relief?
In this section, we'll review available research, if any, that supports the claims made by Dr. Ho regarding his Decompression Belt.
Spinal Decompression
Surgical decompression is the final destination for many with chronic low back pain. While these procedures have been well studied and seem to offer favorable outcomes, our literature review focused on the proposed benefits of nonsurgical decompression.
In 31 patients, those that received spinal decompression therapy for 30 minutes daily over 8-weeks experienced improved abdominal muscle function, as well as improved scores regarding the severity of their disc disease. The decompressive device was not an inflatable belt, however.
Another study used a device similar to Dr. Ho's belt to determine the ability to restore spinal height that is lost during exercises that place compressive forces upon the spine.
The belt used in this study restored spinal height after exercise quicker than the control group. These were healthy subjects, so pain measures were not investigated, however.
Another study examined the effects of a similar belt in 41 patients with chronic low back pain. They found that 43/41 patients treated with the decompression belt experienced subjective and clinical improvements, including reduced pain.
Keep in mind, these patients used the belt for 60-minutes 3 times each day over 5-weeks.
While both surgical and nonsurgical methods of spinal decompression have been researched, there are not many studies available that specifically looked at inflatable decompression belts similar to Dr. Ho's product.
The limited studies available that used comparable devices did offer promising results. However, one study included subjects without back pain while the other required use for 3 hours each day.
Safety
As braces are designed to relieve pain, you'd think that the chances of worsening your problem with use would be rare. These devices aren't without risks, however.
The good news is that the studies investigating the effects of belts similar to Dr. Ho's did not report any serious adverse effects, even with 3-hours of use per day.
Most often, the unwanted effects of wearing braces are related to poor fitting. If the fit isn't secure, you are unlikely to notice any relief. If the fit is too snug, you run the risk of damaging skin and impairing blood circulation.
Also, your core muscles are designed to support your spine. Thus, steps should be taken to improve their ability to do so, not prevent it.
Prolonged use of bracing serves to support your lower back, reducing the need for your core muscles to work. Over time this can actually weaken these muscles and further aggravate back pain.
Patients with acute lumbar injuries, spinal or pelvic fractures, and those with severe osteoporosis should not use the belt. Similarly, pregnant women and children should not use this device.
Lastly, inflating this device over wounds, fractured ribs, or if you have difficulty breathing may be harmful.
You should always speak with a physician before use to first determine the cause of your back pain. If the source is more serious, treatment beyond this belt may be required.
Dr. Ho's Decompression Belt Cost
The belt alone will run you $199.96 (Basic Package).
For $329.99, the Deluxe Package includes the belt as well as the following:
Everything in the Basic Package
Magic Heat Pad ($19.99 value)
DR-HO'S Pain Therapy System Pro ($219.99 value)
8 Small Replacement Pads
2 Large Replacement Pads
Travel Foot Therapy Pads
Travel Bag
You can also opt for the Ultimate Package for $379.99 which includes the following:
Everything in Deluxe Package
DR-HO'S Pain Therapy Belt ($59.99 value)
DR-HO'S Pain Therapy Belt Replacement Pads ($19.99 value)
You may be able to get your Decompression Belt at little to no cost. If you have Medicare, Dr. Ho recommends calling 1-(800)-437-2701 to see if you're pre-approved to have them cover your belt.
Lastly, you can return your belt for a full refund within 90-days if you are not satisfied. To process your return, call 1-888-373-8163 or email at drho@drhonow.com.
You can also obtain Dr. Ho's Decompression Belt on Amazon for $32.99 or $49.99, depending on your size. Either way, that is considerably cheaper than the pricing offered on Dr. Ho's site.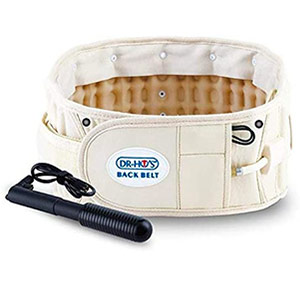 Buy Dr. Ho's 2-in-1 Decompression Belt from Amazon:
Dr. Ho's Decompression Belt is available on Amazon in two sizes: 25x41 inch ($32.99) and 42x55 inch ($49.99). Shipping is free. Additional popular Dr. Ho's products are available on Amazon as well.
The Bottom Line
Decompression, whether surgical or nonsurgical, seems to be a viable option for relief depending on the cause and severity of your back pain.
Dr. Ho's belt is unlikely to relieve chronic and severe pain or pain associated with fractures, for example.
While various nonsurgical decompression methods have been tested, there aren't many studies that have tested inflatable belts. The results from studies that tested belts most similar to Dr. Ho's included healthy individuals or treatment regimens lasting 3-hours each day.
Therefore, you may not see much benefit if you're not in pain or if you are unable to dedicate 3-hours daily to wearing your Dr. Ho Decompression Belt.
The risk for harm is low when used as directed. Studies did not report adverse effects related to the belt, though be sure to determine the proper fit adequately.
Part of your pain may be related to your core muscles working inefficiently. If this is the case, simply wearing Dr. Ho's Decompression Belt won't solve the problem. In fact, prolonged use may even weaken these muscles further.
As there are a number of causes for low back pain, it's important first to identify the source. This involves seeking medical advice. Once you understand the source, you can discuss pain management with your doctor.
---
Very deflating!

By Bill L.

,

Ajax, Ontario, Canada

,

Oct 21, 2020
Verified Reviewer

Length of Use: 3–6 months

Overall Experience:

I had two sized large Dr. Ho's Decompression Belts, an original and a guaranteed replacement. Neither one would hold the air after less than 3 weeks of usage (no it's not the valve). Dr. Ho's service was responsive to the first one but I haven't heard back from them after complaining about the second one. $250 for factory defects? What is your experience? Thanks.

Pros and Cons:

Responsive to first complaint
Non-responsive to second complaint

Bottom Line: No, I would not recommend this to a friend

Oct 21, 2020

Thank you very much for reaching out to us. Our records indicated that a 2nd replacement was sent to you on September 17th. We want to clarify this issue with your right away. Kindly call our team at 1-877-374-6669 so we can work together to find your 2nd belt.

Thank you.

---

Not what they promised on TV!

By Anna N.

,

Renton, WA

,

Oct 14, 2019
Verified Reviewer

Overall Experience:

I saw an infomercial on TV so I called the number. I was called back by somebody who said was a doctor and was going to ask me some questions if I qualify. I qualified and received the back belt and knee brace. After a couple of months, Medicare sends me a summary of the bill. For the back belt they sell on Dr. HO'S website for $179.00 CERTIFIED MEDICAL SUPPLY INC charged Medicare $1500. And for the knee brace $1190!

Highway robbery! I called them to return the items but they said I only can return within 30 days.

Knee brace is too bulky and does not fit at all and the belt does totally nothing for my back! OVERRATED AND OVERPRICED, PRETTY MUCH A SCAM!

Bottom Line: No, I would not recommend this to a friend

Oct 15, 2019

Hi Anna, and thank you for your message.

DR-HO'S is a Canadian company. We manufacture and supply the DR-HO'S 2-in-1 Back Relief Belt. Customers can choose to purchase it themselves, or for those who have insurance coverage, may go through a Medical Equipment Supplier. These suppliers are third-party companies that purchase the DR-HO'S belt, then sell them to you by billing the cost to your insurance. DR-HO'S is not authorized to bill Medicare, nor any other insurance plans. That means the amount billed to your Medicare plan was not done by DR-HO'S.

You have also mentioned that the original shipper is named "Certified Medical Supply", which should be a US Durable Medical Equipment Supplier. As such, they would also be the ones that submitted the bill to Medicare, and subsequently to you for the remaining amount. I'm unsure why the amount billed would be $1500, but that was very likely submitted by Certified Med Supply, and not dictated by DR-HO'S. We do not carry a knee brace, so that is not our product. It seems likely that they sent you a brace from another company.

I hope this explanation has given you clarity on the process, and why DR-HO'S was not involved in any of the billing, and therefore, cannot assist with the return. The best course of action now is to contact Medicare to inquire how much Certified Med Supply had billed your policy, whether or not they were paid by Medicare, and if they were paid, what options you have to get that payment reversed back to your policy.

As for the fit of the back brace, we encourage you to contact our Customer Care team at 1-877-374-6669 and they can troubleshoot proper fit to help with your back. It's important to have a snug fit for the belt to be able to help with decompression.

---

Advertisement

---

Works for me

By Michael H.

,

Colorado

,

Oct 5, 2019
Verified Reviewer

Overall Experience:

I had a herniated disk removed 40 years ago, I am 75. Then the pain started to creep back in about a year ago. I decided to try the Dr. Ho's belt, $25 on eBay for the knock off. I love it with CBD, I got no pain. I put it on in the morning, during coffee for an hour or so, then at night watching TV.

Bottom Line: Yes, I would recommend this to a friend

Oct 10, 2019

We are glad you are getting the relief you need Michael.

---

Dr. Ho's DDS 500 decompression belt...overinflated hype

By Shannon H.

,

Wyoming

,

Sep 30, 2019
Verified Reviewer

Overall Experience:

I have degenerative disc disease, bulging discs in my lumbar, and thoracic spine, among other issues. I had to find a new doctor as mine retired. And she suggested I try this. I was fitted for it, signed for it, then told it's nonrefundable and my insurance MAY not cover it in which case, it will cost me $400! And I still didn't even know if the dumb thing did anything for me or how to use it yet! (I'm really mad about this!)

I get home and decide to try it the next day while sweeping my floors as this is always a painful experience for me. Firstly, those pathetic plastic brace pad things are about as useful and comfortable as a 2×4 to the head. You can wear them the entire time with the belt! Sure! As long as you want to stand like a toothpick and stay that way for many minutes 4 times a day, thanks! The back one sticks out everywhere supporting, well...absolutely NOTHING! And the front one makes bending the most painful and difficult movement of all! And let's not forget discretion as it claims we can wear it all day and everywhere and no one will ever know. It's as discreet as an elephant in the back of an El Camino! Then the simplicity of putting the $400 joke without a punch line on! Talk about an entire 10-minute drama routine to find that it doesn't give any relief at all. In fact, aside from all the money and trouble and frustration...the only relief found is taking the crummy thing off 15 minutes early because you can't take it anymore!

NOW what do you do with it? Because you CAN'T return the stupid thing to your doctor's office apparently. So you have this huge bag of crap for $400 to throw on the garbage! Make sure you're able to try something like this before you sign for one or don't agree to it at all! Just saying. Lesson learned!

Bottom Line: No, I would not recommend this to a friend

Oct 1, 2019

Hi Shannon, thank you for reaching out to us about your difficulty with your belt order. From the sounds of this, you got this as a claim through your doctor's office? I'm not familiar with this process, nor the $400 price tag.

We do sell this belt on our website, and it is available through Medicare. When purchased directly from us, the cost is only $200, and we have a 90-day money-back guarantee (less the cost of shipping), so that you have ample time to see if the belt works for you. We also have a 24-hour helpline to troubleshoot your fit. You can contact them at 1-877-374-6669 and they can assist with your fit to help make it more comfortable. If you are finding that the belt is too uncomfortable with the braces, I would recommend trying it without the brace, and using the pump alone (or wearing it without inflating as a support). I hope you give us an opportunity to help with the fit and comfort of the belt.

---

Advertisement

---

Biggest scam ever!

By Sharon P.

,

Topeka, KS

,

Sep 3, 2019
Verified Reviewer

Overall Experience:

I spoke to a Dr. Ho Belt service rep to buy through Medicare, was told my PCP approval wasn't needed, they have doctors on staff who I would be talking to. That never happened...next thing I knew it had been ordered. I asked how their doctor can possibly know my real medical history without my doctor's input, she said that's how it works, their doctors will know by question's I answer...I said if that was Medicare's policy then ok but would prefer my doctor to place order.

Long story short as possible, belt was sent, was never given an order number, was told it would be on shipping invoice, I demanded an authorization number, anything to refer to, no invoice in box, just belt, pump, some big piece of hard plastic shaped like curvature of back I didn't order, and a video. The belt was stiff, hard edges hurt when sitting down and it put pressure on my bladder causing pain when urinating due to where I had to wear the belt for low lumbar per instructions, I had to have a scan on the bladder, costly, to make sure bladder hadn't been injured. Never felt any relief on the back.

I spoke to the shipper, got return shipping label after several teeth-gritting phone calls, that "not even going to charge you $199" belt advertised on TV in 11/19 was billed to Medicare for $1500, yes $1500...my portion was $263.

I was in shock...have made numerous calls since sending it back, each time I was reassured Medicare would be paid back. As of today, 8/26/19, about 9 months later Medicare hasn't been reimbursed as promised! I made a last-ditch effort yesterday only to be told Dr. Ho lives in Canada where the business is, and they can't process anything for Medicare in the USA, funny, they sure did to order it!

The original shipper, Certified Med Supply isn't in service anymore, rep gave me new number to a different shipper, Bentley Medical, but so far no answer. To start all over as to why Medicare hasn't been paid back. The rep I spoke to at the same phone number that placed the order in 11/19 claimed they couldn't find my name is system...again because they're in Canada and can't service the USA. This is a big rip off...Canada sucking USA Medicare money.

I wouldn't recommend this cheaply made excuse of a back brace to anyone! Pay the money to me or reimburse Medicare! I've reported Dr. Ho to Kansas IG, I'll give them my Medicare number showing order and process of payment to complete my fraud complaint. Sick of scammers, Dr. Ho living in luxury in Canada at USA's expense...Shame on him! This is not a fake review. So glad I found a review site better than FB.

Bottom Line: No, I would not recommend this to a friend

Sep 5, 2019

Hi Sharon,

Thank you for writing this feedback, and we certainly understand your frustration with the experience you've had. I hope I can provide some additional clarity on this situation, so that you can get a proper resolution.

As you know, DR-HO'S is a Canadian company. We manufacture and supply the DR-HO'S 2-in-1 Back Relief Belt. Customers can choose to purchase it themselves, or for those who have insurance coverage, may go through a Medical Equipment Supplier. These suppliers are third-party companies that purchase the DR-HO'S belt, then sell them to you by billing the cost to your insurance. DR-HO'S is not authorized to bill Medicare, nor any other insurance plans. That means the amount billed to your Medicare plan was not done by DR-HO'S.

You have also mentioned that the original shipper is named "Certified Med Supply", which should be a US Durable Medical Equipment Supplier. As such, they would also be the ones that submitted the bill to Medicare, and subsequently to you for the remaining amount. I'm unsure why the amount billed would be $1500, but that was very likely submitted by Certified Med Supply, and not dictated by DR-HO'S.

I hope this explanation has given you clarity on the process, and why DR-HO'S was not involved in any of the billing, and therefore, cannot assist with the refund of the Medicare charge. The best course of action now is to contact Medicare to inquire how much Certified Med Supply had billed your policy, whether or not they were paid by Medicare, and if they were paid, what options you have to get that payment reversed back to your policy.

Thank you.

---

Finally some relief!

By Claudia P.

,

London, England

,

May 22, 2019
Verified Reviewer

Overall Experience:

After walking around limping for 6 months with what I was told was hip arthritis, an MRI divulged that I had been suffering from a disc tear between my L4 and L5. This tear was bulging and irritating the sciatic nerve. Sheer misery. I tried my husband's back support belt and it seemed to help. Since he needed it himself I decided to buy my own. My physio mentioned the decompression belt, something that they had started to trial at their department (a large university teaching hospital in central London).

Upon trying the belt I got instant relief from the pinching misery of sciatica. No electric shocks down to my knee. No more stabbing buttock pain. I like how it can be applied so easily and without struggling compared to my husband's large elastic velcro application. No pulling or stretching. I liked how it could be worn at night. It really got me some much-needed pain-free sleep! I also noticed that my son's local rugby and soccer club have one in their first aid kit. I am very happy with my purchase. It DID work for me.

Bottom Line: Yes, I would recommend this to a friend

May 23, 2019

Thank you so much for taking the time to share the story of your relief Claudia! We are so glad that you are finally getting the pain relief you need!

---

DO NOT DO IT!

By Richard M.

,

New Jersey

,

May 1, 2019
Verified Reviewer

Overall Experience:

Please do not order this thing! Does not work. Paid $84.98 and was told that I had to pay return shipping...I paid return shipping for the belt to be returned one week later. I received a refund of $49.99! When I called to ask why my full refund was not given I was told there were two charges not refundable - one for $19.99 for them to send it out to me and $15.00 because I was making installment payments!

RIP OFF do NOT do it. Money making scam! Contacting the Better Business Bureau after finished with this review.

Bottom Line: No, I would not recommend this to a friend

May 2, 2019

Hi Richard, thank you for bringing this experience to our attention. You are correct that you should have been refunded the $15.00 setup fee and I do apologize for the confusion.

As our return policy states, we provide a full refund of the purchase price, less the price of shipping.

If you could kindly email kathe@drhonow.com with your full name, order number and contact information, we can pull up your order in the system and refund your difference. We will also be able to advise the Customer Care representative that they should have refunded your installment setup fee. I look forward to hearing from you.

---

Unsatisfied customer

By Natasha B.

,

Florida

,

Apr 8, 2019
Verified Reviewer

Overall Experience:

I purchase one of Dr. Ho Belt and I also received one as a gift, so I decided that I didn't need two. So I decided to send the belt back that I purchase because it was never used and I have been given the runaround. I have left messages with the customer service voicemail because their phone message states to leave a message and they will get with me. No one has ever called me back. They advertise that if you are not satisfied with their product you can get and receive a refund when you return the belt. Well, my 90 days are up for a refund and no one is helping me. I wish that I never purchased this belt because it has been nothing but a headache.

Bottom Line: No, I would not recommend this to a friend

Apr 9, 2019

Hi Natasha, I'm sorry to hear you had issues getting in touch with our company. Our customer care team can be reached at 1-877-374-6669.

I looked up your file and see that it has been noted that you are returning your belt for a refund. I'm glad to see that we finally connected and that you are able to return your belt.

---

Made my back worse

By Craig O.

,

Springfield, MA

,

Mar 31, 2019
Verified Reviewer

Overall Experience:

This belt actually made my back worse. Wore it one day for 10 hours driving and I have new pains I didn't have before. Feels like I pulled my back out all over again. I suppose it's possible that I overinflated it, but isn't that supposed to be the way it is?

Bottom Line: No, I would not recommend this to a friend

Apr 5, 2019

Hi Craig, we would be happy to speak with you to help troubleshoot how to best use the belt for your back pain. We do not recommend wearing it inflated for more than 1 hour. In addition, we could assist with the best option for inflation for you. Please reach out at 1-877-374-6669.

---

Would not recommend

By Kev H.

,

North Carolina

,

Mar 22, 2019
Verified Reviewer

Overall Experience:

I WOULD NOT recommend this device!

I had one of these after my operations, lack of a better word, it's a joke! It does not work like they claim, very uncomfortable. It leaks down, and did I mention VERY UNCOMFORTABLE?

Bottom Line: No, I would not recommend this to a friend

Apr 5, 2019

Hi Kev, we are sorry to hear you had issues with your belt. Decompression technology is meant to help stretch and support your back. In our instructions, we suggest only wearing it inflated for no more than an hour. The rest of the time it can be worn as a regular support belt. If you need help troubleshooting how to use the belt, please contact our Customer Care team at 1-877-374-6669.

---

Not for use if got arthritis

By Lady L.

,

New York

,

Mar 8, 2019
Verified Reviewer

Overall Experience:

Really Dr. Ho? Best technology you can come up with is a pump? Did you steal that idea from your kid's bicycle? So anyone who has arthritis in the hand, wrist or arm joint pains, cannot use your product, which in turn is the majority of the older population...40+ and up!

If that's your best idea for a back pain reliever belt, then you're no real doctor. Get back to the drawing board, and put a bit more thought into the technology into your product.

BTW, your products are way overpriced. Which could only mean you're a greedy scammer.

Bottom Line: No, I would not recommend this to a friend

Mar 14, 2019

Hello Lady Love. Decompression technology has been used by professionals for many years to help with back issues. Many people who suffer from arthritis in joints like the wrist or hands prefer to use our Pain Therapy Systems. The combination of TENS and EMS help to reduce swelling and alleviate pain and tension.

---