Neck Hammock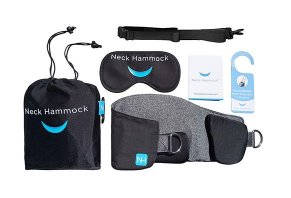 Summary
Using mechanical cervical traction, The Neck Hammock's patented cushions and go-anywhere portability claim to help relieve neck pain, just by lying back and relaxing.
About Neck Hammock
HighYa is supported by our readers. When you buy something through a link on this page, we may earn an affiliate commission. Learn more.
What is The Neck Hammock?
The Neck Hammock is a head sling device designed to relieve neck pain.
More than half of US adults experience some form of muscle or bone pain, while about 14% of these individuals report neck pain.
Fortunately, cases often resolve on their own though many can experience related symptoms for years. Your neck pain may vary regarding the duration, severity, and the underlying cause of your symptoms.
With so much variability, finding a solution can be challenging.
Conservatively, traditional management often includes bracing, stretching and strengthening physical therapy, or over the counter pain medications. More serious cases may even require invasive measures like steroid injections or even surgery.
The Neck Hammock claims to offer another option. According to their site, you can stretch your neck muscles with daily use of their portable sling.
In this article, we'll help you answer this question by reviewing the available scientific support for the Neck Hammock.
How Does the Neck Hammock Work?
The Neck Hammock works through the principle of cervical traction.
Whereas compressive forces (gravity, for example) bring your vertebrae together, traction works in the opposite direction to promote space between them.
According to their site, this method will:
Relax and stretch neck muscles
Promote blood flow
Release pinched nerves
Reduce bulging discs
Alleviate pressure
The Neck Hammock claims that you can experience these benefits in 10-minutes or less by following a few simple steps:
Secure strap loop around a doorknob, in the door jamb, or around a pole or post.
Pull the strap tight and attach the bungee strap
Wrap the hammock around the base of your head, close your eyes, and relax.
There are a few things to note when your head is in the hammock. First, it should rest 2-4 inches off the ground. The higher it is off the ground, the greater the stretch.
Next, the Neck Hammock suggests "listening" to your body. If your neck is uncomfortable, move your body closer to the door to reduce the tension. If your pain increases or you get a headache, discontinue use.
Lastly, start at 10-minutes and work your way up. For the most relief, you may require 2-3 15-minute sessions daily.
Is There Any Scientific Support?
Though portable slings like the Neck Hammock seem to be gaining popularity, the idea of cervical traction is not a new one. This method of pain relief has been well-studied, though direct comparisons are challenging as there are so many forms of tractions.
Nonetheless, we'll highlight some studies to help you determine if there is any merit to the Neck Hammock's claims.
A 1995 review of 3 trials concluded that study designs were too poor to form a valid recommendation for the use of cervical traction.
These findings were corroborated in a 2006 review that included 10 trials. Only one was considered to be of high quality. Thus they found support for the use of traction was inconclusive as many of the available studies had research design flaws.
A recent review of 5 randomized studies, cervical traction significantly improved pain in the short and intermediate-term in patients with inflamed cervical nerves.
Another study compared a portable head sling that applied traction through 10-12lbs of added resistance.
Patients with arthritis that were randomized to treatment with the traction device and physical therapy experienced a greater improvement in pain when compared to those that had physical therapy alone. These findings were not statistically significant, however.
Despite mixed results, traction is a popular means of treating various sources of neck pain. In a 2017 survey of physical therapists, more than ¾ of those who responded reported regularly using this method of treatment.
The true benefits remain unclear, though the Neck Hammock may be advantageous when used in conjunction with the other available forms of pain relief.
Is the Neck Hammock Safe?
The Neck Hammock is an FDA approved medical device and is generally safe to use. This does not mean that it is ideal for everyone, however.
Though adverse events were previously reported in just 2% of those receiving cervical traction, the risk may be greater in certain individuals.
Use can be dangerous for children or in those with more serious sources of neck pain like spinal instability, infection, arthritis, or neck tumors.
Also, traction is not intended to replace other methods of management like exercise, postural education, or joint mobilization, but rather to supplement these interventions.
As the source of your neck pain can be related to a serious underlying medical condition, you should work with a doctor to identify the cause before taking treatment measures into your own hands.
The Neck Hammock Cost
The Neck Hammock retails for $79.99, though it is currently available for $49.99 through their site, as well as at Amazon. You'll save on shipping with the latter as it is prime eligible.
According to the Neck Hammock website, they'll back your purchase with a 100% Satisfaction Guarantee.
If you're unsatisfied, simply email support at service@neckhammock.com and provide your order number within 30-days.
Next, you will be emailed a free UPS shipping label. Re-package your Neck Hammock and leave your return shipment at any UPS drop-off location.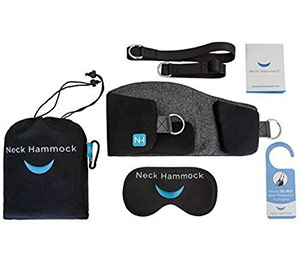 Buy Neck Hammock from Amazon:
Neck Hammock costs $49.99 on Amazon, with free shipping.
Available Alternatives
Cervical traction is not a recent phenomenon. Thus, there are many similarly designed portable slings available for purchase.
You can compare the different products at sites like Amazon.
Though some of the designs differ, traction devices most similar to the Neck Hammock seem to range from $20 - $50.
An even more cost-effective option would be using a towel you have lying around the house. Follow these easy steps to transform an ordinary towel into a cervical traction device.
The Bottom Line
While support for the Neck Hammock is mixed, the upside is achieving neck pain relief with a relatively inexpensive and simple treatment option.
Over 800 users rate the Neck Hammock 4-stars at Amazon. Nearly 60% of reviews were 5-star; happy customers report immediate relief or success where other treatment options failed.
Multiple users that were unhappy with the product reported the buckle breaking causing the stretched bungee strap to "slingshot" directly into their eye/face.
Though this seems to be a rare occurrence, it is another potential cause of harm. The use of the sling may also pose a risk in those with more serious sources of neck pain.
Make sure you work with a doctor to first identify the cause of your symptoms to determine if the Neck Hammock is a safe and effective management option.
Customer Reviews
Posted on Jul 26, 2019
Love it!
After just two days using it, my neck tension is much better. As soon as I tried it for the first time I felt really relaxed and almost fell asleep, fortunately, I had set a timer, otherwise, I would have spent more than 15 minutes using it! Definitely worth the money!
Bottom Line: Yes, I would recommend this to a friend
Posted on Jul 24, 2019
You wouldn't believe this but true
My Sweetie and I have stuff necks. And last Thursday I saw a commercial on FB about this but paid no mind of it. Today, Saturday, her neck was hurting her so I used a towel and it worked somewhat. We went to the Goodwill and lo and behold, you guessed it, Sweetie found one there! Well, it was half off day, no matter we got it. We just used it and...MAN! We are amazed! On the effects! Sure we were as blessed as ever. And did not get it the normal way. But at any price it is well worth it! We already told 4 of our children and friends about it. Soon we will get another, probably no at GW.
Bottom Line: Yes, I would recommend this to a friend
Posted on Mar 14, 2019
Really disappointed with them
I ordered two of these back in December 2018 and I paid $99.98 via PayPal. I contacted them in January and they said I would get them by the end of January. It is now March 2019 and I still have not received them. I have filled a complaint through PayPal and I've requested a refund. I hope I get it. There have been several people on Facebook with the same issue. Don't order from them, it's a scam.
Bottom Line: No, I would not recommend this to a friend
Posted on Feb 27, 2019
Not even close to all the hype.
At BEST, consider using it for trapezoidal/rhomboid issues. Do NOT use with severe degenerative cervical disease.
A sub-therapeutic level of cervical traction, but "eh." NOT, in my opinion, worth $60, and a three-month wait. Although easy to use, and perhaps with added weight might get enough therapeutic stretch. Save your pennies!
Bottom Line: No, I would not recommend this to a friend
Posted on Feb 4, 2019
Very disappointed
I am very disappointed in this company. I paid for this product in December and could not wait to get this since I have been in physical therapy for my neck. I waited for three weeks and still they never shipped this out to me. Then I sent an email requesting my money back. They sent me two emails that said they refunded my money and that was over a week ago. I called my bank yesterday and they told me the refund was never made. I am now going to have to file a fraudulent case against them with my bank. All this for 59.00 bucks. Don't waste your time or money. I guess I am going to have to send out a tweet on this company to people to see if that works to get my money. Very sad because I have never had to write a review before.
Bottom Line: No, I would not recommend this to a friend
Posted on Oct 19, 2018
Feels so good after just one use...for real
Ok, I got mine on the grommet.com for $50 and some change and used it for the first time today. Oh my goodness...whoever invented this is an angel from heaven. Just after one use of five minutes my neck and back feel amazing. Laying on it felt a little weird, and my lower back was popping, but my neck feels amazing. The best thing I ever bought online.
Bottom Line: Yes, I would recommend this to a friend
Posted on Sep 30, 2018
Best thing I've come across for neck pain
As soon as I adjusted it perfectly, I felt so relaxed even on the hard floor that I dozed off. My neck and shoulders feel so much better. The traction allows better blood flow so your arms might tingle at first. BTW, I'm a family physician in Chicago and I've been recommending this to my patients. I just wish I'd thought of it first!
Bottom Line: Yes, I would recommend this to a friend
Posted on Sep 27, 2018
There's a difference...
I was very skeptical about buying this but decided why not. It came today, and I find myself wanting to sleep with my head in it. I am not sure about my neck, but the tension in my shoulders has dissipated. I think it should be given a chance. As an experimenter, I can say one day has swayed me. I'm excited to see what using it one day a month will bring.
Bottom Line: Yes, I would recommend this to a friend
Posted on Aug 31, 2018
You won't be getting it back!
I am always careful when it comes to bold claims, but I decided to give The Neck Hammock a try. The satisfaction guarantee was a good enticer. My product took a while to arrive in Hong Kong, but it was worth the wait. Instantly I received relief from neck pain that had plagued me for over twelve months, causing me to have constant pain when I slept. After ten minutes on the first use, my neck "adjusted" itself and gave me some amazing relief. Now each time I use it, I feel my neck continuing to improve and get naturally stronger. I feel the periods of pain are now longer apart too, but if I use it every day I nearly always get a more comfortable night's sleep. I'm sold, and you won't be getting it back!
Bottom Line: Yes, I would recommend this to a friend
Posted on Jul 31, 2018
Mind blown
I'm currently sitting in my couch, the couch I usually prop up a ton of pillows in for neck and back support, never finding relief, with NO debilitating neck and back pain, after having received and tried the product today, just the one time. I can't believe I can actually sit upright without pain and feel like a normal person, after around 15 years with immense pain due to bad slouching posture I tried to correct way too late. I've tried recommended massages, physiotherapy, muscle exercises and nothing helped, but only made it worse. It's only recently I realized that perhaps my spine has moved into a bad position and nerves were pinched. I've tried the blow-up neck traction device which did nothing but help support my neck a little bit.
I've had lousy interrupted sleep for so many years, waking up as if I'd been sleeping on an iron bar, even after trying so many pillows I could practically open up a pillow store. This did it. I'm sitting on my couch and my shoulders aren't tense, my neck isn't shooting lighting, and I'm not grumpy from the discomfort. I'm amazed. I'll continue to use it and align my spine so that my body can finally have its chance to become normal again. I can only recommend this product, but if I could shout to the heavens, I would.
Bottom Line: Yes, I would recommend this to a friend
Posted on Jun 26, 2018
It works!
When I saw an ad for The Neck Hammock pop up on my screen, I was intrigued, yet skeptical. I've had cervical spine issues for many years and have had many rounds of physical therapy as well as several injections and acupuncture. Most nights I sit with a neck heating pad after dinner. This sounded too good to be true, but since it has FDA approval, I thought I'd give it a try.
It felt very comfortable the first time I used it. After using it daily for a little over a week, I can honestly say my neck and upper back area feels better than it has in a long time. I find it very relaxing to use as it forces me to take a few minutes out of my day to simply relax and do nothing. I just packed it in my suitcase as we are going away for a few days. I didn't want to be without it, and it is definitely small enough to pack in a carry-on size bag.
This is a product I would recommend to anyone with neck/upper back issues.
Bottom Line: Yes, I would recommend this to a friend
Our Promise to You
In order to safeguard you and ensure helpfulness and relevance, our compliance team manually assess every customer review before it goes live.
We have a zero-tolerance policy for fake reviews, and companies cannot control or alter any reviews at any time.