The Neck Hammock Reviews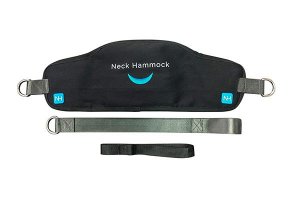 Using mechanical cervical traction, The Neck Hammock's patented cushions and go-anywhere portability claim to help relieve neck pain, just by lying back and relaxing.
About The Neck Hammock
The Neck Hammock is a simple, portable, FDA approved medical device that attaches to any door, rail, or pole and promises to provide professional-grade neck pain relief in ten minutes or less. Despite this, the website claims it costs less than a single physical therapy session.
The Neck Hammock accomplishes this using mechanical cervical traction, which boosts circulation and promotes proper alignment, potentially leading to additional benefits like boosted energy, reduced stress, improved sleep quality, and better posture. All you have to do is lie back and relax.
Although The Neck Hammock was created by a licensed physical therapist, does this mean it really will help make solving your neck pain easy, as claimed on the website? Before diving in, let's start by discussing the underlying issue.
What Causes Neck Pain?
Just like discomfort in any other part of the body, neck pain is your body's way of letting you know that something's wrong—but not specifically what's wrong. In fact, My Virtual Medial Centre explains that:
"Neck pain can present in any of the seven cervical vertebrae (back bones) connecting the base of skull to the thoracic cage. As well as the cervical spine, muscles, ligaments, and soft tissues can also be a source of neck pain. In addition, other structures like the trachea (wind pipe), blood vessels, thyroid gland, and lymph nodes are also found in the neck and can be a source of pain."
With this said, Spine-Health reports the most common causes of temporary neck pain are sleeping in the wrong position, sports-related injuries, poor posture, repetitive motions, holding the head in an unusual position, and whiplash. On the other hand, chronic neck pain is frequently the result of cervical degenerative disc disease, herniated disc (as mentioned on The Neck Hammock site), osteoarthritis, stenosis with myelopathy, and foraminal stenosis.
Obviously, to figure out which—if any—of these is causing your neck pain, you'll need to have an in-depth discussion with your doctor. In the meantime, let's take a closer look at the cervical traction offered by The Neck Hammock.
How Does The Neck Hammock's Mechanical Traction Work?
In the Clinical Sports Medicine Medical Management and Rehabilitation textbook, Joel M. Press and Deborah A. Bergfeld explain that cervical traction—a method of stretching and realigning the spine—is frequently used in professional settings to provide pain relief from cervical spine injuries. This is accomplished via several avenues:
Supporting and immobilizing the head
Improving head posture
Boosting nutrition to cartilage
Decreasing disc and nerve pressure
"Elongating muscles to improve blood flow and reduce spasm"
In a professional setting, such as a physical therapist's office, this is often provided by bulky, expensive equipment with a harness that rests underneath the neck and lightly pulls to deliver traction. However, with The Neck Hammock, the website tells us you can experience much of the same relief using their affordable, portable device.
Overall, they explain that the process works over three steps:
Wrap the fully adjustable strap around any railing, squeeze between a door hinge, or hook it on a door handle.
Clip the cord.
Place your head in the cranial cradle, feel the temple cushions wrap around the contours of your head and the support provided by the base pad, and relax.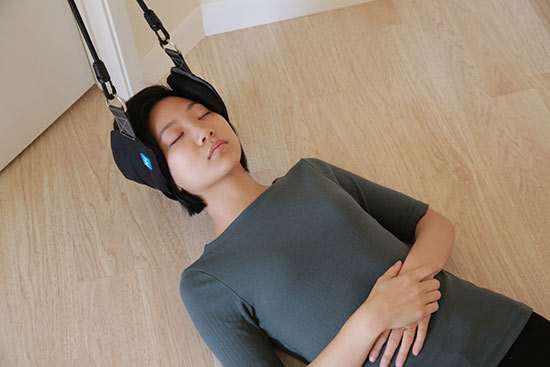 The manufacturer reports that The Neck Hammock can provide mechanical cervical traction for pain relief on the go. Credit: The Neck Hammock, Inc.
From there, the video advertises that the device will increase intervertebral space, which will boost blood flow and circulation and deliver more oxygen to the muscles, nerves, tendons, and ligaments. As a result, they tell us you'll "feel your muscles opening up and your neck pain slipping away for good."
Then, when you're finished, it stores away easily in the included spandex bag and can be carried in just about any small to medium size handbag. When the time comes, the device is hand washable.
Could The Neck Hammock's Cervical Traction Cause Side Effects?
According to a 2011 systematic review of mechanical cervical traction, "Side effects are generally few, but can include headache, nausea, fainting, and injury to tissue." Healthline adds potential muscle spasms and temporary pain in the treated area.
However, The Neck Hammock's website emphasizes that the device shouldn't be used by those with an acute cervical injury, spinal instability or hypermobility, neck tumors, rheumatoid arthritis, osteomyelitis, or those who are under the age of 16.
Even then, they note the device is meant to complement the benefits of physical and massage therapy, but not to replace them. For these reasons, it's always a good idea to speak with your doctor before choosing any product to address neck pain.
How Much Does The Neck Hammock Cost?
On Indiegogo, Perk options for The Neck Hammock were as follows (estimated delivery February 2018):
1 Hammock: $59
2 Hammocks: $99
4 Hammocks: $189
Each device comes with a free 14-day trial for the Calm App, as well as "The Daily Stretch" e-book.
While no details were provided about the app's functionality or operating system availability, the e-book is said to help show you how to use simple daily stretches that can "improve your overall flexibility, mobility, and energy levels."
There also weren't any refund or warranty details outlined, although the website emphasizes that The Neck Hammock is made from the "highest quality parts that are strong and built to last."
What's the Story Behind The Neck Hammock?
The Neck Hammock was originally launched via a November 2017 Kickstarter campaign, which ultimately raised more than $900K on an original goal of just $20K. In fact, the makers tell us the campaign was fully funded within three hours. Since then, they've gone on to raise another $1.2 million through Indiegogo.
From a company perspective, The Neck Hammock, Inc. is based out of Santa Monica, CA and was founded by Steve Sudell, whose bio lists him as a Licensed Physical Therapist, Athletic Trainer, and Level 2 Fascial Stretch Therapist. Steve is also owner of Prehab2Perform, a Venice, CA-based outpatient sports physical therapy service.
According to The Neck Hammock website, Steve's impetus for creating the device was to "give people an alternative solution to mechanical cervical traction completed at their physical therapist's office that was affordable, convenient, and highly effective."
Are There Other At-Home cervical Traction Devices Competing With The Neck Hammock?
While we didn't encounter any devices designed exactly like The Neck Hammock during our research, we did find several others that promised to provide varying levels of mechanical cervical traction in the comfort of your home, and at a wide variety of price points. Some of the top search results included:
| Product | Price | Functionality |
| --- | --- | --- |
| The Neck Hammock | $59 | Can be used in between any door, or around poles, railing, or door handles. Sling design with strategic padding. Includes free app. |
| Headache Hammock | $40 | Curved high-density foam that rests on floor. Can be warmed or cooled to enhance effect. |
| Lo-Bak TRAX | $40 | A handlebar design that presses on the thighs to provide spinal—not necessarily neck—traction. |
| Posture Pump | $150 | Uses a forehead strap and under-neck hand pump to provide customizable traction. |
| Dr. Riter's Real-Ease Neck Support | $32 | Curved plastic and memory foam that rests on the floor to provide mild traction. |
| Genmine Over The Door Cervical Traction Device | $40 | USimilar sling design as TNH, but utilizes an over-the-door metal arm and users must manually pull for traction. |
Important note: During our research, we encountered dozens of knock-off devices that were very similar, if not identical to, the product in question on sites like eBay. In some instances, these were priced as low as $17, and many even used The Neck Hammock's stock pictures. By all appearances, these do not appear to be official products.
How can you choose which of the legitimate products will deliver the most bang for your buck?
As we discussed earlier, there can be myriad causes of neck pain, and finding the appropriate relief starts with diagnosing the underlying condition, which can only be accomplished by your primary care physician. As such, we'd recommend scheduling an appointment, where you and your doctor can talk about the issue, perhaps order the appropriate tests, and come to a science-backed conclusion about which steps you should take next.
From there, as a consumer advocacy website, we'd strongly recommend only doing business with companies who offer competitive prices, stand behind their products with robust refund policies and warranties, and who come with mostly positive online customer feedback.
Does this mean you should go ahead and place your order for The Neck Hammock?
Our Bottom Line About The Neck Hammock
Considering its unique design, patented padding that comfortably molds to the contours of your head, and FDA approved status; its ability for users to individually control traction levels, the ease of use and portability, and the fact that it doesn't include a chin strap that can potentially cause TMJ, there seems to be a lot to like about The Neck Hammock.
On top of this, it appears to be a massive crowdfunding success, having raised nearly $2 million between the company's Kickstarter and Indiegogo campaigns.
However, there weren't any refund or warranty details listed on The Neck Hammock website at the time of our research, nor any way of getting in touch with the company. As such, just like with any crowdfunding campaign, make sure you can do without the money before deciding to pledge.
Love it!

By Barbara S.

,

Alghero, Italy

,

Jul 26, 2019
Verified Reviewer

After just two days using it, my neck tension is much better. As soon as I tried it for the first time I felt really relaxed and almost fell asleep, fortunately, I had set a timer, otherwise, I would have spent more than 15 minutes using it! Definitely worth the money!

Bottom Line: Yes, I would recommend this to a friend

---

You wouldn't believe this but true

Kingman, AZ

,

Jul 24, 2019
Verified Reviewer

My Sweetie and I have stuff necks. And last Thursday I saw a commercial on FB about this but paid no mind of it. Today, Saturday, her neck was hurting her so I used a towel and it worked somewhat. We went to the Goodwill and lo and behold, you guessed it, Sweetie found one there! Well, it was half off day, no matter we got it. We just used it and...MAN! We are amazed! On the effects! Sure we were as blessed as ever. And did not get it the normal way. But at any price it is well worth it! We already told 4 of our children and friends about it. Soon we will get another, probably no at GW.

Bottom Line: Yes, I would recommend this to a friend

---

12 out 15 people found this review helpful

Really disappointed with them

By Kellie C.

,

Hometown, UT

,

Mar 14, 2019
Verified Reviewer

I ordered two of these back in December 2018 and I paid $99.98 via PayPal. I contacted them in January and they said I would get them by the end of January. It is now March 2019 and I still have not received them. I have filled a complaint through PayPal and I've requested a refund. I hope I get it. There have been several people on Facebook with the same issue. Don't order from them, it's a scam.

Bottom Line: No, I would not recommend this to a friend

---

13 out 16 people found this review helpful

Not even close to all the hype.

By Rich W.

,

San Francisco, CA

,

Feb 27, 2019
Verified Reviewer

At BEST, consider using it for trapezoidal/rhomboid issues. Do NOT use with severe degenerative cervical disease.

A sub-therapeutic level of cervical traction, but "eh." NOT, in my opinion, worth $60, and a three-month wait. Although easy to use, and perhaps with added weight might get enough therapeutic stretch. Save your pennies!

Bottom Line: No, I would not recommend this to a friend

---

Advertisement

---

23 out 27 people found this review helpful

Very disappointed

By Stephanie L.

,

San Diego, CA

,

Feb 4, 2019
Verified Reviewer

I am very disappointed in this company. I paid for this product in December and could not wait to get this since I have been in physical therapy for my neck. I waited for three weeks and still they never shipped this out to me. Then I sent an email requesting my money back. They sent me two emails that said they refunded my money and that was over a week ago. I called my bank yesterday and they told me the refund was never made. I am now going to have to file a fraudulent case against them with my bank. All this for 59.00 bucks. Don't waste your time or money. I guess I am going to have to send out a tweet on this company to people to see if that works to get my money. Very sad because I have never had to write a review before.

Bottom Line: No, I would not recommend this to a friend

---

12 out 13 people found this review helpful

Feels so good after just one use...for real

By Melba S.

,

Texas

,

Oct 19, 2018
Verified Reviewer

Ok, I got mine on the grommet.com for $50 and some change and used it for the first time today. Oh my goodness...whoever invented this is an angel from heaven. Just after one use of five minutes my neck and back feel amazing. Laying on it felt a little weird, and my lower back was popping, but my neck feels amazing. The best thing I ever bought online.

Bottom Line: Yes, I would recommend this to a friend

---

13 out 15 people found this review helpful

Best thing I've come across for neck pain

By Cherie G.

,

Chicago, IL

,

Sep 30, 2018
Verified Reviewer

As soon as I adjusted it perfectly, I felt so relaxed even on the hard floor that I dozed off. My neck and shoulders feel so much better. The traction allows better blood flow so your arms might tingle at first. BTW, I'm a family physician in Chicago and I've been recommending this to my patients. I just wish I'd thought of it first!

Bottom Line: Yes, I would recommend this to a friend

---

8 out 10 people found this review helpful

There's a difference...

By Cory C.

,

Chicago, IL

,

Sep 27, 2018
Verified Reviewer

I was very skeptical about buying this but decided why not. It came today, and I find myself wanting to sleep with my head in it. I am not sure about my neck, but the tension in my shoulders has dissipated. I think it should be given a chance. As an experimenter, I can say one day has swayed me. I'm excited to see what using it one day a month will bring.

Bottom Line: Yes, I would recommend this to a friend

---

10 out 10 people found this review helpful

You won't be getting it back!

By James W.

,

Hong Kong

,

Aug 31, 2018
Verified Reviewer

I am always careful when it comes to bold claims, but I decided to give The Neck Hammock a try. The satisfaction guarantee was a good enticer. My product took a while to arrive in Hong Kong, but it was worth the wait. Instantly I received relief from neck pain that had plagued me for over twelve months, causing me to have constant pain when I slept. After ten minutes on the first use, my neck "adjusted" itself and gave me some amazing relief. Now each time I use it, I feel my neck continuing to improve and get naturally stronger. I feel the periods of pain are now longer apart too, but if I use it every day I nearly always get a more comfortable night's sleep. I'm sold, and you won't be getting it back!

Bottom Line: Yes, I would recommend this to a friend

---

12 out 12 people found this review helpful

Mind blown

By Kat A.

,

Canada

,

Jul 31, 2018
Verified Reviewer

I'm currently sitting in my couch, the couch I usually prop up a ton of pillows in for neck and back support, never finding relief, with NO debilitating neck and back pain, after having received and tried the product today, just the one time. I can't believe I can actually sit upright without pain and feel like a normal person, after around 15 years with immense pain due to bad slouching posture I tried to correct way too late. I've tried recommended massages, physiotherapy, muscle exercises and nothing helped, but only made it worse. It's only recently I realized that perhaps my spine has moved into a bad position and nerves were pinched. I've tried the blow-up neck traction device which did nothing but help support my neck a little bit.

I've had lousy interrupted sleep for so many years, waking up as if I'd been sleeping on an iron bar, even after trying so many pillows I could practically open up a pillow store. This did it. I'm sitting on my couch and my shoulders aren't tense, my neck isn't shooting lighting, and I'm not grumpy from the discomfort. I'm amazed. I'll continue to use it and align my spine so that my body can finally have its chance to become normal again. I can only recommend this product, but if I could shout to the heavens, I would.

Bottom Line: Yes, I would recommend this to a friend

---

7 out 8 people found this review helpful

It works!

By Jean J.

,

Chicago, IL

,

Jun 26, 2018
Verified Reviewer

When I saw an ad for The Neck Hammock pop up on my screen, I was intrigued, yet skeptical. I've had cervical spine issues for many years and have had many rounds of physical therapy as well as several injections and acupuncture. Most nights I sit with a neck heating pad after dinner. This sounded too good to be true, but since it has FDA approval, I thought I'd give it a try.

It felt very comfortable the first time I used it. After using it daily for a little over a week, I can honestly say my neck and upper back area feels better than it has in a long time. I find it very relaxing to use as it forces me to take a few minutes out of my day to simply relax and do nothing. I just packed it in my suitcase as we are going away for a few days. I didn't want to be without it, and it is definitely small enough to pack in a carry-on size bag.

This is a product I would recommend to anyone with neck/upper back issues.

Bottom Line: Yes, I would recommend this to a friend

---