Teeter Hang Ups Inversion Tables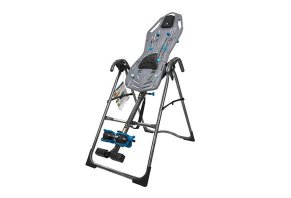 Teeter Hang Ups Inversion Tables are claimed to use inversion therapy to help relieve back pain, ease stress, improve joint health, and increase flexibility. There is some evidence that supports the company's claims.
Teeter Inversion Tables Reviews - Does It Provide Pain Relief?
Medically Reviewed by Anthony Dugarte, M.D., C.S.C.S
Teeter Hang Ups Inversion Tables uses inversion therapy that allegedly targets back pain at the source, and helps maintain spine and joint health.
In this article, we'll review any scientific support for Teeter Hang Ups claims. We'll also help you figure out if their inversion table is safe, and where you can purchase one.
How Teeter Hang Ups Work
Using inversion therapy, which is a natural, progressive form of traction that decompresses each joint with the same weight that compresses it while upright, Teeter Hang Ups presumably provides you with 4 primary benefits:
Rehydrates discs
Reduces nerve pressure
Realigns the spine
Relaxes tense muscles
As a result, Teeter Hang Ups are claimed to release tension in your shoulders, neck, and back; decompress, strengthen & enhance shock absorption; and improve functional fitness for an active, healthy lifestyle.
Can Teeter Hang Ups Help Reduce Your Back Pain?
If you've suffered from back pain for long enough, you're probably willing to pay whatever it takes to make it stop.
In this section, we'll review some of the scientific support.
At first glance, inversion therapy seems to intuitively help reduce back pain, since it relieves gravitational pressure off your spine, and stretches it at the same time.
In 1985, researchers investigated a range of physiologic effects pertinent to the Inverchair, a type of inversion table.
They found that inversion therapy improved spine mobility, relaxed the muscles around the spine, and decompressed the lower back without negatively affecting heart rate or blood pressure. Keep in mind, some of these subjects may not have had any back pain.
More recently, the effects of Teeter Hang Ups were specifically studied. In 13 patients randomized to Teeter inversion therapy for 2-minute sessions 3 times each week over 30-days, 10 were ultimately able to avoid the need for back surgery.
While inversion therapy has not been extensively studied, some benefits have been demonstrated. The fact that Teeter Hang Ups were studied as a stand-alone product offers further support.
Is Inversion Therapy Safe?
Even though traction can help reduce back discomfort, it shouldn't be considered safe for everyone.
An early study found that inversion therapy increased blood pressure, as well as pressure within the eyes. While this study used gravity inversion boots, later studies did not confirm these effects with the use of inversion tables.
Nonetheless, those with heart and eye conditions may be at greater risk for adverse effects.
Finally, Teeter Hang Ups have a 300lb weight limit and are designed for individuals 6' 6" or less. If you're outside either of these parameters, this should not be considered a viable option.
The symptoms you're experiencing may be caused by a variety of different conditions, some more serious than others. As certain sources of back pain may warrant medical management, it is best to speak with a physician to identify the underlying cause before using inversion therapy.
Teeter Hang Ups Features
Teeter Hang Ups are claimed to include unique features, such as a ComforTrak Bed that gives you a greater range of motion, while its "track" design allows customizable placement of the Acupressure Nodes and Lumbar Bridge based on your specific needs.
Additional features include a smooth bed surface that reduces friction, which allows you to slide easily and experience the fullest stretch possible.
The Teeter Hangs up contains grip and stretch handles for easy movement, an ankle comfort dial with pressure-reducing specialty foam that ensures a secure fit.
Finally, the unit contains precision balancing, so you'll have total control over your degree of rotation.
Additionally, when compared to the competition, Teeter Hang Ups are claimed to be made with auto-locking hinges, special squeak-free roller bearings, and heat-treated steel for the ultimate in reliability.
When you complete your session, the Teeter Hang Ups inversion folds in seconds for compact storage.
Teeter Hang Ups Pricing & Refund Policy
Teeter Hang Ups offers 3 inversion table options on their website:
FitSPine X1 is priced at $329.99
FitSpine X3 is $449.99
FitSPine LX9 is $499.99
All inversion tables ship free.
These units are essentially the same, though the packages differ in what is included. The most expensive model includes bonus features like a platform for the unit, as well as a storage caddy.
Teeter also offers financing through Affirm. You can determine your eligibility in real-time. You may or may not have a down payment, and your APR will range from 0–30% pending approval.
All Teeter Inversion Tables come with a 30-day refund policy, less S&H charges, as well as a 5-year warranty. If you need to request a refund or file a warranty claim, you'll need to contact customer service at 800-847-0143.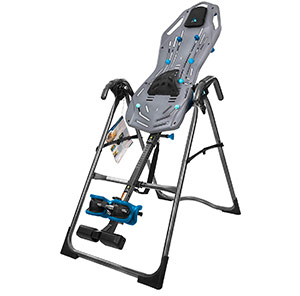 Buy Teeter Inversion Table from Amazon:
All three Teeter Inversion Table models are available on Amazon. Shipping is free. The three models collectively have an average rating of 4.7-star based on 440+ customer reviews.
The Bottom Line
12 users rated Teeter Hang Ups at 2.8/5 stars at HighYa. While some customers found inversion therapy to be beneficial, 7/12 reported issues with cost, rust, and poor customer service.
Nonetheless, it might represent a viable option for relieving your back pain, and if it isn't, you can always take advantage of the company's 30-day return policy. Keep in mind customers did mention being charged a pretty heft $65 delivery fee, even when taking advantage of a $14.99 trial promotion.
Still, the first step on your journey to recovery should involve a medical evaluation. With so many possible causes of back pain, your manage
---
Everyone should have access to one

By Michael L.

,

Lincoln, NE

,

Jan 19, 2020
Verified Reviewer

Overall Experience:

I bought a Teeter a year ago. Doesn't have all the bells and whistles of the latest one, but I find it does exactly as advertised. I bought it for a pinched nerve in the lower neck, and mid and lower spine compression caused by heavy-duty tennis, bicycling, and weight-lifting. Very solid, clever design and build. Should last forever...or at least longer than I. I don't see a need for the features on the higher-priced models. Mine cost around 300 bucks. Check HSN or Amazon for special offers. The one feature that I don't have that seems useful is the foot clamps with the long, steel handle, so one doesn't have to bend down so far to close and open the foot clamps.

Bottom Line: Yes, I would recommend this to a friend

---

Wonderful results

By Cynthia H.

,

Brookfield, WI

,

Mar 21, 2019
Verified Reviewer

Overall Experience:

I purchased this device a couple of months ago, and it has worked miracles on my chronic back pain.

I am on my feet five days a week seven hours a day at a doggie daycare, and when I get home, I am beat and my back is aching.

I bought this teeter to see if it would relieve my pain, especially at night so I could sleep...and it hasn't disappointed me. Love it; recommend it, will keep it! Thank you!

My partner uses it too for her back pain, and agrees with the outcome.

Bottom Line: Yes, I would recommend this to a friend

---

Inferior product, RUST ISSUES DANGER

By Don F.

,

Chicago, IL

,

Jan 2, 2019
Verified Reviewer

Overall Experience:

The main shaft and base have rusted terribly in a controlled environment over the past 10 or so years. When I contacted the company and spoke with their supervisor Carrie, all that was offered was a replacement part at a reduced cost!

They could care less about why the product rusted or even to address inferior overseas materials and or manufacturing.

Don't believe all the hype that Teeters is the best, when it comes down to standing behind their product they will leave you "hanging."

Bottom Line: No, I would not recommend this to a friend

---

Disapproving

By Cyndi D.

,

Missouri

,

Jan 2, 2019
Verified Reviewer

Overall Experience:

I couldn't move it off of the floor; it was so heavy. It was never moved until they came to return it and it cost me delivery and another $65.00 to return it. A big rip off. Making delivery money for my trouble. A stupid idea for disabled people to set it up. It should be free set up and no return fee for our trouble. It took a month sitting in the middle of my floor in my way.

Bottom Line: No, I would not recommend this to a friend

---

Advertisement

---

Overall Experience:

My aunt, who has Alzheimer's, ordered a Teeter a while back and decided she didn't need it. We sent the unopened box back for a full refund. I explained to the company that she has memory problems and that she doesn't remember ordering things most of the time.

She ordered a second one in April, and I have contacted customer service twice trying to return this one. It isn't safe for someone her age and in her current health state to be on. They refuse to let me return it saying that it has been past the 90-day return period. She ordered in April of 2018, so if it is past it couldn't have been more than a few days past when I first contacted them. I explained once again that she has Alzheimer's and we haven't even opened the box, but they refuse to help me out in any way stating that they called to confirm the second order. Of course, they talked to my aunt, and she has problems thinking clearly and making decisions.

It wouldn't hurt their company to let me return the table (that cost her $400) because they could just resale since the box is unopened. Companies shouldn't be able to take advantage of the elderly like this! They knew from before when I returned the first one that she has problems with her mind. Teeter, you should be ashamed!

Bottom Line: No, I would not recommend this to a friend

---

Didn't work for me.

By Donna M.

,

Monroe, MI

,

Jun 20, 2018
Verified Reviewer

Overall Experience:

I have been trying this for a few years and hoping for back pain relief. It has never worked for me. I follow the instructions exactly and have even double checked the assembly. My back and neck still hurts.

Bottom Line: No, I would not recommend this to a friend

---

It works!

By Ger

,

Murrells Inlet, SC

,

Nov 29, 2017
Verified Reviewer

Overall Experience:

I purchased the Teeter Hang Up 4 years ago. I suffer from occasional upper back pain and use the Teeter when I feel it coming on. Just recently I experienced lower back pain for the first time ever. I looked into stretches for lower back, used the Teeter at a 60-degree angle for 2 days, no relief. I ADJUSTED my Teeter Hang Up to an 80-degree angle, and while upside down did some slow twists. When I uprights myself and bent down to release my ankles, there was NO PAIN! I am ever so glad that I invested in the Teeter Hang Up and highly RECOMMEND this product!

Bottom Line: Yes, I would recommend this to a friend

---

Please be aware before you try the products of this company

San Jose, CA

,

Oct 22, 2017
Verified Reviewer

Overall Experience:

This teeter company is very tricky! They offered me a 30-day trial for $14.99 free shipping, and if I am not satisfied with the product, they will come to pick up the item from me. But be aware here is the trick: "Free shipping" is for them to send the product but if you want to return it, they will charge you! Because this is what they did to me. They are very dishonest!

Bottom Line: No, I would not recommend this to a friend

---

Best purchase ever - great for nurses

Overall Experience:

I am 52 years old, a nurse and sometimes on my feet for 16 hours a day. When I come home and invert with my Teeter, I can feel the blood rush that has been pooling in my ankles all day. It is the best feeling and the best device to look forward to at the end of the day. Just knowing I can invert and get relief from back pain as well makes my day even better.

Let's get real, if you work in the medical profession your back takes a beating. Previously for back pain I have tried ice, heat, back massagers and also been to a physical therapist twice. Now, I invert for maybe 5 minutes twice a day, that's all I need, and it feels amazing! I ordered it online, paid only $14 shipping for a month trial and then $99 for three months. Seriously, how can you go wrong?

I am telling you if you have back pain this is something for you to order. Nothing tires you out more than pain and trust me, having back pain myself was exhausting, I was cranky and had no energy, now I come home invert and life is amazing. Do not wait to get better, trust me, start today and order this machine. You will feel amazing!

Bottom Line: Yes, I would recommend this to a friend

---

Great product, true to its advertising

Overall Experience:

I purchased this machine roughly a month ago, and I have to admit, for the first time ever, a product I found on TV actually KEPT to its advertising. This inversion table truly does relieve back pain associated with nerve damage, albeit it will not solve the problem, it is a MAJOR relief from it. I could not be happier with my purchase, and I literally use this product daily about two to three times a day and have been much happier for it.

Bottom Line: Yes, I would recommend this to a friend

---

Bad experience with customer service

By Jim Day

,

Red Oak, Texas

,

Aug 12, 2017
Verified Reviewer

Overall Experience:

After viewing a commercial on TV, I wrote everything down I needed to tell the customer service person on the phone. I ordered the 970 with long rails and the handle to lock in the feet. When the machine arrived, they sent the 560, which was the wrong machine. I told the lady on the phone that I needed the machine that could handle a person that is six feet, six inches tall and up to 300 pounds. The lady clearly understood I needed the bigger inversion table.

I bought the machine on a 30-day trial, and they said if I was not happy they would pick it up. They said nothing about us having to pay them to pick it up or pay for postage. What was really sad was when I told them they had sent the wrong machine they quickly said "oh, you will have to pay $100 more to get that machine."

That's a scam. We are extremely disappointed. Customer service was not helpful in any way. When you have a good product, you don't have to lie and scheme to sell it.

Bottom Line: No, I would not recommend this to a friend

---