Theradome
This company has claimed this profile, is getting alerted on any new customer reviews entering this page, and may engage in dialogue with its customers to address their matters.

Companies cannot pay money or provide goods in order to remove or alter customer reviews.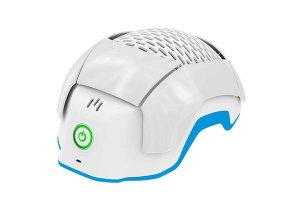 Summary
Theradome is laser hair therapy device worn on the head that claims to provide clinical strength restorative laser hair treatment in the comfort of your own home.
Theradome Review: Is It Really Worth It?
If you're one of the 80 million men and women in the U.S. who suffers from hair loss, Theradome is a laser-powered helmet that claims to help grow new hair, increase the size of your hair follicles, and to slow—or even stop—hair loss. In fact, the company claims that.
The company features two different levels of hair restoration helmets, with one using more lasers than the other, a distinction we'll discuss in a few minutes.
According to a document provided to HighYa, the treatment is effective enough to where four out of five hair loss professionals recommend the treatment.
The company is based in the Bay Area and claims to be the first company to produce an FDA-cleared, wearable laser hair therapy device you can use at home.
In our review, we'll talk to you about how Theradome works, the effectiveness of laser hair therapy, what the device costs, what customers say about it and how it compares to similar products.
How Theradome Works
At its most basic, Theradome is a laser treatment intended to be worn on the head that the company claims has been developed over 5 years of research by biomedical engineers and doctors.
The company offers two helmets. The PRO LH80 requires two 20-minute sessions per week and uses 80 medical-grade lasers, whereas the EVO LH40 requires four 20-minute sessions per week with 40 medical-grade lasers.
The Theradome helmet weighs less than 16 ounces and is claimed to fit 98 percent of the population, but provides the same power, light level, and concentration as in-clinic lasers in the comfort of your own home.
Theradome's proprietary lasers emit a very specific wavelength of light, remain cool when used, and are controlled through microprocessor algorithms. The company says their lasers contain more energy (joules) than any other laser light therapy and have a narrower beam for deeper penetration.
In addition, Theradome's proprietary lasers emit a very specific wavelength of light (680nm) that has been shown to be ideal for clinical strength rejuvenation, remain cool when used, and are controlled through microprocessor algorithms. These lasers penetrate 5 millimeters, which is about the length of the average hair follicle.
Theradome claims that the helmet increases blood flow to the scalp and hair follicles, stimulates protein synthesis and cellular metabolism and promotes thickness and density. With this in mind, the helmet is claimed to result in three primary benefits:
Grows new hair.
Doubles the follicle diameter of existing hair (reverses miniaturization).
Slows (and even stops) hair loss.
If used as directed, Theradome claims to halt hair loss within 18 to 26 weeks, to regrow hair within 28 to 52 weeks, and to provide fuller, thicker hair after 100 weeks.
Theradome features soft rubber pegs and foam pads for comfort, as well as a built-in speaker, while the automated treatment counting system keeps track of the total number of treatments you've undergone.
Theradome is claimed to result in zero side effects, and that it can be used with most hair-loss medications, and 30 days after surgical hair loss treatment.
Do Lasers Really Help Your Hair Grow?
We reached out to medical experts to get unbiased opinions about how effective these types of lasers are in helping hair grow.
Researcher John Satino, an expert with a long history in researching the benefits of laser light therapy, told us that this type of treatment is effective in helping your existing hair grow.
"However, this is no magic bullet. Nothing can grow back hair in a totally bald area only a hair transplant can do that," he said. "I recommend the laser for patients with thinning hair, or first stages of loss. (Also), it works better with Rogaine and finasteride"
Dr. Dan Danyo, the owner of NA Hair Restoration, said that light therapy does indeed help with thinning hair but that it's most effective for certain people.
"Research points to efficacy for improvement in the number/ density of follicles, the thickness of individual hair shaft diameter, and restoration of dormant follicles into an active growth phase," Danyo said. "Laser light therapy is not likely to be useful in individuals with long-term and progressive balding."
He also pointed out that laser therapy may not be an option for those who have dealt with skin cancer.
Pricing and Refund Policy
The Theradome PRO LH80 is currently priced at $895, and the Theradome EVO LH40 is $595. Both include free shipping. With your order, you'll receive one Theradome laser helmet, AC charger, foam pads, and a protection bag.
Theradome comes with a six-month money-back guarantee, which begins from the date the helmet is delivered. However, this guarantee only applies to U.S. customers. All international orders are considered final. Details and requirements for processing returns can be found in the FAQ section of Theradome's website.
Theradome hair loss helmets come with a one-year manufacturer's warranty against defects in workmanship, although you can purchase an extended three-year warranty if you choose.
What Other Consumers Have to Say
At the time of publishing, HighYa and Amazon were home to numerous Theradome reviews.
At the time of publishing, the product had 36 reviews on HighYa with an average rating of 3.2 stars and 58 percent of users would recommend it to a friend. The most common complaints we saw were that the helmet didn't work.
On Amazon, there were 47 reviews that gave Theradome's PRO LH80 an average rating of 3.6 stars. Recent reviews of the product were mixed, with several people saying that the helmet worked and some saying it didn't.
In general, we believe that whether or not Theradome works for you has a lot to do with your own specific hair health and how many of your follicles are dormant and how many are dead. As Theradome states, their product works only on follicles that are dormant and not ones that have died. In other words, it works with the existing hair you have.
The Bottom Line
As the experts with whom we corresponded pointed out, laser hair therapy is proven to help thicken existing hair and activate dormant hair follicles.
However, they also pointed out that the product won't work for areas that are already bald. Also, one of the experts noted that laser hair therapy may not be effective for those who've had "long-term and progressive balding."
In that context, we believe that Theradome could be an effective hair therapy tool for the right person. For example, one HighYa reviewer said that the helmet produced results within 90 days and that it was welcomed alternative to pills or spray-on hair therapy.
Keep in mind, though, that customer reviews indicate the device's effectiveness is really polarizing. The majority of reviews were either five stars or one star, which means the helmet seems like there isn't much middle ground. Either it works well, or it doesn't, the general review consensus seems to say.
As a parting bit of advice, we think the insight one of our experts provided is helpful. You may want to try Theradome with a combination of Rogaine and finasteride.
Our Promise to You
In order to safeguard you and ensure helpfulness and relevance, our compliance team manually assess every customer review before it goes live.
We have a zero-tolerance policy for fake reviews, and companies cannot control or alter any reviews at any time.