Theraworx Relief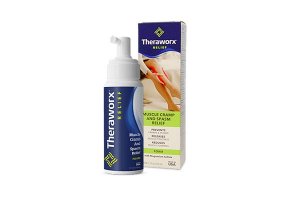 Summary
Theraworx Relief is a topical muscle cramp solution that claims to provide relief from cramps and spasms without any side effects using a gentle formulation.
Theraworx Relief Review - Does It Work and Is It Safe?
Theraworx Relief promises to prevent cramps with their non-prescription, fast-absorbing foam.
Leg cramps are involuntary and painful muscle contractions, most commonly occurring at night. Occuring in 50-60% of adults, they typically target your calf muscles, though anywhere from the thigh to foot can be affected.
The exact mechanism is unknown, but many variables are thought to be at play. Most cases are idiopathic - simply arising spontaneously without warning. Other causes may be related to nerve dysfunction, intense exercise, lack of exercise, pregnancy, electrolyte imbalance, vascular disease, and medications.
The possible sources of cramping are numerous, thus this condition affects a wide array of populations; from high level athletes to the elderly. Treatment options are also many, though finding relief can be challenging when the cause is unknown.
In this article, we review the scientific support for the safety and efficacy of this product.
How to Use Theraworx
In 3 easy steps, Theraworx is said to offer relief within the first 2-weeks with twice daily use:
Shake bottle and apply 2 pumps of foam to the muscles where you get cramps
Rub the foam into the muscle until it is completely absorbed
Repeat and let dry
Theraworx Active Ingredient: Does It Work?
Theraworx believes relief is possible through the action of their active ingredient: Magnesium Sulfate (Magnesia sulphurica) 6X 0.05% HPUS (Homeopathic Pharmacopoeia of the United States - this indicates that this product is FDA-recognized and follows the HPUS rules)
Magnesium is involved in countless reactions in your body. As deficiency is thought to be associated with muscle cramping, treatment with magnesium is available in various forms.
While support for leg cramp relief through orally administered magnesium is mixed, Theraworx offers a topical formula.
Theraworx is thought to address a potential and important limitation of oral magnesium supplementation - many previous studies administered oral magnesium to those not deficient, resulting in the kidney likely removing the excess. If the excess magnesium is removed before its concentration is increased in cramping leg muscles, it is rendered useless.
Theraworx was found to decrease the severity and frequency of nighttime leg cramps over the course of 4-weeks when compared to placebo. A possible mechanism for these findings is that topical magnesium may pass through muscle tissue before absorption and excretion by the kidneys.
As the primary function of the skin is to serve as a protective barrier, its capacity to absorb is limited, however. Getting through water-tight layers of your skin requires special formulations of supplements and medications.
The Israeli army found that magnesium was not absorbed through the skin when soldiers administered a magnesium containing protective lotion. These findings were corroborated a few years later; there were no differences in magnesium levels for those using a magnesium rich lotion or placebo lotion.
A study supporting the possibility of magnesium absorption through the skin found elevated levels in 16 of 19 subjects that bathed in magnesium solutions for 12 minutes daily over 1-week.
The Takeaway:
Scientific support for oral administration of magnesium for leg cramps is mixed, though likely most promising in pregnant women. Shortcoming of this method of administration are thought to result from excess magnesium being removed by the kidneys before it can act on muscle.
Theraworx claims to get around this issue by applying topical magnesium for absorption directly into the muscle. Relief for your cramps with this method proved promising when compared to placebo. Evidence supporting the skin's ability to absorb magnesium is just as mixed as that for oral formulations, however.
Though topical magnesium may be a more effective way to relieve muscle cramps, most studies, including the Therwarox trial, state that much more work is needed to fully characterize the role for this method of delivery.
With such limited support and difficulty identifying concentrations of magnesium used in older studies to compare to the contents of Theroworx, it is challenging to support claims that this product is effective in treating leg cramps.
Safety
The Theraworx trial claims that there are no known side effects, though their site states mild skin reactions are possible. This is likely because topical formulations bypass your gastrointestinal tract.
Three times daily application of 10ml magnesium-rich lotion was not associated with serious side effects, nor were toxic levels of magnesium found in either the treatment or placebo groups.
Similarly, there are no known medications that would interact dangerously with this topical application, though effectiveness may be reduced if used in conjunction with other creams as they can serve as a barrier.
The Takeaway:
Topical magnesium acts at the site of your symptoms and is unlikely to have whole-body effects or dangerous interactions as it is not ingested. It's still a good idea to discuss use with a doctor first.
The Cost & Where To Buy
You can order Thereworx Relief directly from their site and expect to receive your order in 3-6 business days. Your 7.1oz bottle is $20.49 + shipping and handling. Theraworx is also available for purchase via phone or through Amazon. They do not offer automated shipping services.
Though this product may be obtained in-person elsewhere; Target, Walmart, CVS, and Walgreens. Keep in mind that their 30-day money-back guarantee is only supported through the website, phone, or Amazon purchases.
Are There Any Alternatives?
There are other magnesium sulfate-based topical ointments on the market. Kirkman offers similar products, though you get about half the amount for the same price when compared to Theraworx.
Cryoderm offers a cream that is said to calm muscles and nerves though magnesium harvested from the Dead Sea. This product differs in that magnesium chloride is the active ingredient, and that it costs more than double for a similar amount when compared to Theraworx.
Lastly, there are a number of oral magnesium supplements offered by various retailers. Available in tablet and capsule form, these products are also said to provide relief for muscle cramps.
Keep in mind that while topical creams and foams act locally, and are therefore much less likely to affect you systemically, the effects of ingestible supplements may not be contained to the cramping muscles.
Seek medical opinion before use of these products.
What Are Users Saying?
Here on HighYa, 38 users rated the product at 4.1 out of 5 stars. Users seem to be generally satisfied with Theraworx.
Happy customers report fast and effective relief with Theraworx.
One negative reviewer describes his cramps returning after discontinuing the use of Theraworx. Another describes effectiveness at other painful sites, though it does not seem to work on the pain associated with his total knee replacement.
The Bottom Line: Is Theraworx Worth It?
Both oral and topical magnesium supplements have mixed support regarding efficacy. While topical magnesium was most effective in reducing the severity and frequency of leg cramps in pregnant women, report in other populations is lacking.
Topical magnesium works at the site of application and is not associated with whole-body effects or drug interactions that may be possible with oral magnesium.
Despite mixed research results regarding effectiveness, Theraworx may be a reasonable option for those that battle leg cramps because of its favorable safety profile. The upside would be pain relief and avoiding medical treatment.
The downside would be continued pain and the need to find relief elsewhere. Speaking with your doctor before use is still your best bet.
Our Promise to You
In order to safeguard you and ensure helpfulness and relevance, our compliance team manually assess every customer review before it goes live.
We have a zero-tolerance policy for fake reviews, and companies cannot control or alter any reviews at any time.