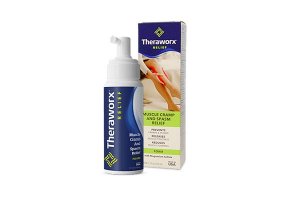 Theraworx Relief is a topical muscle cramp solution that claims to provide relief from cramps and spasms without any side effects using a gentle formulation.
About Theraworx Relief
Theraworx Relief is a muscle cramp-relief solution that claims to be able to ease pain stemming from cramps and spasms using a proprietary blend of safe, gentle ingredients. The makers of the product bill it as an alternative to other topical muscle therapies that simply provide surface-level solutions.
They also state that there are no known side effects to using Theraworx Relief, suggesting that the natural formulation is gentle enough to be used in hospitals around the country, yet powerful enough to be a part of professional athletes' training regimens.
Additionally, the product claims to be able to treat soreness and irritation that can occur after a cramp, even stating that it can prevent cramps and spasms from happening in the first place when applied to the afflicted area on a regular basis.
So, how is it applied?
Using Theraworx Relief
Although the FAQ on the product's website states that Theraworx Relief is safe for use on any part of the body, including sensitive areas, it appears to be targeted towards helping relieve pain and discomfort in the thighs, hamstrings, calves and feet.
The website lists that the product is safe for anyone ages two and up, though it warns that pregnant or breastfeeding individuals should consult with a health professional before use. To use it, you'll need to apply two large pumps of foam or six to eight pumps of spray (depending on which you purchase) onto the desired area, rubbing in until it is absorbed by the skin.
Before we go any further, let's take a step back for a moment and examine what exactly is happening when our muscles experience cramps and spasms. Afterward, we'll break down the product's ingredients in order to evaluate how effective you can expect them to be.
Understanding Muscle Cramps
Often called "charley horses," muscle cramps like the ones Theraworx Relief claims to treat are sudden, painful tightening or contractions within the muscle tissue, often occurring in the legs and feet just before bed or just after waking up. According to WebMD, the cause of these cramps is not always clear. They list that the following can contribute to the issue:
Exercise, or injury relating to exercise.
Pregnancy
Exposure to colder temperatures, especially cold water.
Standing or sitting on a hard surface for too long.
Sleeping with your legs in awkward positions.
Not getting enough potassium and calcium with your diet.
Being dehydrated.
Certain medications, including antipsychotics, birth control pills, diuretics, statins, and steroids.
Other medical conditions, like blood flow problems (peripheral arterial disease), kidney disease, thyroid disease, and multiple sclerosis.
As for treating these cramps and spasms, the article linked above states that stretching and massaging the muscle, taking a warm shower or bath, using an ice pack, and drinking plenty of fluids can all be helpful for alleviating the pain. They also suggest that taking over-the-counter pain relievers such as acetaminophen (Tylenol), ibuprofen (Advil, Motrin), or naproxen (Aleve) may be of some assistance.
As for preventing future cramps, the Mayo Clinic recommends drinking plenty of fluids in order to stay hydrated throughout the day. They also suggest stretching before and after using any particular muscle for an extended period of time.
So, now that we know a bit more about the common causes, treatments and prevention options associated with muscle cramps and spasms, let's take a closer look at Theraworx Relief's formula.
Theraworx Relief Ingredients
On the FAQ page of the product's website, it is listed that the following ingredients are in use within Theraworx Relief: magnesium sulfate, colloidal silver, citrus grapefruit extract, aloe, allantoin and vitamin E.
It appears that out of these ingredients, only magnesium sulfate is active. According to the FDA, an active ingredient is "intended to furnish pharmacological activity or other direct effect in the diagnosis, cure, mitigation, treatment, or prevention of disease or to affect the structure or function of the body."
Meanwhile, Drugs.com lists inactive ingredients as those that "do not increase or affect the therapeutic action of the active ingredient, which is usually the active drug." This means that none of the other ingredients in the formulation are included to have a direct impact on treating muscle cramps and spasms.
Taking this into account, magnesium sulfate is not reported to show sufficient evidence that it can aid in relieving these sorts of muscular pains by sources such as WebMD, the Mayo Clinic and Examine.com. In fact, WebMD lists that "taking magnesium supplements does not seem to decrease the frequency or intensity of muscle cramps."
Of course, taking a supplement is not the same thing as applying a substance topically, but none of the sources listed above reported any additional benefits to topically applied magnesium sulfate.
Additionally, no dosage or concentration amounts are listed on Theraworx Relief's website, so we reached out to customer support for clarification while conducting research for this article. They let us know that they would be sending over this information alongside several clinical studies illustrating the product's effectiveness. We'll update this here if we hear back.
But what about any side effects associated with the product?
Potential Theraworx Relief Side Effects
Looking around online, we were unable to find any evidence of serious side effects associated with topically applied magnesium sulfate, other than minor irritation being possible for those with sensitive skin. Sources like WebMD and Examine.com did not report any optimal dosage information either, instead only providing information relating to taking the substance by mouth.
As consumers ourselves, we'd start off by applying a small amount to your body before using larger quantities, just to ensure that your skin reacts well to the formula. If you ever have any specific questions regarding a product's safety for use, we recommend talking with your doctor about it directly.
Theraworx Relief Pricing & Return Policy
Theraworx Relief is currently available from a variety of online and offline retailers, as well as on Amazon.com and directly on the product's website. It looks to retail just about everywhere for the same price of $19.95 for either the spray or foam option. There are no differences between the formulas on these options, and the website states that it merely comes down to personal preference.
In either case, both products come in a 7.1 oz solution. Additionally, the manufacturer offers a six pack for $89.77 on their website. As for the return policies, these vary from retailer to retailer. On Amazon, you'll have a 30-day guarantee on all purchases through the marketplace directly. On the manufacturer's website, the terms lay out a similar 30-day guarantee on all orders.
To obtain a refund through the company directly, they ask that you include the following information with your return:
Original purchase receipt.
Your name, address, phone number, and signature.
The product itself.
Your reason for returning the product.
Theraworx Relief vs. Alternative Muscle Cramp Solutions
As we learned above, there are many different ways to treat muscle cramps, ranging from stretching and lifestyle changes to various prescription medications, but what about topical, over-the-counter products like Theraworx Relief
Looking around on marketplaces like Amazon.com and Walgreens.com, as well as on Google, it's not hard to find dozens of different topical sprays and foams, many of which feature magnesium as an active ingredient, just as Theraworx Relief does.
The majority of these were priced higher than the $20 being asked for the product in question, and quite a few came in smaller, four oz bottles. One such solution, EASE, sported 639 customer reviews as of this writing, 72 percent of which were five-stars. However, it also was priced at $38.95 for a 250ml bottle on Amazon when we checked during our research. For comparison, Theraworx Relief featured a five-star rating out of just two customer reviews.
Which product you ultimately choose will be up to you in the end, but in general, we recommend keeping the following in mind going into your purchase:
Are the ingredients listed on the product's website? If so, does the manufacturer feature clinical studies that illustrate these ingredients' effectiveness at relieving pain from muscle cramps and spasms?
Are there any free trials or autoship programs associated with the purchase? HighYa readers have reported to us that it can be difficult to cancel these types of programs once they begin, and many have reported that they were not even aware they were signing up for one at the time of purchase.
What are customers saying about the product? Are there real-world reviews available to read on third party websites and marketplaces like Amazon.com?
Have you spoken with your doctor about the product? What was his or her opinion on its effectiveness, overall?
Often, asking these simple questions alone can lead to a clearer understanding of what it is that you actually need to address the issues you are facing.
Final Thoughts on Theraworx Relief
Theraworx Relief promises to deliver gentle, safe muscle cramp and spasm relief via its topical formulation, but can it truly deliver on this claim? Until we hear back from customer service regarding the clinical studies illustrating the product's effectiveness, we may not be able to say one way or the other.
On the one hand, sources such as WebMD, Examine.com and the Mayo Clinic did not report any direct evidence supporting topical magnesium's ability to soothe, manage or prevent muscle cramps and spasms. On the other, at least two positive customer reviews were found on Amazon, with each user noting that the product was extremely effective and beneficial for them.
Ultimately, time will tell if Theraworx Relief can truly live up to its promises. We'll update this overview if and when we receive additional information from the manufacturer, but until then, if you'd like to go ahead and give the solution a chance, we'd recommend keeping in mind the return policy of the outlet you choose to purchase it from.
Have you used Theraworx Relief before? If so, leave a review and share your experience with other HighYa readers!
My difficulties dispensing

I bought this product some time ago and didn't really use it because it was so hard for me to pump the container. I'm 82 years old without a lot of strength in my hands, and trying to pump it would very often actually set off hand pain and cramps. I finally pulled it out again and tried for two days and it did seem to help, except it was so difficult for me to pump. My son suggested removing the cap but then it was just clear liquid. I did try anyway and ended up spilling the liquid all over. If they would put their product in a lighter plastic that I could more readily pump, I would try again.

Bottom Line: No, I would not recommend this to a friend

---

5 out 5 people found this review helpful

Definitely no scam

I've been a quadriplegic now for 26 years, I take 3 different meds to control my muscle spasms, but when I have to stay in bed for more than a day, my hamstrings and calves start cramping badly. I saw the television commercial, and I like Dr. Drew so here I am a week after ordering it to give my testimony of this miracle foam. I had my caregiver rub it in really well (as recommend) and it is almost an instant relief.

Bottom Line: Yes, I would recommend this to a friend

---

Advertisement

---

9 out 10 people found this review helpful

It seems to be working

By

Lynn Crowe

,

Paramus, NJ

,

Feb 19, 2018
Verified Reviewer

I take a diuretic every other day. Even though I take extra potassium, the days that I do take the diuretic, I get leg cramps that often woke me up and were very painful. I had to walk around for a while before I could get back into bed. I've been using the foamy Theraworx for a couple of weeks, and while my calves are a bit tingly. I have not woken up with the severe pain I had before I started using it. Also, I don't seem to have any side effects.

Bottom Line: Yes, I would recommend this to a friend

---

8 out 10 people found this review helpful

Great product

By

Reg Hearn

,

Washington

,

Feb 13, 2018
Verified Reviewer

I have experienced toe cramps almost every night for a long period of time. In the past year, it got so bad that I was losing a lot of sleep.

I have tried all of the usual solutions; keeping hydrated, stretching, keeping my legs and feet warm, calcium supplements, magnesium supplements, potassium supplements, the whole works.

I tried the Theraworx out of a sense of desperation. I purchased it at a local Rite Aid (which is out, today!). I have been using it for a month. In that month I have experienced some toe cramps twice, which were relieved by an additional application of Theraworx.

Two incidents in a month is a big improvement over every night.

A full night's sleep is a pretty big blessing.

Bottom Line: Yes, I would recommend this to a friend

---

Advertisement

---

26 out 28 people found this review helpful

Unexpected relief

California

,

Dec 21, 2017
Verified Reviewer

I have had this product for over a month now, so I am pretty confident in my review. I have suffered from night leg cramps for the past 10 years and went to all kinds of doctors and tried at least 12 different medications. One doctor even prescribed one medication for Parkinson. Nothing worked. So when I saw an advertisement for this cream, I was wary but willing to give it a try.

I did, and after a couple of days, I thought that it couldn't be. Now, after a month of using it nightly, I can tell it really does work. Most nights I do not have any cramps, and on the nights I do have one, it is minor without lasting pain. Incredible! I used to have 10 cramps or more, and I would count them too. Now I sleep good at night and I am confident the reason is because of this cream. Thank you, thank you!

Bottom Line: Yes, I would recommend this to a friend

---

45 out 49 people found this review helpful

Thereworx works

I have suffered leg cramps from a variety of causes my entire life. These disrupted my sleep, and now the cramping will happen in the daytime if I sit at my desk too long.

I have tried pretty much every remedy there is, and nothing has worked. Until now. I can tell you Theraworx is the first product I've ever found that really works. Relief is immediate and lasts for about 24 hours. I can actually sleep the entire night without cramping waking me.

As a professional Purchasing Manager by trade, I am not in the habit of posting reviews (this is, in fact, the first one I have done). The only thing I would point out as a minor criticism is that the product has a peculiar smell, but it seems to dissipate once it evaporates after applying.

Bottom Line: Yes, I would recommend this to a friend

---

Advertisement

---