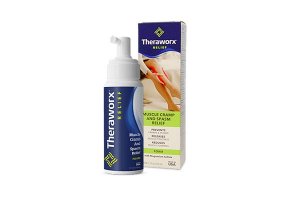 Theraworx Relief is a topical muscle cramp solution that claims to provide relief from cramps and spasms without any side effects using a gentle formulation.
About Theraworx Relief
Theraworx Relief is a muscle cramp-relief solution that's clinically proven to ease pain stemming from cramps and spasms using a proprietary blend of safe, gentle ingredients.
The makers of the product bill it as an alternative to other topical muscle therapies that simply provide surface-level solutions.
They also state that there are no known side effects, suggesting that the natural formula is gentle enough for use in hospitals around the country, yet powerful enough to be a part of professional athletes' training regimens.
Additionally, Theraworx Relief promises to treat soreness and irritation that can occur after a cramp, even stating that—when applied to the afflicted area on a regular basis—it can prevent cramps and spasms from happening in the first place.
Using Theraworx Relief
Although the FAQ on the product's website states that Theraworx Relief is safe for use on any part of the body, including sensitive areas, it appears to be targeted towards helping relieve pain and discomfort in the thighs, hamstrings, calves and feet.
The website lists that the product is safe for anyone ages two and up, though it warns that pregnant or breastfeeding individuals should consult with a health professional before application.
To use it, you'll need to apply two large pumps of foam or six to eight pumps of spray (depending on which you purchase) onto the desired area, rubbing in until it is absorbed by the skin.
Before we go any further, let's take a step back for a moment and examine what exactly is happening when our muscles experience cramps and spasms. Afterward, we'll break down the product's ingredients in order to evaluate how effective you can expect them to be.
Understanding Muscle Cramps
Often called "charley horses," muscle cramps like the ones Theraworx Relief claims to treat are sudden, painful tightening or contractions within the muscle tissue, often occurring in the legs and feet just before bed or just after waking up. According to WebMD, the cause of these cramps is not always clear. They list that the following can contribute to the issue:
Exercise, or injury relating to exercise.
Pregnancy
Exposure to colder temperatures, especially cold water.
Standing or sitting on a hard surface for too long.
Sleeping with your legs in awkward positions.
Not getting enough potassium and calcium with your diet.
Being dehydrated.
Certain medications, including antipsychotics, birth control pills, diuretics, statins, and steroids.
Other medical conditions, like blood flow problems (peripheral arterial disease), kidney disease, thyroid disease, and multiple sclerosis.
The Mayo Clinic adds that "too little potassium, calcium or magnesium in your diet can contribute to leg cramps. Diuretics — medications often prescribed for high blood pressure — also can deplete these minerals."
As for treating cramps and spasms, WebMD indicates common options for alleviating the pain include stretching and massaging the muscle, taking a warm shower or bath, using an ice pack, and drinking plenty of fluids to avoid dehydration.
They also suggest that taking over-the-counter pain relievers such as acetaminophen (Tylenol), ibuprofen (Advil, Motrin), or naproxen (Aleve) may be of some assistance.
As for preventing future cramps, the Mayo Clinic similarly recommends drinking plenty of fluids in order to stay hydrated throughout the day. They also suggest stretching before and after using any particular muscle for an extended period of time.
Now that we know a bit more high-level information about the common causes, treatments, and prevention options associated with muscle cramps and spasms, let's take a closer look at Theraworx Relief's formula.
Taking a Closer Look at Theraworx Relief's Ingredients
According to Theraworx Relief's drug facts label, its only active ingredient is magnesium sulfate (Magnesia suphurica) 6X 0.05% HPUS (which means "the components officially monographed by the Homeopathic Pharmacopoeia of the United States). Inactive ingredients include:
Aqua (water), Cocamidopropyl Betaine, Aloe Barbadensis Leaf Juice, Colloidal Silver, Tocopheryl Acetate, Glycerin, Allantoin, Beta Glucan, Citrus Paradisi (Grapefruit) Fruit Extract, Lauryl Glucoside, Tetrasodium EDTA, PEG/PPG-4/12 Dimethicone, Methylparaben, Propylparaben, Parfum (Fragrance)
According to their summaries of the available clinical evidence, sites like WebMD and the Natural Medicines Database report that, while magnesium seems to be effective for treating a variety of conditions, addressing muscle cramps doesn't seem to be among them.
Specifically, WebMD lists magnesium supplementation (internally, not applied externally) as possibly ineffective for muscle cramps, stating, "Taking magnesium supplements does not seem to decrease the frequency or intensity of muscle cramps."
Similarly, the Natural Medicines Database (subscription may be required for full access) states: "Analyses of clinical research suggest that magnesium supplementation does not decrease the frequency or intensity of skeletal muscle cramps compared to placebo."
Another important factor to quickly discuss is the level of magnesium found in Theraworx Relief, which is listed as 6X. Without going into unnecessary detail, this is a homeopathic dosage that indicates one part of a substance (i.e., magnesium) has been diluted ten times, usually in water. Then, this process is repeated six times.
Quickly working out the math, this would leave one part magnesium to 1,000,000 parts water.
So, even if magnesium supplementation was reported by sites like WebMD and the Natural Medicines Database to have sufficient clinical support for relieving or preventing muscle cramps, the real-world level of magnesium in Theraworx Relief is very small.
Pro tip: According to the FTC, all drugs labeled as 'homeopathic' must include the statement that they're "'not accepted by most modern medical experts' and that 'there is no scientific evidence the product works."
With all of this said, we found one placebo-controlled clinical study conducted on Theraworx, which was completed in November 2017, involved a total of 50 participants experiencing "night-time cramps and spasms on average at least three times per week," and took place over the course of 14 days.
Results were listed as "submitted but not posted," pending Quality Control Review. We reached out and spoke with a company representative during our research, who advised they'd send us a copy of the results, which we'll update here as soon as we receive.
In the meantime, are there any side effects associated with the product
Potential Theraworx Relief Side Effects
When taken in doses of less than 350 mg per day, WebMD and the Natural Medicines Database indicate that magnesium is safe for most adults and unlikely to cause side effects. In some instances, however (no additional dosages or circumstances noted), they indicate it can cause mild, temporary digestive upset and nausea.
Again, these sites don't report any clinical evidence related to the topical application of magnesium, versus internal supplementation, so the potential side effects could be the same.
As with any new cream or ointment, we'd recommend that you start off by applying a small amount to your body before using larger quantities, just to ensure that your skin reacts well to the formula.
And it's never a bad idea to talk with your doctor about using any new topical product, especially if you're experiencing frequent muscle cramps.
How Much Does Theraworx Relief Cost and Where Can You Buy?
If purchased directly from the manufacturer, Theraworx Relief is priced at:
1 Bottle (7.1 fl oz): $19.95
3 Bottles: $50.87 ($19.96 each)
6 Bottles: $89.77 ($14.96 each)
We also found these same quantities available on Amazon for the same prices, as well as in-store at national retailers like Rite Aid, Walgreens, and CVS.
All direct purchases come with a 30-day refund policy, less S&H charges, while third-party policies will vary by retailer.
To obtain a refund through the company, you'll need to call 888-282-7353 or send an email to info@theraworxrelief.com, and include the following information with your return:
Original purchase receipt.
Your name, address, phone number, and signature.
The product itself.
Your reason for returning the product.
What Can We Learn from Theraworx Relief Customer Reviews?
Since writing our original article, seven HighYa readers provided feedback about their experiences with Theraworx Relief, giving the product an average rating of 4.4 stars.
Common compliments referenced effective cramp relief and prevention, on many different parts of the body, along with ease of use.
The single complaint related to difficulty dispensing due to hand weakness and cramping.
Among more than 900 combined reviews on Amazon, Theraworx Relief had a slightly lower average rating of about four stars, although customers cited many of the same compliments. An additional common complaint was that it didn't work as well as expected.
As a company, Avadim Technologies, Inc. is based out of Asheville, NC and has been in business since 2007. While TheraWorx Relief is their most popular product, others in their lineup include pHUEL, a non-toxic, topical muscle nutrition supplement, as well as Combat One, a skin cleanser.
Theraworx Relief vs. Alternative Muscle Cramp Solutions
While you'll find dozens of topical products that promise to address muscle soreness in one form or another, including mainstream options like Icy Hot, Bengay, and so forth, we only encountered two other homeopathic remedies competing for many of the same cramp-suffering customers as Theraworx Relief:
| Brand | Price | Active Ingredient(s) |
| --- | --- | --- |
| Theraworx Relief | $19.95 - $89.87 (7.1 fl oz bottles) | Magnesium sulfate (Magnesia suphurica) 6X 0.05% |
| Hyland's Leg Cramps Pain Relief Ointment | $9 (2.5 oz) | Aconitum Napellus 3X, Arnica Montana 3X, Ledum Palustre 3X, Magnesium Phosphorica 10X, Rhus Toxicodendron 6X, Viscum Album 3X HPUS |
| Cramp 911 Roll-On Lotion | $11 (0.15 oz) | Cuprum Metallicum 6X - 0.05 %, Magnesia Sulfate 6X - 0.05 % |
However, if you're simply looking for a no-nonsense topical solution, we encountered dozens of magnesium-containing creams and topical sprays during our research, some of which were priced as low as $6.
Furthermore, some of these provided dosage details about exactly how much magnesium you'll get per application.
What does all of this mean when it comes to your future with Theraworx Relief? Let's wrap everything up in the following section.
Our Final Thoughts About Theraworx Relief
On the one hand, sources such as WebMD and the Natural Medicines Database report there's insufficient clinical evidence supporting the ability for magnesium—whether supplemented internally or applied topically—to soothe, manage, or prevent muscle cramps and spasms.
And even if magnesium were shown to provide these benefits, the 6X homeopathic dosage found in Theraworx Relief's formula would represent an ultra-small dosage.
With this said, here on HighYa as well as online marketplaces like Amazon, the topical foam's formula seems to come with almost wholly positive feedback from customers. As such, it largely seems to be meeting their cramp relief needs.
On top of this, all direct purchases come with a 30-day refund policy, so you might not have much more to lose than return S&H if you give it a try and are dissatisfied.
Just keep in mind that a) you should talk with your doctor before making a purchase, and b) if they recommend you proceed, buying locally could put it in your hands—and potentially provide relief—faster.
» Read Next: Do CBD-Infused Creams, Oils, and Other Products Really Work?
57 out 63 people found this review helpful

Thereworx works

I have suffered leg cramps from a variety of causes my entire life. These disrupted my sleep, and now the cramping will happen in the daytime if I sit at my desk too long.

I have tried pretty much every remedy there is, and nothing has worked. Until now. I can tell you Theraworx is the first product I've ever found that really works. Relief is immediate and lasts for about 24 hours. I can actually sleep the entire night without cramping waking me.

As a professional Purchasing Manager by trade, I am not in the habit of posting reviews (this is, in fact, the first one I have done). The only thing I would point out as a minor criticism is that the product has a peculiar smell, but it seems to dissipate once it evaporates after applying.

Bottom Line: Yes, I would recommend this to a friend

---

35 out 39 people found this review helpful

Unexpected relief

California

,

Dec 21, 2017
Verified Reviewer

I have had this product for over a month now, so I am pretty confident in my review. I have suffered from night leg cramps for the past 10 years and went to all kinds of doctors and tried at least 12 different medications. One doctor even prescribed one medication for Parkinson. Nothing worked. So when I saw an advertisement for this cream, I was wary but willing to give it a try.

I did, and after a couple of days, I thought that it couldn't be. Now, after a month of using it nightly, I can tell it really does work. Most nights I do not have any cramps, and on the nights I do have one, it is minor without lasting pain. Incredible! I used to have 10 cramps or more, and I would count them too. Now I sleep good at night and I am confident the reason is because of this cream. Thank you, thank you!

Bottom Line: Yes, I would recommend this to a friend

---

24 out 28 people found this review helpful

Great product

By

Reg Hearn

,

Washington

,

Feb 13, 2018
Verified Reviewer

I have experienced toe cramps almost every night for a long period of time. In the past year, it got so bad that I was losing a lot of sleep.

I have tried all of the usual solutions; keeping hydrated, stretching, keeping my legs and feet warm, calcium supplements, magnesium supplements, potassium supplements, the whole works.

I tried the Theraworx out of a sense of desperation. I purchased it at a local Rite Aid (which is out, today!). I have been using it for a month. In that month I have experienced some toe cramps twice, which were relieved by an additional application of Theraworx.

Two incidents in a month is a big improvement over every night.

A full night's sleep is a pretty big blessing.

Bottom Line: Yes, I would recommend this to a friend

---

21 out 24 people found this review helpful

It seems to be working

By

Lynn Crowe

,

Paramus, NJ

,

Feb 19, 2018
Verified Reviewer

I take a diuretic every other day. Even though I take extra potassium, the days that I do take the diuretic, I get leg cramps that often woke me up and were very painful. I had to walk around for a while before I could get back into bed. I've been using the foamy Theraworx for a couple of weeks, and while my calves are a bit tingly. I have not woken up with the severe pain I had before I started using it. Also, I don't seem to have any side effects.

Bottom Line: Yes, I would recommend this to a friend

---

Advertisement

---

20 out 23 people found this review helpful

Definitely no scam

I've been a quadriplegic now for 26 years, I take 3 different meds to control my muscle spasms, but when I have to stay in bed for more than a day, my hamstrings and calves start cramping badly. I saw the television commercial, and I like Dr. Drew so here I am a week after ordering it to give my testimony of this miracle foam. I had my caregiver rub it in really well (as recommend) and it is almost an instant relief.

Bottom Line: Yes, I would recommend this to a friend

---

17 out 22 people found this review helpful

Theraworx doesn't work

By

Elaine J.

,

Illinois

,

Nov 5, 2018
Verified Reviewer

I was so hoping that this product would work. After suffering with leg cramps for 40 years, as we all know the FDA cares nothing about us and viciously and maliciously pulled the quinine sulfate off. It was the only thing that worked, and they pulled it off the market, leaving us with nothing. Anyway, Theraworx doesn't work. Tonight, for example, I applied it according to directions three different times and I'm continuing to cramp and cramp, so they need to go back to the drawing board. Sorry, it doesn't work for such a debilitating condition.

Bottom Line: No, I would not recommend this to a friend

---

16 out 19 people found this review helpful

Cramps and joint pain

By

Dawn Muniz

,

Florida

,

May 12, 2018
Verified Reviewer

I bought this because my aunt's and uncle's recommendation, they said it worked great. So I bought it and can't live without it. I use it every night before bed; it works amazing. I woke up one night with a Charlie horse in the top front thigh to the side. My husband rubbed this on me and within a minute it was like it never happened. I highly recommend you use this.

Bottom Line: Yes, I would recommend this to a friend

---

16 out 20 people found this review helpful

Amazing product

By

Becky M.

,

Gaffney, SC

,

Nov 13, 2018
Verified Reviewer

I have suffered from night leg and foot cramps for years. In recent months, I have had such severe cramps in my ankles that it often feels as if my bones will break if I try to stand. I tried Theraworx Relief last night when I woke up having one of those ankle cramps. I rubbed two pumps on my ankle, and the cramp instantly stopped. This is an amazing product.

Bottom Line: Yes, I would recommend this to a friend

---

15 out 17 people found this review helpful

My difficulties dispensing

I bought this product some time ago and didn't really use it because it was so hard for me to pump the container. I'm 82 years old without a lot of strength in my hands, and trying to pump it would very often actually set off hand pain and cramps. I finally pulled it out again and tried for two days and it did seem to help, except it was so difficult for me to pump. My son suggested removing the cap but then it was just clear liquid. I did try anyway and ended up spilling the liquid all over. If they would put their product in a lighter plastic that I could more readily pump, I would try again.

Bottom Line: No, I would not recommend this to a friend

---

14 out 15 people found this review helpful

Theraworx is a miracle!

I have been suffering with night cramps in my feet, lower legs, and super intense in my inner thighs. The first time I tried Theraworx I called it a miracle! As soon as I applied it to the affected area(s) I received almost instant relief (in the lower legs and feet). The more intense area of my thighs took a bit longer (about 2-3 minutes).

Bottom Line: Yes, I would recommend this to a friend

---

13 out 16 people found this review helpful

Amazing product

By

Herb W.

,

Laureldale, PA

,

Jan 5, 2019
Verified Reviewer

After my motorcycle accident in 2006 with two broken femurs and major scar tissue on left femur, the accident limited my ability a lot. My wife could rub my leg for 30 minutes just to get the lump back in two hours. I applied Theraworx and in 15 minutes I was almost back to pre accident condition. It has only been two days using this product but I will be running again, that's something I have not done in 12 years and three months. WOW, AMAZING! Where can I buy stock in this product?

Bottom Line: Yes, I would recommend this to a friend

---