Trunk Club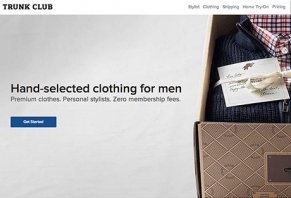 Trunk Club is a men's discovery commerce company that sends a box of hand-selected, premium clothing directly to your door whenever you want to look your best.
Trunk Club Review: Is It Worth It?
It's no secret that most men don't enjoy shopping, but we still want to look our best, which is why Trunk Club claims to ship high-end, customized clothing directly to your door. As such, Trunk Club claims to feature items from more than 50 premium manufacturers, and to help you achieve a great look without all the work.
But when it comes down to it, are Trunk Club's high prices really worth it? We made sure to keep this question in mind when researching the company, and here's what we learned.
How Trunk Club Works
Except that they specialize in premium men's clothes, Trunk Club is primarily a discovery commerce website. In other words, instead of sending you wine or pet-related items, you'll receive a box (known as a "trunk") containing up to 8 pieces of clothing that are based on your specifications. Ultimately, Trunk Club claims that this helps you discover awesome clothes without all the hassle of visiting a store or shopping online.
Related: Bombfell Men's Clothing Subscription Review
Another distinct Trunk Club service is that you'll be assigned to a personal stylist based on your preferences, who will hand-select items that better meet your body type, preferences, and lifestyle. On top of this, Trunk Club doesn't require any kind of subscription, and only sends boxes whenever you request.
In essence, Trunk Club works over 3 steps:
Sign up by completing a style survey. Questions include you style preferences, retailers where you might otherwise shop, measurements, and personal/billing information.
According to the Trunk Club website, their extensively trained personal stylists will then hand-select your clothing, and can be contacted directly via phone, email, text message, or through the Trunk Club iPhone app or website.
Your box is sent directly to your home. Try them on and leave feedback for your stylist, which can then be used to dial in your preferences for future trunks.
After receiving your trunk, you'll have 10 days to decide which items you'd like to keep. Trunk Club claims that all orders include a prepaid return shipping label, which means you simply have to email the company and then send any unwanted items back, all at no cost to you.
Once 10 days have passed, your credit card will be charged for any items not returned.
Trunk Club Pricing & Refund Policy
The are no membership fees or commitments associated with Trunk Club, and your enrollment can be cancelled at any time. Once you decide to order a trunk, it will include free shipping and a prepaid return shipping label should your trunk contain any items you'd like to return.
According to the Trunk Club website, their clothing is priced similarly to what you'd find at high-end retailers such as Nordstrom's or Bloomingdales. Examples they include are $170–$250 for denim, $100–$200 for casual shirts, and $100–$300 for sweaters, and most customer reviews claim that this is fairly accurate (more about this in the following section).
There isn't any refund information provided on the Trunk Club website, which may indicate that you won't be able to get your money back after the initial 10 days have passed. With this in mind, you may want to contact customer service at (312) 801-7200 in order to verify prior to ordering a trunk.
What Do Other Consumers Have to Say About This Subscription Service?
For the most part, it appears that Trunk Club has a primarily positive online reputation, with most compliments referencing the convenience they provide, the solid selection of stylish clothes they offer, and the quality with which your items are packaged—which includes a hand-written letter from your stylist explaining why they were chosen.
However, by far the most common customer complaint referenced extraordinarily high prices, which are often higher than purchasing retail. In fact, we read multiple reviews claiming that a single box can contain items totaling $1,700 or more. In addition, some customers appear to have had negative support experiences (e.g. rude/unresponsive stylists, difficulty reach support personnel, etc.). However, many of the reviews that claimed this were written more than 6 months ago, and the company appears to have been actively addressing the problem.
The Bottom Line
Does Trunk Club provide you with good value for your money? It all depends on how you view the services provided by the company. Let us explain:
High Price
First and foremost, it's fairly safe to say that if you're always out to find the best bargains on clothing, Trunk Club might not be your cup of tea. As mentioned above, this is because one trunk can include clothes totaling upward of $1,700.
In short, Trunk Club is much more geared toward men who put a great deal of value on their time and need the convenience of having someone else do their shopping for them, for which they're willing to pay a premium.
The Clothes
Even then, we read more than one customer review claiming that the clothes contained in their trunks were not representative of the high prices and that they quickly showed wear and tear.
On top of this, keep in mind that nearly all pants (which come in 34" lengths), jackets, and dress shirts will require professional tailoring for the best fit, which can cost $50-$200 or more on top of the already high prices. However, based on several reviews we read, if you're less than 5' 8", Trunk Club may not have a good selection of clothes that fit, even with professional tailoring.
With this said, numerous customers claimed that at $150 each, they could have a custom shirt made that fit them perfectly.
The Experience
As we mentioned above, Trunk Club appears to have mostly positive online reviews, with a variety of customers claiming that stylists do not pressure you into making a decision. Many of these same customers also appreciated the high level of customization available, with clothing spanning many styles from classic to contemporary.
However, numerous customers stated that they would appreciate a wider selection of price points (e.g. low, middle, high).
If you're especially pressed for time but still want to look your best—and are willing to pay a premium to accomplish this—Trunk Club might present a viable option. However, remember that you'll need to communicate with your stylist as much as possible in order to get the most out of the service.
Pros:
Trunk Club offers high-end, hand-selected men's clothing shipped directly to your door.
Includes personal stylist and free return shipping.
Primarily positive online customer reviews.
Cons:
Convenience comes at a very steep price.
Some customers have claimed that the prices aren't necessarily reflected in the quality, especially when it comes to jeans.
No refund information provided on the company's website.
If you truly don't care about your money and are very lazy, try Trunk Club

By Kenneth

,

Edison, NJ

,

Jan 5, 2017
Verified Reviewer

Last year I received a gift certificate for Trunk Club worth $175. Each time I went on I tried to order a limited amount of clothing because I only wanted to spend the gift certificate amount.

My first issue is that Trunk Club sends you more options than you need, even though I have repeatedly asked the stylist many times to please send me two items equaling roughly $175. Instead, I had to add my credit card and ended up receiving six items. Because I was clear that I didn't want to spend more than that amount, they sent me a very cheap brand, which I looked up. They are charging me well over twice what I could buy these thin cotton shirts for on other websites. I know shipping cost money, but these stylists cannot be worth charging me $50 for a shirt that is worth $20 at every other retailer.

If you have a lot of money and just don't care if you're wasting it, you can go to Trunk Club. Tell them what brands you like and get a trunk that cost $2,000 if you bought it, outright delivered to your door. But I don't think there are many of those kinds of people out there, and I think a lot of them are getting duped when they sign up for Trunk Club.

So buyer beware. If you're okay with spending $170 for a pair of jeans that cost $80, then sign up for Trunk Club

Bottom Line: No, I would not recommend this to a friend

---

Not worth it

I was excited to join Trunk Club and willing to pay full price for my clothes and the $25 styling fee for great outfits. Instead, I received random clothes that did not fit my style and clearly showed the stylist put no effort into it, so I ended the service after two shipments and they didn't even bother to find out why. I had used Stich Fix for two years prior with relatively good success, so maybe I will go back.

Bottom Line: No, I would not recommend this to a friend

---

Advertisement

---

They could care less

By David T.

,

New Jersey

,

May 29, 2019
Verified Reviewer

I figured I'd try this and I bought a box. I found a pair of pants that I liked but they weren't cut correctly, as no clothes are. All clothes are cut differently and they fit differently so I asked for a smaller size and she said too bad no we don't have any, we're not getting any. I told her I was going to use your service anymore and she said okay goodbye. I talked about customer service no help at all, don't give it a try. I guarantee you'll be sorry.

Bottom Line: No, I would not recommend this to a friend

---