SprezzaBox Reviews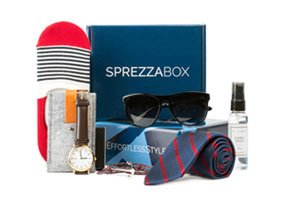 After signing up for a SprezzaBox subscription, you'll receive a monthly collection of fashion and lifestyle accessories geared toward the corporate man.
What Is SprezzaBox?
SprezzaBox is a monthly subscription service that delivers a mix of 5-6 men's fashion and lifestyle accessories, coordinated by in-house stylists, directly to your doorstep each month.
What can you expect in each SprezzaBox? The company tells us typical items include ties, socks, pocket squares, grooming products, and the occasional bow tie, cuff links, or other trending items.
As founder Philip Sblendorio recently noted in an interview, each box focuses on items that the average corporate guy might wear to work each day, but that they might not buy for themselves. Or, for the guy who needs some help understanding what looks great.
To this last point, SprezzaBox's online Guide complements their boxes by helping you put it all together and get the most value. And if you want to own some of their fashionable accessories, SprezzaBox also boasts an online store.
You understand that SprezzaBox is just one of dozens of men's fashion and accessories subscription services. Is there anything that sets them apart? In other words, is SprezzaBox more deserving of your money?
We'll explore this topic in-depth while discussing what we learned during our research—starting with what you'll pay, as well as what you'll get for your money.
How Much Does a SprezzaBox Subscription Cost?
Monthly Membership - $28/mo
12 Months Paid-In-Full Membership - $300 paid upfront (works out to $25/mo)
For this price, each box is guaranteed to contain products with a retail value over $100. You'll never receive a duplicate item, although you might receive the same type of item (a pocket square, for example) in a different pattern at some point.
All SprezzaBoxes shipped in the US come with free shipping. Canadian customers will pay $6 and international orders (the company ships to 28 countries) will be charged $8.
Monthly memberships will auto-renew, are billed between the 1st and the 10th of each month, and can be paused or canceled at any time. Annual subscriptions automatically expire and must be reinstated after the 12th shipment.
What Can You Buy In SprezzaBox's Store?
SprezzaBox also sells dozens of different products that complement their monthly boxes (some of which are included in shipments):
Ties & Bowties - $25-$78
Socks - $10-$30
Pocket Squares - $12-$29
Tie Clips - $18-$25
Cufflinks - $25
Lapel Pins - $10-$15
Other Accessories - $5-$40
Shipping costs for store orders are calculated at checkout and based on the overall weight.
What Is SprezzaBox's Refund/Exchange Policy?
Except when a product is damaged or missing, the company does not provide refunds, returns, or exchanges for SprezzaBoxes.
Furthermore, outside of the first 15 days following your signup, paid-in-full memberships are non-refundable and cannot be exchanged or returned.
Items purchased through SprezzaBox's store can be returned or exchanged within 30 days, less S&H, as long as it hasn't been worn, damaged, or washed.
SprezzaBox's customer service can be reached via their support desk, or by emailing support@sprezzabox.com.
Alright, enough with the fine print. Let's get to the fun stuff! First, what's everyone saying about SprezzaBox?
SprezzaBox's Customer Reviews
SprezzaBox was founded in May 2014 by Philip Sblendorio, who, between his @menstailoredfit and @sprezzabox Instagram accounts, currently boasts nearly 430K followers.
According to a 2016 Reddit thread, a couple of years ago, Philip made a decision to start posting menswear-related content every day to his account and it quickly gained traction with a wide audience.
As far as his SprezzaBox stylistic choices? In his 2015 interview with the Wall Street Journal's Tanya Romero, Philip noted that customers shouldn't expect anything "too daring, since you don't get to pick and choose."
Business Insider provides some additional insight, claiming that SprezzaBox is a fashion-centered service made to appeal to guys who enjoy a bit of class. As a gift, they noted that their boxes might be ideal for "the aspiring James Bond in your life."
We also encountered another brief Reddit thread, this time from a SprezzaBox customer. While they admitted they weren't a fashion expert, they found SprezzaBox's quality to be good, noting they'd yet to be disappointed by the ties or socks.
Like any other subscription service, though, this customer mentioned that some items didn't match their tastes or personal preferences.
Outside of this, we encountered a lot of reviews from subscription-oriented blogs like My Subscription Addiction, who claimed that they generally found SprezzaBox's shipments contained a good mix of items that delivered a lot of value for the price.
For December 2016, Girl Meets Box received the "Essex" box, which had a retail value of $147. The author liked the casual vibe and the seasonable accessories and lifestyle items. Similar to My Subscription Addiction, they noted they're always pleased with the consistent collections and overall value.
Do other subscription services come with similarly positive feedback?
How Does SprezzaBox Compare to Other Men's Subscription Services?
While there are a whole lot of men-centric subscription services out there, they provide a variety of services—from the clothes delivered by Trunk Club and Bombfell to the spirits from Flaviar and razors at Dollar Shave Club.
Outside of these, though, there are really only a handful of companies competing directly with SprezzaBox. After all, each company differentiates themselves by delivering a meaningfully different experience than the competition! No two are exactly alike.
With this in mind, let's take a look at how some of SprezzaBox's key factors compare to popular competitors:
| | Price (as low as) | Box Contents | Customization? | Online Store? |
| --- | --- | --- | --- | --- |
| SprezzaBox | $25/mo | 5-6 fashion and lifestyle accessories | No | Yes |
| Birchbox Man | $18.30/mo | 4 grooming samples, 1 lifestyle product | Yes, using a Grooming Profile | Yes |
| Bespoke Post | $45 per box | Small-batch brands. Grooming, accessories, clothing layers, food and alcohol-related | Can set preferences | Yes |
| Gentleman's Box | $25/mo | 4-6 grooming and style products. Includes 1-year GQ subscription | No | Yes |
| Robb Vices | $59.95/mo | High-end; food to fashion | No | No |
| JDM Accessory Vault | $16.66 per box | Stylish accessories for gentlemen; sunglasses to belts | No | No |
| Urban Dapper Club | $25/mo | Unique men's fashion and lifestyle items | No | Yes (small) |
| The Menswear Club | $29/mo | 4-6 fashion accessories and grooming essentials | No | Yes |
| Boomtown Box | $22.99/mo | 3-5 surprises; everything from gear and grooming products to snacks | No (other than indicating shirt size) | No |

Which of these is right for you? Obviously, this almost wholly depends on your current needs and personal preferences. Let's carry this thought over as we wrap things up.
Are You the Ideal SprezzaBox Customer?
In addition to their specific angle on boxes, another meaningfully unique service that SprezzaBox offers is their special groomsmen shop (includes customized pricing, boxes, and advice) for wedding parties of 4 or more.
Does this mean they're right for you? If you browse through SprezzaBox's online shop and view their past boxes, you should get a solid idea of what types of items you might expect, as well as whether or not this lines up with your interests.
Now, even if you like what you see on the SprezzaBox site, will everything they send you necessarily knock you over with delight? Probably not, as no one bats a thousand all the time—the same could almost certainly be said about any other subscription service.
If we were to make only one recommendation, though, it would be that you might want to start with a month-to-month SprezzaBox subscription, try a few boxes, and then sign up for an annual subscription if it makes sense.
This way, you won't be tied into a yearlong commitment if you're not pleased with what you receive.
Don't leave before telling us about your SprezzaBox experience in your very own review below!
Great investment!

By Andrew L.

,

New Jersey

,

Jan 27, 2020
Verified Reviewer

I have been a loyal SprezzaBox customer/fan for over 5 years now and have never been disappointed. Every month after I open my box I find myself saying, "it's like they know me."

One of my favorite things about receiving this box is all of the new companies it has turned me on to. I have made many purchases and recommendations to others based on the items/samples/discounts Sprezza has sent me each month.

For only $28/mo I have a unique collection of ties, socks, accessories, etc. that I receive compliments on each and every time I wear them.

Bottom Line: Yes, I would recommend this to a friend

---

Great

By Weslie V.

,

Connecticut

,

Jan 25, 2020
Verified Reviewer

Have had it since day 1...never have had a problem with the delivery or customer service. Never have had a complaint on any of the boxes I have received. Every once in a while I'll get something I don't use but for the most part, I like everything I get in the boxes. Haven't bought a tie at a store in years! Can't go wrong with SprezzaBox.

Bottom Line: Yes, I would recommend this to a friend

---

Advertisement

---

Love SprezzaBox for switching up my style

By Josh A.

,

New York

,

Jan 24, 2020
Verified Reviewer

I appreciate the fact that SprezzaBox gives me tie and accessory options that I enjoy or wouldn't normally buy on my own. I appreciate the value as well as their eye for style. They bring me just enough out of my style comfort zone.

Bottom Line: Yes, I would recommend this to a friend

---

Not worth it

By Scott H.

,

Charleston, SC

,

Jun 20, 2019
Verified Reviewer

Products are cheaply made, and seem like leftover items that couldn't be sold. This is a waste of money. Don't fall for it. I tried to give the boxes away to my 2 sons and they didn't want the stuff either. It's not a generational issue, it's just cheap unuseful junk.

Bottom Line: No, I would not recommend this to a friend

---

Advertisement

---

Great box...horrible customer service!

By Michael T.

,

Boston, MA

,

Apr 17, 2019
Verified Reviewer

So we all know gift box services like Sprezzabox are a luxury, not a necessity. So why wouldn't you ensure your customer service to match good boxes?

Several months ago I had a fraud situation with my credit card which affected my subscription. I paid an overdue invoice and fixed my credit card on my account on the website, however, no boxes came. So I have reached out by email with nothing but automated responses, tried to find a phone number anywhere. I paid for boxes that never came and can't talk to anyone.

Bottom Line: No, I would not recommend this to a friend

---

Slow delivery and just ok quality

By Michael J.

,

Fresno, TX

,

Mar 5, 2019
Verified Reviewer

Products are just ok, I could go to a discount store and get this stuff for about $8, but the real complaint is their slow delivery service (they use DHL - horrible) and their customer "un" service is bad.

Bottom Line: No, I would not recommend this to a friend

---

Poor customer service, questionable business ethics

By Kevin C.

,

Oklahoma

,

Feb 12, 2019
Verified Reviewer

I signed up under a promo code. The contents of the boxes are okay enough, and worth it if you have a discount, but they are not worth $28. Generally, it's socks, tie, sunglasses or watch, and 2-3 other knick-knacks.

Unfortunately, the way to manage your account is cumbersome and buried/hidden on their site. It is very difficult to tell if you have an active subscription.

I intended to cancel, but after not finding anywhere to manage a subscription on their site, I incorrectly assumed I was not active.

I was charged again for the next month. The next day I reached out to their support requesting a cancellation. They denied my request twice, even though the box has not shipped. I find this very disingenuous.

In my opinion, they intentionally hide the account page and make it difficult to cancel, and once you realize you're still active, it's too late.

I will definitely never order another box from them.

Bottom Line: No, I would not recommend this to a friend

---

Nice stuff, great customer service

By Michele S.

,

London, England

,

Jan 25, 2019
Verified Reviewer

As the title said, every month what I receive is really nice, and I've never been disappointed about that, but the great thing is customer service. Every time I had a problem, normally for the delivery, they solved it in two minutes!

Bottom Line: Yes, I would recommend this to a friend

---

Good gift

By Janet F.

,

Pacific Northwest, USA

,

Jan 5, 2019
Verified Reviewer

For Christmas this year, I gave boxes from different subscription services without opening them. The SprezzaBox was good stuff, tie, socks, flask, cufflinks. The problem was, I had ordered on a special where you would buy a box and they would send you a bonus box. The bonus box was identical to the first box except it had no socks. My son didn't need two identical ties, identical flasks, etc.

Bottom Line: Yes, I would recommend this to a friend

---

Misleading photos

By Joel J.

,

Illinois

,

Nov 28, 2018
Verified Reviewer

When the box includes a tie, then it's a great deal. Most ties are very good quality, and I've enjoyed 90% of them. However, not all boxes contain ties, which then makes the box a rip-off, in my opinion. I complained, but they do not care:

"All photos on our website and social media channels are examples of boxes, or particular box product spotlights, that are not meant to represent the exact delivered accessories our system selects for you upon any given month's purchase."

So misleading photos do not represent what you might actually get. Beware.

Bottom Line: No, I would not recommend this to a friend

---

Run, don't walk, away from SprezzaBox

By Sina F.

,

Baltimore, MD

,

Sep 20, 2018
Verified Reviewer

Here is their direct number if anyone needs it: ‭(917) 262-0715‬.

I feel like this review is almost identical to the reviews mentioned above, which I wish I saw before giving them my money.

This is what happened. During the sign-up process, their site glitched and signed me up for two subscriptions. I figured if I contacted them and explained the situation, they would understand and cancel the second order. NOPE! They expected me to believe that once the order is submitted there is nothing they can do to stop it, which sounds like total BS to me. In the end, I had to report it to my BANK! It took them two minutes to validate and cancel the double charge. The worst part was dealing with the "customer service," which was unreliable and dodgy I sent them a complaint and have pasted below for you to read.

"1. Unwilling to speak to me over the phone 2. Refused to aknowledge the fact that I was erroneously double charged and would not take any steps to fix that or help me. 3. Your website being glitchy and your processing center running completely autonomously is the company's problem , not mine. If you expect me to believe that you are unable to stop an order going through mere minutes after it was charged, you either take me for a fool, or don't care to fix glaring structural problems within your business. Again, not being able to stop an order days before it is shipped out is a weak excuse. 4. When a costumer asks to speak to someone over the phone, it is rude to be dodgy about it. Just pick up the phone and call me, so I don't have to find your number from corporate filing documents."

Bottom Line: No, I would not recommend this to a friend

---