Bombas Socks Reviews - Are They Worth the Price?
This company has claimed this profile, is getting alerted on any new customer reviews entering this page, and may engage in dialogue with its customers to address their matters.

Companies cannot pay money or provide goods in order to remove or alter customer reviews.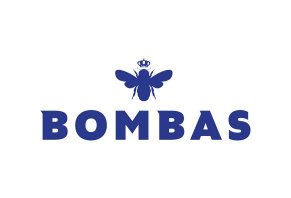 Summary
Founded in 2013, Bombas is a sock company that crafts their products from high-quality components and gives a pair to the homeless for each one sold.
Pros
Variety of sizes, styles, and patterns
The company donates one pair of socks for every purchase
Comfortable and versatile, according to many customer reviewers
Cons
More expensive than many brands
May not last long before getting holes
Might not fit true to size
Our Full Review
Buying quality socks that hold up isn't easy. All too often, we spend money on a pair we expect to last, only to wear holes in the heels. Are Bombas socks the exception?
Bombas is a women's, men's, and kid's sock manufacturer that crafts its products from high-quality extra-long-staple cotton yarns with natural moisture-wicking and antimicrobial properties.
These socks are designed to provide you with "engineered comfort" and long-term durability in each pair. The brand sells socks specialized for a variety of activities, including everything from cardio workouts to corporate meetings.
Another selling point for this brand is that the company donates a pair to the homeless community for every one purchased.
But before handing over your money, take a couple of minutes to read through our analysis so you can make an informed decision about whether Bombos socks are worth buying.
Which Types of Socks Does Bombas Offer?
Bombas sells a variety of socks for women, men, and kids as single pairs and in multi-packs. You can search the site by filtering the options by color, height, and occasion.
All Bombas socks come with extra padding on the footbed. This purportedly adds support and improves its lifespan, and the company claims that this padding isn't thick enough to cause shoe discomfort.
Bombas also emphasizes their socks "contain a small amount of latex" and "are made in factories that use latex." If you're allergic to latex, they recommend choosing another brand. Other materials in their socks include the following:
63–78% Extra Long Staple Cotton (Merino options contain 78% wool)
13–34% Polyester
3–6% Rubber
1–7% Spandex
1–12% Nylon
Percentages vary by sock type.
Bombas Women's and Men's Socks
Women's socks are available in five heights no show, ankle, quarter, calf, and knee-high/over the calf. Knee-high versions are only available for women, and over the calf for men. Both span three main categories:
Dress– Lightweight Crew, Marls, Donegal, Dress Solids
Athletic – Running, Skiing, Hiking, Tennis, Golf, Grippers, Basketball
Casual – Merino Wool, Lightweight Crew, Cushioned, Marls, Originals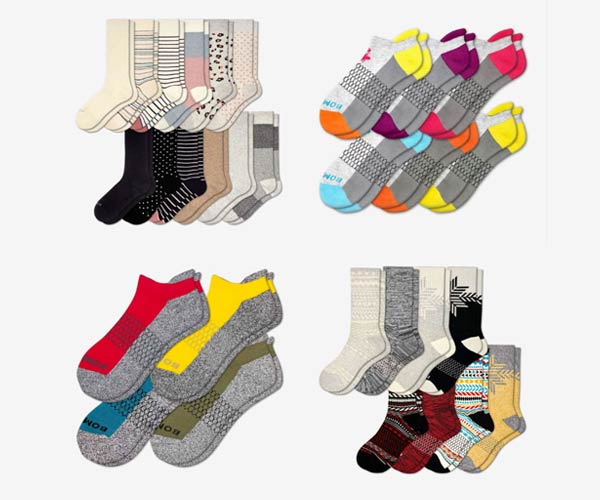 Bombas' women's and men's socks are available in many popular heights, designs (as well as limited editions), and materials, including extra-long-staple cotton and Merino wool.
Bombas Kid's Socks
Comparatively, Bombas kid's socks are only available in calf and ankle heights. Options include Grippers, Athletic, Daily Use, and themes like holidays and Sesame Street.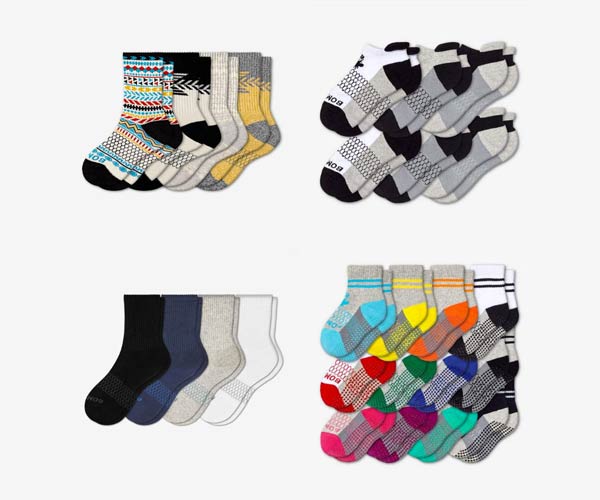 Bombas' kid's socks promise to deliver all the comfort, support, and softness found in the adult versions, just in smaller sizes.
How Much Do Bombas' Socks Cost?
Bombas socks are primarily available directly through the company, though we also saw a few styles listed on Amazon.
Adult women and men's sizes run between 4 and 16, and kid's sizes are between 1.5–8.5 (toddler) and 9–3 (youth). Bigger adult sizes are available in select styles.
Women's & Men's
Single pairs: $10.50–$24
4 to 12-packs: $30–$172.80
Kid's Socks
3 to 12-packs: $15–$64.80
The company indicates their socks are true to size, although they'll slightly shrink the first time you wash them. After that, they should retain their size.
All Bombas orders come with a Happiness Guarantee that covers free exchanges and returns (including free shipping), at any time, regardless of their condition.
In order to request one, customer support can be reached at (800) 314-0980 or via their site's contact form.
The Bombas Giveback Program
Bombas donates one pair of socks to a homeless shelter in the United States for every pair donated. This has already totaled over 5 million donated pairs of socks.
The company also operates a Giving Directory with 2,500 partners across the country who have collectively donated more than 25 million clothing items. You can get involved by emailing the company at giving@bombas.com.
Analysis of Customer Reviews
More than 60 customers have left reviews for Bombas on our website, and these reviews average 2.3 stars. Amazon also sells a few pairs of Bombas socks, and most pairs average four stars. Here's what the main opinions are:
High-Quality Socks
Many reviewers wrote that they loved Bombas socks, especially compared to other brands. They noted that the socks were comfortable, easy to put on, and lasted through lots of use.
Socks Wore Out Quickly
Other reviewers were less happy with Bombas' quality. They wrote that they wore holes into the heels of the socks quickly—sometimes after just a single use. A few wrote that the socks got beat up in their washing machines and that they shrunk to the point of being uncomfortable to wear.
Some of these users wrote that the quality between pairs seemed inconsistent, as certain pairs deteriorated much faster than others.
Socks Painfully Tight and Not True To Size
According to a few reviewers, Bombas socks don't always fit true to size. One woman noted that the socks cut off circulation in her calves to the point of being painful.
Others wrote that the socks were a half-inch longer than expected and were uncomfortably bunched around their toys and ankles.
Too Expensive for the Quality
One consistent complaint about Bombas socks seems to be that they are pricy for what you receive. Many reviewers noted that the socks didn't seem any more special than regular pairs they bought for a fraction of the price and that they expected them to be more comfortable or and last longer.
Key Takeaway
Bombas socks are a big success for many customers, but others are less happy with their quality, sizing, and price tag.
Bombas Socks vs. Smartwool and Darn Tough Vermont
If you're looking to pay more per pair of sock to ensure you get comfort and great quality, there are several brands up for consideration. Below, we've compared what you get from Bombas socks to Smartwool and Darn Tough Vermont.
Bombas
Smartwool
Darn Tough Vermont
Cost Per Pair
(Calf Length Casual)
$15–$18
$21–$30
$21–$23
Main Material
Merino wool, cotton
Merino Wool
Merino Wool
Types of Socks
Men's, women's, children's socks for casual, sport, and dress use
Men's, women's, and children's socks for all purposes, with an emphasis on sport
Men's, women's and children's socks for sport, hiking, and casual use (all made in Vermont)
Average Amazon Review
3.8–4.3
4.5–5
4.5–5
Of these three brands, Bombas is the cheapest option, and the only brand to include cotton in some of its socks. That's likely one reason why they are cheaper than brands that use only Merlino wool. However, cotton isn't recommended for sports use as the material absorbs sweat and then drys slowly.
Both Smartwool and Darn Tough Vermont have higher average rankings on Amazon than Bombas. Customer comments show that people praise both of these brands for their quality and durability, which are two things that Bombas was occasionally critiqued of by reviewers.
Our research showed that Bombas seems to offer better-packaged deals than the other companies, which may give it the advantage if you're looking to buy multiple pairs at once.
Key Takeaways
Bombas socks make sense for those who want to give back with their purchase, those who want to buy specialized socks for specific purposes, and those who want socks made from natural materials. If you want long-lasting, lower-cost socks, you can probably find a brand better suited to your needs.
The Bottom Line
Bombas socks offer a lot of fun wrapped in the feel-good mentality of knowing that your purchase is benefiting charity. There is a wide variety of sock types and styles to choose from, so you're likely to find a pair that fits your specifications.
However, they earned poor reviews for their overall fit and quality. For the price of these socks, you might expect them to last longer than they will before you wear holes in the heels.
That's not to say you shouldn't consider this brand. Just keep your expectations realistic about their longevity, and we think that you'll find a lot to like from the cute cuts and prints available on Bombas socks.
Our Promise to You
In order to safeguard you and ensure helpfulness and relevance, our compliance team manually assess every customer review before it goes live.
We have a zero-tolerance policy for fake reviews, and companies cannot control or alter any reviews at any time.