Bombas
Claimed This company has claimed this profile, is getting alerted on any new customer reviews entering this page, and may engage in dialogue with its customers to address their matters.

Companies cannot pay money or provide goods in order to remove or alter customer reviews.
Founded in 2013, Bombas is a sock company that crafts their products from high-quality components and gives a pair to the homeless for each one sold.
Bombas Socks Review: Are They Worth the Price?
Derived from the Latin word for bumblebee, Bombas is women's, men's, and kid's sock manufacturer that donates a pair to the homeless community for every one purchased.
On top of this, the company crafts their products from high-quality extra long staple cotton yarns with natural moisture-wicking and antimicrobial properties.
The website reports they also spent two years researching, developing, and implementing features like hand-linked toes seams, y-stitched heels, Stay-Up technology, and a honeycomb-structure mid-foot support, which the company claims will make their socks feel better than anything you've ever put on your feet.
Whether you're participating in an athletic activity, going to work, or running errands, you want socks that are comfortable all throughout the day.
And the fact that Bombas has donated more than five million pairs to the homeless community is compelling—and could certainly make you feel even better about your purchase.
But before handing over your money, take a couple of moments to read through what we learned during our research so you can make the most informed decision possible.
Which Types of Socks Does Bombas Offer?
Bombas sells a variety of socks for women, men, and kids as single pairs, as well as in different pre-arranged multipacks (in other words, you can't create your own). When searching their site, results can be filtered by color, height, and occasion.
All versions feature extra padding on the footbed, although the company ensures us that they're not thick enough to cause shoe discomfort.
Note: Bombas also emphasizes their socks "contain a small amount of latex" and "are made in factories that use latex." If you're allergic to latex, they consequently recommend choosing another brand. Other materials in their socks include (percentages vary by sock type):
63-78% Extra Long Staple Cotton (Merino options contain 78% wool)
13-34% Polyester
3-6% Rubber
1-7% Spandex
1-12% Nylon
Bombas Women's & Men's Socks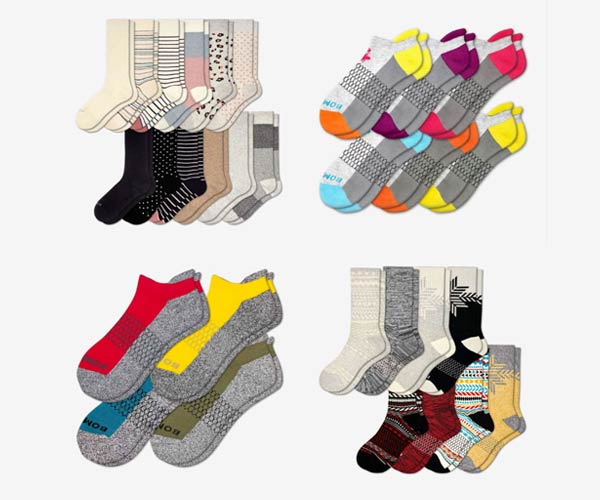 Bombas' women's and men's socks are available in many popular heights, designs (as well as limited editions), and materials, including extra long staple cotton and Merino wool.
Women's socks are available in five heights (no show, ankle, quarter, calf, and knee-high), while knee-high versions are not available in men's. Both span four main categories:
Dress & Office – Lightweight Crew, Marls, Donegal, Dress Solids
Gym, Athletic, & Sport – Marled, Solids, University, Rugby, Solids, Running, Originals, Americanos
Casual – Merino Wool, Lightweight Crew, Cushioned, Marls, Originals
Ski – Performance ski and snowboard socks with strategic zone cushioning, airflow venting, and Invisitoe technology.
Bombas Kid's Socks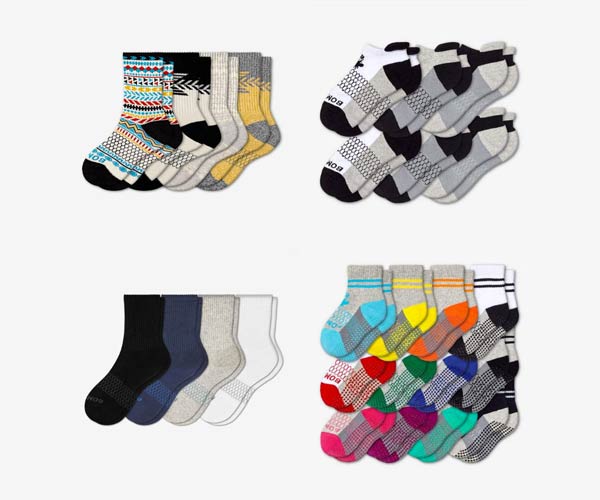 Bombas' kid's socks promise to deliver all the comfort, support, and softness found in the adult versions, just in smaller sizes.
Comparatively, Bombas kid's socks are only available in calf and ankle heights, as well as three main categories: Casual, Sport, and Grippers.
How Much Do Bombas' Socks Cost?
Bombas socks are only available directly through the company, with adult women and men's sizes running between 4 and 16, and kid's sizes between 1.5-8.5 (toddler) and 9-3 (youth). Bigger adult sizes are available in select styles.
Women's & Men's
Single pairs: $12 - $28
4 to 12-packs: $30 - $122.40
Kid's Socks
3 to 12-packs: $15 - $64.80
The company indicates their socks are true to size, although they'll slightly shrink (so little that you might not notice) the first time you wash them. Then, never again.
All Bombas orders come with a Happiness Guarantee that covers free exchanges and returns (including free shipping), with no time limit. In order to request one, customer support can be reached at 800-314-0980 or via their site's contact form.
What Can We Learn from Bombas Customer Reviews?
Between TrustPilot and TheGrommet, we encountered more than 670 customer reviews for Bombas socks at the time of our research, with a combined average rating of about four stars.
There, most compliments appeared to reference comfort, durability, and fit (including their propensity to remain in place during the day). Complaints—what relatively few there were—frequently revolved around long shipping times, lower quality than expected, and slow support response. In each instance, a company representative replied with a resolution.
From a company perspective, Bombas' co-founders David Heath and Randy Goldberg pitched their sock-charity idea on the season six premiere of the popular TV show Shark Tank back in 2014.
Shark Daymond John invested $200K for 17.5 percent equity in the company, and CNBC reports that the "company did $1.2 million in sales and completely sold out of inventory" following their appearance. They're "on track to do $50 million in sales for 2017."
Bombas vs. Other Direct-to-Customer Sock Manufacturers
It's no secret that Bombas is potentially up against hundreds—or even thousands—of sock manufacturers from all around the world, so competition is fierce. In the CNBC article above, even Daymond John admits that he has tons of FUBU socks in a warehouse that are next to impossible to sell, especially with so many companies now selling direct to consumers.
How to choose your best brand?
Perhaps the most important fact to point out is that we didn't encounter any other sock manufacturer during our research that donates a pair to charity for every one sold. So, if this is among your top criteria, Bombas is currently the only game in town.
From there, and as emphasized on the company's website, it's largely going to come down to your needs and personal preferences (color, fit, style, materials, intended use, etc.), as well as your budget.
For example, REI notes that Merino wool can work great in cool and warm conditions, absorbs moisture, and cushions, but it's also one of the more expensive options.
If budget is at the top of your list, cotton socks tend to rank toward the bottom. However, they're not ideal for active wear. The durability of synthetic materials can make them ideal for sports, although they can be a less comfortable choice in hot weather and their insulation ability is reduced when wet (such as with sweat).
Eastern Mountain Sports adds that shorter socks are better suited for activities like for running and biking, while crew socks can be a better choice for hiking and backpacking.
Our Final Thoughts About Bombas Socks
The CNBC article earlier reported that, other than Daymond John, all of the other Sharks were worried that the company's one-to-one retail/charity business model was too risky. Despite this, it seems Bombas has become a roaring success in the few years since, not only based on their sales numbers, but also on their mostly positive online customer feedback.
Will their socks meet all your needs and preferences? There's simply no way to know without giving them a try.
With this in mind, Bombas stands behind their products with a no-time-limit refund and exchange policy—including shipping, which is a rarity—so it doesn't seem you have much more to lose than a bit of your time if you're dissatisfied.
Best compression socks

By

Donald L.

,

Roseburg, OR

,

Dec 10, 2019
Verified Reviewer

I made my first purchase of compression socks from Bombas and they are the BEST I have worn. I've tried many different brands, some better than others, and Bombas are the most comfortable I have tried. They are also easier to put on than most brands and the Bombas price was GREAT. Being able to afford compression socks that are high quality are a win. I'm 77 years old and have edema that requires me to wear compression socks. These are the only ones I'll buy in the future. I also love the Bombas buy one, give one program. Thank you to Robert of Shark Tank for the mention.

Bottom Line: Yes, I would recommend this to a friend

---

2 out 2 people found this review helpful

Disappointing!

By

Linda M.

,

Dallas, TX

,

Dec 3, 2019
Verified Reviewer

I bought a bunch of these because I heard they were good. They are the worst socks. After a few washings, almost every pair has holes in the toes. They also seem to shrink, and feel tighter. I've never had this problem with any other socks. I would save your money and buy another brand. I spent well over $150.00 on regular and athletic socks just to have holey socks.

Bottom Line: No, I would not recommend this to a friend

Dec 4, 2019

Hey Linda,

Kairi here from the Customer Happiness Team at Bombas.
 I hope this message finds you well.

Your feedback is greatly appreciated, although I'm sorry to learn your socks have developed holes - this is not a common occurrence. You are covered by our 100% Happiness Guarantee, which covers hole replacements, so I assure you we will get this all sorted out as soon as possible.

When you can, please reach out to us via hello@bombas.com with your order number and photos of the socks with holes. Once we receive this, we can send you replacements or issue you a full refund.

We look forward to hearing from you. Thank you!

---

Advertisement

---

3 out 4 people found this review helpful

Too costly for Canadians

By

Verna M.

,

Prince Rupert, British Columbia, Canada

,

Nov 20, 2019
Verified Reviewer

I liked the Bombas socks but ended up paying 30% more because of duty, taxes and postal fees.

Please warn your Canadian customers of these extra costs unless it is under $20 CAD.

I purchased socks in the past and did not have to pay duty and it doesn't seem fair now that I am charged shipping twice, once from your site and again from Canada Post.

Bottom Line: No, I would not recommend this to a friend

Dec 4, 2019

Hi Verna,

Kairi here from the Customer Happiness Team here at Bombas.

Thank you for leaving a review, however, I'm sorry to hear you were charged additional fees for your order. Unfortunately, Bombas has no control over duties and or taxes set by international governments for imported products.

Not to worry, however!

We are dedicated to solving even your smallest issues - it's our 100% Happiness Guarantee. I'll be reaching out to you shortly via email to further assist you.

Thanks again and I look forward to speaking with you!

---

2 out 2 people found this review helpful

Knee-high socks too tight

By

Laura H.

,

Indianapolis, IN

,

Nov 19, 2019
Verified Reviewer

The women's knee-high socks are fine, and don't slip down. In fact, they are so tight in the calf and upper leg they almost cut off the circulation! I am 5'7' and weigh 130lbs...so I don't think my calves are excessively large. They are so uncomfortable, I can't wear them.

Bottom Line: No, I would not recommend this to a friend

Nov 20, 2019

Hi Laura,

My name is Kairi and I'm with the Customer Happiness Team here at Bombas.


Thank you for providing feedback on our Knee-High Socks despite your experience. I'm sorry to learn they didn't fit you perfectly. Fit is always a personal preference, which is why we stand by our socks 100%.

You are covered by our 100% Happiness Guarantee, so we'd be love to get replacement pairs sent out to you. In addition, we can also refund you for the purchase. It's all up to you.

I'll be reaching out to you shortly via email.

Thank you!

---

Advertisement

---

2 out 2 people found this review helpful

Wanted to love

By

Megan B.

,

Santa Clarita, CA

,

Nov 7, 2019
Verified Reviewer

I bought a bundle of 4 Marino wool no-show socks. I love the design idea of a comfortable sock that stays put and I love the model of donating a pair for each pair sold. The socks feel great and are soft and comfortable. I loved them. I washed them once and they are already getting thin in the toe and are "shedding" and piling in an awful way. Really disappointed that they didn't hold up to washing and are already looking like I will have a hole very soon after wearing them once. Not sure if I would recommend or not at this time.

Bottom Line: No, I would not recommend this to a friend

Nov 11, 2019

Hi Megan,

My name is Kairi and I'm with the Customer Happiness Team here at Bombas.


Thanks so much for your feedback on our Merino Wool socks, although we're sorry to hear they're thinning out. This is not a common occurrence, so I ensure you we will make the necessary steps to correct this.


Our 100% Happiness Guarantee will cover your replacement pairs or a refund. I'll be reaching out to you shortly via email to assist you further with the process.

Thank you, again.

---

7 out 7 people found this review helpful

Holes holes holes

By

Michael L.

,

Naperville, IL

,

Oct 31, 2019
Verified Reviewer

I have purchased both dress socks and calf socks and all I can say is it's hit and miss. The socks are extremely comfortable and feel great, however, most of the pairs have holes in the heels. There is a problem with how these socks are made. You are basically just playing the lottery every time you buy a pair. The way the heels are sewn together is the problem. Straight out of the box some pairs already have holes, wear them a couple of times holes holes holes. Too expensive for these issues.

Bottom Line: No, I would not recommend this to a friend

Oct 31, 2019

Hey Michael,

My name is Kairi and I'm a member of the Happiness Team here at Bombas.

Thanks for leaving a review, although I'm sorry to learn you continue to experience this issue. This is not a normal occurrence, and I can assure you we will do what we can to right these wrongs.

You are covered by our 100% Happiness Guarantee, and we'd love to help find a solution and send over some replacements. We'll send you an email to help out, and look forward to speaking with you.

Thanks, again!

---

6 out 7 people found this review helpful

Inferior product

By

Tom C.

,

Chicago, IL

,

Oct 30, 2019
Verified Reviewer

Purchased 4 pairs of brown men's dress socks a couple of months ago. 1st pair got a hole in toe after 2 washings. Now a second pair has a rather large hole in the ankle area. Will not pay a premium price for socks that last a couple of months again.

Bottom Line: No, I would not recommend this to a friend

Oct 31, 2019

Hi Tom,

My name is Savannah, I am with Customer Happiness here at Bombas.

Thank you so much for your feedback, though I am very sorry to hear that your socks have worn so quickly. I completely understand your frustration and we will do everything we can to make things right.

You are completely covered for defected pairs by our 100% Happiness Guarantee and we would love to send you replacements. Please email hello@bombas.com so we can further assist you with this issue.

Thanks again for your feedback and we look forward to hearing from you.

---

7 out 7 people found this review helpful

Love them BUT...

By

Brent M.

,

Parkland, FL

,

Oct 19, 2019
Verified Reviewer

I received a four-pack of the white ankle socks and from the minute I put them on, I felt I was wearing the best socks ever made. They are comfortable, supportive and wear wonderfully EXCEPT for the heels. So far, I've had to throw three pairs out because they got holes in the heels! The rest of the sock was still in great shape. The heels need reinforcements.

Bottom Line: No, I would not recommend this to a friend

Oct 21, 2019

Hi Brent,

We appreciate you taking the time to share this feedback with us at Bombas. My name is Coryon and I'm a member of our Customer Happiness Team, here to ensure that we do all we can to keep you happy.

All that being said, we can't apologize enough knowing that your socks haven't held up the best. This definitely shouldn't have happened so we'll be passing this along to our production team for consideration with future designs. As mentioned before, we always do our best to uphold our Customer Happiness Guarantee which means we aren't happy until you are too.

I'll be following up with you via e-mail to help get you set up with replacements for your three pairs! I hope to hear from you soon.

---

0 out 3 people found this review helpful

Yes...they are worth the money

By

Joanne T.

,

New Fairfield, CT

,

Oct 17, 2019
Verified Reviewer

Bombas socks are the most comfortable and best-fitting sock I have ever found. The customer service is beyond compare and will do everything to make sure you are happy. And...you are helping others less fortunate than you. I could not give Bombas enough praise.

Bottom Line: Yes, I would recommend this to a friend

---

8 out 8 people found this review helpful

Wish these were better made

By

Barbara D.

,

Worcester, MA

,

Oct 9, 2019
Verified Reviewer

I bought a package of I think three no-shows. I lost track of exactly how many I started out with since I had to have so many replacements sent out to be due to holes developing in the toes of the sock after and with only one or two wearings. There was no excessive stress on the sock, I would be just sitting there and out would pop my big toe. It got pretty annoying time after time. There is something very wrong in how these particular socks are made. On a positive note, they did stay on my heels due to the rubber knobbies on the socks, and the customer service people were very pleasant and accommodating but I got so sick of my toes popping out that I just asked for a refund. And yes, the remaining socks I have left continue to allow my big toe to pop out. I would advise you not to buy these no show socks until there is an improvement in their manufacturing.

Bottom Line: No, I would not recommend this to a friend

Oct 21, 2019

Hi Barbara,

Coryon here from the Customer Happiness Team at Bombas. I'm so sorry for the delay in getting back to you!

I absolutely understand your frustrations and please know that I've made sure to share all of your feedback with our Production Team as well. As a young company, your feedback is incredibly important for us to continue improving going forward so I truly appreciate that.

Again, we apologize for the experience you've had with us. If you were interested in trying our No Shows again, it might be a great idea to check out our Cushioned No Shows instead of Lightweight No Shows. Please email us at hello@bombas.com so we can further help. We're also available to call at 800-314-0980.

---

7 out 7 people found this review helpful

Falling apart

By

Terrill M.

,

Colorado Springs, CO

,

Sep 30, 2019
Verified Reviewer

Received 2 pairs of socks as a Christmas gift, unfortunately, both pairs have completely ripped open in the heel. The socks are comfortable but far from durable. Wouldn't spend the money.

Bottom Line: No, I would not recommend this to a friend

Oct 2, 2019

Hi Terrill,

Coryon here from the Customer Happiness team at Bombas.

I am sorry to hear that your socks haven't held up, especially since they were a gift during the holidays. This is not usual of our socks and sounds like an unfortunate defect. Not to worry though, every pair of Bombas is covered by our Happiness Guarantee that we take seriously as it's our top priority.

I'll be following up with you in a message so we can get this process started. I'm here to help!

---